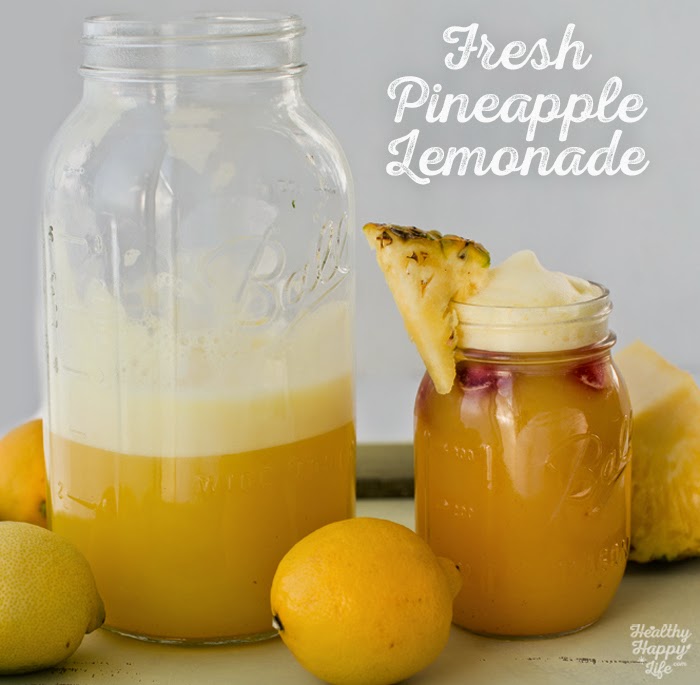 This is a sponsored post as part of my 2015 DOLE ambassadorship, all opinions are my own.
This Fresh and Frothy DOLE Pineapple Lemonade is a beverage I whipped up over the weekend and knew I wanted to share on my blog. It is a delicious, super refreshing, no sugar added way to enjoy lemonade. Plus since it is a blended beverage, you are actually getting all that healthy whole fruit fiber in each sip too!
DOLE Pineapple is rich in vitamin C, fiber and the enzyme bromelain. Pineapple has been one of my favorite fruits the past few months. It is sweet and sassy and hydrating. And bromelain is so healthy for all sorts of things including digestion – and it may even help with spring allergies! So as the spring and summer seasons roll on, try this beverage for some super thirst quenching action. And because there is coconut water in this recipe, this lemonade has natural electrolytes like magnesium, manganese and potassium built into each sip!
Get my recipe and a video, plus a strawberry-infused pink spin on it too!..
Pretty in Pink version, with added DOLE strawberries blended in!..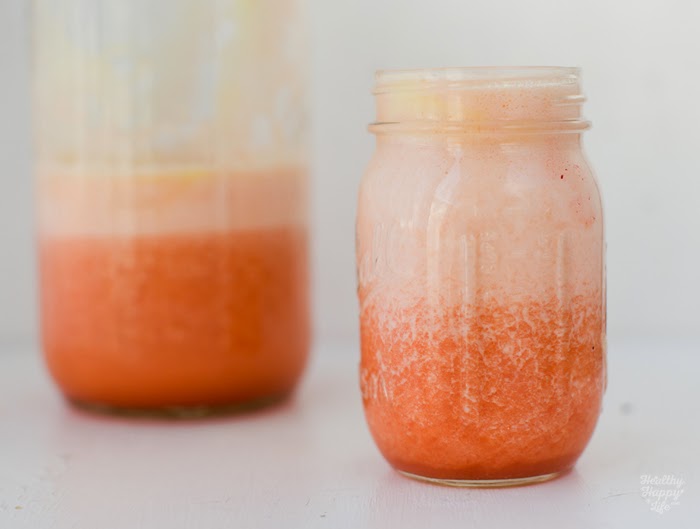 Pineapple Lemonade Tip: Prep Chopping. When you slice your fresh pineapple be sure to remove all of the stringy-tough core. That core is very tricky to blend (even in a Vitamix!) and can lead to some excess pulp. If you do not remove all of the core before blending you may want to strain the juice before serving. You can re-blend the strained juice to revive that yummy pineapple froth. I personally didn't mind the pulp though.
Another Tip: Sweet or Not-too-Sweet? If you want a very light and not-too-sweet lemonade, use water as your liquid of choice. If you want a sweeter sip, use coconut water. For best flavor use raw, fresh young coconut water.
To further add sweetness, you could get creative and add soaked and pitted Medjool dates, or a half a banana for creaminess too .. but then we are getting a little bit into "smoothie" territory rather than "lemonade" just fyi. Adding more fruit and fiber will thicken the lemonade. And adding more liquid (coconut water or water) will thin things out.
How Long Does it Last? This beverage will last with optimal freshness, for a few hours in the fridge, but is best served right away for maximin antioxidant strength. As it is exposed to air in the fridge, it will oxidize a bit. Best served same day and right away! But it is so easy to make you can absolutely whip it up to-order, on demand.
Blend It High! You need a Vitamix or another high speed blender for this to work.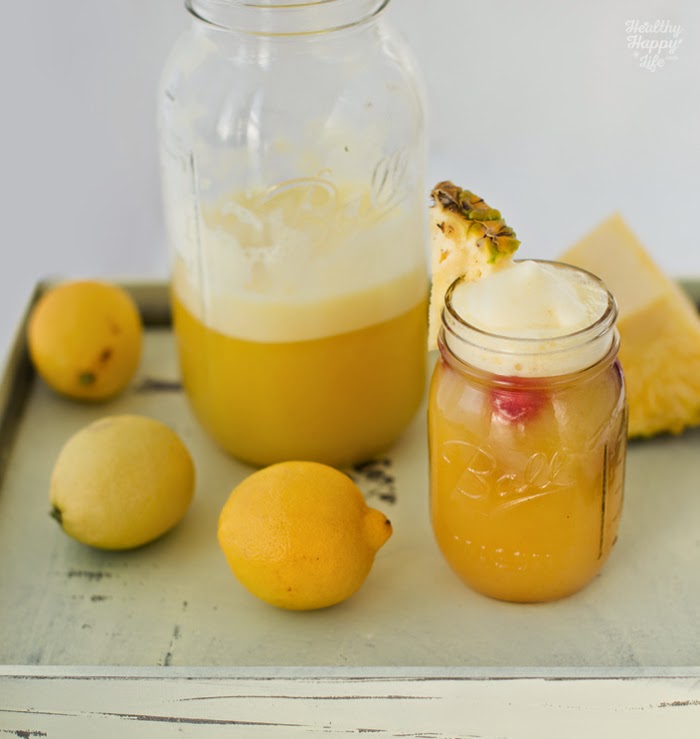 Limeade: Put a pineapple + lime spin on this recipe and use 3-4 limes in place of the two large lemons! I am absolutely going to try that next.
Facebook Chat! I will be taking part in a #GetUpAndGrow Facebook Chat on April 28th! The day my new cookbook is released. I hope you will check it out and come chat with me: April 28th at 8PM EST. And see below the recipe for the Get Up And Grow details. Like the DOLE Facebook page to tune into my chat!
Maybe lets call it a Fruit-puccino? Yes? All that frothy froth..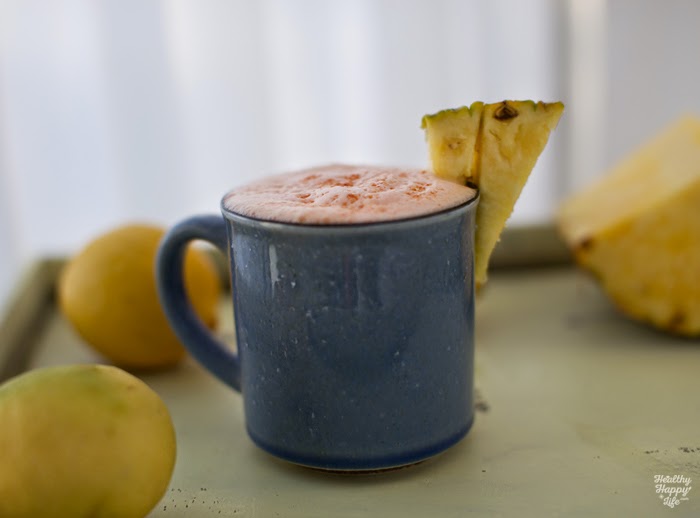 Fresh Frothy DOLE Pineapple Lemonade
By Kathy Patalsky
Published 04/21/2015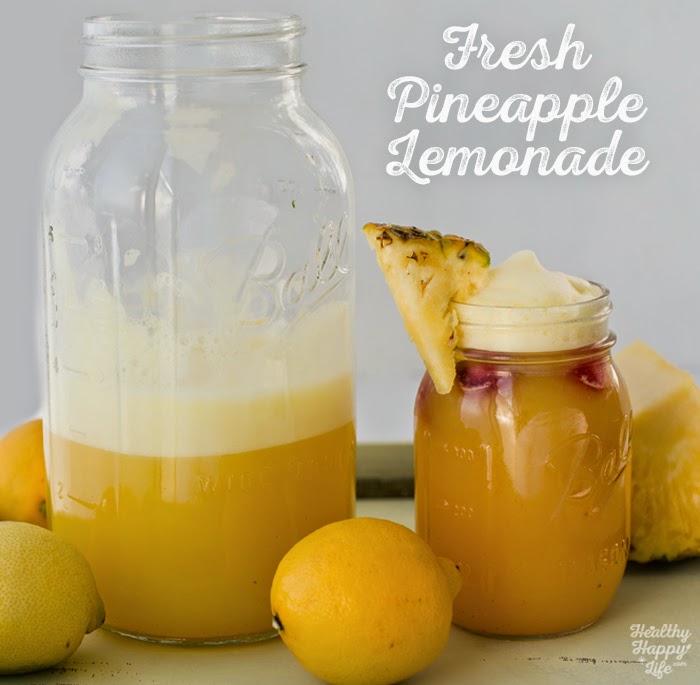 This fresh and frothy sweet and sassy DOLE pineapple lemonade is a refreshing way to naturally sweeten lemonade for spring and summer.
Ingredients
2 cups freshly chopped DOLE pineapple (remove all of the string core!)
2 large lemons, squeezed + a pinch of lemon zest
1 ½ – 2 cups coconut water (or use plain water for a less sweet flavor)
optional: pinch of cayenne for a spicy kick
Instructions
Add all the ingredients to a high speed blender like a Vitamix and blend well until smooth and frothy. Tip: Strain lemonade for a super pulp-free version. However I love the added fiber you get from the pulp!
Serve over top frozen fruit instead of ice, so you do not water down the flavor.
DOLE Strawberry Version: Add 1 cup fresh or frozen berries to the blender for a pink DOLE strawberry infused spin on this beverage.
Yield: about 4 cups
Prep Time: 00 hrs. 05 mins.
Cook time: 00 hrs. 05 mins.
Total time: 10 mins.
Tags: beverage,drink,pineapple,lemonade,sugarfree,summer,easy,lemons,whole food

Get Up And Grow Dole Ambassadorship. Speaking of pineapples… I am excited to say I have been chosen as a Dole ambassador for 2015 as part of the Get Up And Grow program, that encourages folks to live healthier lifestyles by eating more of my favorite things: fresh fruit and fresh veggies. To eat more plants! As well as staying active, getting enough sleep, being strong, feeling happy and all that other great wellness-infused stuff.
I am so excited to be the only vegan ambassador in this amazing group of food bloggers. When asked to participate I knew I wanted to represent the vegan community in this program! Also, as part of the program I will be able to participate is a few innovative events and conversations about nutrition, food and eating more plants. I am a huge fan of the Dole Nutrition Institute nutrition newsletter and their work discovering how fruits and veggies make our lives healthier and happier, encouraging everyone to eat more of them.
If you want to try to eat more fruits and veggies this year, join in the Get Up and Grow fun and take the online Pledge for wellness! I love all the options to customize your pledge..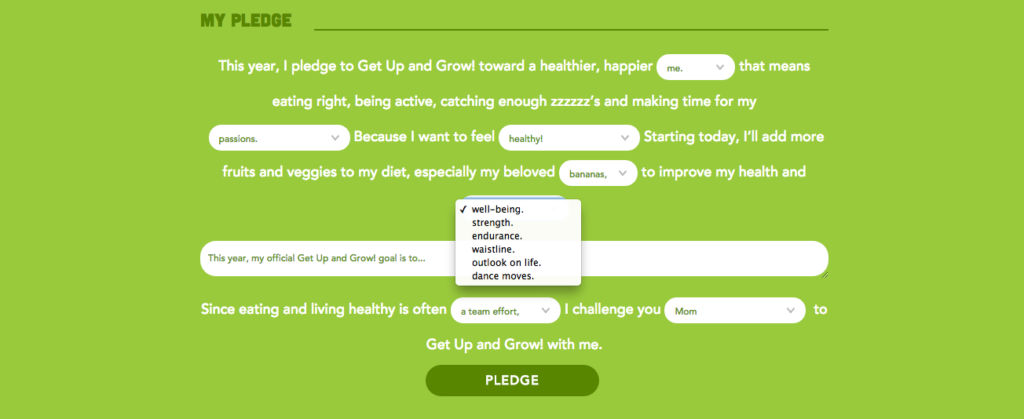 So yes, today's theme: eat more plants! And that includes today's recipe, adding whole fruits to one of the most popular beverages out there: Lemonade! You do not need loads of sugar to sip on a sweet and amazing lemonade. Pineapple is so rich in natural sweetness, that it easily adds all the sweetening your lemonade needs. And pineapple and lemon juice is a pretty fantastic combo, so I hope you give it a try this spring and summer.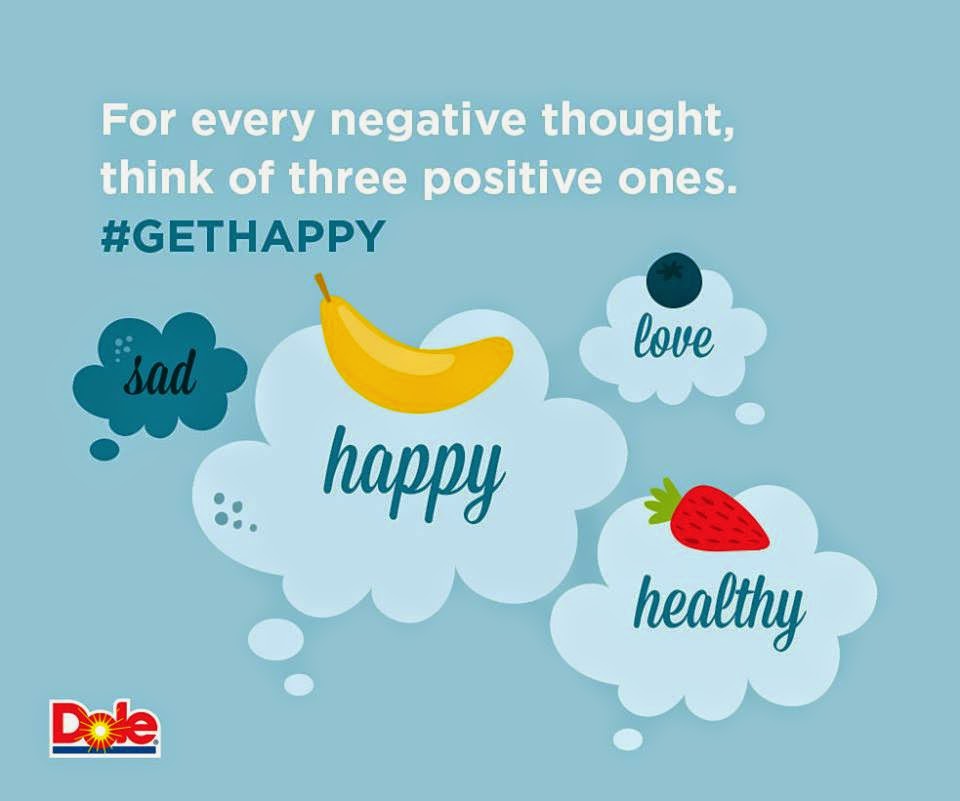 *From the DOLE Facebook page
Happy lemonade sipping!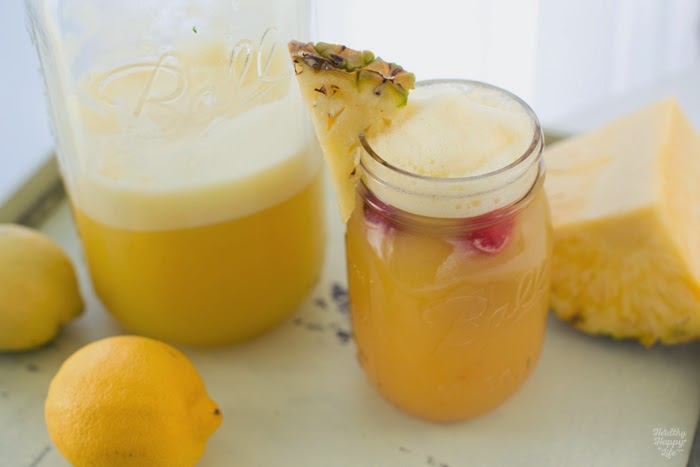 ps. Have you entered my super giveaway yet? $4,000 in prizes + some amazing bloggers on my cookbook blog tour!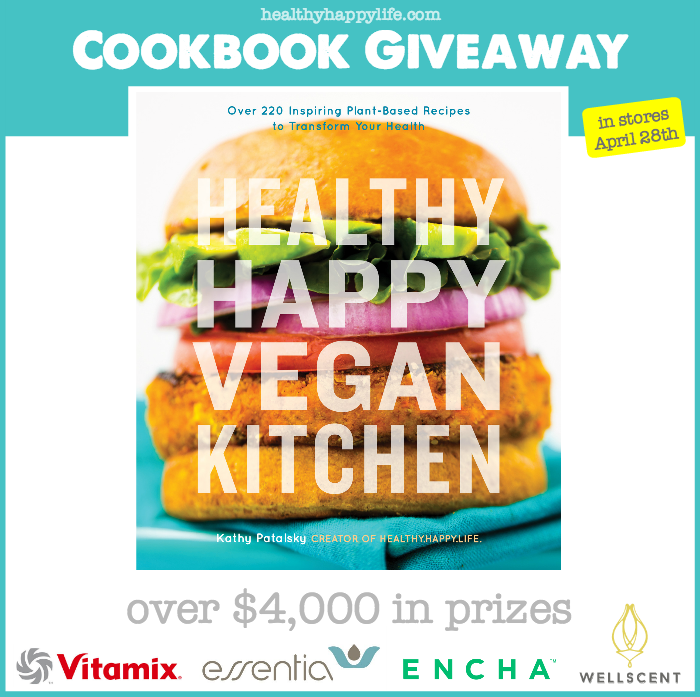 *disclosure: This post contains a Vitamix affiliate link. Ready to buy the best blender ever? Get free shipping by using my link!