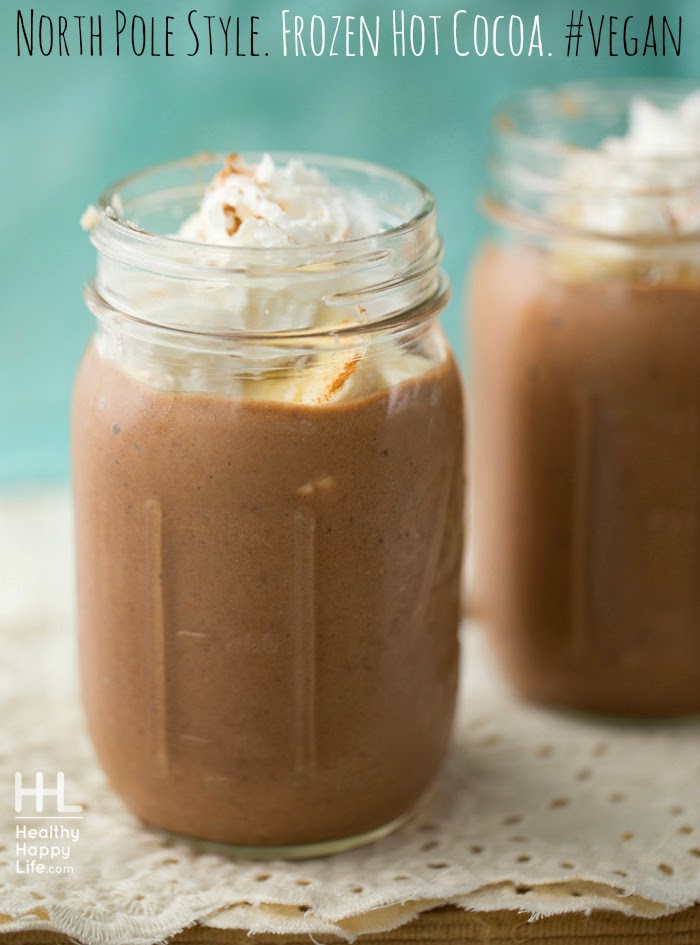 Even if gentle snowflakes are silently falling outside your window. Or a brisk cool chill nips at your nose when you step outside. Inside, you may have a hum of warmth and light. Twinkly lights and a crackling fireplace, or even a cozy giant sweater and fuzzy socks to bundle up in. Sometimes, yes, sometimes, you may crave a cool treat even during these winter months. So here is how I whip up my favorite vegan Frozen Hot Cocoa, North Pole Style..
This is an easy recipe everyone. But one that is fun for anyone in a hot cocoa mood, minus the hot. Whip up a frozen banana-based shake with accents of cinnamon, nutmeg and cayenne and loads of rich cocoa, swirl some non-dairy whip on top, add a few slices of banana on top for some bite and call it a frozen hot chocolate. Santa would approve!
I added a few optional ingredients too to change things up, try almond butter, hemp seeds or even crunchy pecans! ..Some toasted pecans sprinkled on top would be super dreamy!

Protein Boost it. You could even add a scoop of protein powder and serve this "hot cocoa" any time of day as a hearty snack or meal replacement. Hot cocoa for breakfast or a post-workout sip!
whip on top..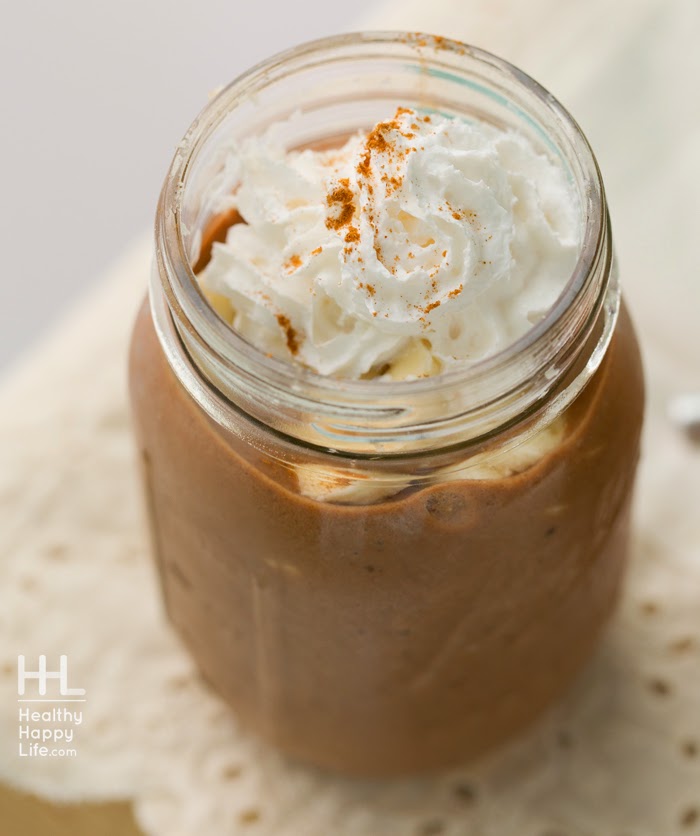 Cool and cozy. Like..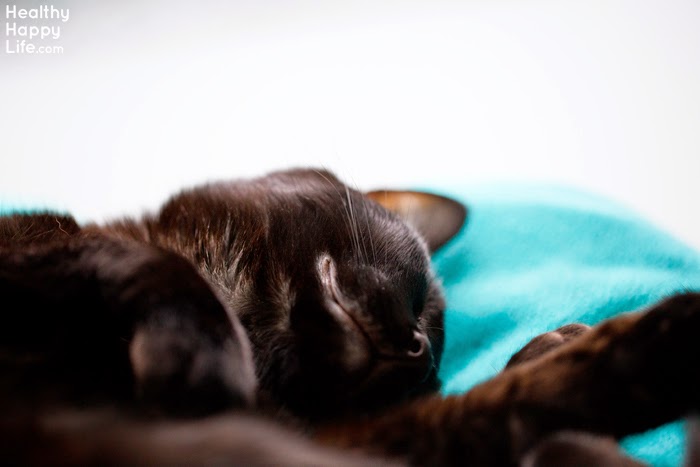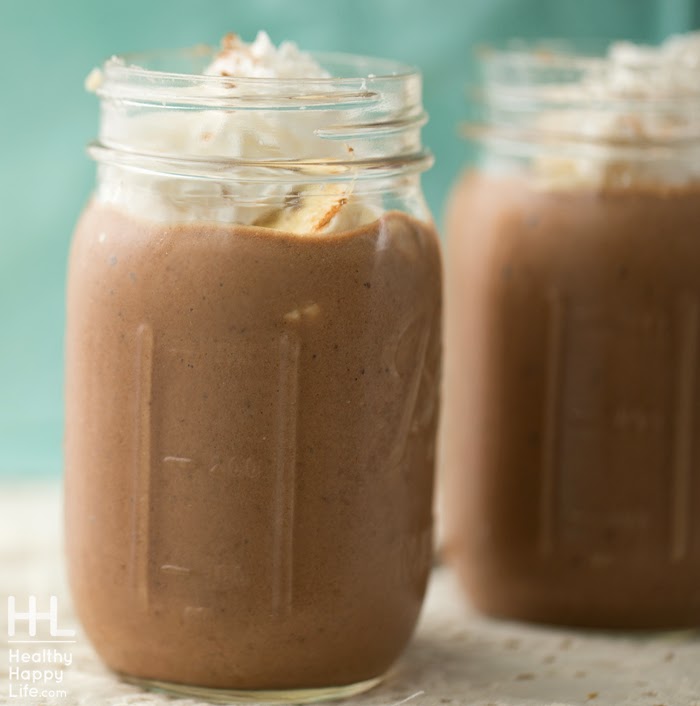 Dairy-Free Frozen Hot Cocoa
By Kathy PatalskyPublished 12/04/2014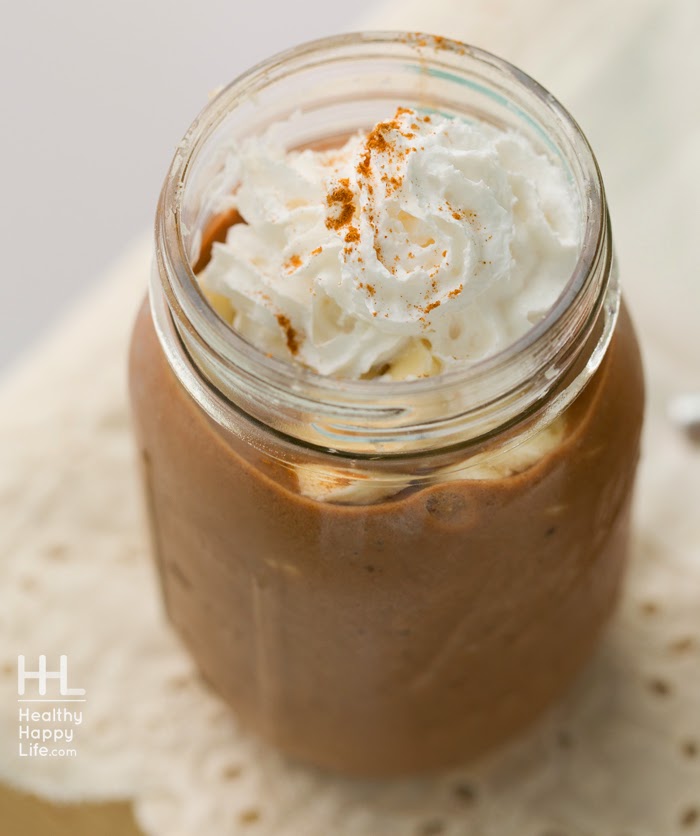 frosty chocolate shake with hot cocoa and banana flavors, soy whip on top!
Ingredients
2 frozen bananas
1 ½ cups almond or soy milk
1 ½ tablespoon cacao powder, unsweetened
¼ teaspoon cinnamon +¼ teaspoon nutmeg

toppings:
½ fresh banana, sliced
Generous swirl of non-dairy whipped cream – try soy, rice or coconut

optional boosts:
* Sprinkle warm skillet-toasted pecans on top to serve
* Ice Cream Spin: substitute 1 frozen banana with a big scoop of vegan vanilla coconut milk ice cream
Instructions
Add the non-dairy milk, cocoa, spices to blender, blend until smooth.
Add the 2 frozen bananas. Blend until frosty smooth.
Pour into serving glasses and top each glass with sliced banana and non-dairy whip. Serve with a sprinkle of cinnamon on top.
PRO TIP: Use freshly ground cinnamon and nutmeg for extra-amazing flavor!
Yield: 2 servingsPrep Time: 00 hrs. 05 mins. Total time: 5 mins. Tags: shake,chocolate,hot chocolate,holiday,cocoa,dessert,beverage,drink
per serving, including whipped soy cream (2 servings per recipe)..