It is always fun to start the week off with chocolate. So for all your chocolate nibbling needs throughout the week I bring you this super easy recipe for the most colorful and delicious salted Fruit and Nut Chocolate Bark. This recipe is inspired by a recipe I learned last week on vacation. More on that in a few days, but first, rich, silky, salty-sweet c-h-o-c-o-l-a-t-e..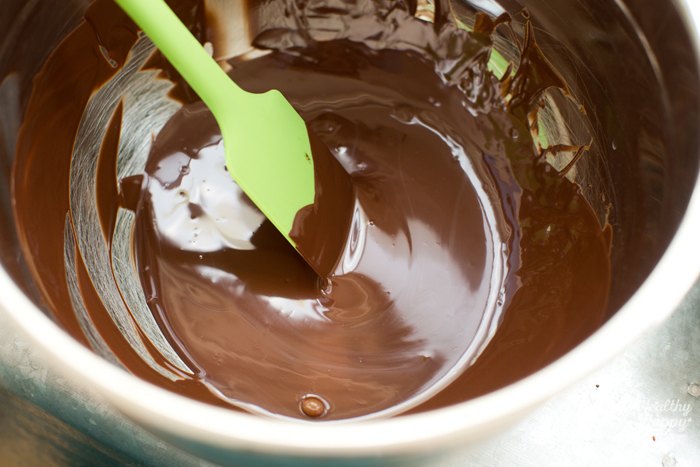 All the goodies..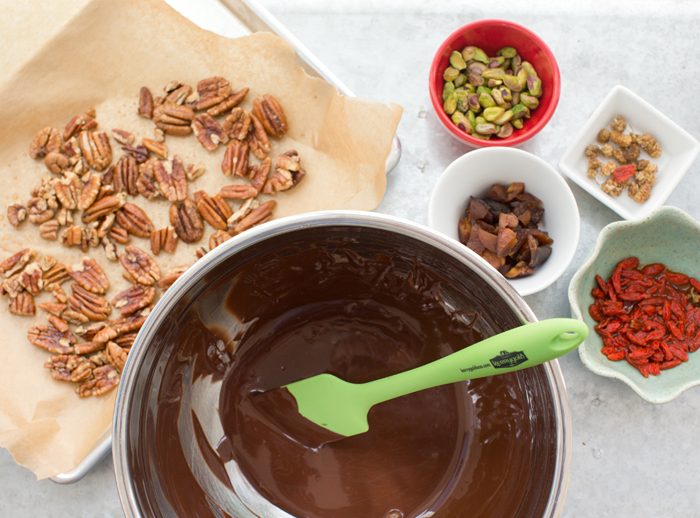 Pour the chocolate silk..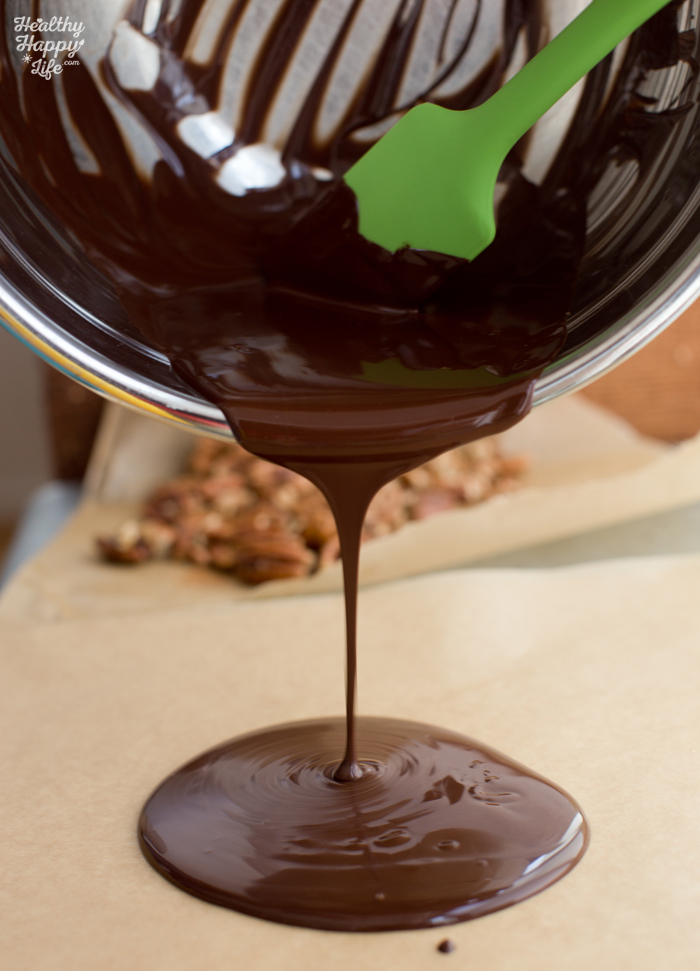 Those toasted pecans are amazing all on their own!..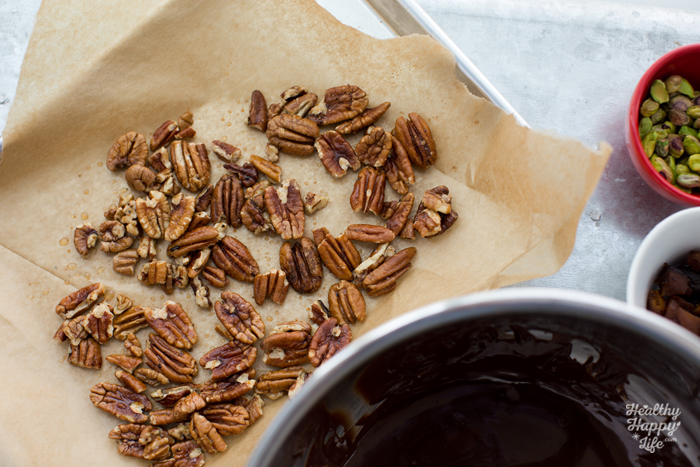 Spread and smooth the chocolate out a bit with a spatula..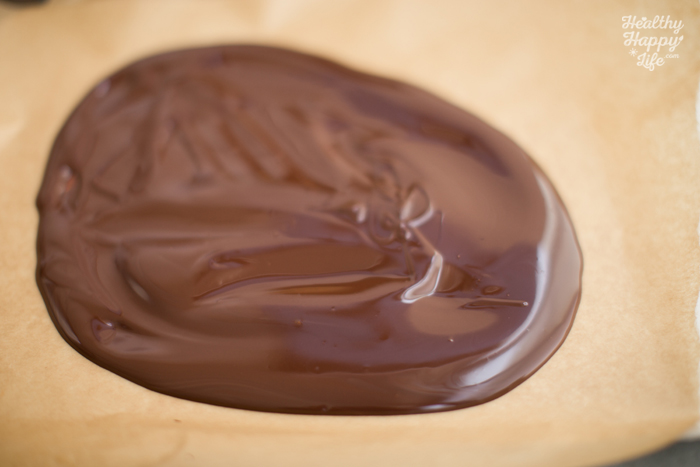 Add the jewels!..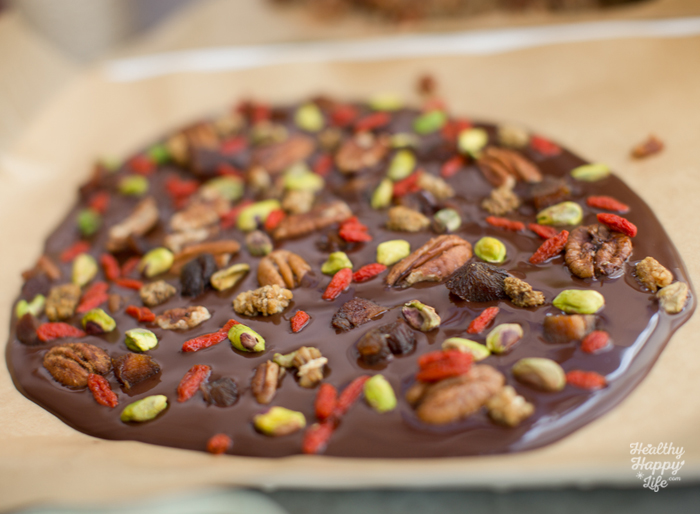 After it firms up in the fridge..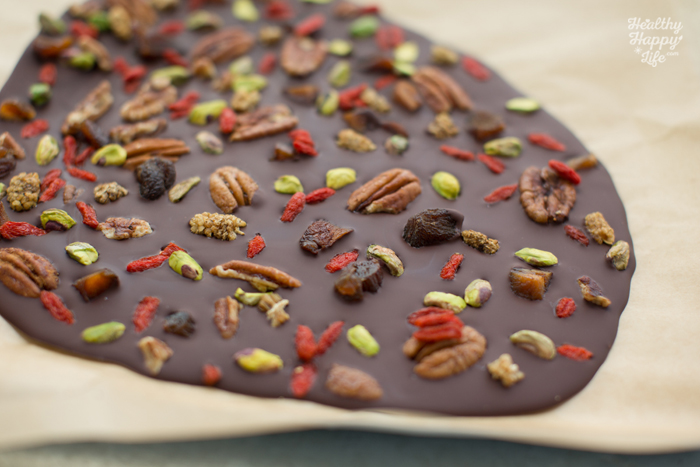 Chop into large pieces for nibbling…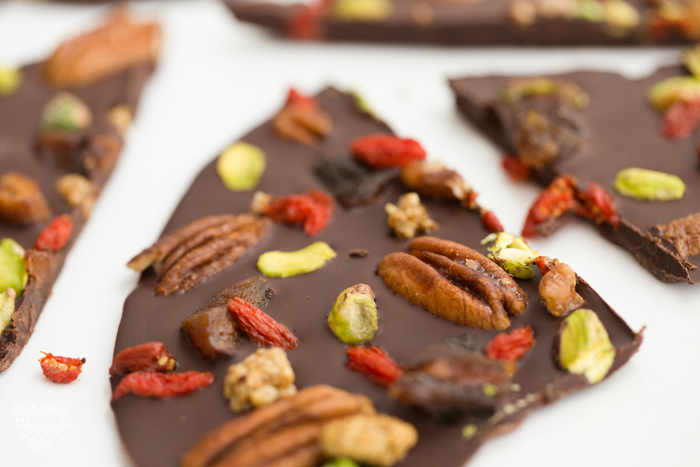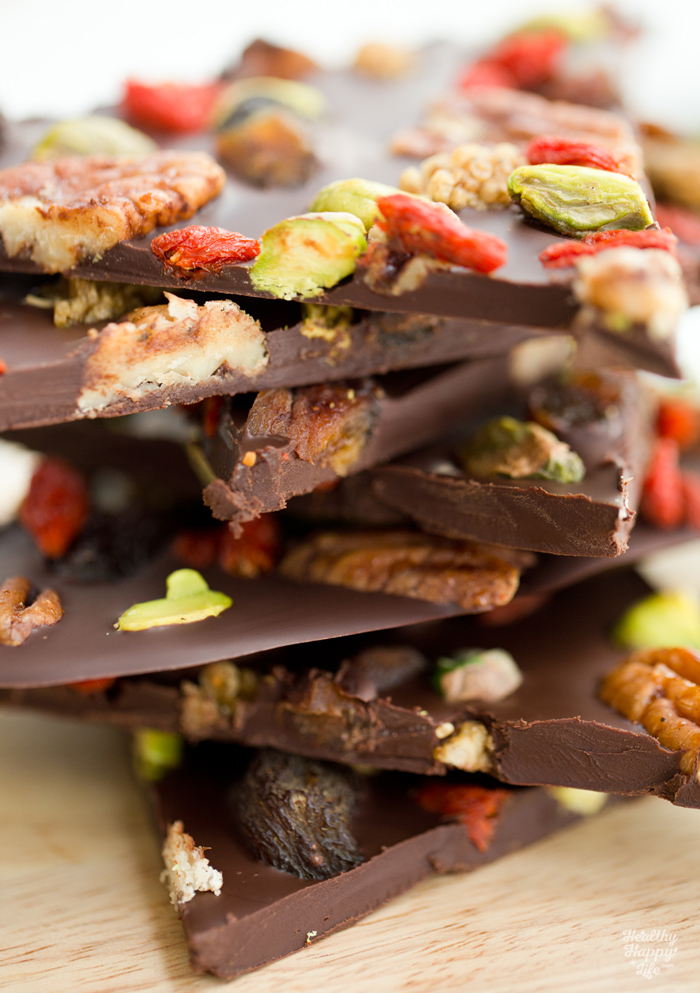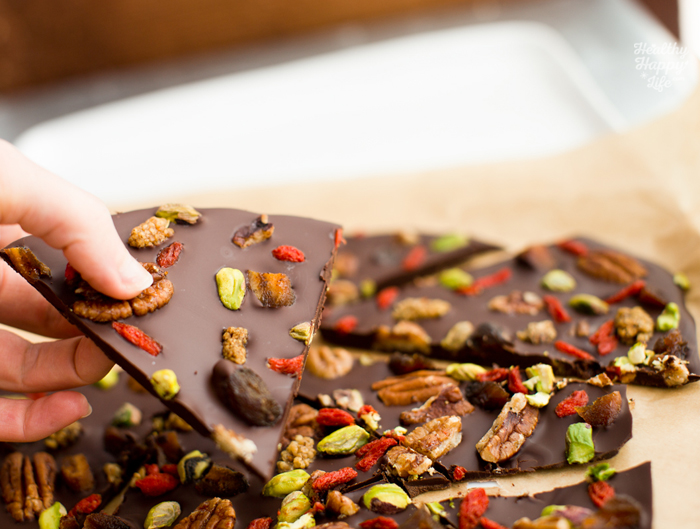 Last week I was at an amazing wellness resort, and in a few days I will share that adventure with you. But during my time there, I tool a fun culinary class where we made a pecan-fruit salted chocolate bark that was simply dreamy. I had to make it as soon as I got home and share the recipe with you…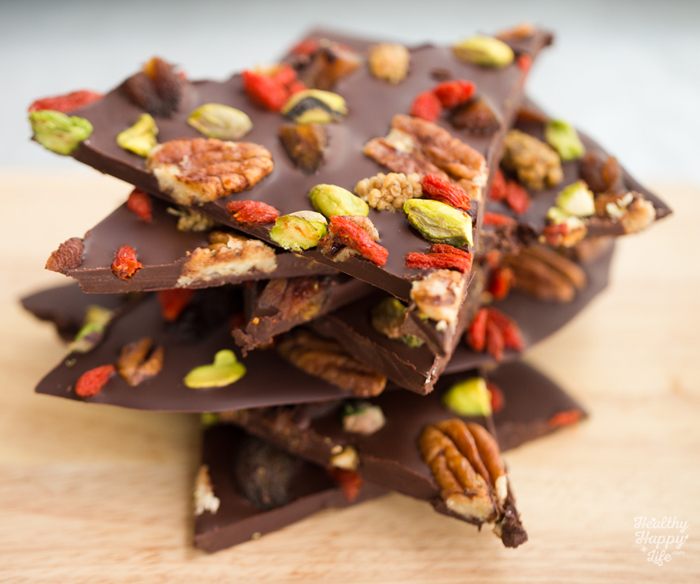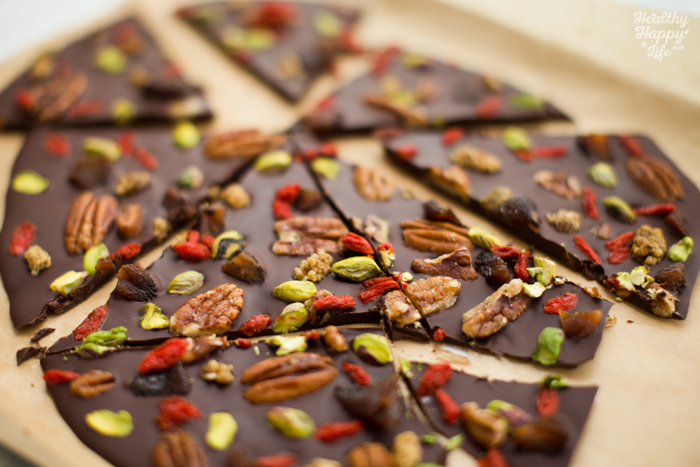 Bag of yum..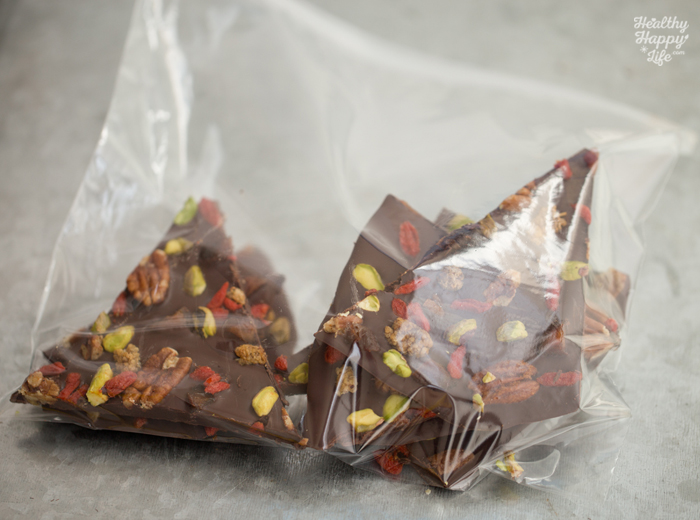 This recipe is a spin on the recipe used in the class with Chef Laura Pauli.
Fruit and nut Chocolate Bark
By Kathy Patalsky
Published 06/29/2015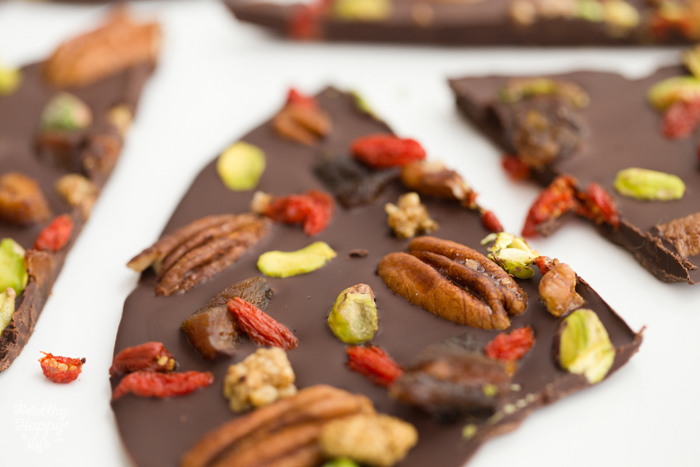 Creamy, rich chocolate bark studded with fruit and nuts.
Ingredients
9 ounces bittersweet chocolate, vegan (Scharffen Berger used. The higher the quality, the better the flavor!)
5 dried/unsulphered organic apricots, diced
2 tablespoon goji berries, soaked in 1 teaspoon hot water and ¼ teaspoon vanilla extract
2 tablespoon raw pistachios
2 tablespoon raw chopped Medjool dates, white mulberries or dried cherries (optional)
Pecans – oven-toasted and spicy-sweet:
¾ cup raw pecans, whole
1 tablespoon vegan sugar or agave syrup
1 teaspoon extra virgin olive oil
¼ teaspoon salt
¼ teaspoon black pepper
pinch of cayenne
To finish chocolate: sprinkle of Fleur de Sel or pink salt (coarse is my preference)
Instructions
Place the pecans, olive oil, black pepper, cayenne and salt in a small bowl and mix until the pecans are coated. Spread pecans on parchment paper on a baking sheet and bake at 400 degrees for ten minutes – or until slightly toasty. Set aside.
Using a double broiler on your stovetop, melt the chocolate until silky smooth.
Pour the melted chocolate onto a parchment paper lined baking sheet. (Make sure this is a new, COOL, baking sheet!) Spread a bit so the the chocolate thins out to your desired bark thickness.
Add the pecans, apricots, goji berries, pistachios, optional dried goodies and anything else you want to add to the melted chocolate layer.
Place the chocolate in the fridge to firm up. This usually takes at least a half hour for fully hardened chocolate.
To serve: break or slice chocolate and sprinkle with a thin layer of Fleur de Sel or pink salt. (Store leftovers in a baggie or container in the fridge.)
Yield: 10 servings
Prep Time: 00 hrs. 07 mins.
Cook time: 00 hrs. 10 mins.
Total time: 17 mins.
Tags: chocolate,bark,nuts,fruit,dessert,snack,dark chocolate,chocolate bark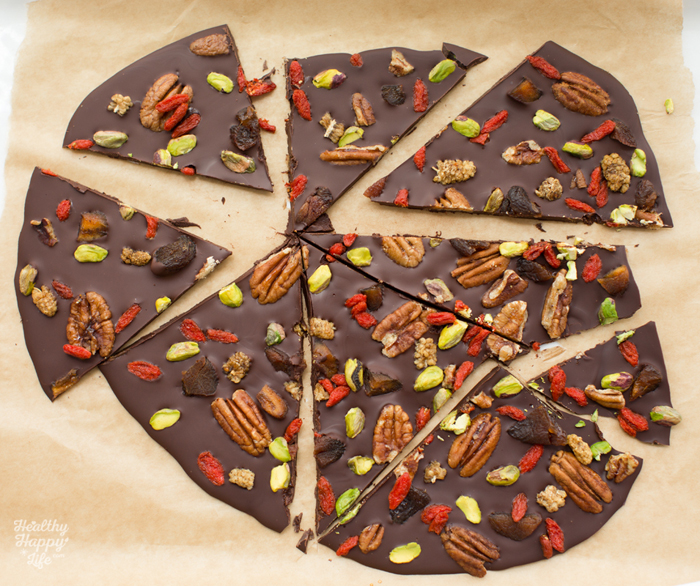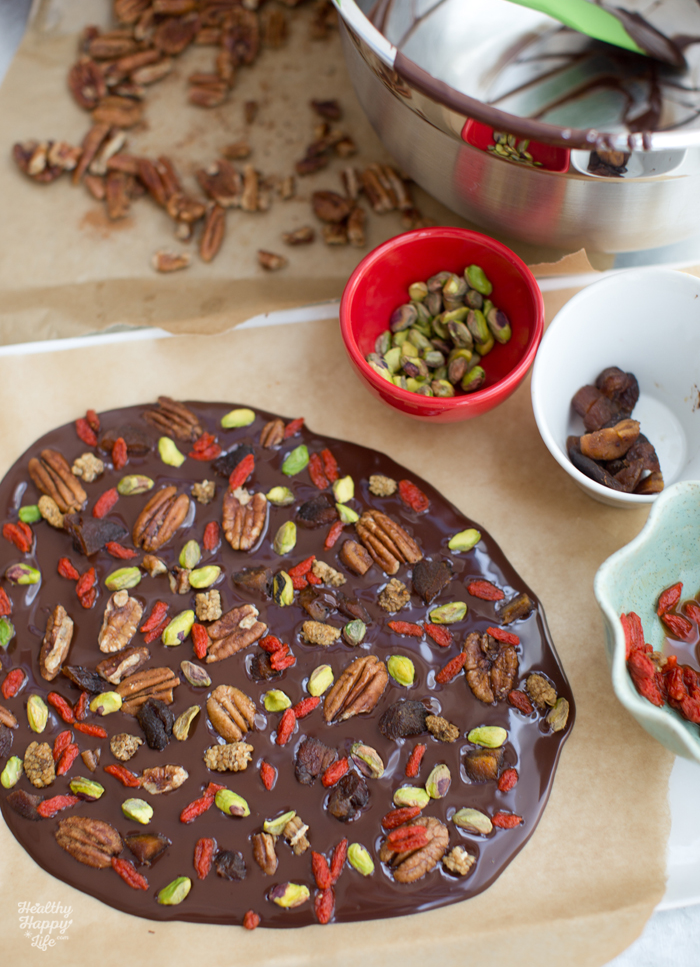 silky amazing..