What do you get when you mix fresh chopped pineapple, pink lady apples and limes with a bunch of other premium sangria ingredients? A pitcher of my Fruity Fizz Premium White Sangria! This fresh fruity beverage will leave you sipping every last drop and even actually eating the sangria fruit! Premium ingredients for premium flavor.
Fresh Pineapple and a few Pink Ladies. What to do with that other half of fresh pineapple that you couldn't finish yesterday morning? Make white sangria!
Choose sweet, ripe, preferably-organic fruit sangria.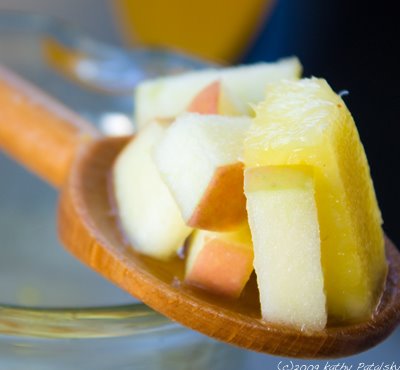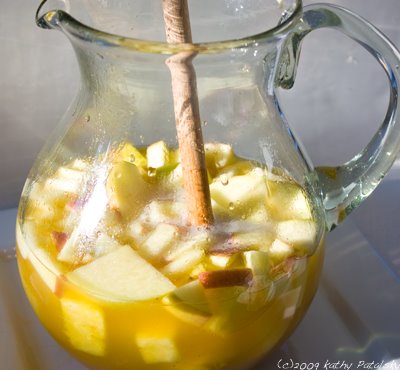 Fruity Fizz (Premium) White Sangria
vegan, makes one pitcher
1 ½ cups fresh pineapple, cubed
1 apple, cubed
⅓ cup peach nectar (or another white-ish fruit juice)
3-4 cups white wine
*I like pinot grigio
1-s shots brandy
⅓ cup citrus spritzer (any naturally flavored citrus soda)
*I used a Izze's Clementine spritzer
3 tablespoon simple syrup or agave syrup
2 limes + pinch of zest
½ teaspoon sea salt
2-5 dashes cayenne (opt'l – for a spicy accent)
½ bottle champagne or sparkling white wine-for topping off each served glass.
(Or add as much as you'd like directly added to pitcher.)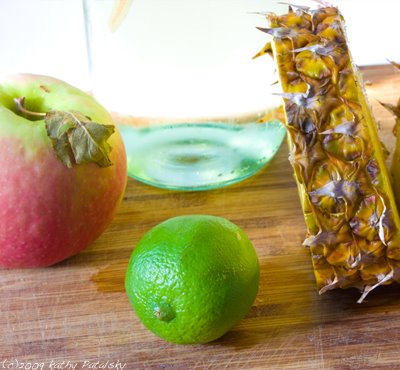 Directions:
1. First, chop your fruit. You want small cubes. Small enough for the sangria to penetrate the fibers, but large enough so that it doesn't get mushy. I like a mix of tiny cubes and larger slices-these look so pretty in the pitcher.
2. Sprinkle the cayenne and salt over the fruit-any way you'd like
3. Add the apples to the pitcher.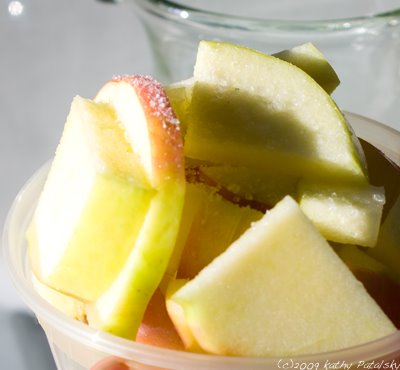 4. Add the brandy to the pitcher. Stir a bit. Note: The brandy, salt and cayenne ingredients will bring flavor depth as well as help to break up the fibers in the fruit, releasing the fruit flavors and juices.
5. Add the pineapple.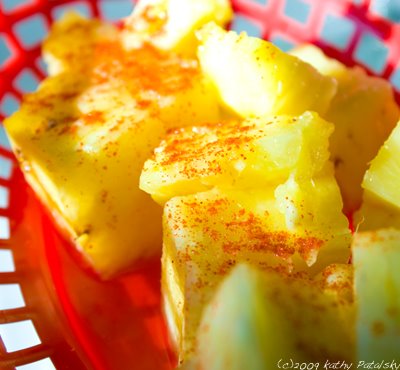 6. Juice one lime, add it to the pitcher. Slice the other lime into circles. Add 1-2 circles to the pitcher, use the remaining slices as glass garnishes. Mix the contents well.
7. Next, add the white wine.
8. Add the peach nectar.
9. Add the simple syrup/maple syrup.
10. Using a long wooden spoon, stir the sangria very well. Mush through a few pineapple chunks and apples to marinate the sangria in fruity flavor.
11. Add the citrus spritzer. Stick the pitcher in the fridge and allow it to get nice and cold.
12. Serving: Fill each glass with 1-3 ice cubes, 2 tablespoon of sangria fruit. Fill the glass ¾ full with the sangria. Top off with the champagne.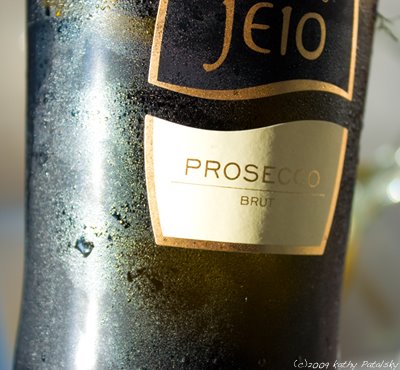 Garnish glasses with lime slices.
Straws are a must for mushing that yummy fruit and plucking it out to much.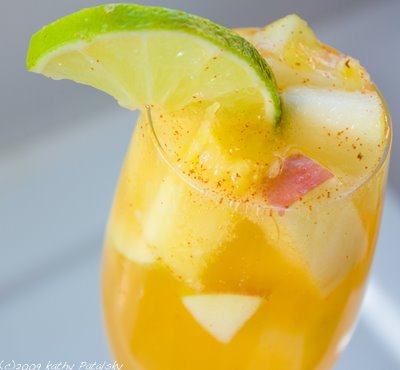 Step-by-Step Slideshow: Fruity Fizz White Sangria.
Or try my recipe for Premium Red Sangria