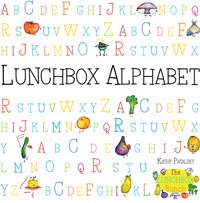 This post is jam packed with fruit and veggie facts from A to Z! Apricot to zucchini. These fun facts and tips from my kids book Lunchbox Alphabet, will get kids excited to learn more about the healthy foods they eat. Here a sample:
"J is for Jackfruit. A jackfruit can weigh up to one hundred pounds and grow up to three feet long! They are the largest tree-born fruit. They are covered in prickly bulbs, but the inside smells like a pineapple or papaya.
Check out more facts and serving tips from A to Z. Can you guess what fruit or veggie starts with the letter X?…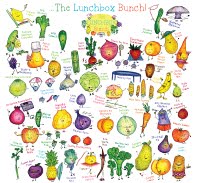 Fun Facts! Fun Facts! Here they are, fun fruit and veggie facts from A to Z. You can find all these facts and even more fun character images in my book Lunchbox Alphabet. Buy it here.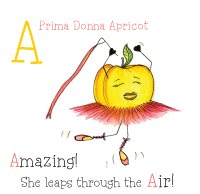 A is for APRICOT. A fuzzy apricot is a tiny treat that makes a yummy snack! Juicy and sweet, they taste best when left to ripen on the tree rather in a fruit bowl.

B is for BROCCOLI. Pair bites of broccoli with a side of mashed sweet potatoes! Build your own broccoli-tree forest by sticking the broccoli in the potatoes! Clear the forest by munching them one by one.
Don't forget to shout, "Timber!"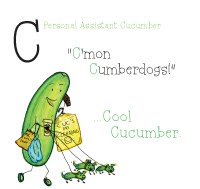 C is for CUCUMBER. There is no veggie cooler than an ice cold cucumber! Slice an cucumber into round circles. Toss the crisp rounds in a pita with some warm garlic hummus–now that's a cool pita!! Yummy!
D is for DATE. Dates may be brown, but did you know that they are deliciously sweet?! Try a handful of chewy dates for a date-licious dessert! Try making Sticky Date-y Pudding with these simple steps: First, warm 4-5 dates in the microwave for fifteen seconds. They will become gooey and sticky sweet! Add the warmed dates to vanilla pudding or yogurt, top it off with a dash of cinnamon or nutmeg! (You can even use a few sticks of graham crackers as an edible spoon!) Date-licious!
E is for EGGPLANT. Wow did you know that shiny eggplants come in a variety of colors such as violet, light and dark purple, and white! Actually a white eggplant looks a lot like an egg…..which is how it got its name!
F is for FIG. Have you ever tried a fruit called fig? No, not a fig cookie! A fresh fig that is purple and plump! They are soft, sweet and grow on a tree. Figs are high in potassium and fiber, so not only will your taste buds love them, but your body will too!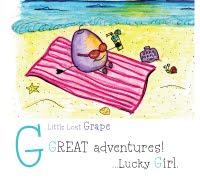 G is for GRAPE. Grapes come in many colors from deep purple to bright green. Grapes are tart yet sweet and always juicy!
H is for HUCKLEBERRIES. Hooray for huckleberries, they are high in vitamin C! Huckleberry jam is a unique sweet treat. Try it on our next peanut butter and jam sandwich! Ask for it by name: "Can I have a PB&H sandwich please?"
I is for ICEBERG LETTUCE. Iceberg lettuce packs quite a refreshingly crisp punch! It used to be known to farmers as crisp head lettuce. But when they started packing this veggie in heaps and mounds of ice, the name "iceberg" simply stuck!
J is for Jackfruit. Wow! A jackfruit can weigh up to one hundred pounds and grow up to three feet long! They are the largest tree-born fruit! They are covered in prickly bulbs, but the inside smell like a pineapple or papaya!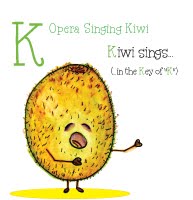 K is for KIWI. Guess what! You can actually eat the shaggy brown skin of a kiwi! (If you don't mind a little fuzz that is!) Kiwi's are tart and sweet and quite unique! Can you think of any other fruit that is brown on the outside or bright green on the inside?
L is for LEMON. Everyone loves to make lemonade! Add berries for zesty berry-licious Lemonade! Or substitute lemons for limes and make LIMEADE. Or for an extra cool beverage, add a few sprigs of mint leaves to your glass and enjoy COOL MINTY Lemonade! Don't forget to say, "AHHHHHH!" After each refreshing gulp!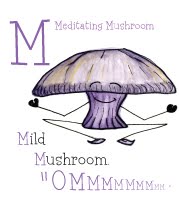 M is for MUSHROOM. There are over 70,000 varieties of mushrooms! But only 250 are edible …When mushrooms grow they can
double in size in 24 hours! Varieties: portobella, shiitake, cremini, woodear and white button.
N is for NECTARINE. Love peaches but hate the fuzz? Try a nectarine! The word Nectarine means, "Sweet as Nectar" and they sure are sweet! Smooth skin and juicy to bite, nectarines taste yummy and are a great source of vitamin C!
O is for ONION. DON'T Hold the onions please! Onions are crisp and zesty and have amazing nutrient and phytochemical power! It's true that cutting onions may bring tears to your eyes, but tears of joy we hope!

P is for POMEGRANATE. Pomegranate's are tricky to eat whole, due to their many plump purple seeds, but try pomegranate JUICE for taste and nutrition! Pomegranate juice may have up to three times more antioxidants than other juices–so drink up! yum.

Q is for QUINCE. A quince is a fruit that is like a cross between
a pear and an apple. But you cannot bite into a raw quince and keep a smile on your face. It would taste like a really sour apple! Try cooking a quince if you are interested in tasting it!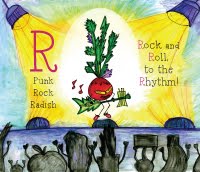 R is for RADISH. For a fun and zesty crunch try slicing "coins" of radish rounds! You can even create your own veggie "bank" by arranging "coins" of radishes, cucumbers and carrots! Add some cheese slice "dollar bills"- then munch this pricey plate!
S is for STRING BEAN. Have you ever looked closely at a green string bean? Well take a close look and inspect the long "string" that runs along the edge of the bean. It looks and feels like a thick piece of string! Thus the name, String Bean! But don't try sewing with these edible green strings!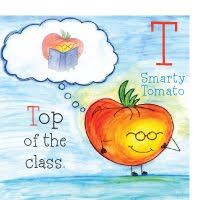 T is for TOMATO. You say fruit and I say veggie! Did you know that a
tomato is actually a FRUIT, but it took a Supreme Court ruling back in 1893 to label this tender little piece of produce a VEGETABLE!

U is for UGLI FRUIT. An exotic citrus is an Ugli Fruit! It tastes like a cross between a grapefruit and a tangerine. Eat it like an orange or try juicing it with an orange for some U.F.O Juice!
V is for VANILLA BEAN. What's the secret ingredient in your favorite cookie recipe? Pure vanilla bean extract! Vanilla has been called "the world's most popular flavor!" Fun Tip: Have a parent boil a few drops of Vanilla extract and water on the stove for the "bakery fresh" smell without the work!
W is for WATERCRESS. It's a bit zesty, a bit crunchy and loaded with nutrients! This leafy green was traditionally found along waterways and stream banks. Thus the name, watercress. Watercress salad night please!
X is for XIGUA. (Pronounced She-Gwah) Xigua is the Chinese name for watermelon! Can you think of any other foods that start with the letter "X"? (Don't feel bad, neither could we!)
Y is for YAM. Orange yam and purple Taro Root fries are a delicious sweet substitution for that "side of fries" we know and love to munch on burger night!
Z is for ZUCCHINI. Wow did you know that there have been several zucchini's weighing in at over thirteen pounds?! That's about the same weight as ten basketballs! Good thing a zucchini is a great source of vitamins a and C and potassium! Big yum!