Here's an easy and cheerful "Get Well Soon" Food Basket to make for an ill friend in need. It's fresh, healthy and made with love. It includes goodies like homemade Garden Dill White Bean Soup and Maple-Glazed Sweet Potato Biscuits. And no, you don't have to be under the weather to love these recipes.
Get Well Basket. Last week, two of my friends were sick at home, so I decided to spread some love. I took the morning off, threw my to-do list to the wind and stormed into my kitchen to prepare a get well feast. The cooking part was surprisingly easy and fast. I was out the door, basket in hand, in about an hour. Martha would be proud. Find out what I made and get my vegan recipes…
Love Heals All. When you are sick, nothing tastes better than light healthy food made with love. And you won't find "love" hiding in your pantry – it's buried right in your own two hands.
In today's world you can easily swing by Panera, Whole Foods, Le Pain or some other yummy/easy cafe to purchase a fresh bowl of soup, bread and juice – all in a matter of minutes for a good price. But trust me on this one, homemade tastes and feels better.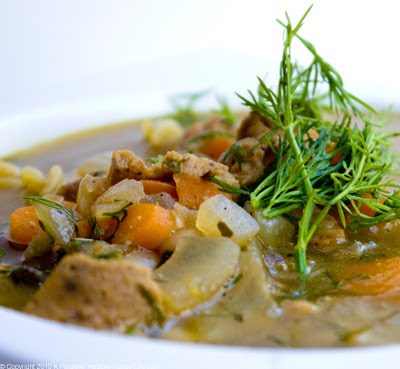 Made at Home. Martha Stewart has been preaching for years: homemade beats store-bought. I'll admit to thinking in the past that this theory was a bit outdated and silly in today's world of gourmet bakeries, prepared foods sections in grocery stores and cafes with to-go or delivery services everywhere…
But Martha stands firm. I recall seeing some sad NYC news anchor go on her show – he brought Martha some store bought cookies from his favorite bakery. Gasp! Martha was so spryly offended and called him out on his 'lack of homemade' right away. Hilarious. But after my "Get Well Basket" experience, I see that the homemade, "made with love" theory is indeed pure and true – especially when you are delivering homemade goodies to an ill friend.
Prepared and Delivered by Hand. When I handed over that basket of wellness goodies to my friends I felt a stream of energy between us. It was love, plain and simple. Sorry for the sappiness, but it's true.
And the funniest part was how resistant my friends were at first to allowing me to 'burden' myself by spending all morning preparing and delivering goodies. Has society sadly conditioned us to refuse a kind gesture? I hope not. The more we accept kindness, the more we will be inspired to spread it around. So I went with my gut and didn't take no for an answer. It felt like the right thing to do – and it was. I can't tell you how passionate the thanks were in return – they said I brought them a feeling of wellness – and isn't that the point of it all?
Get Well Soon Basket Contents. So here's what I put in the basket: homemade sweet potato biscuits, a big container of hearty bean/veggie/vegan sausage soup – all made from scratch, a few coconut waters for hydration and electrolytes, a big bottle of freshly squeezed citrus juice for vitamin c and hydration, and a few other pantry goodies like graham crackers, pomegranate juice and a gingersnap cookie. For the juice I simply squeezed a bunch of assorted citrus fruits, bottled it and sealed it with parchment paper. For the soup and biscuits, the recipes are below…
Fresh Squeezed Orange-Minola-Tangerine Juice: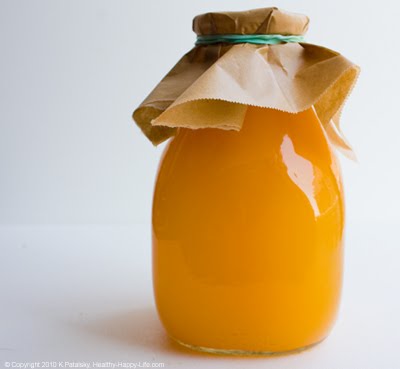 Get Well Basket (soup, OJ, coconut water, biscuits):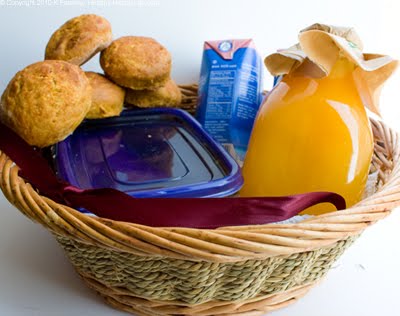 Sweet Potato Biscuits: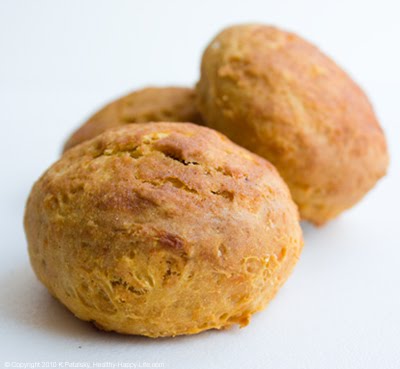 Soup: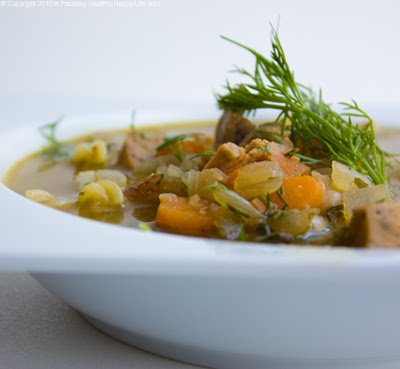 Garden Dill White Bean Soup
vegan, makes about 10 cups
1 large white onion
3 small carrots
*stem attached variety
½ cup white mushrooms, chopped
1 vegan sausage
*I used Field Roast brand – apple sage flavor
3 garlic cloves, chopped
3 tablespoon olive oil
6 cups of water
*you can also use veggie broth – but then omit the salt
1 can cannellini beans, drained
1 cup fresh dill, chopped
1 cup spiral pasta
2 teaspoon black pepper
1-2 teaspoon sea salt
3 tablespoon assorted dried spices/herbs
*I used rosemary, bay leaf, thyme and cayenne
Directions:
1. Prep your veggies: wash n chop.
2. Place a big soup pot over medium-high heat. Add the olive oil, onion, mushroom, garlic, vegan sausage (chopped) and carrots. Allow to saute for a few minutes.
3. Add in your water, pepper, salt, spices (not fresh dill yet). Bring to a boil.
4. Add in the pasta and allow to cook for 5 minutes. Season to taste – add additional spices/herbs if you'd like.
5. After 5 minutes, add in the drained beans and most of the fresh dill. Turn heat down and allow to simmer for 15 minutes. *Adding the beans last allows them to stay a bit firm and not get mushy.
6. Garnish soup with remaining fresh dill on top.
7. Serve. Or, transfer to to-go containers, soup warmer or store in fridge until ready to eat.
Sweet Potato Biscuits with Maple Glaze
vegan, makes 12-16 biscuits
*variation from my Sweet Potato Spelt Biscuits recipe here.
3 cups flour, whole wheat
1 cup warm water or soy milk
*I use water, but soy milk works too
1 tablespoon baking powder
1 teaspoon salt
1 medium sweet potato
2 tablespoon canola oil or vegan butter
*If you use vegan buttery spread, omit the salt
2 tablespoon maple syrup
1 teaspoon garlic powder
1 teaspoon black pepper
a few dashes of cinnamon
Glaze:
3 tablespoon maple syrup
1 tablespoon buttery spread OR apple cider vinegar (your choice)
*there may be leftover glaze
Directions:
1. Combine dry ingredients in large bowl. Mix well.
2. Bake sweet potato (micro is fine) peel and mash in a separate bowl with the oil or vegan butter. Set aside.
2. Add water (or soy milk) to the dry ingredients. Then spoon in the wet mashed sweet potato mixture. Fold by hand until a nice ball of dough is formed. Add more flour if dough is too sticky.
3. Knead by hand on floured surface. Press out with fingers:
Press out dough with fingers after kneading:


4. Use a biscuit cutter or a simple juice glass to cut out biscuits, transfer to parchment paper or greased cookie sheet:
Cut out biscuits: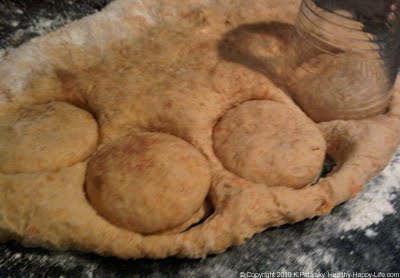 5. Warm the maple/buttery spread glaze in the microwave. Brush a light glaze onto each biscuit: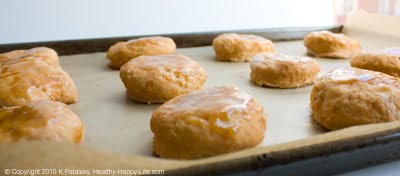 6. Bake at 400 degrees for 20 minutes. Allow to cool at least 10 minutes before eating or storing.