This time of year I am constantly trying to think of easy ways to enjoy soup as an entree. One way is to basically take a bunch of chopped veggies and maybe some legumes like lentils or pasta or rice and throw it all in a big pot. Simmer and make some soup magic. Serve in big bowls, seconds welcome. But besides the "throw it all in a pot" method, another route is to puree your soups. Hello Vitamix.
For pureed soups, I love sweet potato, carrot, broccoli, butternut squash, corn, mushroom and many more. I love the thick texture of pureed soups and how they hold their heat well – especially potato soup! Pureed potato soup is comfort food in a bowl. You could top with vegan cheese or accent veggies, croutons or shiitake bacon or try out today's recipe for a brand new spin.
Adding cauliflower to potato soup really evens out the potato-starchiness. Today's recipe is a soothing creamy soup that I will keep coming back to. To make it a meal, I add heaping spoonfuls of my favorite skillet chickpeas. Toast on the side.
Today we whip up Garlic-Rosemary Cauliflower Potato Soup with Smoky-Maple Skillet Chickpeas – plus a video!…

…side note: funny enough the photo above was taken with my iPhone. Whoa. Phone cameras have come a long way!

This soup is accented with alluring flavors like rosemary, loads of fresh garlic, pepper and a hint of nutritional yeast. And the real kicker is the tablespoon of vegan butter that I add to this soup. It brings everything together and the baked potato-meets-cauliflower soup flavor is perfect.
I finish things off with my favorite skillet chickpeas. These easy skillet chickpeas are smothered in spices and sweet maple flavor. I love these chickpeas all on their own or served on salads or soups like this. The spices bring an added layer of flavor to the creamy, simple soup.
Creamy, buttery, soothing, warming potato-cauliflower soup base..

Topped with these flavorful smoky maple chickpeas…

This is a simple soup!..

With very delicious results. I whipped this up for lunch and loved the leftovers at dinnertime..

I know not everyone thinks vegan mayo spread on toast sounds delicious, but it is my go-to side with most veggie soups. Seriously, just try it once and see if you agree! I prefer the grapeseed oil Vegenaise, the one with the purple cap.
I love the accents of rosemary, bay leaf, garlic and nutritional yeast..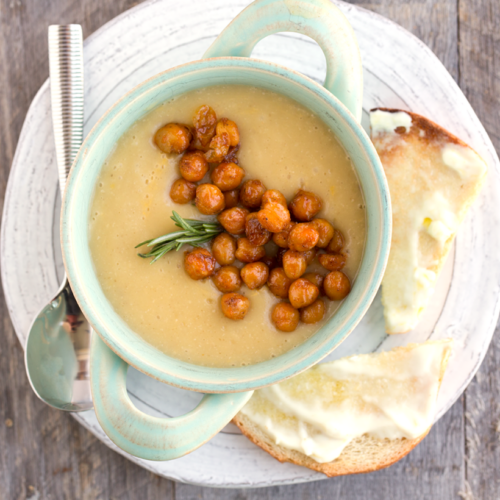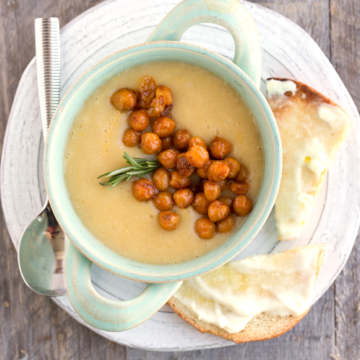 Garlic-Rosemary Cauliflower Potato Soup with Smoky-Maple Skillet Chickpeas
This super flavorful and simple soup contains potato, cauliflower, garlic and plenty of smoky-sweet skillet chickpeas on top. Accents of rosemary and pepper.
Print
Pin
Ingredients
Soup:
1 head of cauliflower, organic (medium sized)

1 medium Russet potato, diced (skin on)

3-5 cloves garlic

1 ½ tablespoon vegan butter (Earth Balance or similar)

4 cups vegetable broth

2-3 tablespoon nutritional yeast

1 bay leaf

fresh rosemary

salt and black pepper to taste
Chickpeas:
1 ½ cups chickpeas, drained/rinsed

1 tablespoon extra virgin olive oil

2 teaspoon maple syrup

smoked paprika to taste

salt and pepper to taste

1-3 teaspoon nutritional yeast
Instructions
Bring a large pot of water to boil. Add the potatoes. Cook for 5 minutes, then add in the cauliflower. Cover with lid and cook until both potatoes and cauliflower are tender, about 3-5 minutes longer.

While the veggies are cooking, you can do the chickpeas in a flash. Heat a skillet over high heat. Add the olive oil. When oil is hot, add the chickpeas. Shake pan a bit to coat chickpeas in oil. Turn heat to medium, cover with lid, allow to cook 2-3 minutes. Uncover lid and turn heat to low (so you do not burn the spices) add in the spices to taste, as well as the nutritional yeast. Shake pan to distribute spices. Finally add the maple syrup and shake pan – the pan will still be warm enough to caramelize the syrup a bit. For a more intense 'candied' texture you can turn the heat back up to high for just a minute. Note: If you are worried about burning the spices doing this, add the spices last. When chickpeas are done, turn off heat and set pan aside. Allow the chickpeas to sit and rest while you finish the soup. As chickpeas cool the coating will candy even more into sticky-sweet-spicy bliss. Add salt to taste if desired.

Drain the water from the veggie pot and add the boiled potato and cauliflower to a blender. Add the garlic, veggie broth, vegan butter and nutritional yeast. Blend from low to high until smooth – careful while blending because contents will be very hot.

Pour the blended soup into the large (now empty) soup pot. Add the bay leaf and one sprig rosemary. you can add a few finely chopped bits of rosemary for more intense flavor. Bring to a boil then reduce heat to low and simmer uncovered for five minutes. This helps to thicken the soup a bit. Taste the soup and add salt and pepper to taste.

Serve soup with a generous spoonful of the skillet chickpeas over top.