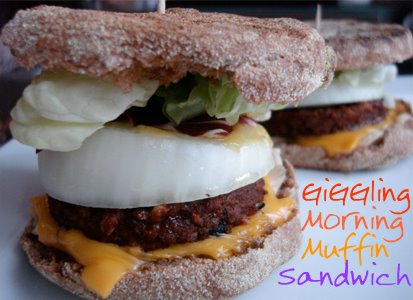 Here is a quickie recipe for the Giggling Morning Muffin Sandwich.
This will make your morning better than 'good' – you'll be giggling.
It's the perfect little English muffin style sandwich.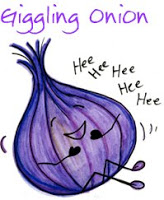 It's vegan. Contains protein. It's savory-sweet. And it takes 2 minutes to make.
Oh and its absolutely delicious.

Egg-McSausage-Mc-Gives-You-a-Muffin-top-Muffins…
…eat your heart out.
RECIPE:
Giggling Morning Muffin Sandwich
1 whole wheat English muffin
1 slice vegan veggie singles (any flavor)
1 thick slice white onion
3 leaves butter lettuce or spinach
1 slice vegan bacon, sausage patties or links
1 teaspoon honey or maple syrup
spread vegan 'butter' on each side of muffin top.
Toast muffin
Add 'butter" and cheese
heat in microwave for 11 seconds?
layer remaining ingredients
Wrap in foil for a to-go breakfast
or eat and enjoy ASAP!
Less than 350 calories, around 10-16 grams protein, 4-7 grams fat (depending on brands)