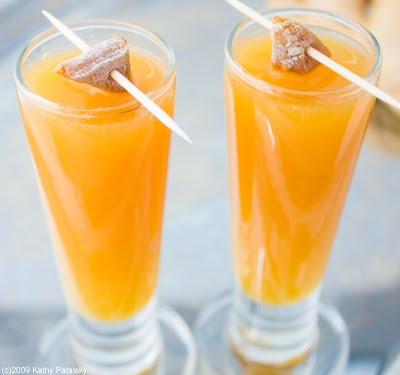 There's nothing like a shot of fresh pressed ginger-infused juice to wake up your taste buds and refresh your palate. Elegant and fun shooter juices are the perfect touch to add to any festive celebration. Impress your guests with this first-impression-worthy sip.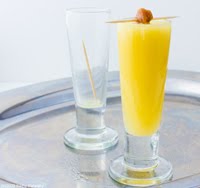 My fresh-pressed Ginger Juice Shooters with a ginger-peanut chew garnish are a perfect pre-meal palate cleanser. I've posted two recipe variations to choose from. Accent flavors from organic pear or apple, seasonal tangerine, and lemon give this sip a sweet yet invigorating bite. Prepare the juice right before your guests arrive and serve it as they walk in the door! It's sure to supply your holiday bash with a boost of warmth and energy! Get two versions of my recipe…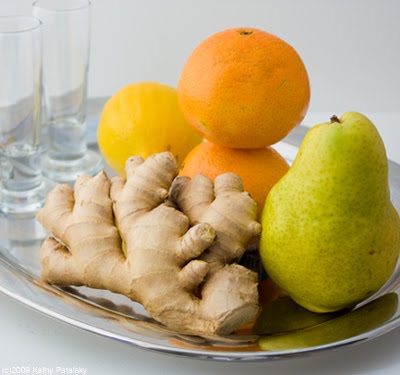 Apple or Pear. I did two variations of this recipe. One with pear and one with apple. I personally like the pear recipe better, but you may want to experiment and see what you like best. You may also want to do a taste test of the amount of ginger you use.
Lets take a little break for an urban lingo lesson from UrbanDictionary.com…
Bevies – (n.) Any beverage that helps you achieve richter status. Usually Natural Light or its economic equivalent.
Richter – (adj.) 1. Totally awesome, moving, groundbreaking 2. Earth-shattering, beyond any measurement on the "Richter Scale"
…now lets put our new vocab to use…
WARNING: These Bevies have Bite! Raw ginger is strong! It is in the same 'bite' category as wasabi, spicy salsa or a shot of hot mustard. Some guests will love the heat and spiciness from the ginger-and actually want more spice! Some may not. So I advise you to do a few juice shooters that have less or no ginger. You can also have a few with a dash of cayenne built in, for those fire-eating rebels who want their juice as spicy as can be!
Finishing Touch. I added a ginger-peanut chew garnish to the shooter. It is a great way to end (or start) your ginger shooter sip. Sweet and refreshing to the palate, and the tummy!
Fresh-Pressed Juice. Yes, you will need a juicer for this recipe. Wait, you don't have one? What are you waiting for? Read my Juicing Tips 101 Guide. (Get a juicer) Then, get my two recipes below…
Ginger-Pear Juice Shooters
makes 5-6 shooters
1 large organic pear
*I used an organic Bartlett
1 tablespoon peeled fresh ginger
1 medium sized tangerine
1 tablespoon fresh squeezed lemon juice
garnish: 3 ginger chew candies, diced small
*I used ginger-peanut flavor
5-6 toothpicks
Directions:
1. Prepare your ginger chew skewer garnishes by slicing the ginger chews into pea sized bits and skewing them on toothpicks. Set aside.
2. Wash your pear, slice into juicable strips. Yes, I juice the entire pear-seeds and all.
3. Peel your 1 tablespoon of fresh ginger. I peel my ginger because otherwise my juice comes out brownish.
3. In a manual citrus juicer, juice your tangerine and lemon juice. Set aside in a glass.
4. Turn on your electric juicer. Juice your pear and ginger. Finish the juice by pouring the citrus juice right into the juicer-this will blend all the flavors together and even infuse your citrus juice with the ginger and pear flavors that just ran through the juicer.
5. Now that you have your completed juice, pour each shooter to the brim. Add your ginger chew garnish on top and place on a platter to be served. Cayenne for extra spice is optional, and as I mentioned, having a few low or no ginger options may be useful.
Pear Ginger Shooters: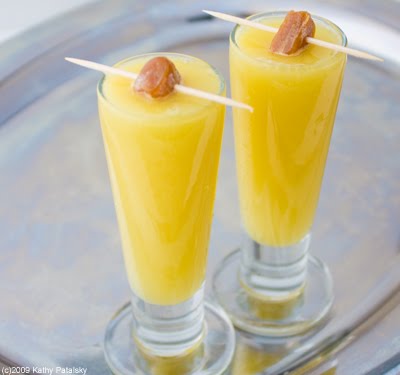 Version 2…
Apple Ginger Juice Shooters
*Follow the exact same recipe instructions as above, only substitute the pear for 1 large apple. I prefer honeycrisp, golden delicious or granny smith apple's for juicing.
*An apple will provide a less sweet, more tart flavor.
Enjoy!
Apple Ginger Shooters: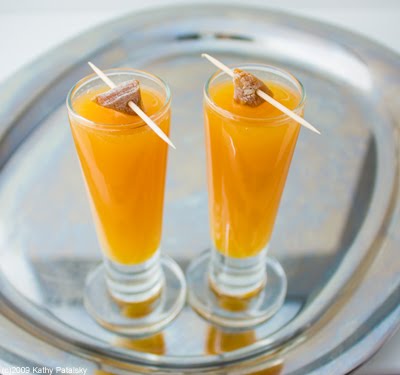 Shooter Glasses: I purchased my shooter glasses at Crate and Barrel. They were only $2.95 each. They are called "spirit cordial glasses".