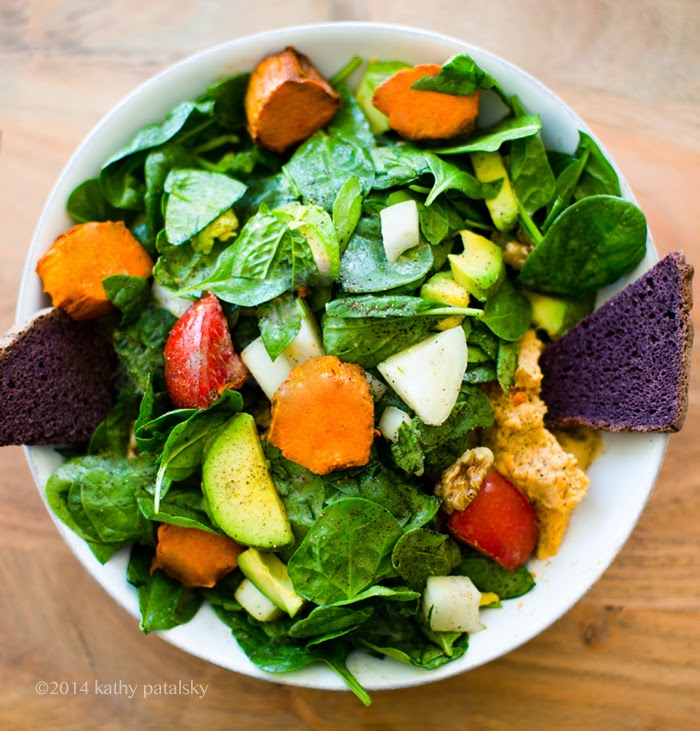 Everyone should have a favorite go-to salad recipe. One that they can make in a flash without much thought or analysis in the kitchen. Having a healthy-delicious recipe in your back pocket is a good prevention method for avoiding rushed, possibly unhealthy mealtime decisions. Once you discover how easy it can be to make yourself a delicious, favorite meal, you will feel empowered to get in the kitchen more often – and you may even save some money on takeout and other convenience food options…
My Salad! When mealtime rolls around and all I want is a delicious, well-balanced, bowl-in-a-meal sort of salad, this recipe is what satisfies me. I not only use this as my go-to salad recipe, but I also crave it even when I do have loads of time for kitchen play!
The secret to discovering YOUR perfect go-to salad is figuring out what foods you could never get tired of. For me, those flavors are: sweet potato, baked all sticky and sweet. Avocado, creamy and buttery. Greens, fresh and fluffy. Walnuts, crunchy and rich. Tomato, colorful and juicy. Onion, zesty and flavorful. And my favorite tahini-maple dressing, nutty and sweet creating a savory-sweet flavor I adore. Try my favorite salad recipe on for size, then get in the kitchen to craft YOUR favorite go-to salad recipe! Let me know what it is in the comments section, I'd love to take your salad for a ride.
Some salad components: homemade hummus and homemade salad dressing.
Watch me make and chat about my favorite salad recipe! (VIDEO) .. oh and try your best to ignore the Sochi kitty cat who pops up in the middle of the video. He cannot help himself when he smells fresh flowers on the shelf.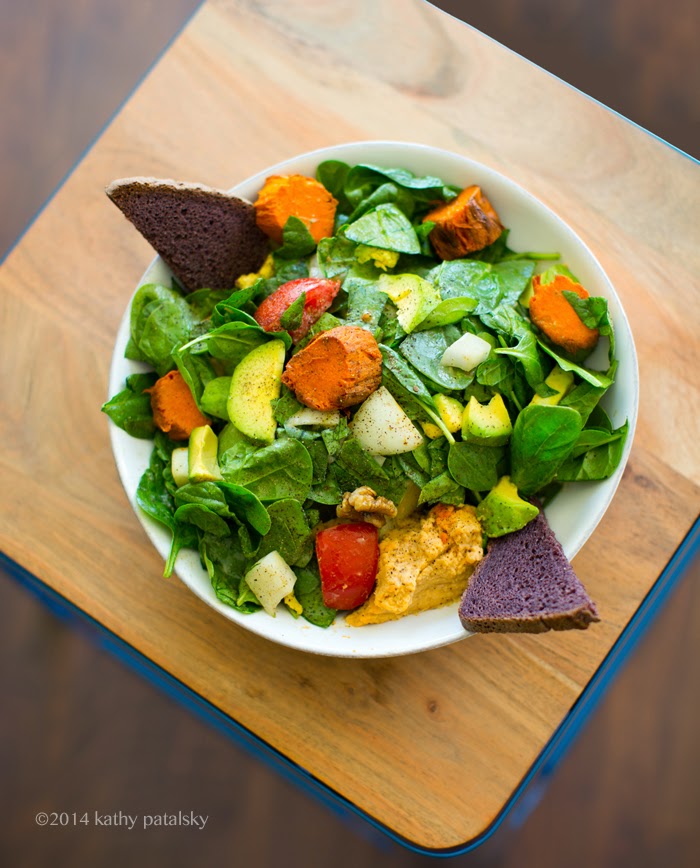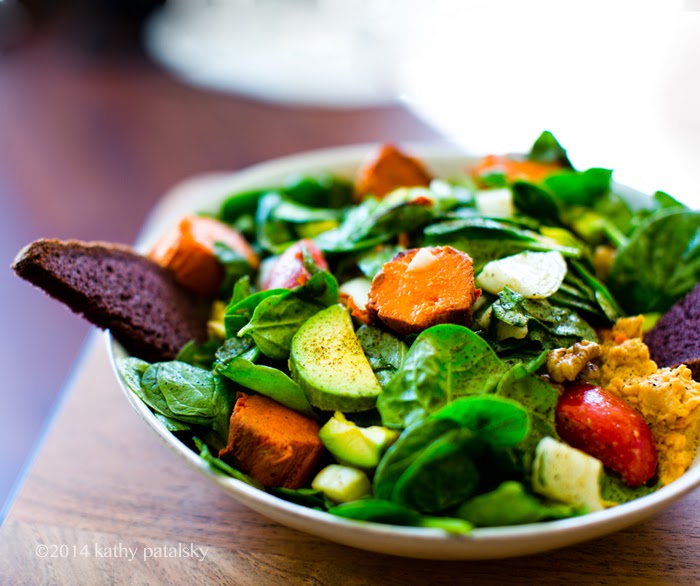 Maple Tahini Dressing recipe + more vegan salad dressing recipes
Go-To Salad: Avocado Sweet Potato Maple Tahini Greens
By Kathy PatalskyPublished 05/26/2014

Kathy's favorites make for one easy, go-to salad. Avocado, sweet potato, walnuts and more with my signature maple-tahini dressing.
Ingredients
4 cups greens (baby spinach used)
½ sweet onion, chopped
1 small tomato, chopped
½ – 1 avocado, diced
1 tablespoon walnuts
1 small sweet potato, baked, peeled and sliced
¼ cup hummus or ½ cup beans (opt'l)
2-3 teaspoon maple syrup, grade B
2-3 teaspoon tahini
1 small orange, juiced or 2 tablespoon lemon juice or 2 tablespoon apple cider vinegar
Instructions
An hour before starting to assemble your salad, pop your sweet potato in a 400 degree oven and bake for about an hour, or until tender.
Add greens, chopped onion, diced avocado, chopped tomato, walnuts and dressing to a large mixing bowl. Toss very well until greens are marinated with flavor. Optional: add a pinch of salt and pepper to season greens. Pour tossed salad into a serving bowl.
Top salad with the baked sweet potato slices. Add a dollop of hummus on the side.
Add some toast or rice crackers on the side if desired. Serve while sweet potato is still warm!
Yield: 1 large entree saladPrep Time: 00 hrs. 15 mins. Cook time: 01 hrs. 00 mins. Total time: 1 hrs. 15 mins.
Nutrition
Calories:

580 (using ½ avocado)
Tags: salad,vegan,sweet potato,entree