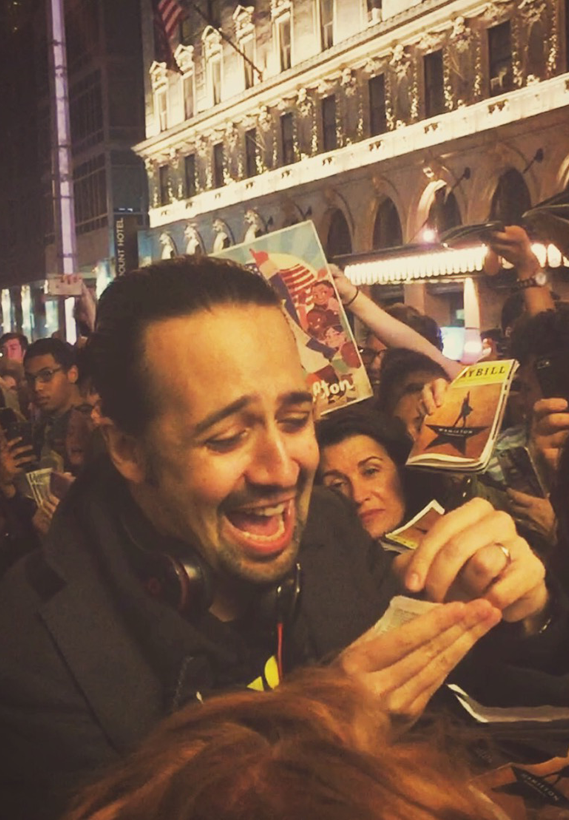 One of my most favorite Broadway experiences was seeing the original cast of the musical Hamilton, in NYC. (Lin Manuel .. as Hamilton. Live. In person. All the epicness of that.) Here is my whirlwind story of how I made that happen…
I had been listening to the Hamilton soundtrack on repeat allllllll summer long and absolutely fell in love with the words and sounds and mood of this show. So I had to see it!
But there were a few problems…
Lin Manuel would be leaving the starring role soon, so I had to act fast.
I lived in Los Angeles — 3000 miles away from the Richard Rodgers Theater.
Oh crap. Check out the prices. The face value tickets were long gone and brokered tickets were crazy expensive.
Enter my random trip to Florida! And a very random last minute invite to a professional meeting in NYC. Hmmmmm. So what did I do?
But I needed to see this show.
I get a little passionate about live shows. They offer such inspiration and raw emotion for me that sometimes I just need to make it happen…
Hamilton – We're doing this.
….I'm doing this.
First I flew up to DC to stay with my mom a few days. Then I browsed the internet – fine, maybe browsed is too casual of a word. I scavenged the internet for the cheapest possible re-sale Hamilton tickets. And the day before – I bit the bullet and bought one ticket. In the balcony. Not an aisle. But desperate times people..
Then I trained up to NYC for a 24-hour whirlwind.
I arrived in NYC, checked into The Bryant Park Hotel – one of my faves – and changed for my big meeting. I cabbed across town to the meeting. It was about an hour long and exciting. (The meeting topic never came to fruition, but it was interesting none the less….) The meeting wasn't too far from Times Square, so I planned to go straight there. I was wearing heels. I planned to walk.
But wait! It started raining.
I could barely hobble in my unseasonal shoes. So I popped into an Anthro and bought some flats — if you are ever in NYC with the wrong shoes — you will understand how desperate things can get. Walking is LIFE there. I tossed my heels into a shopping bag and made it to Times Square with a good hour to spare. But my shirt was soaked with sweat and rain. So I popped into Express. The only clothing store I could find that seemed appropriate. I pulled a white and black stripped tee off of a hanger and brought it to the counter.
I made it to the valet parking area of a hotel – where it was dry. And inside some sort of hallway escalator location. I could not find a bathroom guys so what did I do? I somehow changed my shirt in the middle of basically Times Square. I'm good. And no, it didn't occur to me to change at Express. Whoops.
So finally, feeling refreshed..
in my flats and cool tee, I got in line at the theater. I waited. And waited. And waited. Suddenly the humidity and heat and length of the long day caught up with me and I felt faint. I pulled a bar from my bag and devoured it. Shoot, I totally forgot to eat lunch. Luckily, I had snacks in my bag that I nibbled on while I waited.
When I finally got inside I settled into my seat – I was crammed between a bunch of chatty senior citizens who kept saying that they couldn't understand the words. But hey, it was cozy up there in the balcony.
Long story short when the show began my heart was pounding. Probably from all the adrenalin and excitement to be seeing the original cast in one of the most iconic shows of all time.
And yes ——- it was amazing.
This guy is a genius…. applause…
I guess you could say I chose that adventure because…. you only get one shot. Don't throw it away…
I am not throwing away my shot
I am not throwing away my shot
Hey yo, I'm just like my country
I'm young, scrappy and hungry
And I'm not throwing away my shot
I'ma get a scholarship to King's College
I prob'ly shouldn't brag, but dag, I amaze and astonish
The problem is I got a lot of brains but no polish
I gotta holler just to be heard
With every word, I drop knowledge
I'm a diamond in the rough, a shiny piece of coal
Tryin' to reach my goal my power of speech, unimpeachable
Only nineteen but my mind is older
These New York City streets get colder, I shoulder
Every burden, every disadvantage
I have learned to manage, I don't have a gun to brandish
I walk these streets famished
The plan is to fan this spark into a flame
But damn, it's getting dark, so let me spell out the name
I am the A-L-E-X-A-N-D-E-R we are meant to be

– Lin-Manuel Miranda as Alexander Hamilton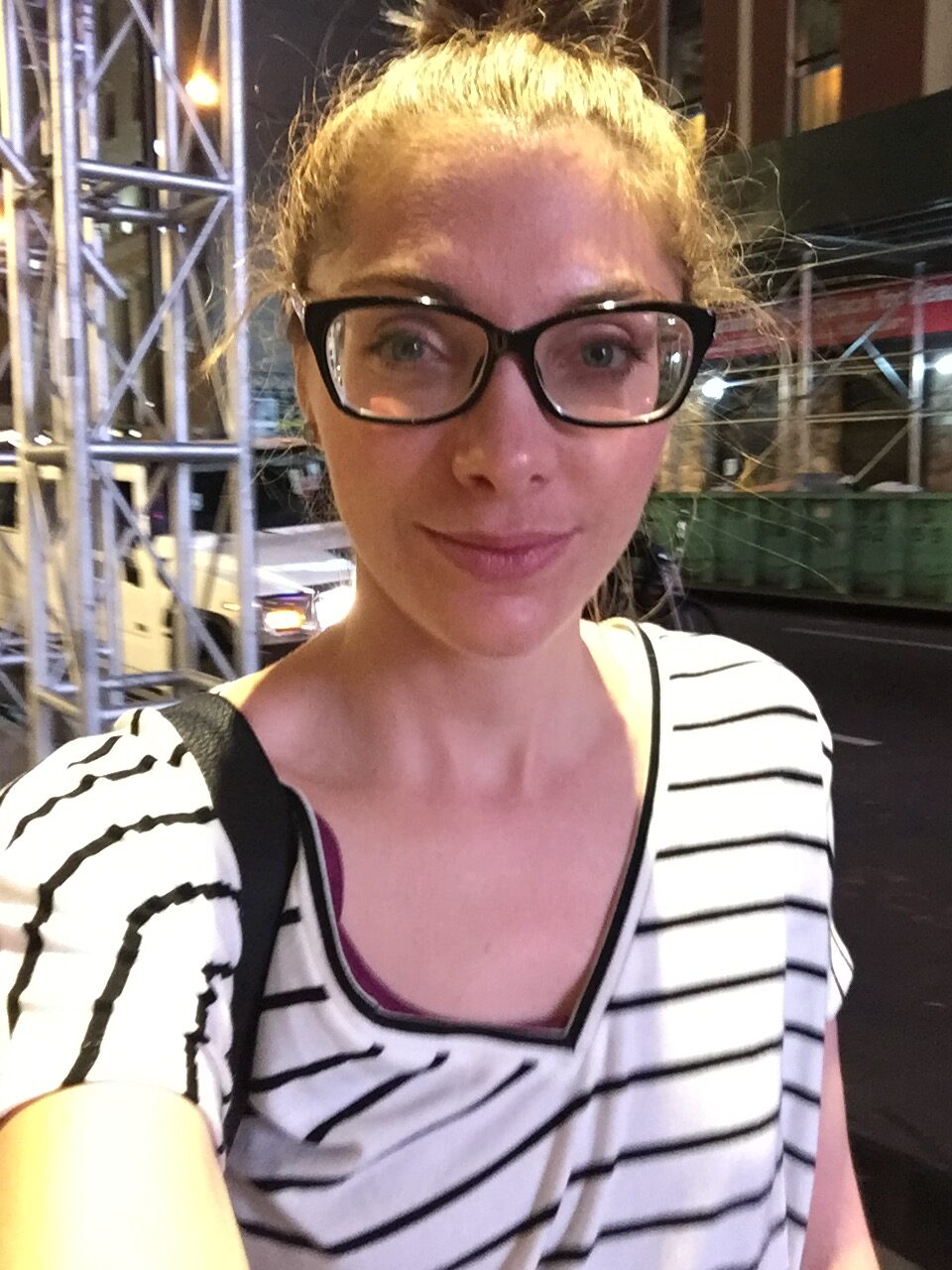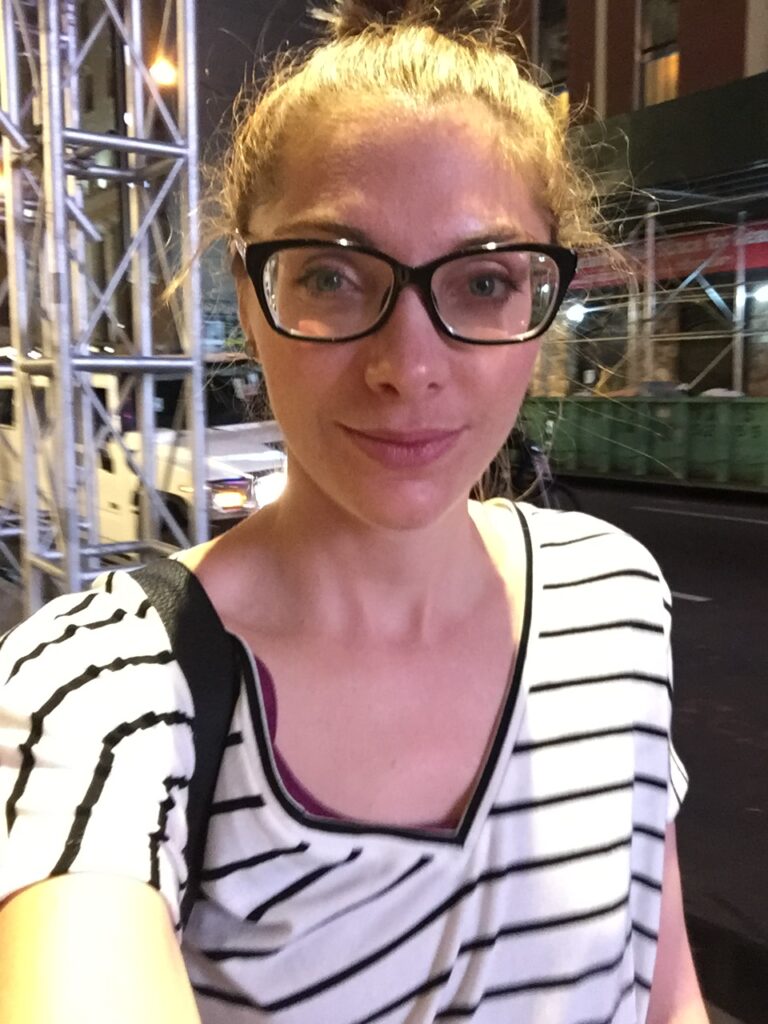 It was amazing. It was one of those solo travel experiences that reminds you how much fun you can have all on your own. I really fell in love with myself on that trip. Solo travel can really reconnect you to your heart and soul and spirit.
And ps. eventually my husband got to see it with me in NYC – and London! (Yeah.. that's a whole other story…) So Ham-fan-girling complete!
Stage Door Hamilton NYC Photos
And of course, I waited for stage door!…..
My video of the stage door madness..
Let my Hamilton fan-girling commence..

So when I found out I was going to see Hamilton on Broadway, I felt like this..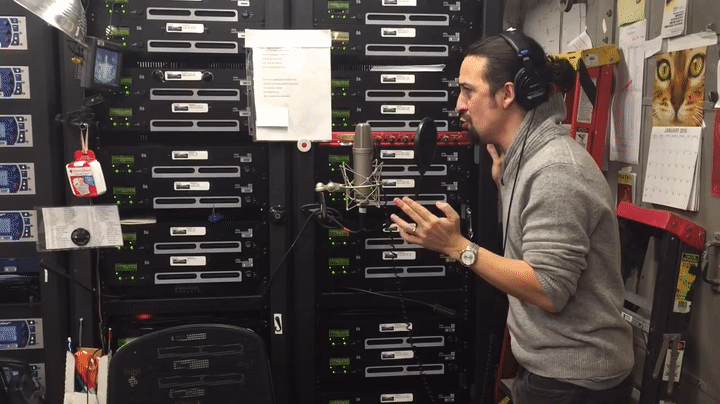 …Yeah I made this GIF myself bc I loved this clip so much, lol. It's from when Lin was able to do a voiceover part in a live Les Miz show…
More on Hamilton…
If you haven't hopped on the Hamilton fan-girl or fan-boy-ing bandwagon, I urge you to listen to a few songs on the Hamilton Musical Cast Album, and see whatcha think. (Alexander Hamilton and My Shot are two good songs to start off with. Wait for it, Burn, Non-Stop and … oh forget favorites — the entire freaking album is incredible.)
Watching Hamilton live was amazing. I felt like I was in a dream the whole time since I pretty much had the entire album memorized from listening to it so much. That was a little odd. To be seeing a show I already knew so well. But luckily, it just took everything in my head, all those songs, to a new visual-superstar experience. The emotional pull from each scene, created by the cast and the gorgeous weightless-feeling choreography and modern-meets-classic costumes, well it was all perfect.
It was the most energy-filled, emotional and interactive theater experience I have ever had. And besides Lin being amazing, the other cast members were incredible. I mean the talent and charisma in this cast is diverse and remarkable in so many ways. Leslie Odom Jr who plays Aaron Burr blew me away — and I really hope he wins a Tony Award tomorrow night for best actor — and Lin can win like everything else.
After theater shows, I love doing stage door – if I have time and energy to hang around. It was a madhouse of fans holding Playbills and Hamilton books, awaiting signatures. Four stars came out that night, including Lin! And being face to face with the show's creator and main actor, Lin-Manuel Miranda was incredible. And do yourself a favor a follow Lin on Twitter.
Hamilton NYC Photos
Oh! And in true food blogger fashion. I made a recipe for that…. Avocado Hamiltoast…