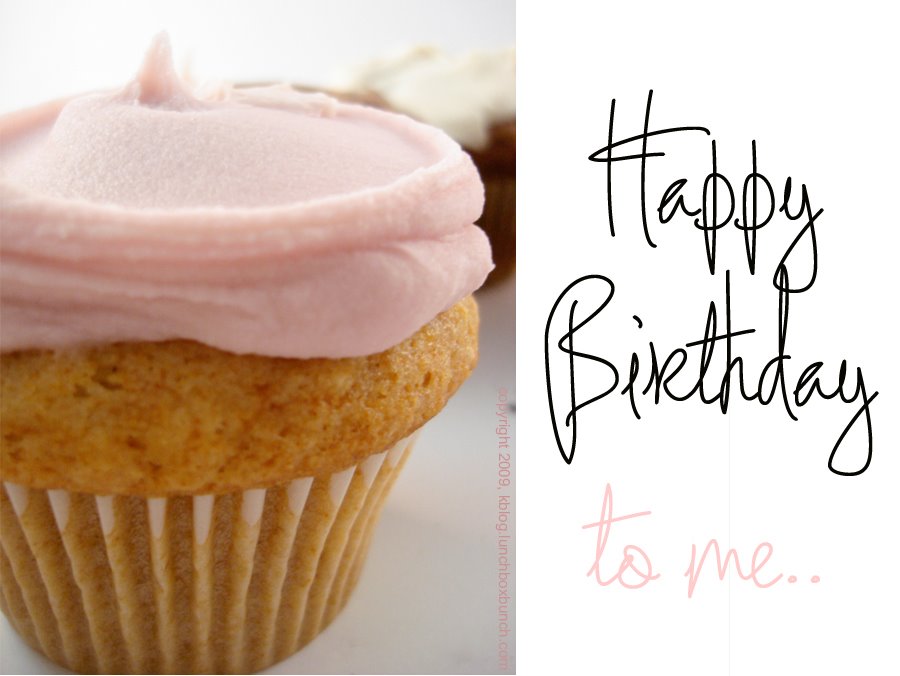 It's my 28th birthday! So happy birthday to me!
I already received a great present from you, my blog readers: My 20th follower!
Maybe with your help I can make it to 28 by the end of today????
To celebrate, I am going out to dinner tonight with my husband, to my favorite NYC vegan restaurant. I will tell you all about it tomorrow.
…oh and the cupcake in the photo is from a great LES NYC vegan bakery called babycakes. For my birthday, I will do a special review of a few different yummy cakes later today! Check back.

Want a few more fun facts about my birthday? Click ahead…
Kathy Birthday Fun Facts:
-This is my third birthday living in NYC. Last year I went to famous all-vegan restaurant, Candle 79. It was delicious. All the awards are well-deserved.
-Two years ago I went Craft. Tom Colicchio's NYC restaurant. Best mushrooms I've ever had. Yum.
-My mom always writes me the same cute note every birthday: "Happy Birthday to our beautiful daughter — Hope you have a great day and a happy dinner tonight. You were born at 12:30 PM. There was a rainbow in the sky in the morning as we drove over the hill to the hospital."
-As a child I always had rainbow sherbet on my birthday…in honor of the rainbow in the above quote. 🙂
-My birthday also coincides with my half wedding anniversary. I was married on July 30th, 2006 in Miami.
-I share my January 30th birthday with US President Franklin D. Roosevelt, Gene Hackman, Vanessa Redgrave and I always like being sandwiched between Oprah (Jan 29th) and Justin Timberlake (Jan 31st.)
-My birthday usually falls on or very close to the NFL Superbowl.
-My favorite cake flavors? German Chocolate, Strawberry Shortcake and Carrot Cake.
Thanks again for reading my blog, and allowing me to share my Healthy. Happy. Life with you.