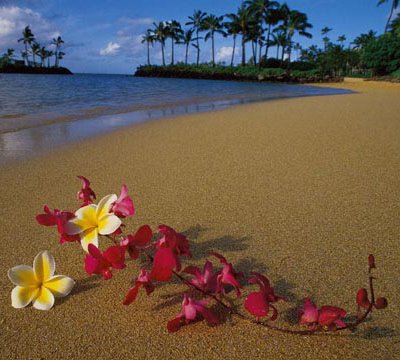 I love the Travel Channel's host Samantha Brown. She is always cheery, witty and tells it like it is (in her own polite and positive way). And when I recently saw her episode of Samantha Brown's Great Weekends where she traveled to the island of Hawaii, it got me pondering the origin of 'eating local'…

Aloha Locavore's! Sweet baby bananas, pink guavas, fresh picked pineapple and crunchy macadamia nuts. Hawaiians have had this trendy idea of eating locally grown, regional cuisine, aka 'locavorism', down for a long time. Let's discuss and bask in a few Hawaiian daydreams…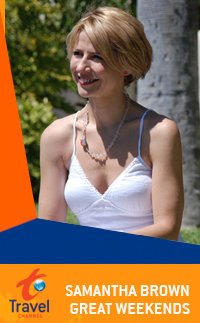 First off. If you don't know the show, it's called Samantha Brown's Great Weekends and airs on the Travel Channel, Saturday's at 10pm. A new season started May 9th. Sam Brown even has a twitter page for the show.
I Love Hawaii. Daydreams. Watching Sam Browns' Hawaii episode got my memories from Hawaiian travels spinning. Such a beautiful part of the world. The breezes are soft and smell of pink hibiscus. Tall green and purple mountains parade into the misty blue sky. Hiking through the hilltops and bamboo forests you will find hidden caves, lush gardens and crystal blue waterfalls. Tropical fruit trees speckle the land and that ethereal aqua green water brush against the white, pink, black and caramel colored sandy shores. Hawaii, it's a magical place where wellness, health and happiness abound.
Locavore Approved. Hawaiians, historically, have had no choice but to eat in a locally inspired way. You can visit a traditional luau full of grass-skirt and flower-shirt wearing tourists and eat dishes like roasted pig, mahi mahi (both not for me, obvi) poi, guava syrup, Hawaiian slaw, taro root, fried rice, mai tai's and pina colada's. But really this isn't just tourist fare. You can visit posh fine dining restaurants on the island and be served the same varieties of foods, with an elegant twist. All local. All fresh. Many organic. All locavore-approved.
Thanks Sam. I love Sam Brown's Travel Channel shows, she is such a friendly person-yet not fake. That's a tricky personality combo to balance. It sealed the deal of my 'Sam fan status' when Sam Brown and her girlfriend's stayed at the Delano in Miami for their 'girls weekend'. Delano-my fave.So if you haven't checked out her Hawaii episode, visit her blog and read a bit of her Hawaiian thoughts….and have daydreams of POG, banana smoothies and pineapple tofu purses. Happy Aloha.
My comment to Sam on her Hawaii blog post:
Sam,
I loved the Hawaii episode! I love how Hawaiians are the original 'locavore's'. They indulge in the fruits of the island and the result is healthy local cuisine. My favorite memories of Hawaii travels always involved their delicious food: fresh guavas picked right off the trees, sweet juicy pineapple, tiny bananas from a roadside stand or those amazing pancakes with guava syrup and a side order of POG juice. Great episode-thanks for inspiring my memories.
Kathy
Travel Channels Great Weekend's with Samantha Brown