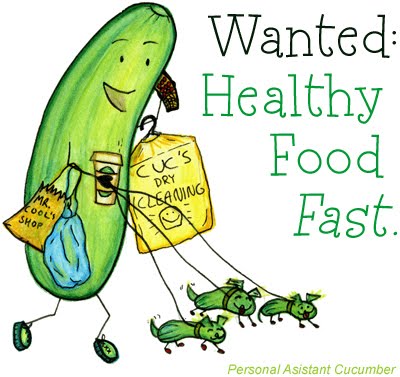 Healthy food fast, is something we all crave. It sounds like a great idea, but the reality of eating on-the-fly isn't always a glittering success. From CEO's grabbing breakfast at Starbucks to drive-thru-window catered lunches and even a round of diet soda and fries for the ladies who lunch, you may be surprised to commonly see even the most sophisticated of people surviving on some not-so healthy food fast.

Life: Can I Get it To-Go? It's no secret that we are all busy, stressed, pressed for time, on-the-go, in-route-to our destination with an estimated arrival time of way-to-late-already. "Go.Go.Go." isn't just the mantra of everyone's favorite fashion guru Tim Gunn, it's the motto of our generation. Tweet it, fb it, post it, email it, text it…now! Please.Higher speed living: it's all round us. Advancements in technology have made communication faster and better. Yet somehow the translation of speed and 'betterment' of what we call healthy fast food, has not progressed as gracefully as one might expect. Yes we are all texting and downloading at 6G, 8G, billion-zillion mega-bytes per second speeds, yet most of us are still munching mega-burgers, too-much-coffee (perhaps from a to-go freeze-dried hey-it's-trendy packet), doughnuts, processed snacks, white flour delights and sugar-loaded 'crap' all in a handy dandy to-go bag.
Reality check: Some of the unhealthiest people I know are indeed very busy. However, most of the healthiest, most wellness-minded people I know are also very busy. The lesson: it can be done. And in my opinion, it all starts with a healthy on-the-go breakfast. This post is loaded with info. Here are five easy "fast food" upgrades for your morning routine. Go, go, go!…
Repeat Offenders. I don't know what you reach for in the morning, what you pack in your "snack pack" or what you spend your lunch money on, but I do know that there are a few repeat offenders in society when it comes to what we eat when we're in a hurry. For breakfast foods think: doughnuts, giant muffins and high fat 'loaf' breads, greasy proteins, over-sweetened 'fruit' juices and not-always-so-healthy smoothies, sugar/fat-loaded coffee beverages, overly-processed grains and that overall adding-sugar-to-everything mentality. A 'crappy' breakfast is pretty easy to find in America. Just drive on thru! You can probably name ten fingers (and ten toes) worth of fast food or to-go restaurants in your city, but can you name the last twenty fresh fruits and veggies you ate? If so, good job. If not, don't worry, you're not alone. Remember: healthy starts today, not yesterday or tomorrow. And good news: eating healthy food makes you feel better! You'll crave it.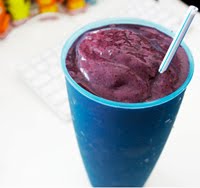 Crave Wellness. Instead of feeling dehydrated, tired, hungry, bloated, sugar-needy, caffeine-obsessed and under-nourished, you might actually start to feel hydrated, energized, purified, nourished and even 'healthy'. And nothing tastes better than feeling healthy and energized to perform well during your busy day. So turn those repeat offenders into repeat winners, simply by substituting a few of my favorite 'fast' foods. And in this post I'm going to focus on morning foods, because there's no faster way to get your day started off right or wrong, than by considering what you put in your mouth in the morning.
Fast Food Trends. If you look at the 2009 Zagat Fast Food Survey you will find these all-American favorites scattered on the "best food" "best service" "best value" favorites lists: Starbucks, Pinkberry, McDonalds, In-n-Out, Panera Bread, Chipotle, Chick-fil-A, Au Bon Pan, Burger King, Taco Bell, Wendy's, Subway, Dunkin' Donuts, Coldstone Creamery, Jamba Juice, Whataburger, Ben and Jerry's, KFC, Peet's coffee and Tea, Arby's, Corner Bakery Cafe, Dairy Queen, El Pollo Locco, Popeye's and more. You can see the complete survey results here if you really want to know who makes the best french fries, best hamburgers and will get you the best 'value' for your dollar according to Zagat readers. But if you really want to get the best return for your buck, I'd suggest investing in your health. Hungry for wellness? Keep reading.
Dismal Offerings. Even the healthiest of folks may say they haven't been to a Dunkin' Donuts in years, but they will admit to frequenting chains that could be 'considered-somewhat-healthier' like: Starbucks, Panera, Chipotle, Jamba Juice, Subway and more. These fast food chains may not offer 100% optimal wellness offerings, but they are the best of the worst and have taken significant steps to provide customers with healthier options.
Best of the Best Food. I have yet to find a nationwide fast food chain that rivals in health, the offerings that you can make quickly and easily in your very own kitchen. Yup, I said it. Do-it-yourself fast food. I know you wanted me to start listing off the names of all the 'healthy' fast food items you can freely indulge in, but that's not how I roll. I've been packing healthy to-go meals and snacks for myself and my family for years now. In college, while everyone was stampeding the snack and soda vending machines before class, I was reaching inside my bag for a granola bar, pack or nuts, fresh fruit nibble or swig of coconut water or fresh pure water.
Healthy Food Fast: Five Easy Upgrades.
1. Frequent Offender: Morning Cup of Coffee.
Whether you like it tall, grande, venti, de-caf, half-caf, soy, whole, skin, with whip or without, I think we can all admit to craving a hot warm beverage in our AM hours. And that's fine! People have been grabbing hot beverages for many years. But the hot beverage filling your coffee cup may have more effect on your day that you'd like to admit. If your very first sip of the day (aka, when you break-the-fast) is a whole milk triple shot latte, you're in need of an upgrade. Healthier options abound at home and on-the-go.
Easy Upgrade: At home you can make yourself a spicy soy milk chai latte. Super energizing, steamy hot and you can make it as caffeinated as you'd like by using black tea instead of coffee. Add in a green tea bag to your black tea and get an extra boost of antioxidants. Straight up green tea, for some, is very hard to sip in the morning-so simply do a black/green tea blend.
If you can't stop your coffee habit, at least nix the dairy milk and try soy. Do it a few times a week as a test. See how you feel. I've been anti-dairy ever since hearing Marilu Henner joke about the celebrity milk mustache ads, "I want to do one: "Not Milk." Instead of "Got Milk?" I did my own reading on the topic and decided to break free from dairy. I decided it was healthier for me and for the planet. You can read my interview with Marilu here.
Bottom Line: Switch up the nutritionally devoid cup of dairy-spiked coffee for a dairy-free alternative such as green/black tea, roobios, yerba mate or chai. And if you don't want anyone messing with your coffee, simply try switching to soy a few days a week.
Helpful Products: For at-home frothiness try the Areolatte wand. I love mine. My favorite soy milk for hot beverages is Soy Dream brand. I have also been experimenting with hemp and almond milks in my morning beverage. My favorite tea bags are Peet's Coffee and Tea Masala Chai tea bags. I also love Yogi Super Antioxidant Green Tea bags. I also love to add dried goji berries to my morning tea. They add a savory-sweet flavor as well as nutrients. My Goji Chai Latte recipe.
2. Frequent Offender: Instant Hydration.
It's common to have an overwhelming urge of thirst in the morning. Wanted: thirst-quenchers. The frequent could-be-healthier offenders include not-so-fresh or reconstituted juices like orange, grape and apple. And the sugary beverages you see stocking beverage vending machines in your office or school. Hydration is a big issue for busy people, and sometimes straight-up water just isn't what you want.
Easy Upgrade: Fresh fruit is a great way to gain hydration as well as nutrients like vitamins, minerals and fiber. Sometimes people forget that fresh fruits (and veggies) are made up of mostly water. Grapes are nearly 80% water. The great thing about fresh fruit is that you will get the hydration you crave, while also filling your tummy with more than just liquid. You won't be craving a bag of chips after eating a big baggie of plump black grapes or a giant juicy honeycrisp. However, if you are chugging sodas and sugary chemical/preservative-added beverages all day long to gain hydration, I'm guessing a salty bag of chips or another quick-eat snack will follow.
High water content fruits include: melon, citrus (grapefruit/oranges), apples, grapes, peaches, plums, strawberries, watermelon, blackberries, raspberries, pears, pineapple, bananas and blueberries. It's pretty hard to find a fruit that isn't high in water. I advise choosing farmer's market, local produce when possible. Try to buy organic, especially when your fruit has a thin outer skin or rind like grapes, berries and most non-tropical non-citrus tree fruits.
The second easy upgrade to make when hydration is what you crave: healthier beverages. Put down the soda and sugar water and reach for: coconut water, kombucha tea, pure fresh water, hot tea, nut milks, hemp milk, non-dairy milks, fresh-pressed bottled juices, smoothies and even veggie-based soups.
Bottom Line: Sometimes the best hydration doesn't come from a bottle. It comes from a tree, bush, vine or other fruit/veggie-yielding plant.
Helpful Products: ONE, Zico and Vita CoCo Coconut Water, Synergy Kombucha beverages, Living Harvest Hemp Milk. I advise investing in your own at-home juicer. Juicing 101: Tips and Buying Guide here. You can juice at home and bring fresh pressed juices in a to-go bottle, if juice is what you carve. And fresh fruits are easy to find, so you don't need my help there.
3. Frequent Offender: White Flour Delights.
Bagels, muffins, breads and baked goods of all kinds are easy, fast, cheap and somewhat satisfying to a growling tummy. But even the purest of intentions can turn 'bad' really fast. But it's just a bagel, you say. A plain bagel from Starbucks, perhaps. How bad can that be? Well you can't just get a bagel. You have to get the cream cheese to spread on it and a Venti Mocha to wash it all down. Or maybe you are "on a diet" and just get a black coffee and plain bagel, hold the cream cheese. Lower in calories right? But pretty much devoid of nutrients, fiber and other energizing elements that you could be putting into your body instead. And if you are fooling yourself that getting the blueberry muffin at Dunkin' Donuts is healthier that actually getting a doughnut itself, you really need to start reading the nutrition facts on that muffin. 510 calories and 16 grams of fat in that muffin.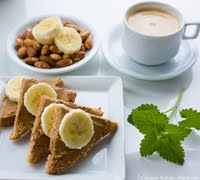 Easy Upgrade: Carbs! The good kind. You know you crave them and that's OK. But higher quality carbs that taste good are available! If it's a bagel you crave, go with a whole grain bagel and grab a to-go squeeze pack of maple almond butter as your spread. Or use some high quality fruit preserves if you'd like. The more whole foods (almonds, fruit, grains) you can see and taste in your munchie the better. When your bagel looks like white sand with white cream or red goop pasted on top, that's not a good thing.

Bottom Line: Nix the processed white flour sugar-loaded carbs and go for complex nutrient dense carbs. You don't need to shun bread. High quality grains are incredibly healthy. Just switch up the white flour for whole wheat, quinoa, rice flour, spelt, oatmeal, whole grain rye, barley, bran and buckwheat just to name a few. I adore sprouted grain, aka flourless breads. A good rule of thumb for getting more 'whole minimally processed' foods is "if you can't see the whole food, it's probably barely there". But be smart about it, those little blue dots in your muffin are not the highest of quality, freshest blueberries...and you know that.
Helpful Products: Justin's Nut Butter squeeze paks, Crofter's superfruit spread, Alvarado Street Bread Co. sprouted wheat bagels, Trader Joe's complete protein "California Style" flourless bread, Ezekiel breads. And as always, if you make your baked good (muffins, rolls, biscuits) at home you can add all the healthy ingredients you'd like to the batter: wheat germ, flax seed, whole grains, fresh or dried unsweetened fruit, raw nuts, seeds and more. Nuts Online
is a fun site with lots of healthy snacks. Also, muffins freeze very well. Bake a dozen over the weekend and eat them all week. My muffin recipes here.
4. Frequent Offender: What? It's a Smoothie?
I know you think you deserve a *pat on the back* for that 32 ounce strawberry smoothie you just chugged, but lift your lips from the straw for just a moment and take a look at the ingredients. Not all straw-sipped-smoothies are created equal my friends. Take it from me, my very first job was at my local Jamba Juice back in Capitola California. Back then, it was called "The Juice Club". It had an aqua green and orange logo and always smelled like sweet oranges when you walked in the door. I loved grinding fresh wheatgrass, plopping buckets of berries into the freezer, juicing giant bright orange carrots and scooping out vitamin and nutrient blends into the customers smoothies. However I didn't really enjoy the part that made me feel like I was working at an ice cream shop: plopping two heaping scoops of vanilla frozen yogurt or sugary sweet sherbet into each blender cup, when the recipe called for it. Cringe-worthy. This can't be healthy….I would think to myself. True, there was a scoop of bananas and a scoop of berries, but those two huge scoops of fro-yo really tipped those blends into 'milkshake' rather than 'fruit smoothie' territory. Thank goodness chains like Jamba Juice allow you to customize your smoothie to sub-out the 'bad stuff' for fruit. JJ has several healthy menu options for wellness-craving folks, but watch out. Just because it's from a Jamba Juice cup doesn't mean it's healthy.
Easy Upgrade: If you go to Jamba Juice, go for an all fruit smoothie. You can easily substitute fruit in any of the smoothies containing the dreaded "added scoops" aka, sorbet, fro-yo, sherbet. But the best smoothie sometimes starts at home. Acai-blueberry-spirulina, coconut papaya, hemp peach, pineapple enzyme. The options are endless. You can get some yummy recipes in my smoothies and drinks section here.
Bottom Line: Smoothies provide both hydration and nutrients. They provide fiber and flavor. But only if you make them from high quality nutrient dense, fresh ingredients. Blend good stuff in, sip good stuff out.
Helpful Products: Bolthouse Farms frozen fruit, frozen wild blueberries, frozen Samzabon acai smoothie packs, Green Superfood Powder add-ins, Trader Joe's flax seed meal, healthy 'blend-ins': raw nuts, probiotics like BioKPlus and other soy yogurts. High-Speed Blender: Vitamix, BlendTec Blender, Oster Fusion. A good example of a 'healthier' smoothie shop: Liquiteria in NYC. See my twenty smoothie tips here.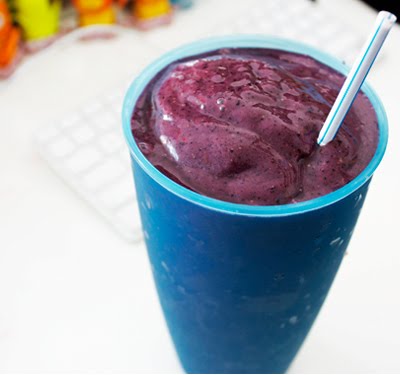 5. Frequent Offender: On-the-Go Oatmeal
I am somewhat perplexed by the new trend of serving oatmeal, a classic healthy breakfast food, as an on-the-go product. Starbucks, Cosi, Au Bon Pan and Jamba Juice have all hopped on the oatmeal bandwagon. And I can only imagine how much money is made off of selling oats and water for a much heftier price than they are worth. But overall, what's my problem with this seemingly super-healthy product? Not a lot! I actually love the idea of folks buying an oatmeal instead of a fat-calorie-loaded processed muffin or 'loaf' bread. Go for the oats! But again, even oatmeal can be easily upgraded.
Easy Upgrade: If you are choosing the on-the-go oatmeal (aka you can't make your own at home) remember these tips: add in fresh fruit and nuts. Don't add sugar or 'crumbles'. Don't get it with a side of 'muffin' or 'large whipped mocha'. Bring your own 'toppings' from home if you can (like fresh chopped fruit, raw nuts or a baggy of berries). Add in soy milk instead of dairy milk. But the best upgrade of all would be to make your own ultra-healthy 'oat'meal at home. And by 'oats' I really mean: hot grains. Barley, brown rice, farro and whole wheat are all options for making a hot grain breakfast at home. The fun comes with the add-ins: fresh fruit, raw nuts, seeds, unsweetened dried fruit, nut and grain milks and even some maple or agave syrup if you crave it. I know some folks who love sprinkling raw cacao nibs in their hot cereal for a choco-oat-meal effect. And it's easy to make your oatmeal "to-go" simply by prepping it in a non-breakable lidded bowl.
Bottom Line: Oatmeal on-the-go isn't a bad choice, but don't ruin its effects by adding sugary toppings or over-sweetened dried fruit to it. And as always, if you can make it yourself at home, you're guaranteed a healthier and probably much tastier bowl. But take a note from the to-go folks and keep your portion size moderate. Too much of a good thing is not a good thing…
Helpful Products: If you must choose a to-go option, try Le Pain Quotidien's Farro Porridge hot cereal with almond milk, fruit and nuts (it's a special right now, I hope it lasts!) For at-home, I like Bob's Red Mill, Arrowhead Mills and Nature's Path brands. Trader Joe's also has a fortified oatmeal that I like. John mcCann brand steel cut oats (in the tin can) are also high quality oats.
Healthy Rewards. These are a few easy upgrades for a healthier on-the-go morning. I know you want to simply drive thru a window, stand in a speedy line and 'phone-in' your order of health and wellness, but it's not always that simple or instantaneous. Wellness doesn't come in a to-go bag and it certainly can't be ordered on the value menu. Attaining true wellness is an ongoing process that takes a continued daily effort on your part. However, the healthy rewards of how you look and feel are so bountiful and significant that they will keep you going through even the busiest of days. Feeling good from the inside out is what will eventually persuade you to drop the doughnut and pick up the baggy of packed-at-home grapes, not just for one day, but for a lifetime. Resist the white sand bagels and neon-blue speckled muffins for something real, fresh, do-able and healthy: whole foods made, packed and inspected by you.