Yesterday I was thrilled to chat with Carolyn from HealthyVoyager.com on her Healthy Voyager Radio Show. You can listen to my interview on itunes – or listen here. Click ahead to get links to products/recipes discussed on the show – and learn more about Carolyn's vegan-travel-chic Healthy Voyager website…
You can listen to my interview of Carolyn's Healthy Voyager Radio Show:
*Listen on itunes via podcast
*Listen via Carolyn's Site
*Direct MP3 clip link
Chatted About on the Show:
* My Smoothies Recipes Index here.
* Kid-Friendly Recipes Index here.
* Here are the links to the Rainbow Wraps Kid Recipes I mentioned during the show:
*Veggie Rainbow Wraps
*Fruit Rainbow Wraps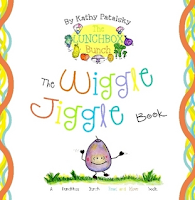 * Also mentioned on the show: My three Lunchbox Bunch Children's books. You can buy my Lunchbox Bunch books online here:
Lunchbox Alphabet
On the Case: Super Senses!
The Wiggle Jiggle Book!
More About Carolyn, the Healthy Voyager!…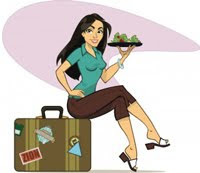 Worldly Vegan Foodie Adventure Gal. Carolyn has quite a few amazing adventures under her belt. Here's a taste of Carolyn's recent adventures detailed on her website:
*Where in the world is Playa del Carmen? – aqua water photos galore!
*Healthy Voyager Tours – Machu Pichu in October – Vegan/special diet -friendly travel tours! Her first adventure this October will take guests to Peru. Sign up now.
*You Mexi-can Eat Healthy South of the Border – Ole!
*Cancun Honeymoon – Healthy voyager Approved!
*LA Vegan Ice Cream – City Secrets.
The Vegan Rachael Ray? I like to describe Carolyn as the vegan Rachael Ray – circa Rach's $40 a Day show years (I loved that show!) Carolyn has a huge index of travel videos and reviews on her site – so if you are heading out on an adventure be sure and check Carolyn's site for tips/insider finds. You can follower Carolyn on Twitter: @HealthyVoyager
Bonus Interview Link: Yesterday was an "interview with Kathy" kind of day – you can read another Q and A with Kathy on JustinEats.com (Justin was my sous Chef at the DOLE California Cook-Off last month)
More pics of those yummy kid-friendly Rainbow Wraps (recipe links above)..
Fruit Wraps: