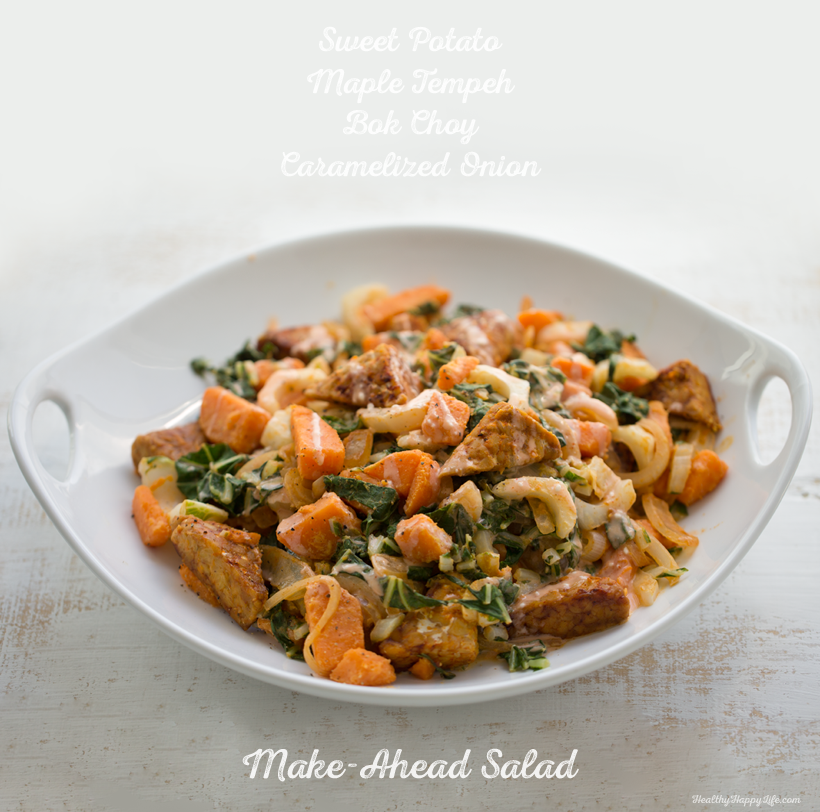 This is a make-ahead, hearty salad meal you have to try! My Sweet Potato Bok Choy Maple-Tamari Tempeh Salad is loaded with complexity, flavor and for lack of a better word, OOMPH! Oomph in the way of protein, fiber, healthy complex carbs, greens and some seriously addicting flavor. Nibble this salad and you won't want to stop…
Sizzling onions and tempeh..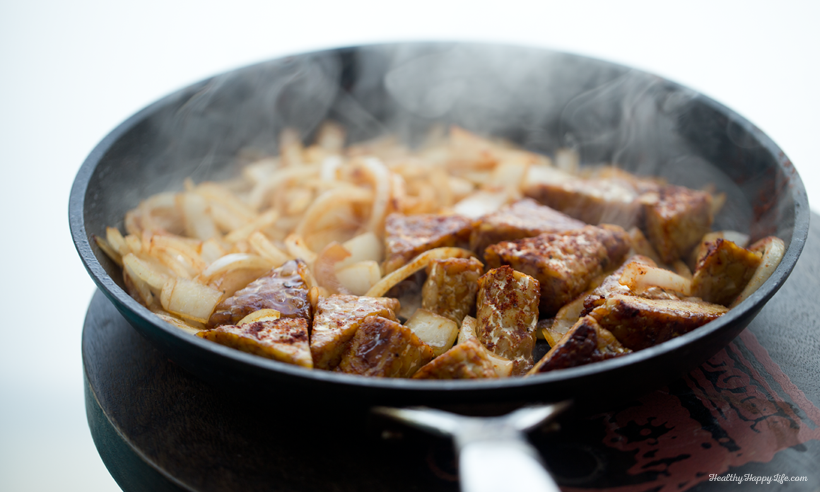 Mixing it all together..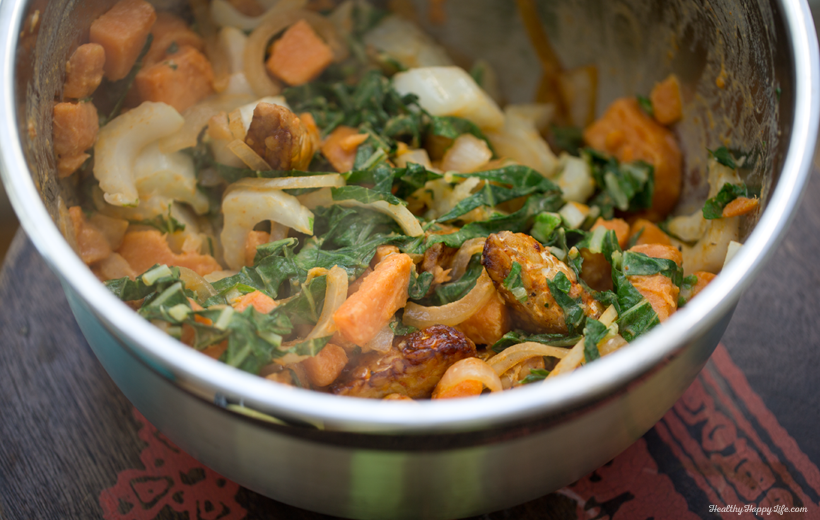 Putting it all together (this is before adding the drizzle sauce)..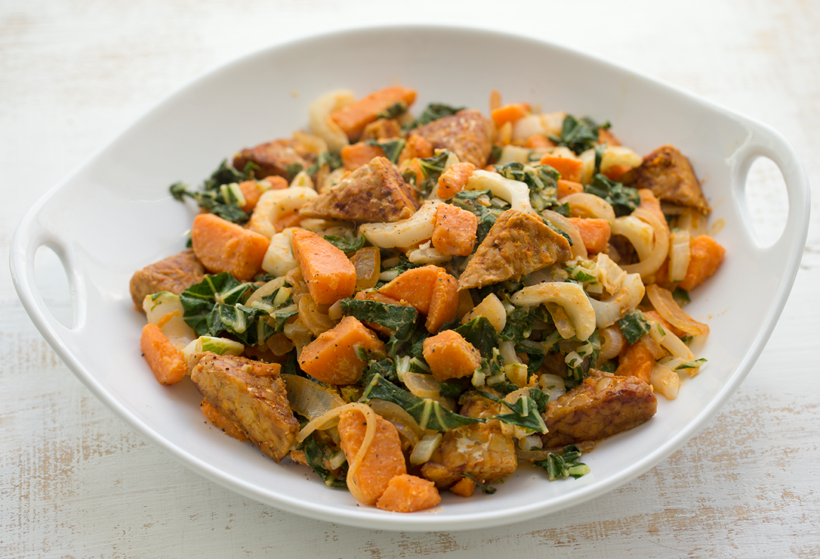 I was trying to figure out what to call this dish, so I started googling "make ahead salads" and found this article..
The Importance of Hearty Make Ahead Salads
..I was like, YES. That is exactly what this salad is. Hearty. Make ahead. Bliss.
You can pull a hearty-make-ahead-salad (HMA salad?) out of the fridge and serve it as a full-sized, protein and fiber and veggie rich meal. No cooking, because you already did all that the day before, or that morning or afternoon when you actually had energy to cook.
This salad is something you might find in a deli case at a really amazing vegan deli. (Not that I know of a really amazing vegan deli, but I'm just saying.)
This Salad. Sweet and savory maple tempeh triangles, delicious and healthy greens from Bok Choy (or sub with another veggie!), caramelized onions and loads of diced sweet potato. Plus the sauce and seasoning flavors are just incredible. So much flavor in each bite.
Sweet Potato Bok Choy Maple-Tamari Tempeh Salad
By Kathy Patalsky
Published 08/12/2015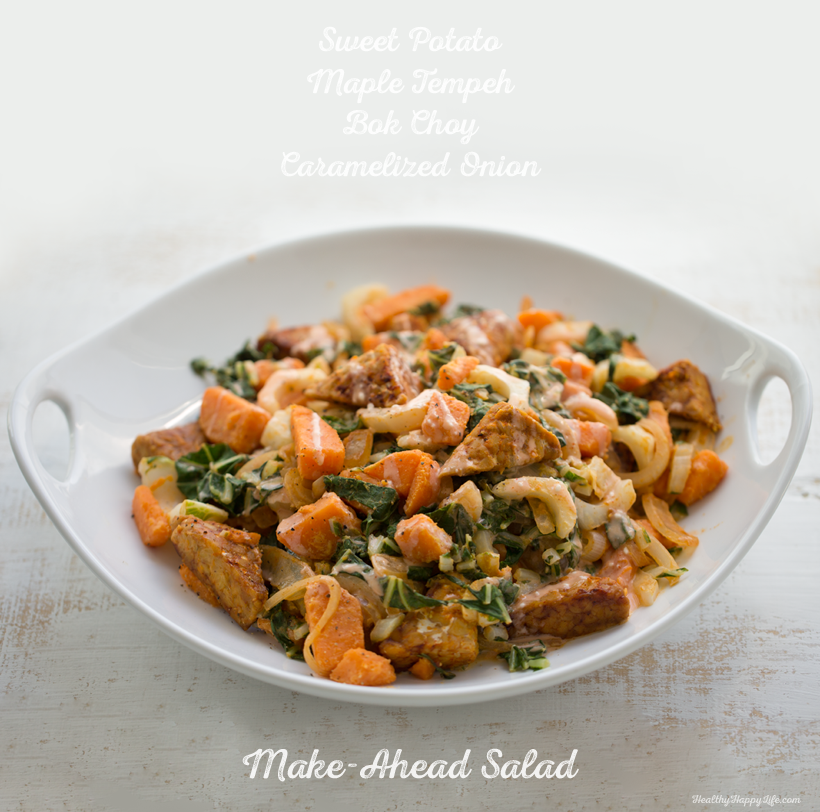 This veggie salad is rich in leafy greens, healthy carbs and plant-based protein. Maple, tamari and spicy flavors throughout.
Ingredients
tempeh:
8oz temeph, sliced into triangles
2 tablespoon maple syrup
2 tablespoon tamari
–
1 medium sweet potato, diced and boiled
1 bunch organic bok choy, chopped (about 5 cups raw) — feel free to substitute the veggie with what you have on hand
1 onion, thinly sliced
–
1 heaping tablespoon vegenaise
2 tablespoon nutritional yeast
1 lemon, juiced
2-3 teaspoon extra virgin olive oil
–
drizzle sauce: 1 Tbsp vegenaise + 1 teaspoon hot sauce + 1 teaspoon maple syrup
spice adds: smoky paprika + cayenne on tempeh to taste
Instructions
Slice the tempeh and add it to a medium bowl along with the maple syrup and tamari. Toss well and let sit for at least a half hour before cooking so the flavors can absorb and marinate the tempeh.
Boil the diced sweet potato until tender but not mushy. Turn off heat. Before draining the hot water, add the bok choy to the pot and close lid. Let the water and heat wilt the bok choy.
Drain bok choy and potato and pour them into a large mixing bowl. Spoon in the vegenaise, sprinkle in nutritional yeast and squeeze in lemon juice. Gently toss with a large spoon or spatula. Set bowl aside.
Onions + Tempeh. Warm a skillet over high heat and add 2-3 teaspoon of EVOO to the pan. When oil is hot, add the tempeh, including any leftover juices from the marinade that didn't get absorbed.) Saute for five minutes, flipping mid way through. When tempeh is done, sprinkle smoky paprika and cayenne over top to taste, then pour tempeh over top the sweet potato bok choy mixture. Gently fold it in.
Warm the skillet again and add the onions. No need to add additional oil, since the residual juices and oil are enough to let the onions brown and caramelize a bit. (But add oil or water if the pan is too dry.) Cook the onions until gently caramelized. Pour the onion in the large mixing bowl as well. Toss everything gently and pour into a large shallow serving bowl. (SIDE: If you want to quick pickle the onions instead of saute – that is a great method too! I like this recipe.)
Whip together the drizzle sauce and drizzle over top. Serve warm right away, or cover with plastic wrap and place in the fridge to chill until ready to serve. Eat within two days.
Yield: 4 servings
Prep Time: 00 hrs. 10 mins.
Cook time: 00 hrs. 20 mins.
Total time: 30 mins.
Tags: entree,salad,tempeh,bok choy,sweet potato,onion,vegan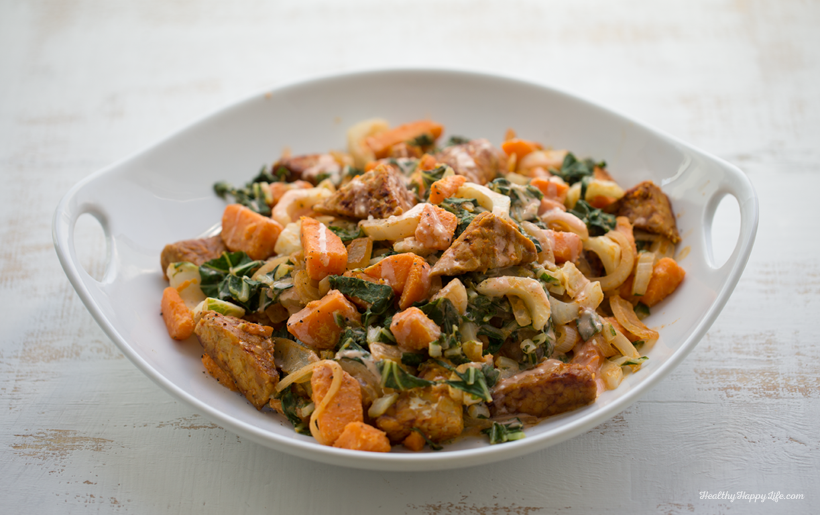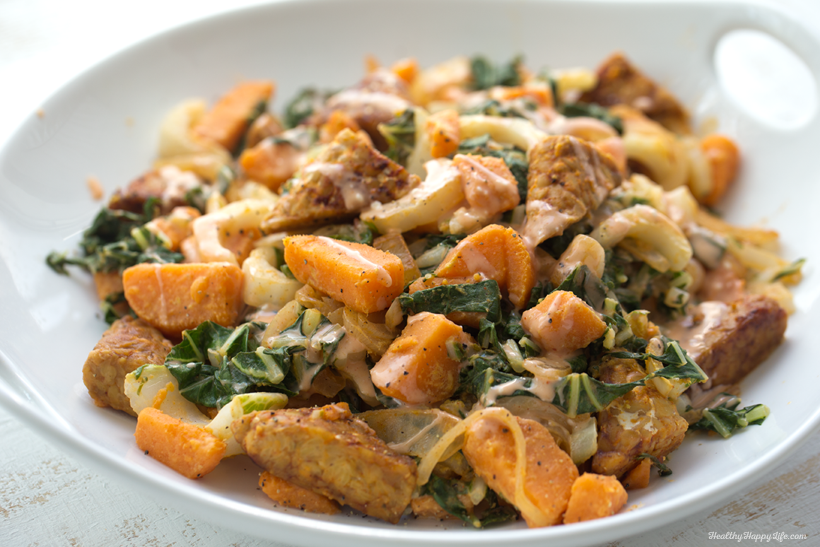 PS. Thank You for the veggie awards support! Vote + enter to win amazing prizes – details here!