Today's uplifting Veggie Girl Power interview is the one and only: Heather Mills!
Four words I'd use to describe Heather: inspiring, passionate, strong and driven. Get to know Heather!..
Heather's on the V-Team! It's incredibly motivating to have someone like Heather on "Team Vegan". When Heather speaks out – people listen! What a powerful platform she has to change how people all over the world think about veganism, animals and what they choose to put on their plates at mealtime.
Heather is an exceptional speaker, motivator and creative thinker with a huge heart – so when there's something she commits her mind and heart to, look out world!
I've never had the pleasure of meeting Heather in person, but I imagine she is incredibly charismatic and passionate. If I were to craft a list of "power vegans" – Heather would for sure be on it.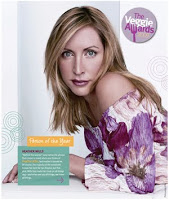 Heather has gracefully balanced herself on a thin and fragile line between vegan super stardom and mainstream media success. In the same year that Heather performed on ABC's Dancing with the Stars TV show – she was also named VegNews Magazine's "Person of the Year" 2009.
Humanitarian. Heather is not only an animal rights, vegan role model – but she has raised funds and awareness for a handful of charitable issues close to her heart.
Heather's Yummy New Book! Heather also has a brand new book coming out called LoveBites "LoveBites will show you how to serve passion on a plate, without missing out on any of your favorite meals."
The Cafe. And Heather is excited and enthusiastic to watch her vegan cafe VBites grow and expand in the future. With Heather's passion and influence, VBites could be the next McDonalds (Ecorazzi). I believe!
I love how Heather says in this video about VBites, "the more carnivores, the better!"…
And I'm not the only one who is awe-struck by Heather's accomplishments…
Richard Branson Chats About Heather…
You can see more of Heather's videos on her YouTube channel. Fun video at the VBites launch..
Now onto Heather's VGP interview!!…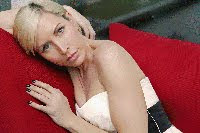 Veggie Girl Power Interview: Heather Mills
1. DRIVE: Yawn, sunrise, what is the first food/drink you reach for to start your "Veggie Girl Power" day?
Heather: Lemon and ginger with a spoon of agave syrup. It's refreshing and the kick of agave is better than coffee.
2. SKILLS: What foods/veg products have you discovered that you simply couldn't live without?
Heather: Coconut oil and Braggs! Coconut oil is great in cooking. I also love Braggs – I discovered it 17 yrs ago and it's a great naturally occurring amino acid. I use it in soups, salads and when I make avocado maki I use it with ginger and wasabi.
3. HEART: As a "Veggie Girl Power" trailblazer you inspire many girls, who or what has inspired you?
Heather: People who give and expect nothing in return, who care for the planet, its children and animals.
4. EXPERIENCE: When people ask you why you 'went VEG' what is your usual answer?
Heather: Health reasons at first. After my leg was amputated, pelvis crushed, lung punctured and head split open, I could not heal in hospital on a meat and dairy diet. A friend saved me and introduced me to a plant based one which healed my infection and saved my knee.
Later came animals and the planet as my awareness was raised. Every time I look at animals or feed my daughter a vegan meal, I think "Wow – how great I'm not harming her, the animals or the planet". If I do nothing else in my life, how great is that.
5. CREATIVITY: Anyone can eat carrot sticks and hummus, but give us your most creative/oddball vegan snack idea!
Heather: Oh I have so many! Ok, my Orgasmic Balls… Soak almonds, flax and sesame seeds and walnuts overnight.
In the morning rinse and put in a blender with acai powder and goji berries.
Roll into balls using coconut oil to bind and put in freezer.
Keep five on you every day. You'll never grab junk food.
6. DEDICATION: When you first "went veg" what was the hardest part? – and how did you overcome those obstacles?

Heather: Chocolate – going from milky to dark. Now I could not go back.
7. WISDOM: Words to live by: what is a favorite life tip or quote of wisdom?
Heather:"Monuments were never built for the critics, just the criticized."
8. GRACE: How do you respond to negative comments from critics, in real life or online?
Heather: Usually with humour. If they go on about the protein myth I just say: "Hey – let's compare biceps". They soon go quiet!
9. PASSION: What is the one message that you always try to project to your fans/followers?
Heather: Never give up, stay focused, be kind, be caring, be understanding and never become Mr and Mrs Switzerland. Have an opinion you can be proud of in twenty years.
10. PERSONALITY: Who would you award the "Veggie Girl Power" label to? And what have you learned from them?
Heather:
Female: Juliet Gellatley, she has taught me soooooo much and is the founder and head of Europe's largest vegetarian and vegan campaigning group Viva! (www.viva.org.uk)
Male: My friend Prof Colin Campbell. We teach each other. Dr Michael Klapper, an unsung hero compared to the higher profile scientists. Dr Joel Fuhrmann, an innovator of vegan foods and products.
Bonus Holiday Question: Veggie Girl Advice! – How do you get through the (not-always-veg-friendly) holiday season smiling and feeling fabulous from the inside-out?

Heather: Easily – tons of salads, grains, pulses, bean, guacamole and salsa. All restaurants have them – they just don't always list them. Just ask and smile.
Hear more from Heather on her website: HeatherMills.org
Twitter: @HeatherOfficial
VBites.com
www.redwoodfoods.co.uk
www.viva.org.uk
VPure.com for algae based omega 3
Complete VGP Series Schedule 2010
Last Years VGP Series 2009