These vegan, gluten-free, Chewy Hemp-Nut Granola Bars are sticky and sweet, salty and textured, with big chunks of raw cashews and fine grains of toasty hemp seeds, flax and rolled oats. Hemp seeds give a boost of plant protein!
These good-stuff-loaded bars have a cozy peanut butter flavor, accented with cinnamon, vanilla and agave or maple syrup. These dense, yet fluffy and chewy bars are packed with nutrients and flavor.
These bars are perfect for snacking when you need a quick, homemade energy boost. And they only take about 20-25 minutes to make – start to finish! Chocolate optional… but always advised…
Pretend Cooking Show. I recently discovered Jennifer Garner's "Pretend Cooking Show" videos that she shares on social media. They are super cute and fun and gently reminded me why I got into this industry. For the fun stuff!!
Everyday cooking is fun. And casual.
Joy and accomplishment comes from finding how to embed cooking into your daily life in a way that makes you feel inspired, proud and happy. And also, totally ready to fail, make mistakes and learn your way through a recipe.
Don't worry about 'perfect recipes.' Just do your best and hope for deliciousness! I can only imagine how intimidating some food content can feel to the average at-home cook. My advice is pretty basic: Make it "pretty" enough for yourself. Don't worry about how your food turns out for Instagram.
Today's Recipe is a Favorite..
So Jennifer Garner inspired this recipe, I love how she started everything off in a small sauce pot. She loads the dry ingredients in a large bowl, but I actually just kept everything in the sauce pot – and it worked beautifully. One pot granola bars!
Oh, and if you love the pretend cooking show thing, browse JG's page for more videos. I love the bagel video too. Now I want to make bagels!
Granola Bar Tips:
One Inch Baking Sheet. Use a baking pan with one inch edges. I like this half-sheet pan, with those one inch edges. I use it for a lot of dishes. I like the small, sturdy size. You could also use a brownie dish or whatever you have on hand, really, but the one inch size helps me keep the thickness of my bars even.
Parchment Paper. I always use parchment paper with my granola bars. I load the mixture onto about half of the sheet. Then I fold over the paper for the other half and press down to flatten the bars smoothly.
Tweak Ingredients. You can absolutely play with ingredients for granola bars. The wet ingredients should usually stay about the same for an overall amount, but the dry ingredients can be subbed to your liking. Hate cashews? Try pecans. Don't want peanut butter? Try aother nut or seed butter. The sweetener in these bars is super easy to change up. Sub with maple, coconut sugar or even honey, if need be.
Bake Them. I actually love raw granola bars. But I really love baked granola bars! I find that the flavors intensify and they travel a bit better when they are baked. Make raw bars when desired, but try them baked at least once and see what you think.
Chocolate. Chocolate is optional. But a little bit goes a long way in adding yummy, indulgent flavor. I simply sprinkle a few mini chocolate chips over top the bars right after I pull them from the over. Then I press them into the bars using the parchment. They melt and squish right into the top.
Bind Them. You really want to make sure you have some binding ingredients in your bars. something sticky that will bring things together. In raw bars, coconut oil actually works very well when chilled! For these bars, the nut butter, sweetener and flax seed all act as binder.
Have Fun! Granola bars are total kid food. So feel free to get quirky with your bars. Add in some chopped pretzels. Or vegan colored candies. Or even mini marshmallows! Or add in some other super foods like chopped dates, soaked goji berries, chia seeds and more. Have fun in the kitchen and you will want to cook things more often!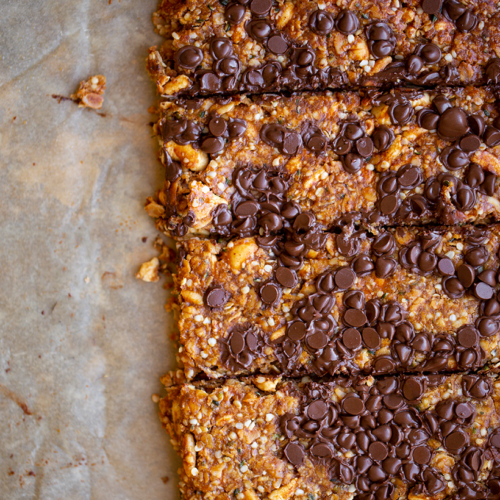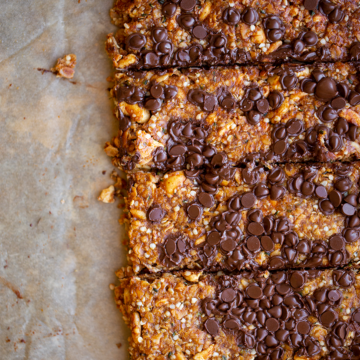 Chewy Hemp-Nut Granola Bars
These vegan, gluten-free granola bars are rich in flavor, texture, fiber and nutrients. Packed with nuts, oats and even hemps seeds – these healthy bars will fuel your day, deliciously!
Print
Pin
Ingredients
¼

cup

peanut butter, creamy, salted

¼ cup + 1 tablespoon

agave syrup (or maple or coconut sugar)

1

Tbsp

vegan butter

2-3

Tbsp

hemp seeds

2

tsp

ground flax seed

½

tsp

ground cinnamon

⅛

tsp

vanilla extract

⅛

tsp

sea salt

2-3

Tbsp

raw cashews, whole

¾ – 1

cup

rolled oats

1

Tbsp

coconut flakes, unsweetened

¼

cup

puffed rice, unsweetened

optional: 2-4 tablespoon mini vegan chocolate chips
Instructions
Preheat oven to 350 degrees.

In a small sauce pot, over medium heat, add the vegan butter and peanut butter. Stir until softened. Turn heat to low. Then add in the agave syrup. Stir for a minute, until well combined.

Add in the rolled oats, stir well to combine.

Add in the hemp seeds, salt, vanilla, cinnamon, cashews, flax seed, coconut flakes.

Turn off the heat. Stir well to combine. The mixture will feel quite thick and sticky at this point.

Lastly, fold in the puffed rice.

Lay a sheet of parchment paper down on a one-inch thick baking sheet. Pour the mixture onto one side of the sheet and flatten and spread with a spoon. Use the other half of the parchment paper (folded over) to press down and evenly flatten the bars. The bars should take up about half of the total (half sheet) baking sheet. Bars should be about ¾ inch thick.

Load bars into the 350 degree oven and bake for 15 minutes. Edges will begin to brown when the bars are done.

Pull the bars from the oven and sprinkle the optional chocolate chips over top. Then, fold the parchment back over and gently press the chocolate into the baked bars. They should melt and smash into the top of the bars quite effortlessly.

Cool bars at least ten minutes before slicing and serving. Store leftovers in the fridge.
nutrition estimate | per serving
Calories:
227
kcal
|
Carbohydrates:
21
g
|
Protein:
8
g
|
Fat:
13
g
|
Saturated Fat:
3
g
|
Polyunsaturated Fat:
5
g
|
Monounsaturated Fat:
5
g
|
Trans Fat:
1
g
|
Sodium:
112
mg
|
Potassium:
180
mg
|
Fiber:
4
g
|
Sugar:
2
g
|
Vitamin A:
116
IU
|
Vitamin C:
1
mg
|
Calcium:
29
mg
|
Iron:
2
mg
pin-it for later