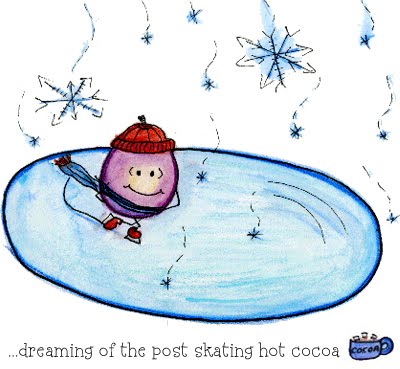 I'm hoping for the first snow of the season this weekend. Even a flurry would suffice. A simple sweet moment of a few light flakes drifting and dancing down from a silver sky, landing softly on my eyelashes to melt into mist. I don't care how old I get, that first flurry of snowflakes will always make my eyes grow wide. I love hearing people shout to each other on the street "It's snowing!" or "Is that snow?" as they tilt their heads to the sky for a moment of pause.
Best First Snow. I tweeted my most cherished "first snow of the season" memory today under the #bestfirstsnow hashtag. My tweet was this: "#bestfirstsnow ..walking in Times Square NYC, b4 an 8pm Broadway show, a sea of people & twinkling lights, as snowflakes fell.." What's your best first snow memory? Tweet it to me!

"First Snow" Kinda Weekend. I hope you have a wonderful weekend with snow or sunshine wishes. Growing up in California, my family never had snow in our yard, but I'd watch the news with wide eyes as folks back east plowed through piles of white fluff. I'd usually see snow for just a few days a year when we'd go skiing in Lake Tahoe. So I know no matter where you are this holiday, thoughts of snow are somewhere in the back of your mind. Here are a few weekend holiday activity ideas to put you in a "snowy spirit"…
Ice Skating. Even if you don't live in a snowy climate, you may be lucky enough to have a rink in your town. Take advantage of it! Ice Skating is a great workout and calorie burner. On average, a 130 lb person moderately ice skating for an hour will burn about 400 calories. Plus the aerobic activity raises your heart-rate and works a wide variety of major muscle groups. Plus, it's a lot of fun.

Skiing and Snowboarding. So there isn't a lot of people who have a ski slope in their town, but if you do take advantage of it! I've always dreamed of living in a place where I could get a seasonal ski pass and head up for a few runs every weekend during the ski season. Maybe someday. Skiing and snowboarding are excellent aerobic activities. And hot cocoa tastes soo much better after a day on the slopes.
Holiday Shopping. If you love to shop, now is the time to frolic down the street, shopping bags in hand. A long day of hitting the stores, can actually be a great form of exercise. Don't be afraid to stroll down long blocks and malls of stores perusing the lovely holiday window displays and decorations. Sometimes the best "shopping day" is when you don't even buy anything!

Holiday Treats. This weekend I'll be announcing my "12 Days of Vegan Treats" holiday recipe series. So keep an eye out for that. One of the greatest joys of the season is gathering with friends or family, putting down the cell phones, computers and video games and making some festive treats – perhaps baking a batch of gingerbread or sugar cookies to decorate.

Turn Up the Festive Tunes! Turn up the holiday music and start your own private holiday dance party. Even a few minutes of spinning around your living room while listening to Madonna sing "Santa Baby" or Judy Garland sing "Have Yourself a Merry Little Christmas" will be a great endorphin-boosting bit of activity. Most cable companies even have a free "Xmas music" channel, so check your listings.

Holiday Productions. I love the holiday concerts, plays and productions that pop up this time of year. But you don't have to see the New York Ballet do "The Nutcracker" or the Holiday Christmas Spectacular at Radio City Music Hall to have a good time. There are plenty of shows and concerts in every town that will give you a nice dose of holiday cheer. Even checking out the local high school music concert of holiday carols is fun. And if you can't get out to see a show, you can always 'get the DVD' and snuggle up for a cozy 'holiday show' night at home. But nothing is better than a live show…

Holiday Cards. I'm horrible at sending out holiday cards, but sometimes I actually set myself down for a good hour and get those cards labeled and sent out. Will I do it this year? Hope so! If you're looking for a cute holiday card this year, check out my Ice Skating Grape card on sale for $2.95 each. They are big glossy cards that look great on your holiday mantle. Buy them here: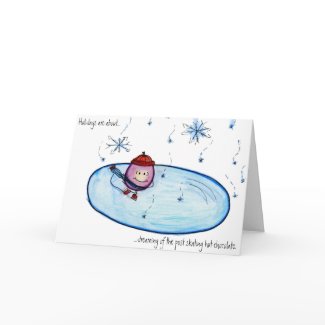 Happy Holidays Grape Skating Card 2009 by Lunchbox Bunch
See other Holiday Cards