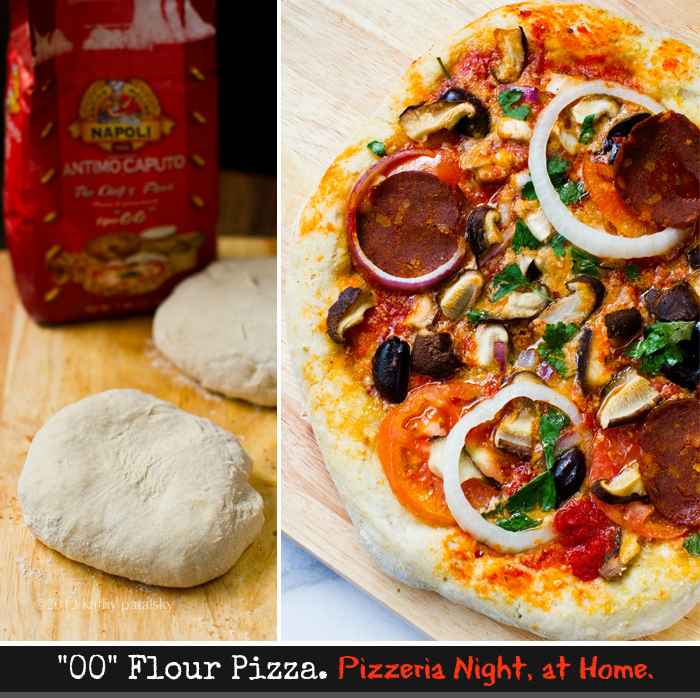 I have been making homemade pizza dough for a few years now. And I have always loved the results. But recently I finally switched out my basic baking flour for "00" aka "double 0" flour. And oh my goodness was the difference remarkable.
In today's post I will give you my easy tutorial on pizza dough. (I highly advise using"00″ flour, but yes any flour will work!) Plus share my recipes for vegan Parmesan (made in seconds) and an easy homemade pizza sauce. Italian pizza night for you!..
Warm, Chewy, crispy bottom pizza crust with "00" flour.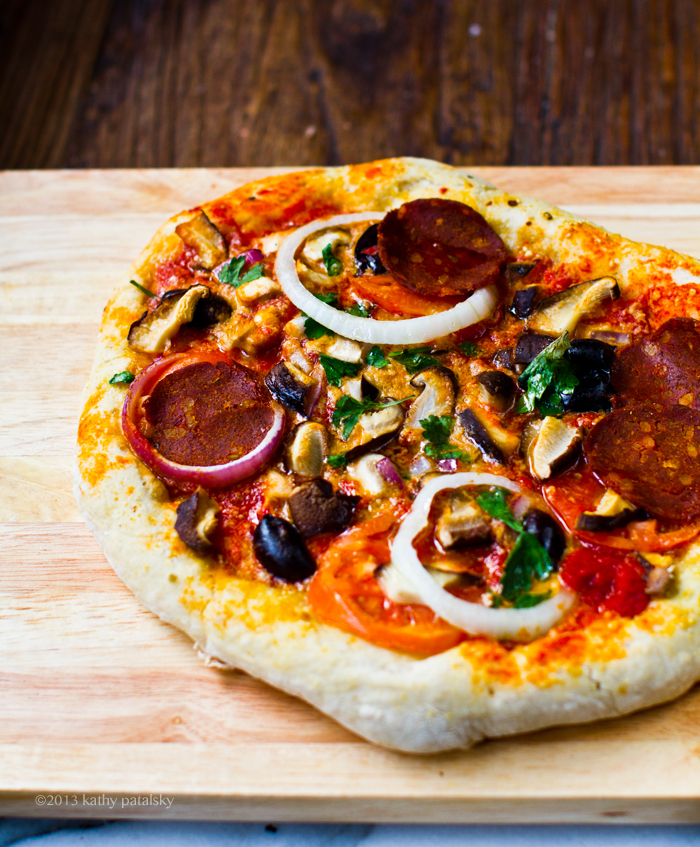 ..This pizza included some of my fave toppings including shiitake mushrooms, sweet onions, vegan pepperoni and kalamata olives. (I also LOVE squeezing fresh lemon juice on my pizza before baking!)
Fresh dough + homemade vegan Parmesan: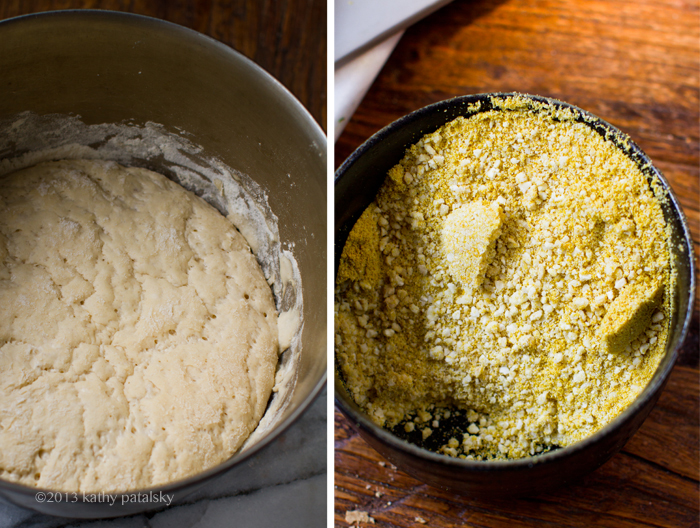 "00"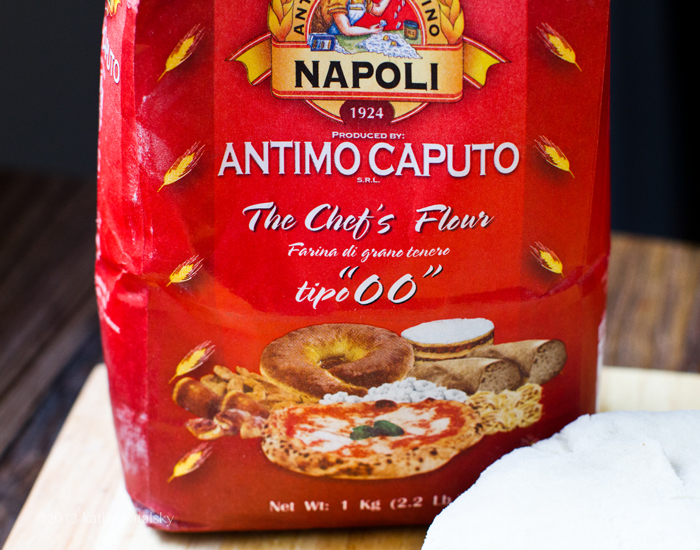 Fluffy soft dough: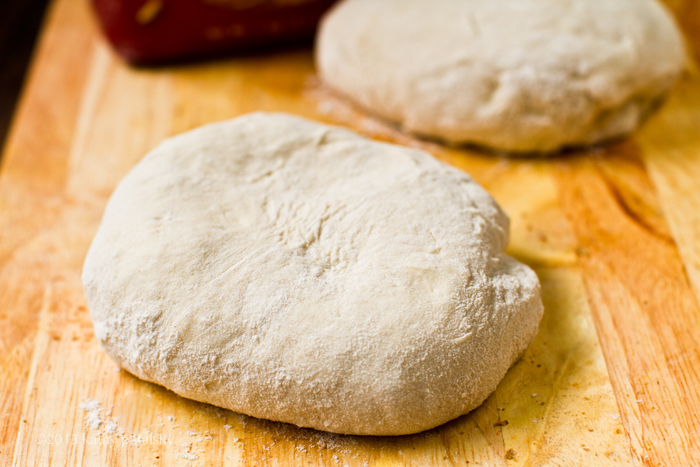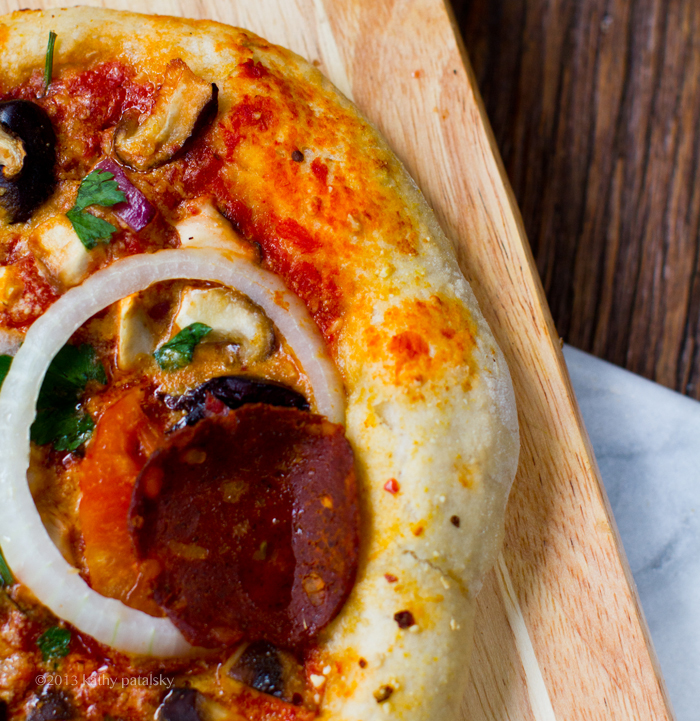 So what is "00" flour? "In Italy, flour is classified either as 1, 0, or 00, and refers to how finely ground the flour is and how much of the bran and germ have been removed. Doppio zero is the most highly refined and is talcum-powder soft." – 0chef.com
Double "oh" flour is ideal for making authentic pizza crust. So I know many of you guys (and me as well!) might be more in favor of whole grain, hearty-fiber, less processed type flours, but if you really crave that pizzeria-style crust at home THIS is the flour to grab at the store.
Where can I find "00" flour? I bought mine at a gourmet-ish grocery store here in LA called Bristol Farms. You can probably find it at any specialty or gourmet store and you can always buy it online too.
Online..
Antico Molino Napoli Antimo Caputo '00' Flour
If you are a pizza lover, can handle gluten, and love the taste of authentic Italian pizza crust, give this recipe a whirl. I think you will start saying this on pizza crust night: "once you go "00" you never go back."
Before baking: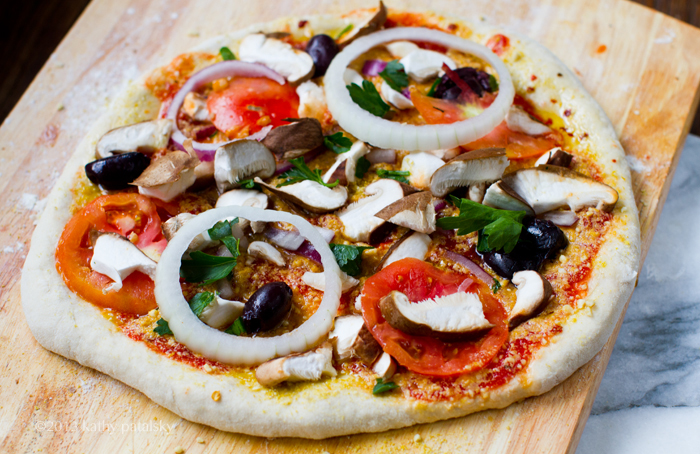 After baking: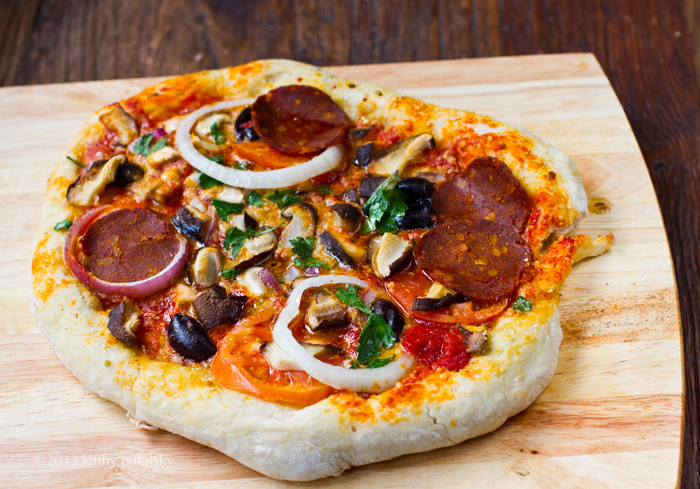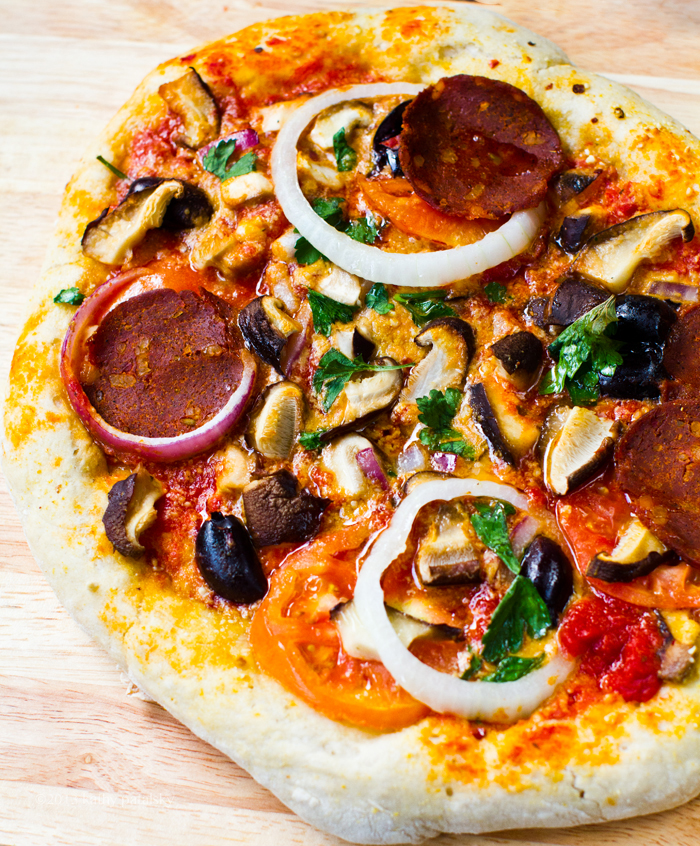 Below you will find sauce, dough and Parm recipes. For the toppings you can really use whatever you love. My faves: shiitakes, kalamata olives, chopped pineapple, freshly sliced tomato, sliced sweet onion, fresh basil, kale, vegan pepperonis, EVOO and more.
Three Pizza Night Recipes: Crust. Sauce. Parm.
(And although I added a tiny sprinkle of vegan cheese shreds to the pizza photographed, the next week I made a pizza with just this vegan Parmesan and it was amazing. No shreds needed!)
Recipe 1. Easy Pizza Sauce
makes enough for 2-4 pizzas – store in fridge for up to a week
1 cup san marzano tomatoes
1-2 teaspoon extra virgin olive oil
1 clove garlic
1 leaf fresh basil
pinch of salt and pepper
pinch of red pepper flakes (optional)
Directions: Puree in a blender until smooth.
Recipe 2. Easy Vegan Parmesan
vegan, makes 1 cup (store in the fridge for up to 2 weeks if well covered)
½ cup nutritional yeast
½ cup nuts (try walnuts of cashews)
Directions: Blend until smooth the chunky
Recipe 3. Crust: "00" Pizza Dough
makes one medium or two small pizzas
2 ⅓ cups "00" flour
1 teaspoon salt
1 cup warm water
1 packet yeast (I used Rapunzel brand organgic yeast – 9g / .32oz)
*sometimes when I want super pillow-y dough I use 1 ½ packets of yeast.
+ additional flour for kneading (about ¼ cup)
optional: corn meal for bottom of crust
(nutrition: there is about 1,000 calories in one ball of the pizza dough .. for those who are interested)
Directions:
1. Add the yeast and water water to a large mixing bowl. Stir until the yeast has dissolved.
2. Add in 1 cup of flour and the salt and stir until sticky. Then add in the remaining 1 ⅓ cups flour a scoop at a time – kneading all the way through. Yes your hands will get nice and dough-y. Knead this mixture for a few minutes right int he large bowl until a soft pillow-y ball of dough forms.
3. Flour and oil spray the bowl so the dough doesn't stick to the bowl as it rise. Cover with a clean cloth or a few paper towels and allow the dough to rise for a good hour in a warm spot.
(About a few minutes until you punch out the dough you can preheat the oven to 425 degrees)
4. In an hour or so, punch out the dough, add a few pinches of flour and start kneading the dough. If you are making two mini pizzas, split the dough into two balls.
5. Start rolling, tossing and stretching the dough to form a pizza shell. Press out the dough on your baking sheet or pizza pan that will go in the oven. If using corn meal, run the dough through a bit of corm meal so it lightly coats the bottom of the crust and edges.
6. To top the dough I add this: 1-2 teaspoon extra virgin olive oil, a pinch of red pepper flakes, a pinch of vegan Parmesan. Then i add 4-6 tablespoon of sauce. Then I add all the veggie toppings.
Pro-Tip: Make sure your oven is nice and HOT! 425 is a good temp, if you can go up to 450, go for it. Pizza dough loves heat.
7. Bake the pizzas in the very hot 425 degree oven for 11-15 minutes – basically until the edges crust over and the middle is not doughy.
Let the pizza rest a few minutes before slicing and serving.
More of my pizza recipes (that you can use this dough with!)
* Vegan Pepperoni Pizza
* Pesto Cashew "Ricotta" Pizza
* Balsamic Brussel Sprout Pizza
* Mini BBQ Pizzas
* Beachy Pesto Pizza
And last night we did pizza night again!..