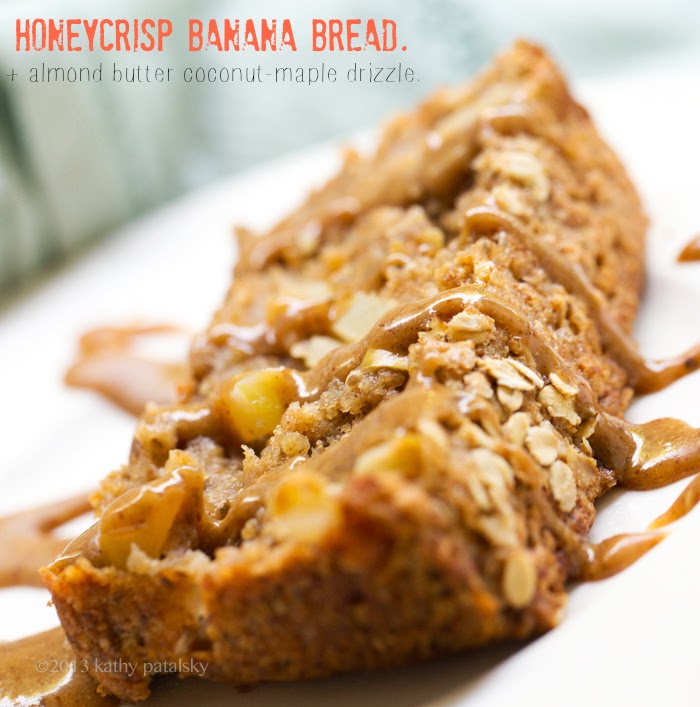 I had a craving for warm banana bread that I simply had to do something about. So this morning I baked this Honeycrisp Apple Banana Bread with oats, spices, vanilla, chia seeds, a hint of coconut oil and plenty of love.
Apples. As I went to pull ingredients, a pile of shiny red and green swirled honeycrisp apples were staring back at me in my fridge. So I decided that instead of doing banana bread, I would add a baked apple spin with banana-apple bread. Oh those honeycrisp apples are my favorite for fall. Honeycrisp, you know, that super sweet, juicy-delicious, sometimes giant in size, always awesome and crunchy fall apple variety. (Back in my early days of blogging I went so far as to pair my beloved honeycrisp apples with pasta, a la this recipe. But it actually worked!)
Over top the moist, bananas, oats, spices, vanilla and apple pie flavor infused bread, comes a thick drizzle of sweet almond butter. Almond butter accents both bananas and apples (and warm bread!) beautifully. Satisfy your banana bread craving with this cozy-inducing vegan recipe..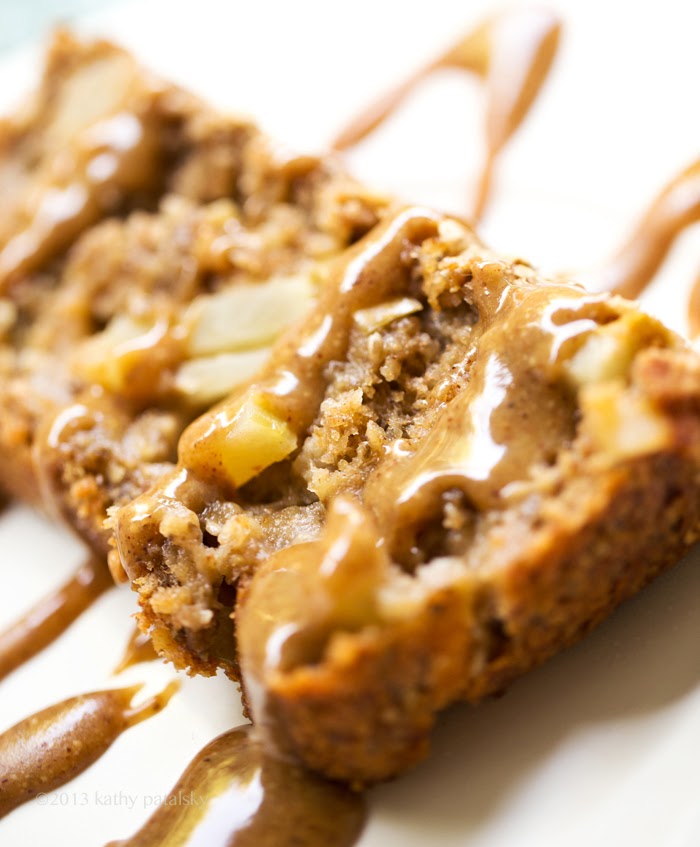 So I had this banana bread craving.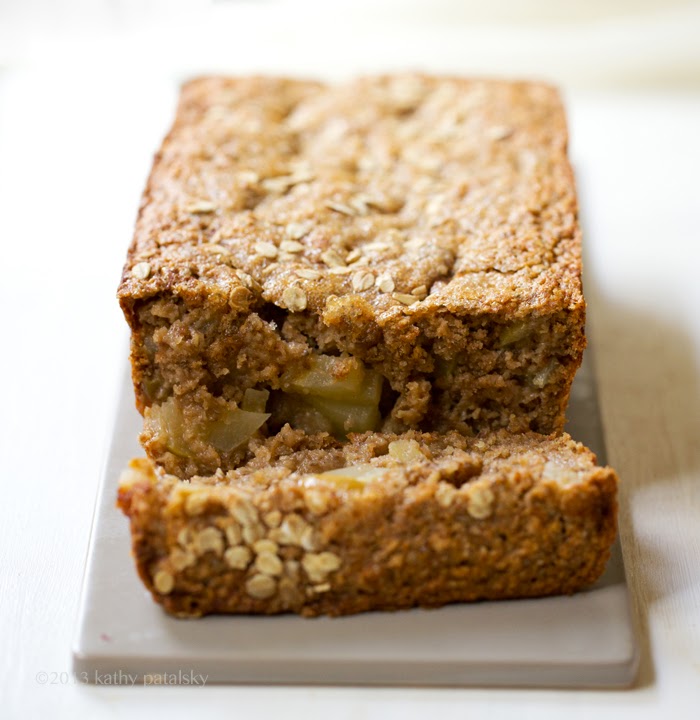 So I flipped on my stove and soon the aromas of cinnamon, vanilla, bananas and baked apples were wafting through my cozy kitchen. And in about an hour, my banana bread was served. Take that craving.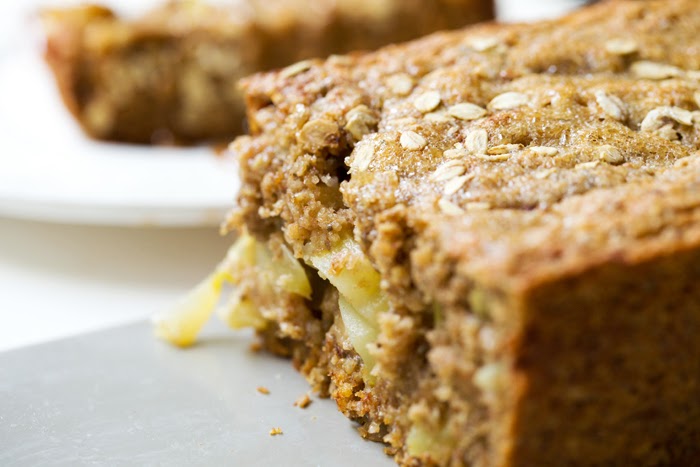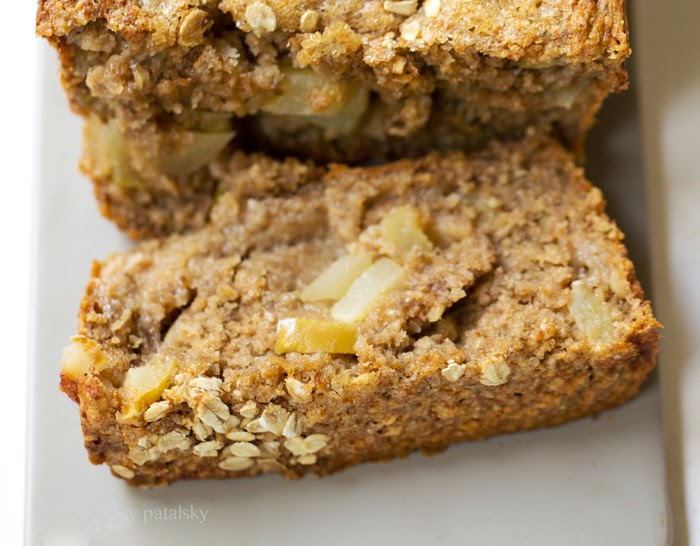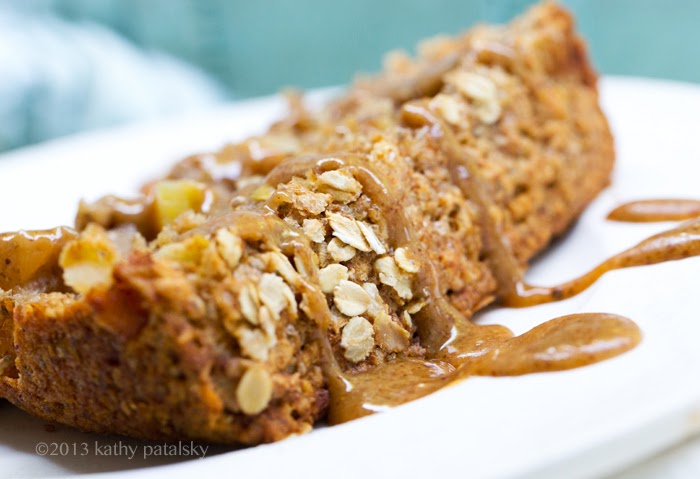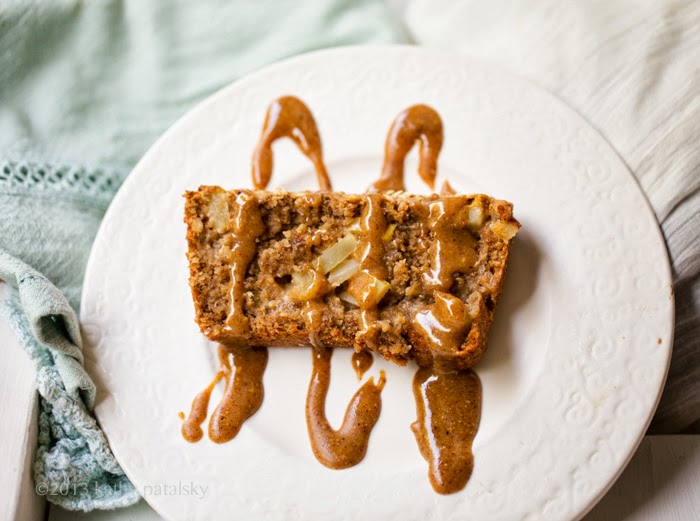 Friendly Fall Reminder. Slice into this flavorful loaf and the comforting apple and spice aromas will remind you to pull out your sweaters and scarves because "fall is coming." Warm spices, steamy hot mugs, crisp chilly breezes, dusty golden, dark red and burnt orange leaves, oatmeal cravings, fall holidays and more. OK, lets not get ahead of ourselves, like all the stores seem to do. Seriously, do we really need Halloween costumes in late August? But hooray, today it is still summer, and this banana bread doesn't mind that all. So take a baking-time break, chill out in your kitchen for an hour and await your taste test of this delicious dish.
Two ways to enjoy. This bread tastes delicious with or without the almond butter drizzle…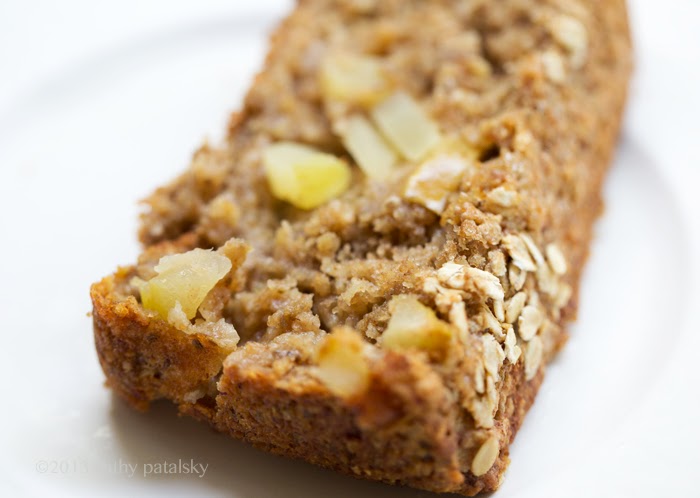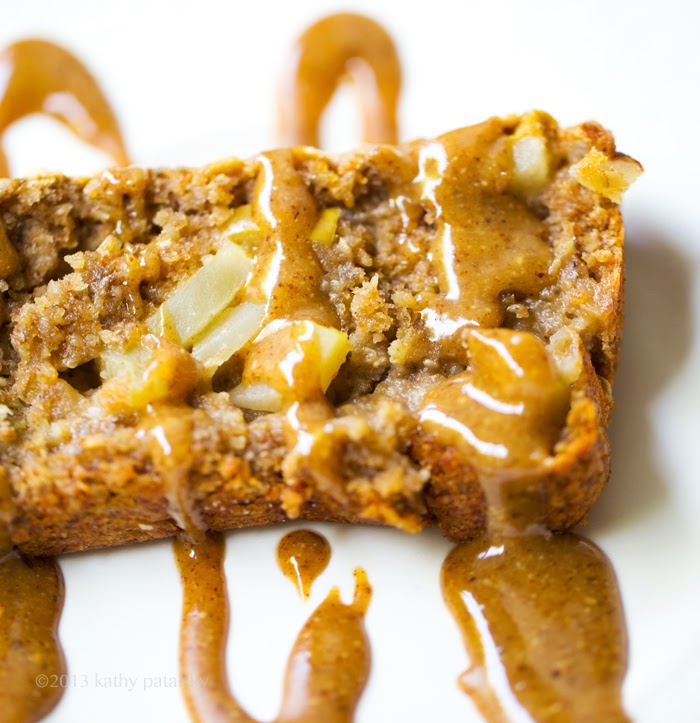 Honeycrisp Banana Bread
vegan, makes 1 standard bread loaf
dry:
1 cup spelt flour, organic (mine was sprouted grain spelt)
1 cup rolled oats, processed until fine
½ teaspoon cinnamon
1 tablespoon baking powder
½ teaspoon salt
dash of cayenne or nutmeg (optional added spices)
liquid blend – in my Vitamix:
1 teaspoon vanilla extract
1 ½ very ripe bananas, peeled
½ cup honeycrisp apple, chopped
¼ cup raw turbino cane sugar, organic
*(note: the bananas and apples will vary in sweetness, if you are worried about your bread being too sweet you can reduce the sugar even further)
4 teaspoon chia seeds (chia is my egg replacer in this recipe)
1 cup almond milk (or any non-dairy substitute)
Fold in:
½ banana, sliced
½ cup honeycrisp apple, diced (add a few pinches more for extra-apple-y bread)
¼ cup melted organic coconut oil
2 heaping tablespoons Earth Balance, vegan butter
1 teaspoon apple cider vinegar
Top:
1 teaspoon rolled oats, 1 teaspoon sugar
Almond Butter Drizzle:
2 tablespoon melted coconut oil
2 tablespoon almond butter
2-3 teaspoon maple syrup
Directions:
1. Preheat oven to 415 degrees. Yes, THAT hot. Also – add a few serving plates to your freezer. So they are fully chilled when serving. (You will see why and end.)
2. Grease your bread pan with coconut oil.
3. Chop your apple.
4. Add your whole rolled oats to Vitamix (or food processor). Process until mediun to fine in texture. You are essentially making oat flour.
5. Add oat flour and all other dry ingredients to large mixing bowl. Toss well.
6. Add all liquid blend ingredients to blender or fp. Process on low until smooth. Process for a good 2 minutes to fully blend apples and assist in plumping and "activating" the chia seeds for a thick texture liquid.
7. Fold liquid into the dry and then add fold in ingredients. Add the vinegar as the very last ingredient.
8. Pour batter into pan and top with oats and sprinkle of sugar.
9. Bake at 410 for 10 minutes. Then reduce heat to 350 degrees and bake for an additional 35 minutes. About 45-50 minutes total baking time.
10. Cool bread a bit before removing from pan. Make almond butter while cooling.
11. Quickly stir together almond butter + coconut oil + maple until smooth. Warm almond butter if needed to soften before mixing. Set aside at room temp until ready to drizzle over top bread.
12. Serving: Pull chilled plates from freezer. Add a warm, moist slice of banana bread to a chilled plate and drizzle the almond butter mix over top – let it hit the plate. You will notice that when the coconut oil-based almond drizzle hits the plate, it firms up a bit to a lovely frosting-ish texture. But the drizzle on the warm bread stays soft and warm. Serve and enjoy!