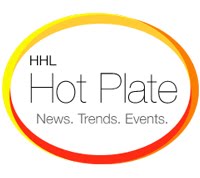 This week's Hot Plate Monday report:
*LOST Foodies: Lots of Dharma, but no Greg.
*Crying over TV finales may be good for you.
*Martha guilt's me into feeding my plants.
*Updated ZICO post!
*Two melons, price: $16K?? Priceless.
*Hot Trend: Farm Chic! …says @Lee_Schrager
*Clean the beach, hear free music (by J.Johnson)
*Ellen's plant-based school lunches letter.
…and much more in Hot Plate, Hot Plate News…
QUOTE(s) of the week
"Two years ago, we switched to a plant-based diet out of concern for animals and the environment. Many children stop eating meat for the same reasons. Adding vegetarian options in schools would not only benefit these children — it would provide healthier options for all young people."
-Ellen and Portia support plant-based options for school lunches.
lol Quote:
..with a serious look on her face, Martha speaks..
"You eat everyday, your garden needs to eat also." (long pause) "haha."
-Martha, Recipes from the Garden, May 24th show.
…I immediately jumped up to check on my houseplants…. oh Martha.
NEWS
LOST Reactions and ReCap
The LOST cast has been found…sort've. If you didn't watch…or did watch and are still LOST on why the rest of the room was sobbing with weepy tears all night – catch up with the recap link above.You'll feel a bit happier when you don't feel so LOST. 🙂
The Apprentice Finale on NBC
Bret was hired and Holly was Fired. But both celebs walked away with a very nice chunk of change from the folks over at Snapple. Both charities benefited health-related issues. Holly for Autism. Bret for Diabetes.
Buy Snapple, help the celeb's charities… Trop-a-Rocka or Compassionberry
breaking news…Babycakes NYC still has the best Cinnamon Toastie on the entire planet. (aka cinnamon swirled loaf) It's vegan. It's moist. It knocks all other baked goods out of the stratosphere…see the exclusive paparazzi shots of this bakery wonder here.
May 24th is Garlic Lovers Day! Here is one of my fave sunny garlic-infused recipes…
Mango Pesto Pitas!
Expensive Fruit Auction: Yubari Melons
And I thought my $7 cherimoya was expensive!…
RECALL: Watch Out for Alfalfa Sprouts.
UPDATED: ZICO Goes Plastic and From Concentrate...
I've been emailing back and forth with the folks at ZICO. And reading the many comments from you guys on this post the message is clear: we want transparency when it comes to our fave food products. Has ZICO delivered? What do you think about the ZICO bottles? Weigh in here.
Yuck Alert: KFC Double Down. Really people, really??! KFC's "most successful sandwich launch ever"…
Twitter News: Britney may have taken over Ashton…but I'm simply ecstatic that I just tipped over 50,000 followers this weekend! You can follow me on Twitter @lunchboxbunch
Ellen Joins Rach
Last week I reported the Rachael Ray lobbied the Capitol for better school lunches. Well this week it seems fellow Talk-show host Ellen (who is vegan) has written a letter to support plant-based lunches in schools. Go Ellen and Portia! Their letter is a Hot Plate quote of the week, see above.
I'm a finalist in the DOLE California Cook-Off! Wish me luck…
TRENDS
Farm Chic. Food Trucks, Farm Chic, Popsicles and Chickpeas…
…are the next big trends, according to @Lee_Schrager
Crying. Over TV Finales. Gray's Anatomy, LOST and maybe even the Bret Michael's saga on the Apprentice has left you weeping like a little baby, right? I had to whip out my box of tissues more than a few times the past few weeks. But that's OK because a good cry can be an excellent stress reliever.
LOST Foodies. LOST Finale brings the foodies out to party! There are a lot of LOST themed creations out there. Dharma cupcakes, Dharma beer, and more – but the Adventures in Bentmaking Bento boxes are my fave super-fan wonder of foodie creativity…
Lots of Dharma, but no Greg. ..you can even buy some official DHARMA Vanilla Cookies in this charity auction.
…I wonder if they are vegan?
Biking: Cupcakes & Muffins…I want to be a blueberry muffin…
"Not What it Seems" Food.These Doughnuts are super healthy for you! And they even come with sprinkles…
Funny Fruit. Chiquita Bananas get a sense of humor…
Road Trips. America's Top Ten Roadtrips MSNBC Top Ten Yahoo
Travel season! Grab a picnic lunch and head out into the horizon, top down if you're lucky. Top 10 roadtrip lists invite you to explore some of America's prettiest natural wonders like the Big Sur coastal roadways – you'll discover towering cliffs and a redwood tree-speckled coastline. Did your fave getaway get a mention?
Kiddie Technology. Psychology Today discusses Social Networking…..for six year-olds!
Fizzy Summer Drinks. Organic/Biodynamic Champagnes.
Summer drinks like my Spicy Carrot Mimosa call for a spritz of bubbly.
More Travel Trends. I wouldn't mind weekending-it here by the pool. Or wellness splurging here. OK, a fruit bowl vacay isn't bad either.
Meatless Monday. The Protein Principle – VEG Protein Refresher
Here are a few tips, more great info in the full HuffPost article..
Broccoli — 4 grams in 1 cup
Brown Rice — 5 grams in 1 cup
Refried beans — 7 grams in ½ cup
Soymilk — 7 grams in 1 cup
Peas — 8 grams in 1 cup
Tofu — 11 grams in 5 oz
Oat Bran — 16 grams in 1 cup
Lentils — 18 grams in 1 cup
Chickpeas — 18 grams in 1 cup
Vegan Baking. Babycakes NYC helps you bake perfect vegan cookies!!
Babycakes Cookie Kit? Yes!
Planet-friendly Bikini Bods. PETA launches the Fit 4 Summer, Healthy for Life Campaign.
…does this mean we'll all look like Pam Anderson?
Funny Twitter Accounts. HULK Twitter tweets will make you crack a smile for creativity
Green Books. ABC's of Ecology
The classic ABC children's book gets environmental.
Or you can always keep it cute and flip though the Lunchbox bunch ABC book…
EVENTS
Paninis and Grill Marks Series is in full swing this week through Memorial Day weekend! Yippee! Lets bring on summertime…
Meatless Monday– Are You Joining in??
Clean Up the beach, hear free music.
…by Jack Johnson. May 24th in Santa Monica, CA
"We are all looking for a way to make a contribution to the preservation of our planet. Having a Meat Free Monday is a great way to do your bit, while eating in a kinder and more conscious way." -Gwyneth Paltrow on Meatless Monday
Top Chef Tour
The BravoTV Top Chef Tour rolls on. More city dates to be announced – check the site link above. And yes, it's FREE!
…I randomly passed by the Tour this past weekend in meatpacking nYC. Snapped this photo.
June 26th Los Angeles, CA: DOLE California Cook-Off – I'm a Finalist!
July 31 and Aug 1 Farm Sanctuary NY Hoe Down!
VegFest DC: Sept 11, 2010
It's a while away, but plan ahead because VegFest DC is a fun, festive green gathering in our nation's capital.
Details at DCVegFest.com
HOT PLATE PIC(s) of the week:
With over 50 Facebook shares, you guys LOVED my Banana-Berry Smoothie recipe and photo, so I had to make it one of this week's Hot Plate Pics…
And Pic #2 is basically saying. Yes! Vegan cheese can melt!! Daiya…

And Pic#3 is one of my fave vegan treats on the planet…Babycakes NYC Cinnamon Toastie. Mmmm……

Don't forget to submit your juiciest news, trends, hot plate pics and quips for next week's Hot Plate Monday Post! HotPlate (at) Lunchboxbunch (dot) com