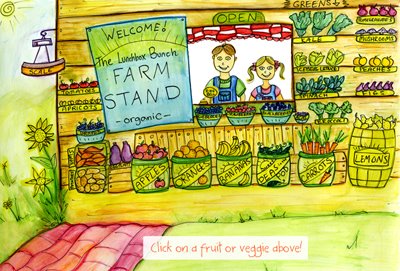 Have you checked out our very cool interactive Farm Stand feature online?
Bunches of fun for kids, and adults. Learn about your favorite fruit and veggies in a virtual Farm Stand world! …Oh and this is no ordinary stand. At The Lunchbox Bunch Farm Stand, the fruits and veggies come to life!
CLICK HERE TO EXPERIENCE THE INTERACTIVE FARM STAND
This was such a fun little project to create. It features my original drawings from The Lunchbox Bunch and an interactive Farm Stand. This was as close as I could get to doing something animated – though actual talking and moving images would have been really fun.
Hope you and your kiddos enjoy this graphic and learn a few fun facts about fruits and veggies!