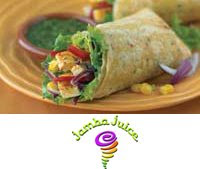 Jamba Juice explodes with 18 new menu items. Wow. Trying to give Starbucks and Dunkin Donuts a run for their money? Jamba Juice wraps, salads, flatbreads and teas are all included. Again, wow. 18 items is a lot. Luckily, amidst the Gobble'licious and Caesar the Day wraps, there is one vegan wrap, it's called the Greens and Grain wrap. But why is it the highest calorie item on the new menu, at 640 calories. Hmm, let's investigate these 18 new additions and ponder 18 new items!…
Tea, Wraps, Salads and Flatbreads. Wow. Jamba Juice has added a cornucopia of new food items and I'm here to sort through the good the bad and the ugly.
Greens and Grains Vegan Wrap at Jamba Juice. The most interesting wrap addition is the 100% vegan wrap. It has 640 calories, 14g fat, 9g fiber and 19g protein. It contains healthy ingredients like protein rich quinoa, refreshing jicama, tahini, chickpeas and a lot more-all crammed into this healthy wrap. It's a lot of calories, and the sodium content isn't listed. But I'll still do a taste test soon. Sounds very interesting. Oh, and it's all on a spinach tortilla wrap-nice.
Non-veg Items. Since a lot of my clients, friends and family are not vegan, I am always scoping out the non-veg items. And this is what I found: The healthiest choices in my first-look review are: Couscous and Produce Salad (contains honey), Asian Style Chicken wrap (much lower in fat than the other chicken options), Mediterrani-YUM flatbread and all of the new teas and Ideal Meals look pretty healthy.
So I'll be checking these items out first hand soon. And if they pass my test I'll be sure to review them and let you know….Anyone try them yet???
Jamba Freebies. Oh, and if you join the Jamba Juice fan page on facebook, they are always offering coupons. Right now they have a $2 off meal coupon and even a $1 baked goods for a limited time. Jamba likes their Jamba fans. Yay.
www.jambajuice.com