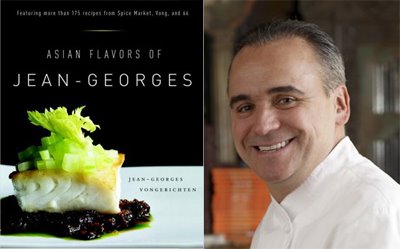 One of my favorite blogs to read is that of world-renowned chef Jean Georges.
So when I saw that his signature restaurant Jean Georges was offering a four-course $58 dinner featuring his favorite dishes (none being vegan), I had to inquire about diners like me.

I posted this comment to JG on his blog:
"Any vegetarian options available? I am veg, my husband is not and adores your restaurant."
JG quickly responded with:
"Absolutely. We always have delicious vegetarian options and will for this menu as well. I hope you and your husband have a lovely meal together. -Jean-Georges"
Nice! Now I know what you are thinking. Kathy, you're vegan not vegetarian! True. I wanted to start slowly. Luckily, I no longer have fear to ask top chefs about vegan options: "Executive Chef says: Pay Attention to Vegans".
So, today I directly called Jean George's Columbus Circle NYC restaurant, to ask if they indeed accommodate vegan diners.
Click ahead to find out what the hostess said, and more of my favorite JG restaurants…
Calling Jean Georges:
Me: " Hi, I was wondering if you are able to accommodate vegan diners?"
JG Hostess: "Yes."

Me: "For lunch or dinner?"
JG Hostess: " Yes. For lunch or dinner."
Me: "OK great, thanks so much."
Success!
Now I really knew that they would most likely say yes. I have quickly learned that the upper-crust restaurants here in NYC and around the world will usually accommodate any special request. I had the most amazing vegan dinner at Le Bernardin in NYC for a special event. They were incredibly accommodating and didn't look at me like, "Are you kidding me?" (The face I experience at a few less-wonderful non-veggie restaurants.)
Jean George: Mercer Kitchen and Spice Market
Two of my favorite restaurants that I frequent often are both JG restaurants. Mercer Kitchen in Soho at the Mercer Hotel (yes, where Russel Crowe threw the phone in the lobby.) and Spice Market in the meatpacking district.
Spice Market has an entire section of the menu devoted to vegetables, noodles, and rice dishes. And the house made ginger ale is to die for!
Mercer Kitchen has seasonal salads and plenty of veg-friendly sides like wild rice and steamed or grilled veggies. I always get one of the pizzas with no cheese. They are always amazing. has the best seasonal pineapple mojitos in NYC.
JG Dishes and Books
I did a bit of research and found this yummy recipe for Napa Salad, it's vegan and sounds divine. You can get the recipe at NYMag.com.
Here are the ingredients for the Napa Salad:
4 cups thinly sliced Napa cabbage
2 cups shredded carrot
2 cups shredded daikon
1 cup sliced red onion, salted and rinsed
1 cup julienned mango
1 cup chiffonade of mint
¾ cup Jean-Georges Passion Fruit Vinaigrette*
8 sprigs cilantro
**I am very motivated to seek out Jean George's Passion Fruit Vinaigrette, which is available at from ABC Home, Citarella, Zabar's, and Balducci's. Yum.
Asian Flavors Cookbook
I own Jean Georges new cookbook called Asian Flavors. It is amazing. And it does indeed have many vegetarian recipes and ones that I can easily modify to make vegan. His craft and skill with flavor combinations is genius. And the photos almost make me want to try sushi! Not really… My husband who loves sushi and Asian flavors is in love with this book.

TOP CHEFS KNOW TO ACCOMMODATE VEGANS
In a previous post, I noted that the former Executive Chef at 21, mentioned how important it is to pay attention to Vegan diners.
JEAN GEORGES NYC
So if you are in NYC you should definitely consider visiting JG for s special dining experience.
Jean Georges
1 Central Park West
Reservations Open Table
Phone: 212.299.3900