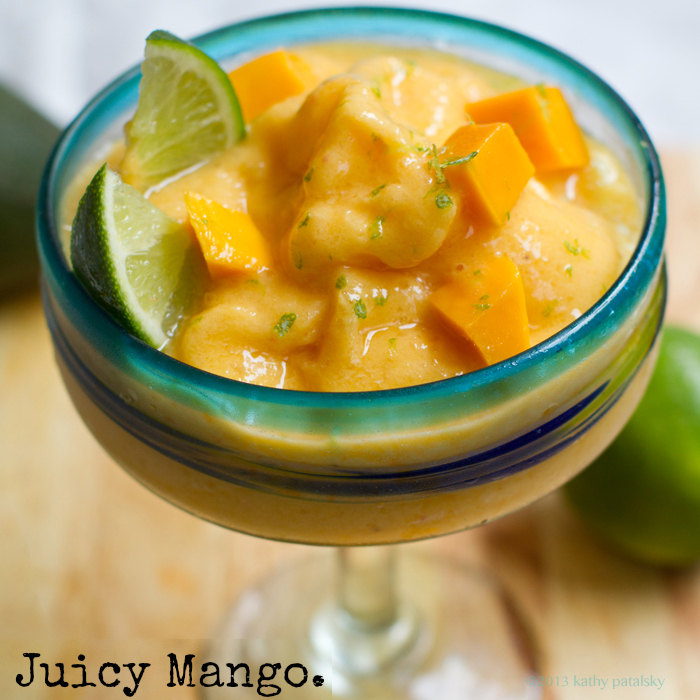 Cinco de Mayo is my favorite food holiday. I say it every year and it is true. Growing up in California, I have acquired a passionate love of authentic and creative Mexican-inspired food. Guacamole, tacos, red rice, limes, simmering black or veggie refried beans, freshly fried tortilla chips, oven-baked enchiladas, homemade corn tortillas, spicy salsa, salsa verde, sticky sweet plantains, tender sweet corn cakes, vegan cashew or tofu sour cream, vegan melty cheese, jalapenos and on and on and on… Hungry yet? Me. Too. Lets throw on our fiesta hats, shimmy into the kitchen and start our own little fiesta feast.
Juicy Mango Margarita. switch out the coconut water for a shot of tequila.
Directions:
Slice mango in half and cube. Reserve a few cubes for garnishing. Add remainder of mango to blender (about ½ cup cubes).
Add lime juice, frozen peaches, frozen banana, ice and coconut water to blender as well. Blend until smooth.
Garnish with fresh mango, plentiful lime slices and fresh lime zest on top.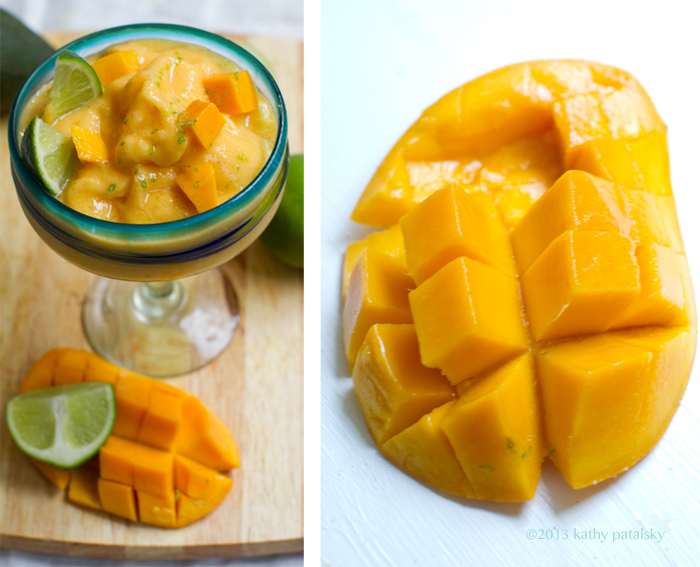 More vegan Cinco de Mayo / Mexican Recipes:
1. Vegan Nacho Platter – recipe
2. Pumpkin Seed Guacamole – recipe
3. Salsa Verde – eat it with a spoon! – recipe
4. Mexican Fiesta Salad – recipe
5. Cashew Cheese & Kale Enchiladas – recipe
6. Sweet Corn Cake – recipe
7. Chipotle Citrus Superfood Tacos – recipe
8. Strawberry Watermelon Lime Frosty Daiquiri – recipe
9. Mexi-Chopp Salad with Cashew Cream on top – recipe
10. Vegan Enchiladas – recipe on HHL or recipe on Babble.com
11. Triple Stacked Breakfast Quesadilla – recipe
12. Elote – Mexican corn on the cob – recipe on Babble.com
13. Protein-rich Tempeh Tacos – recipe
14. Fresh Citrus Daiquiri – recipe
15. Tomato Rice, red and tasty- recipe
16. Cilantro Smother Sauce (in a burrito or on a burrito!) – recipe
17. Sticky Sweet Plantains – recipe
18. Corn Cake Bean Balls – recipe
19. Daiya-infused Cheezy Quesadillas – recipe on Babble.com
20. Lemon-y Guacamole – recipe
21. Mango! – Today's recipe for my Mango Margarita Mocktail!
Happy 5th of May!!