Nibble on a Kamut Coconut Almond Butter Chip Bar this weekend and have leftovers for the week ahead!..
These puffed cereal squares are light and crisp with the earthy, nutty flavor of puffed kamut in every bite. The bars are infused with almond butter, coconut, a hint of cinnamon and your choice of chocolate-y chip. This no-bake recipe is fast and easy. A healthy substitute for "marshmallow squares" or super sweet granola bars. Just a touch of brown rice syrup is all you need for these bars. Grab my recipe + get 5 reasons why one might choose CAROB chips instead of chocolate!..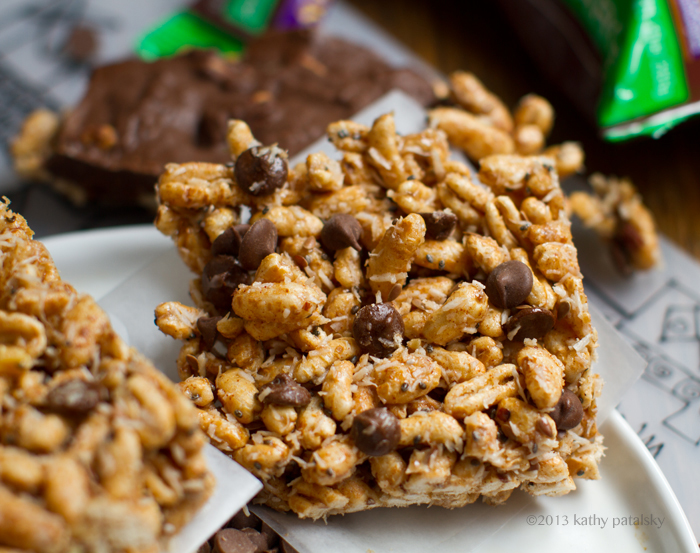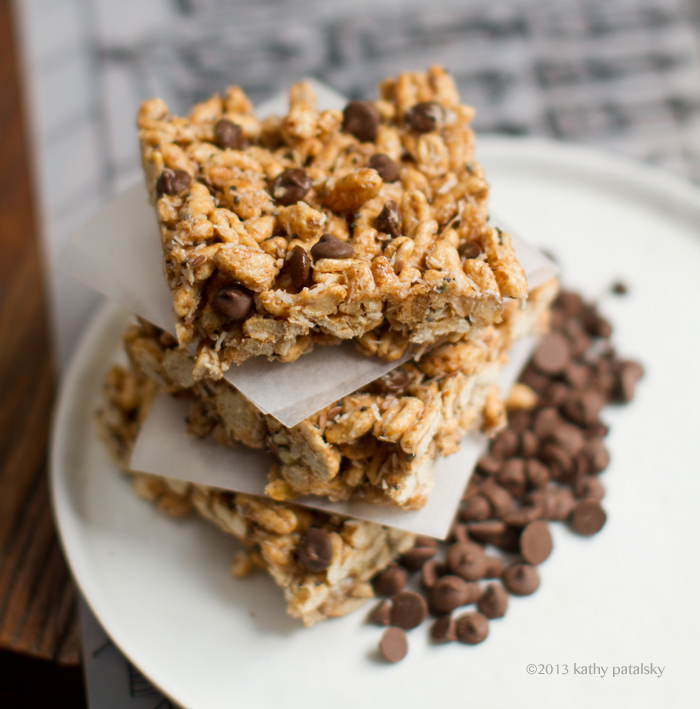 Buying Carob. I picked up the forest green bag of chips labeled "vegan carob chips." My husband glared at me. I put them back on the shelf. I tapped my toe and scrunched my brow. I grabbed the mini vegan chocolate chips from EnjoyLife – that I love so much. But those silly carob chips kept whispering to me to grab them and run. I tossed back my beloved chocolate chips and quickly pushed the carob chips into my hand basket and sped away. Wait, what? I could just hear the question coming from my husband's lips as I scampered away down the Whole Foods grocery aisle, like a spring bunny on the run..
"Wait, why did you buy carob chips?"
It is an interesting question. One I could not fully answer at the time. Carob chips, for me, carry with them much history and sense-infused memories. Memories from childhood in Santa Cruz, memories of roaming the skinny aisles of the Aptos Natural Foods Store where my mom and I often shopped. My short pre-teen body standing on its tippy-toes to ogle the goodies on the highest shelves and peek into the whimsical, ever-interesting bulk section containers – the earthy aromas of apricot and fig bars, carob energy squares and yogurt-covered raisins wafting from the plastic bins, through the musty air and across my face. I would always grab a few or those chunky cubed carob bars. You know those glossy, blackish-colored cubes studded with sunflower seeds? They must be healthy if they came out of that musty plastic bin, right next to the dried lima beans and red lentils! I didn't really know why they were good for me, but my mom would buy me pretty much anything at the "health food store" and these kinda tasted like chocolate, so I loaded up every time.
The truth is, I probably loved those cubes because they were sweet! And after doing much research, while carob is rich in some nice nutrients like vitamins and minerals, there aren't too many reasons why you shouldn't just go for high quality dark chocolate if it is CHOCOLATE you crave.
But then WHY oh why did I buy the carob chips for this recipe? Memories I guess. But here are 5 Reasons One Might Choose Carob Over Chocolate:

1. Memories. Like me, you may have fond memories of stuffing your face with carob goodies as a kid thinking they are "good for you" so indulge! Your parents may have even let you indulge thinking the same thing!
2. Caffeine. OK, so the main reason why you might choose carob in place of chocolate is if you are caffeine sensitive. Carob, unlike cacao, contains no caffeine.
3. Flavor! Some people actually enjoy the unique and nutty, earthy, buttery flavor or carob. It is a bit sweeter (less bitter) than cacao so it makes for an interesting taste sensation. I admit I kinda like it a lot.
4. Carob Powder. Buying carob in powder form is a lot different that buying the sweetened, fat-added chips. In fact, the powder DOES have a few advantages over cacao. Carob powder is actually lower in sugar and fat than cacao powder (both come from beans/pods of different plants) but if you are using CHIPS there is really not much difference since the fat and sugar gets added back in.
5. Variation! Maybe you are just a little bored by chocolate chips and looking for a more exotic ingredient! Carob will give you that "different" flavor you seek.
Whole Foods has a nice Carob 411: The Advantages of Carob Powder
Any more? Carob fans please chime in here 🙂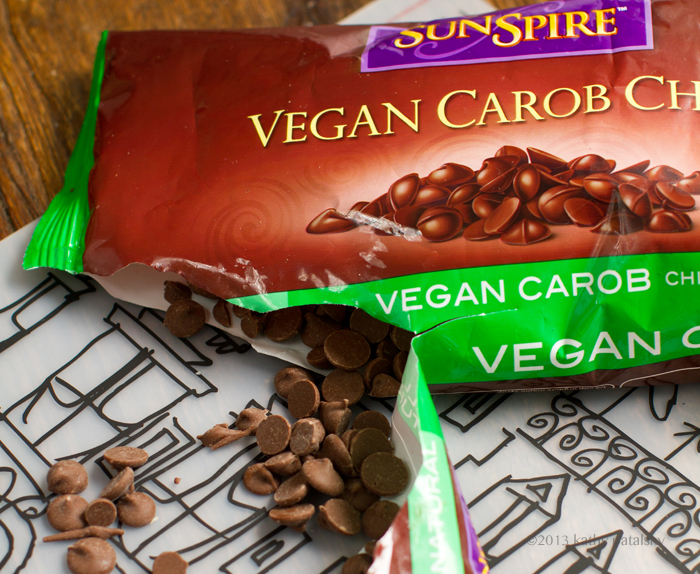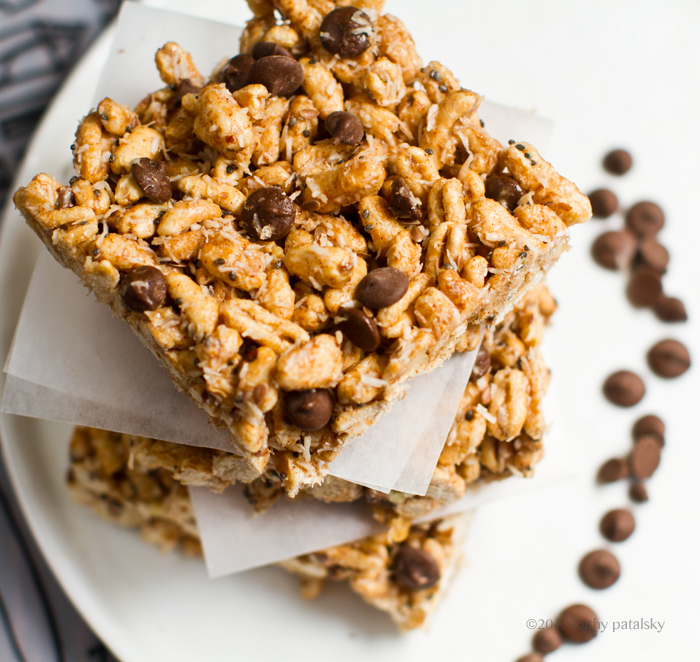 So yes, for this recipe you can use carob or cacao chips .. 🙂
note: the carob is slightly sweeter to some, so you might be able to get away with adding a drizzle more sweetener if you choose a dark or semi-sweet vegan chocolate chip.
Kamut Coconut Almond Butter Chip Bars
vegan, makes 1 baking tray worth of bars (fridge or freeze to store)
6-8 cups puffed kamut (unsweetened)
*you can substitute with another puffed cereal if desired
½ cup virgin coconut oil, melted
⅓ cup coconut flakes, raw unsweetened
⅓ cup organic brown rice syrup
½ cup salted almond butter, organic/creamy
1 teaspoon chia or flax seeds (for texture and nutrition)
½ teaspoon cinnamon
¼ teaspoon vanilla extract
½ cup dark chocolate mini chips or vegan carob chips
*using more kamut will soften the flavors and sweetness in each bite. You can use anywhere from 5-8 cups but be warned that the less kamut you use, the stickier and sweeter each bar will be.
Directions:
!. Grease a deep baking sheet with coconut oil.
2. Add the almond butter, coconut oil, brown rice syrup, vanilla and cinnamon to a small bowl and microwave for thirty seconds. Stir until smooth and melted.
3. In a large mixing bowl, toss the kamut with the almond butter mixture. Last, fold in the chocolate or carob chips – and the flax or chia seeds. Toss a few minutes until every puff is well coated in almond coconut liquid.
4. Pour the mixture into your baking sheet and press flat.
5. Chill in the fridge until firm enough to slice and serve. Place in freezer for ten minute then transfer to fridge for faster chilling.
Chocolate coated! You can also dip or smother these bars in chocolate-coconut mixture for an extra sweet treat!
Chocolate Coconut Mixture:
½ cup chips + 2 tablespoon coconut oil – melted
nutritional info estimate based on 18 servings (per serving) (using mini chocolate chips, vegan)
Calories: 175 per square (13g fat, 4g protein)