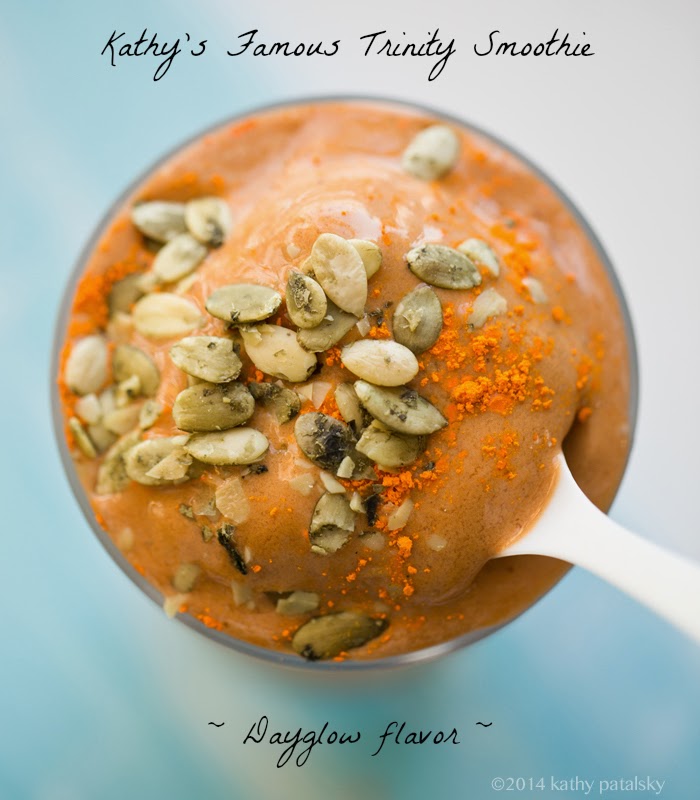 Today I am sharing a video + recipe of how I prep and blend up my world famous (wink wink, nudge nudge, someday it will be I hope) vegan Trinity Smoothie. While the secret recipe isn't such a secret at all, I have shared versions of this before, I really just came up with the phrase "trinity smoothie" last week. I was trying to figure out how to describe my favorite technique for blending up the frostiest, thickest, most ice cream-like smoothies ever. And my "trinity blend" title just stuck. What is my trinity smoothie? And why am I so freaking giddy about it? Well keep reading to find out!..

Today's video: Kathy's Famous Trinity Shake / Smoothie — matcha version — to make Dayglow version just sub turmeric! Video has details.. (recipe at bottom)
Matcha flavor.. (as in video)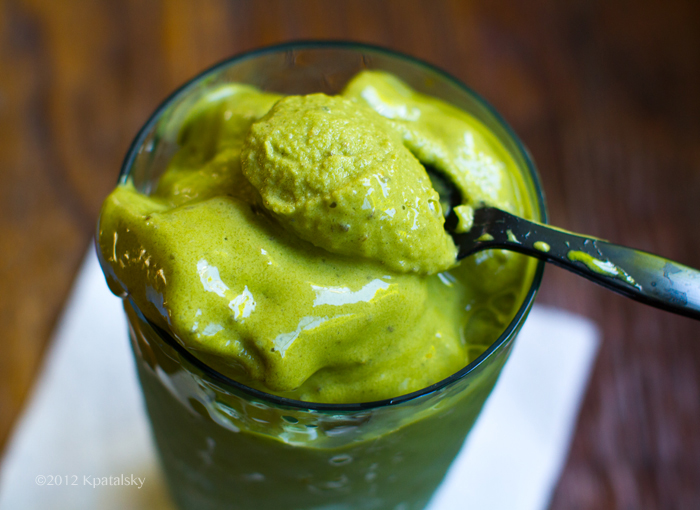 In real life..

Dayglow turmeric flavor.. with pumpkin seeds on top. Always.

Yup, a very typical Instagram..

A blustery busy day. I rushed home from a busy day out, a heavy canvas bag slung over my shoulder, my Tom's shoes pounding on the faded cement sidewalks of Santa Monica. I eagerly slid past the lazily strolling sunglass-wearing tourists and early week Memorial Day staycationers, my hair whipping across my face as a strong beachy breeze swept salty air through the air and through the towering palm trees lining the streets. The cool breeze was a brisk wake-up call for my tired muscles. As I glided through the streets, navigating the crowds and crosswalks I could feel my stomach ache with anticipation for lunch. I dashed back to my place and raced up the elevator and down the hallway, key in hand. I popped open the door, the room awash in late bright white and yellow afternoon sunbeams, bouncing off the walls and the skinny white window shades waving in the wind from the cracked open window. "Hello kittens!" My usual greeting when I arrive home. I sped over to the window to kiss the kittens hello. They were passed out, draped over their warm yellow, aqua and blue pillows, sprawled out on the floor. But before I opened my computer to catch up on work I had one thing in mind: my smoothie time! My smoothie break is something I look forward to each day. I toss my cell phone on the bed, pull on a cozy sweater, kick off my shoes, rush into my kitchen, pull out my smoothie goodies, blend up my smoothie and for a small corner of time, bask in some sunbeams and let my mind rest and collapse into smoothie bliss.
Then as my spoon scrapes the last bits of my creamy blend, I rise feeling energized, revived and ready to focus my attention on whatever my schedule brings.
Have you started a smoothie break habit? Now is the time! Oh, and this can really help.
As you will learn in my latest video, I make this smoothie a lot! I adore it. And I easily switch it up by featuring different flavor accents and superfoods. My most notable being matcha green tea. You guys know how much I adore my matcha! (My big matcha brand review here.) Well lately I have been adding a wide variety of superfoods to my trinity blend. Everything from berry powders, maca, vanilla bean and cinnamon, cacao and more. But my favorite is turmeric. Specifically the Ojio turmeric! I am obsessed. Thank you Jason Wrobel for turning me onto it .. found via his Instagram page
Turmeric is in today's recipe. Or as a commenter once described it to me, "dayglow" turmeric. Well dayglow is s fun name, so thus the turmeric version of my trinity blend is called dayglow.
So however you like to flavor my trinity smoothie, I hope you enjoy it and crave it as much as I do … like every day!
Oh and buy this stuff, I swear you will be amazed and totally impressed by it!
Kathy's Famous Trinity Smoothie
By Kathy Patalsky
Published 05/20/2014

Kathy's famous blend of frozen banana, frozen watermelon, non-dairy milk and a few extras like superfoods and protein! Tastes like an ice cream shake, healthy-delicious! Nutrition info below: Add calories for protein powder, if using.
Ingredients
1 large extra ripe frozen banana
1 ½ cups frozen watermelon
1 cup non-dairy milk (almond milk used)
choose: 1+ teaspoon superfood (matcha green tea or turmeric used – also try acai, cacao or berry powders)
1-2 scoops vegan protein powder (optional)
topping: sprinkle of pumpkin seeds (optional)
Instructions
Add non-dairy milk and superfood and protein powders to blender. Blend on low until smooth.
Add half of the frozen fruit. Start blending low to high until smooth. Then add in the remaining frozen fruit and blend until frosty. See my video of Youtube user: LittleLostGrape for a demo.
Yield: 1 smoothie
Prep Time: 00 hrs. 05 mins.
Cook time: 00 hrs. 03 mins.
Total time: 8 mins.
Nutrition
Tags: vegan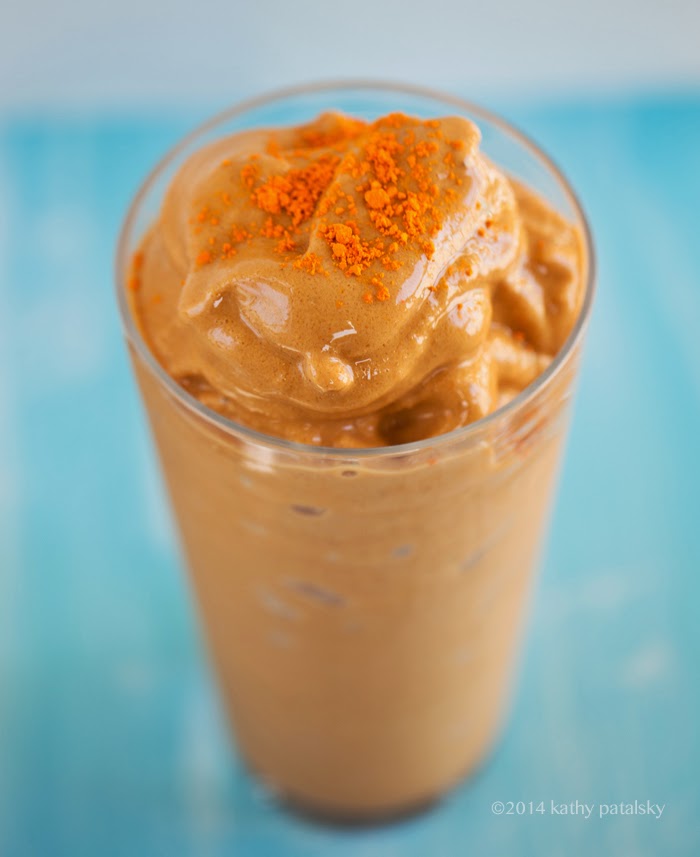 Check out my book page on KathyPatalsky.com: