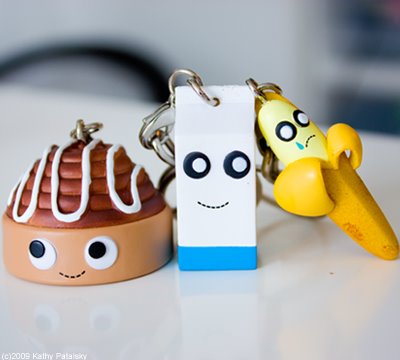 Filed under "Happy".
Take a fun break! Kidrobot style. I insist. What is Kidrobot you ask? NYC shoppers know Kidrobot as that store in SoHo packed with crazed kids, teens, parents, tourists and locals-all clamoring for creative, whimsical and edgy art, toys and apparel. As a self-confessed foodie with an obsession with anthropomorphizing foods, exhibit A: my Lunchbox Bunch brand, I fell in love with the "Yummy Breakfast" line of characters, designed by Heidi Kenney. How cute are these little guys?! I call mine (shown above): happy soy milk, sad banana and vegan cinna-bun. Yup. But why did it take me two years of walking right past the Kidrobot store to finally step inside and peruse? Well…
What is Kidrobot? If you've never heard of Kidrobot, you've obviously never gone holiday shopping in SoHo, NYC before, the line runs out the door and around the corner. Clueless tourists and passers-by whisper, "what is THAT store?" There are a few line-out-the-door stores in SoHo. The Ugg store, the Apple store and Kidrobot. The word madhouse would be too mild.

My Visit to Kidrobot. Last December I finally went inside Kidrobot for about two seconds. I felt like I was at a "free pizza" party after a Little League game. The store was packed with kids and parents clamoring for the latest and greatest Kidrobot products. It's kinda tricky to peruse in that kind of environment. So I darted out of the store, glad I was still in one piece! Luckily, a few weeks ago I decided to re-enter the store on a calm weekday afternoon. What fun! I fell in love with the "Yummy Breakfast" line of character key chains and needed to share them with you. Kidrobot has a lot planned, so get in the know before it goes mainstream…
Kidrobot has some very cool artists working for them. And since I can certainly relate to wacky and creative characters, aka my brand The Lunchbox Bunch, I really fell in love with the oddball creativity at Kidrobot. True, at first-look Kidrobot products are just a lot of toys and pop art images. But really, Kidrobot "stuff" is designed by genius modern artists at their best!

Yummy Breakfast. This line of characters is designed by Heidi Kenney. She is awesome. Her website My Paper Crane shows how creative her brain is. So many awesome and adorable products. I love the crying burnt toast.
Kidrobot facts:
*The Museum of Modern Art (MoMA) acquired 13 Kidrobot toys in late 2007, which are now part of the museum's collection. Three toys are currently on display as part of the museum's "Just In: Recent Acquisitions from the Collection" installation.
*In 2009 Kidrobot and Paramount Pictures announced that they were working on a major feature film involving Kidrobot characters, executive produced by Paul Budnitz. The film is slated for release in 2011.
*Kidrobot operates store-galleries in New York City, San Francisco, Los Angeles and Miami. And new store: Dallas!
*Kidrobot was founded by designer Paul Budnitz in 2002. Talk about fast business success!
*The new and cooler version of "Beanie Babies" and collectible comic books? Sort've. Many Kidrobot toys are extremely rare and collectible and cannot be found anywhere else in the world. Toy artists often choose to create a series of only a few hundred or a few thousand pieces, so once a toy is sold out, it's sold out forever. Kidrobot toys retail from $6 to $20,000, and may appreciate in value over time.
*Many of the toys are bought without you knowing which character you will be getting! It's luck of the draw. For Yummy breakfast I didn't know if I'd get a banana, egg, milk or strawberry! I like the bruised crying sad banana I got. He's very rare! 1 in 50 boxes as opposed to 1 in 25. The boxes tell you the odds of getting each character.
So check it out if you are in the mood for some art, fun and silliness.
Kidrobot Online.

Other products I love: the Supersized Ronald McDonald figurine. Quite intriguing. I had to buy a key chain of it. It makes quite the societal statement. Also the crazy Tofu-head characters…you can see them both in the background of the image below…