The Krispy Kreme Challenge is real.
North Carolina State hosts the event.
They close the roads down – with police cooperation.
What is it exactly?
To complete the Krispy Kreme challenge is to:
1) Run 2 miles from the N.C. State belltower to the krispy kreme on Peace St. in Raleigh.
2) Eat one dozen doughnuts
3) Run 2 miles back to the belltower.
4) Do all of this in under one hour.

By the way, there are 144 grams of fat in 12 donuts.
More fun nutrition facts after the jump…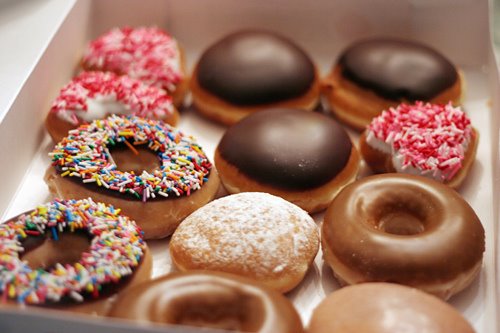 Event Details:
Krispy Kreme Challenge 2009
Date: February 7, 2009
Location: NCSU Belltower
Time: 9:30 am
Read more for a promo video, nutrition fun facts, photos and details about this 'charity event'….
KRISPY CREME CHALLENGE
Want to participate? You only have 19 days left to sign up.
Last year the event raised $20,000 for charity.
Hmmm…
Why not call it the Fruity Challenge and have the racers eat a bowl of fruit at the half-way mark. It would be just as challenging, and not likely to cause a heart-attack. And the 144 grams of fat would be greatly reduced.
Wow. If only I could interview someone who actually participates in this. sigh.
Check out these nutty facts about 1 dozen KK donuts:
12 Original Glazed Krispy Kreme
Doughnuts contain:
¸ 2400 calories
¸ 1200 fat calories
¸ 144g of fat
¸ 36g of saturated fat
¸ 0g of trans fat
¸ 60mg of Cholesterol
¸ 1140mg of sodium
¸ 120g of sugar
¸ 24g of protein

Oh…but, yeah they raise money for a good cause. I guess it is a true sign of goodness to put a charity before one's own health. But really, I jest.
Not a fan of this event. Sorry Krispy Kremers. The 36 grams of saturated fat speak for themselves.
This makes the Pizza Hut Au Natural Pizza, actually look not-that-bad!….maybe.
Krispy Kreme Challenge.