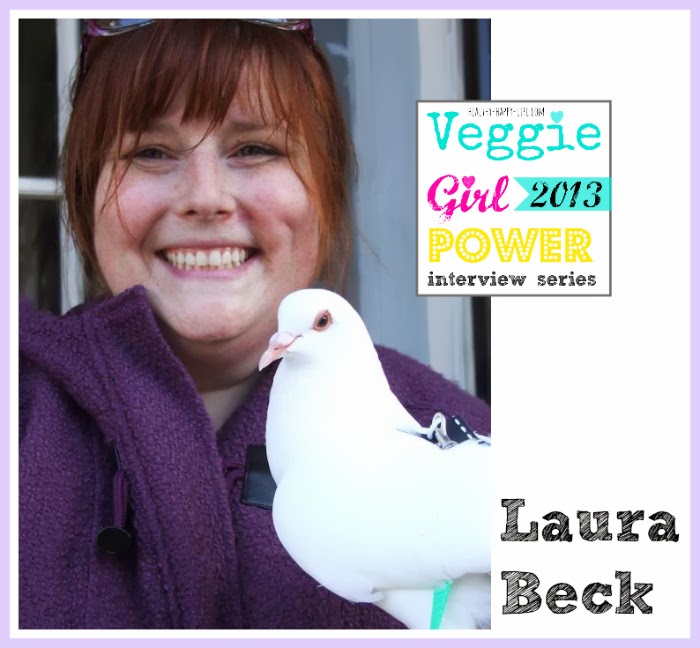 Next up in my 2013 Veggie Girl Power Interview Series is Laura Beck! Laura is the founding editor of the popular vegan website Vegansaurus. She is a brilliantly entertaining (and lol-inducing) writer who always lightens my mood with her articles. You may have seen her work on Jezebel, VegNews, (of course Vegansaurus) and more. Meet Laura in her VGP interview!..
Who is this amazing lady, Laura Beck? Well a quick visit to LauraHooperBeck.com will give you a pretty good idea of Laura's honest, hilarious, unafraid and quick writing style.
And she has an adorable pup, Hazel..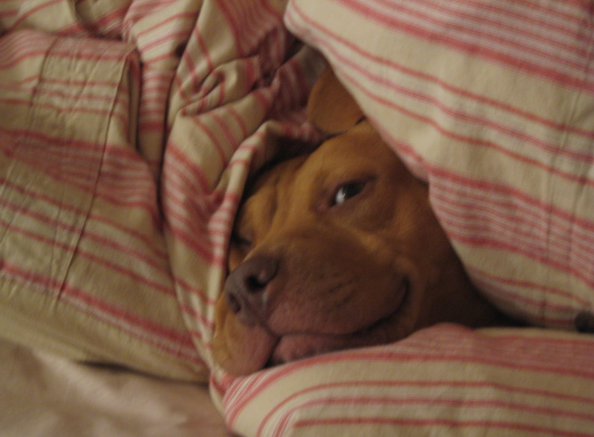 Oh gosh, I love Laura's writing. Every time I see an online article or post written by Laura I KNOW I am going to love it. So I read it. And yeah. I always love it. And I usually laugh or giggle. And feel a bit less serious about my day. I love that.
A few of Laura's fabulous writing samples to check out. Quality writing here people!..
Like this.. Kid Stays in the Picture
This.. Why You Can't be a Professional Chef
And yes this helpful guide.. Holiday Shopping for People You Hate
If you haven't checked out Vegansaurus, you know that sassy website with the adorable pink dinosaur mascot, check it out. Put it in your rounds for your fave vegan websites to visit. Need a glimpse of the content on Vegansaurus, well today's post title was this: "Vegan Yogurt Crisis 2013 Is Upon Us" — 🙂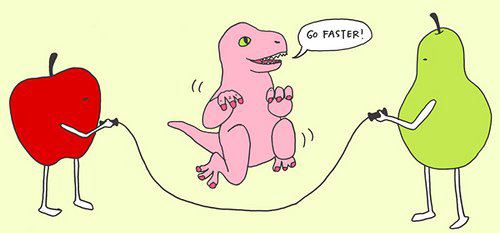 *via Vegansaurus.com Facebook page
Veggie Girl Power Interview: Laura Hooper Beck, Vegansaurus / writer (& aspiring TV sitcom writer — hire her!)
Q1: Back to Basics. When and why did you go vegan? We love a good "this is why I went vegan" story.
Laura: It's not super special — I read "Diet for a New America" and was like HOLY SHIT THAT IS AWFUL I QUIT. I went the vegan version of cold turkey (cold tofurkey?), and never looked back.
Q2: Help a Girl Out. The vegan transition can be tough for some! What sisterly advice can you give to new or transitioning vegans?
Laura: Find some community — either in person or online. Experiment with all the awesome vegan foods everywhere. Just live your life, but without animal products. It's super easy to do in cities, but could be more difficult in more rural areas — and if that's you, definitely order specialty vegan products online (if you can afford it — veganessentials.com is great!) and learn to cook. And probably most importantly, stay in touch with the reason you're vegan. For me, it's for the animals — and so I try to always keep that with me. It helps because sometimes when it's harder to be vegan — it's not that often and it always passes! — I don't just give up because I'm just one person and who cares what I do. I stick with it because the animals care, and I never, ever want to give a cent of my hard earned money to making their lives worse.
Q3: Traveling Vegans. In your neck of the woods, what are the local vegan hot spots to visit/shop at/dine at? Traveling vegans want to know!
Laura: The SF Bay Area has so much great vegan eating! Vegansaurus is obviously a great resource (and we have an iPhone app, too!) but my personal favorites are Millennium or Saha for fancy dinners, Souley Vegan, Source, Encuentro, Cha Ya, Papalote, Old Jerusalem, Golden Era, Donut Farm, and ugh. SO MANY. Oh, and if you want beer and a sausage, Old Depot Public House just opened in Oakland and it's awesome!
Q4: On Food. What is a typical day of vegan eating for you? Fave eats?
Laura: I have a giant protein shake for breakfast pretty much every morning now — I play around with mix-ins like fruit, nut butters, vegan milks, etc. Lunch is usually a stir-fry, sandwich, or salad. Dinner depends! I love cooking off websites (including this one, especially the AMAZING PIES), cookbooks, or just doing something simple like frying up some Gardein Mandarin Chicken with veggies and brown rice. I add nutritional yeast to almost everything savory I make, vegan Worcestershire sauce makes everything sauces, soups, and stews delicious, and umm… your Chocolate Cream Pie is maybe my favorite dessert of all time DEAR LORD IT IS SO GOOD. On that tip, Mimic Creme's Healthy Top is the BEST whipped cream on earth!
Q5: Words of Wisdom. Here is your chance to create your own quote. "Veganism is….."
Laura: …an exciting ethical opportunity. I'm lucky to be able to be vegan. I know not everyone on earth can be, and I feel like those of us who have that chance… well, it's awesome and the best. Also, veganism is DELICIOUS. It's opened up so many culinary adventures to me, and I eat better than ever before. FOOD!
Q6: On What is Hot. Share people, brands, books and more that you like to rave about.
Laura: I'm not sure sure these books are "hot" but Diet for a New America (or the more recent The Food Revolution) should be required reading because they teach so much about our food supply, and what's at stake (scary, eye-opening stuff). The documentary Earthlings is heart-wrenching but invaluable teaching tool about how animals are treated in our screwed up food supply.
I love so many vegan cookbooks and cookbook authors that I don't want to name names because I know I'd forget someone — THAT SAID anything by Isa Chandra Moskowitz, Terry Hope Romero, Celine Steen, Joni Marie Newman, Robin Robertson, Julie Hasson, Bryant Terry, Bryanna Clark Grogan, Bianca Phillips, ugh I coud go on all day!! As far as blogs, there are a ton of great ones, and the PPK's Vegan MoFo is a good place to discover new ones! Oh, and although I contributed to the PPK's annual Top 100, I did so because I think it's the greatest!
Miyoko Schinner's new cheese book will change your life.
And although I think it tastes like crap, Vega One shakes make me feel AMAZING! If you need a good way to start your day and get tons of healthy stuff into your body, check it out.
This category is hard; I could go on FOREVER. Like, for the entire internet.
Q7: Soapbox! Go for it …Soapbox away…
Laura: I'd love for veganism to be more inclusive of people with different body types — mainly fat people. I'm not down with all the people who portray veganism as a weight-loss diet, because it's not. I didn't gain or lose weight as a vegan, but my blood work and overall health is better than it's ever been. Decoupling weight from health is a big deal to me, because I know you can be skinny and unhealthy and fat and healthy, and I want everyone to know that. I'd love for Dr. Linda Bacon's Health at Every Size book to be required reading for every vegan — because despite her name, it's incredibly vegan-friendly and sensible about how not everyone can be skinny, but everyone can be healthy. And that's a good thing! People are different!
Because when people "sell" veganism as a weight loss diet and people don't lose weight, they often give up. If we explain it as a "Eat a delicious, compassionate diet and feel better about how you're treating yourself, the environment, and the animals (and your cholesterol will probably go down with no effort, too!)" it's a much bigger win for veganism because that's all true.
Q8: What upcoming projects are you working on? Please share!
Laura: I write nightly at Jezebel.com on issues that affect ladies (and everyone else!), so you can always find me there — and of course, Vegansaurus.com and Vegweb.com. Later this month, I'm moving to LA to become the next James Gandolfini. No, but I am moving to LA, and I'd like to write for TV sitcoms, so I'm gonna give that a try (CAN ANYONE HELP ME PLZ?) When my hopes and dreams are crushed (and even if they're not), I'd like to open a vegan convenience store one day. I think that would be the most fun.
Q9. Smoothie love! I would love to hear about YOUR favorite smoothie recipe..
Laura: (Oooh I'm excited for your book! Smoothies!) I love anything strawberry and bananas and then just throwing in whatever else — greens, other fruits, some protein powder, anything!
Q10. Do you think veganism is the diet of the future? Why?
Laura: YES! We don't live in a sustainable way, and pretty soon something has to give. A great way to mitigate the destruction of the earth is to eat lower on the food chain — plus, it's delicious and you feel great about everything you put in your body. (Well, maybe not that sixth chocolate chip cookie, but still.)
————
Follow Laura:
Facebook: Vegansaurus
TWITTER -> @mrpenguino
-> @vegansaurus
Be sure to read all this year's VGP interviews coming up. VGP 2013
VGP kickoff: Cookbook Interview Chloe Coscarelli
Simone Reyes, of Running Russell Simmons / Animal Advocate
Doron Petersan, of Sticky Fingers Bakery
Angela Liddon, of Oh She Glows website
Emily Von Euw, of This Rawsome Life website
Sara Sohn, of Sweet & Sara Vegan Marshmallows
Marly McMillen, of Namely Marly website
Elizabeth Castoria, Editorial Director VegNews Magazine
Katie Higgins, of Chocolate Covered Katie
Laura Beck, of Vegansaurus and more / writer
Kathy Patalsky, (putting myself in the interview seat to close the series!)
*all photos provided courtesy of Laura