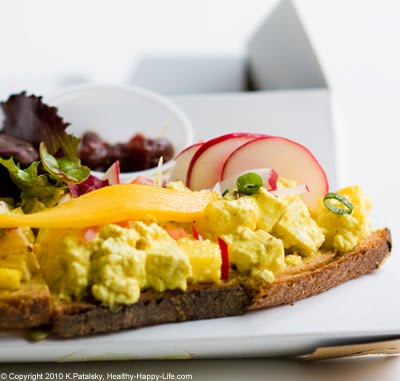 I was excited when I found out that Le Pain Quotidien's new spring menu included a vegan Curried Tofu and Pineapple Tartine, aka open faced sandwich. A spicy cranberry chutney on the side, organic flax and pumpkin seeds sprinkled on top. I'll admit I was not convinced that the combo of pineapple and curried tofu would be a winner. Check out my taste test…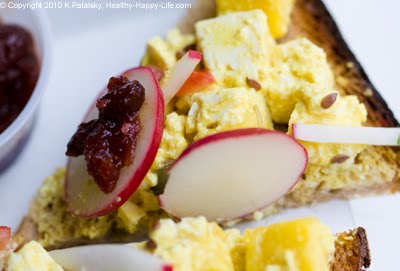 Le Pain Lunch to-go: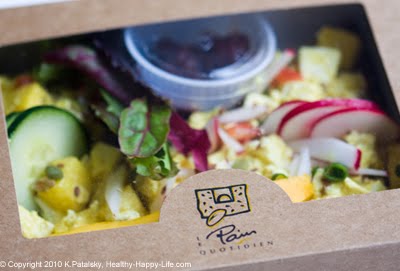 I love wandering into Le Pain for a quick bite. Maybe a vegan blueberry muffin. Perhaps a soy latte. Soy chai. A steamy vegan mushroom or other veggie soup of the day. Or maybe some of that delicious vegan Harvest Porridge (farro, nuts, cranberries and almond milk) I love so much. I adore Le Pain for it's wide variety of vegan and non vegan options. It's a crowd-pleaser for me and my family. Onto my taste test review and more of my photos…
Taste Test: Le Pain's Vegan Curried Tofu and Pineapple Tartine
with flax and pumpkin seeds, on spelt bread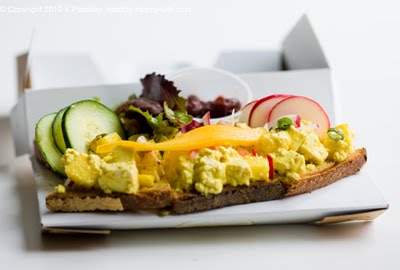 Looks divine. Lots of chives, radish, cucumber and baby lettuce speckled throughout.
It comes with some sort of spiced cranberry/raisin chutney. I'm not really into Indian food (chutney's and curries) as much as some of my friends, but this was delightful and light. Perfect protein-packed lunch.
Taste Test:
The chutney is amazing. Love that stuff. Cinnamon, spices and cranberries. A little bite of heat too.
The curried tofu was very light and creamy. I liked the subtle curry flavor. I probably would've added a bit more salt to the tofu, but I guess if you are dining at Le Pain – they always have those big pepper and salt grinders at each table to add your own. So for my taste buds, I'd add a big grind of pepper and a little grind of salt – but the flavor and texture for a chilled tofu curry is impressive.
The pineapple was super fresh, firm and chunky. I was so glad they weren't little mushy clumps or anything that seemed canned. No way. They tasted fresh-chopped to me. I'm guessing they are..?
The spelt bread was brilliantly fabulous as always.
I would've liked more organic flax and pumpkin seeds on my tartine! It was such a small sprinkle I could barely find the flax seeds. More seeds please! Since the seeds made the 'menu description' I'd like to see a lot more of them on the tartine. Love the seed-ingredient addition to this seasonal menu item.
And the to-go package is good if you are on the go – however, I always advise eating at Le Pain because it's such a nice modern, calm space. ..Except during weekend brunch-hours. The noise level can get pretty intense! Especially at their NYC locations. I like the energy though…
Last Word: I really like it! I don't really crave tofu for lunch all that often, but I would buy this for lunch again and again. That says a lot! Something about this is just so light and balanced. The acid from the pineapple, the sweetness from the chutney and pineaple, the spice from the chutney and radishes, the softness of the mellow curry and the light crunch of the spelt bread crust and cool cucumbers. Plus those fabbo organic flax and pumpkin seeds – more seeds please.
Yum.
chutney: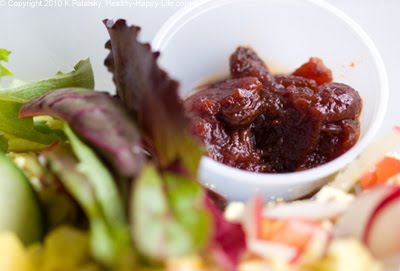 Yellow Pineapple, Yellow Tofu: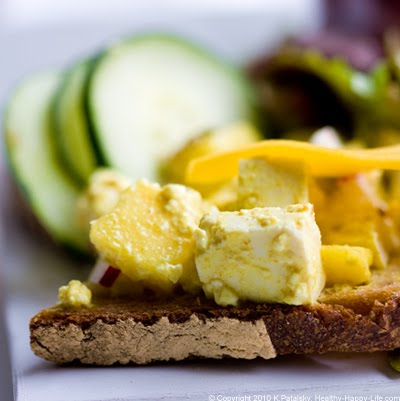 to-go box: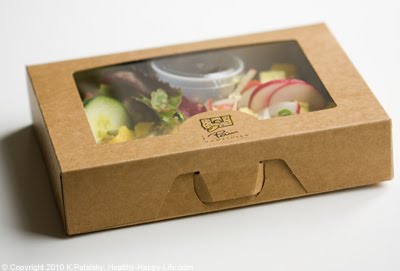 Stay connected with Le Pain:
Facebook Page: http://www.facebook.com/pages/Le-Pain-Quotidien-USA/245974547029
Website: http://www.lepainquotidien.com/
Twitter: @lePainQuotidien
..or just read my blog – I comment on their #vegan products quite often!