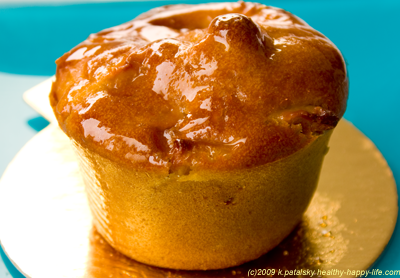 I love how Le Pain Quotidien offers vegan seasonal items and treats. I already reviewed the delicious vegan quiche. Now I had to try some dessert: the Pomme "Apple" Cannele.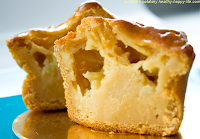 What is a cannele? A cannele or canelé is a small French pastry with a soft and tender custard center and a dark, thick caramelized crust. But this one is vegan.
My complete review of Le Pain's Apple Cannele ahead..
My Review:
Le Pain Quotidien's Apple Cannele, vegan

Shelf-Appeal: Placed on a small golden cardboard platter, this vegan pastry looks to be much more than its $2.90 price tag.
Label Check: It's organic. Vegan and small. And tastes healthy. No ingredients list online, but not overly sweet or 'oily' thus, my guess for nutrition is good for a pastry!
Taste test: I personally hate apple pie. Not a big fan of apple-mush desserts. But this was firm, almost bread-pudding-custardy. The apple essence was very delicate, all firm custard-like apples. Caramelized top was delicious. So good with a latte or tea. Not too sweet at all.



Price: $2.90 is a great price in NYC for this elegant gourmet vegan pastry.


Last Word: More like this please. How about a blackberry cannele or a pear cannele. Maybe a delicious lemon-tart cannele too. Yum. I like this vegan cannele thing.