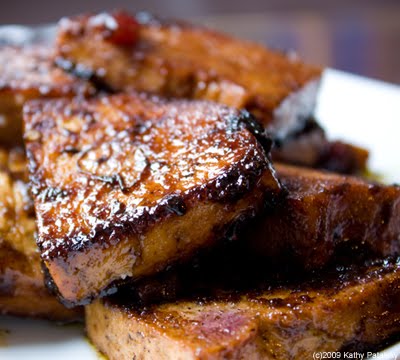 Looking for a creative and delicious way to use all that leftover cranberry sauce? This recipe is sticky sweet and mellows out the tart cranberries into a gooey sauce for perfectly savory-sweet braised tofu steaks. My recipe for Cranberry-Soy Sauce Sticky Sweet Tofu Steaks was actually a last minute addition to my Thanksgiving menu. It was a huge hit! They turned out better than I expected. The natural pectin in the cranberries and the sticky thickness of the brown sugar created an unexpected sauce for the tofu. The end result is reminiscent of a sticky sweet BBQ sauce. The combination of tart cranberries, rich brown sugar and savory soy sauce make the thinly sliced firm tofu steaks sing with flavor. This is a must try recipe-even if you think you hate tofu! Get my recipe…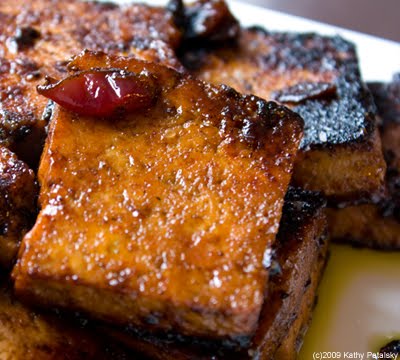 Last Minute Creation. Here was my update that I posted in my perfect proteins recipes the day before Thanksgiving: "I just tested out an amazing braising liquid/marinade for firm tofu. It's a combination of fresh made cranberry sauce, soy sauce, brown sugar, pepper and poultry seasoning. For 1 block of extra firm tofu: pat tofu super-dry. Cut into thin slices and marinade in ½ cup soy sauce, ⅓ cup fresh cranberry sauce, 1 tablespoon poultry seasoning, ½ cup brown sugar, dash of vinegar, squeeze of fresh lemon juice and a teaspoon of black pepper. If you need more liquid, add in a ¼ cup of apple cider or cranberry juice. Let soak overnight and simply saute in a teaspoon of olive oil and 2 tablespoon of the marinade liquid (add more marinade to pan as you saute the entire batch of tofu squares). I think I am going to use these cran-soy tofu cubes in a fillo-wrapped stuffing and tofu purse as my main entree. I love the soy-cranberry-brown sugar-poultry seasoning flavors so much! Test a little batch and see what you think."
So here is the formal refined recipe…
Leftover Cranberry-Soy Sauce Sticky Sweet Tofu Steaks
vegan
1 block (14 oz.) extra firm tofu, sliced into ½″ thick squares
½ cup leftover whole berry cranberry sauce.
*works best with homemade cranberry sauce that is less firm that 'canned'
½ cup soy sauce
¼ cup apple cider
2 tablespoon lemon juice
⅓ cup brown sugar
1 tablespoon poultry seasoning
1 teaspoon apple cider vinegar
½ teaspoon black pepper
dash of salt
3 tablespoon olive oil (for braising in pan)
Directions:
1. Remove your block of tofu, pat dry with a few paper towels.
2. Slice your tofu into ½″ thick strips. Squares work best.
3. Make your marinade by combining all the ingredients (except for the oil which is for sauteing the tofu later) in a lidded bowl. Note: If you are nut using a 'more liquid' cranberry sauce, heat in the microwave for minute until your cranberry sauce can be scooped with a spoon-into a oatmeal like consistency. A firm block of cranberry sauce won't be able to penetrate into the tofu.
4. Add the tofu. Squeeze the tofu a bit into the marinade and be sure to coat all side of the tofu in marinade. After you have added all the tofu squares, place the lid firmly on and shake the bowl a bit to swish around the sauce.
5. Place in the fridge and let marinate for at least one day. Mine marinated for 2 days and was perfect.
6. After the marination process is done, remove tofu from fridge. Heat your oil in a skillet, and when it is hot and sizzling, start adding in your tofu squares. Pour about 2 tablespoon of the marinade in with the tofu. Let the sizzle in the oil/marinade for a few minutes. Flip tofu. The bottom should have turned a dark brown color with nice rimmed char marks.
&. Next, add in about ½ cup more of the marinade liquid. This will braise the tofu steaks and you will watch as the marinade firms up to become a sticky sauce. If you want even more caramelized tofu-add a few more sprinkles of brown sugar.
7. Saute the tofu in the skillet until all the liquid has turned 'sticky' and almost black. You can add as much of the marinade as you'd like. Don't sog up the cooking tofu, but make sure it is still moist and tender.
8. Place on a plate to cool and firm up a bit before serving. I stuffed mine into vegan fillo purses. It was fillo, stuffing and tofu. Yum! You can also eat these plain, on top of a green salad or place in sandwiches.