Hooray! My computer came back from the Genius Bar on Sunday so I can finally edit photos again. And today's recipe is one that I make all the time when I am craving BEANS!
Craving beans? What kind of madness is this? I remember my mom making big steamy pots of legumes a lot when I was a kid. Scary big white lima beans, lentils, pinto beans and more. I always wiggled my nose in disgust at the thought of eating beans in such a simplistic way. Just, like, beans.
I always preferred my beans inside of cheesy bean burritos or hidden in a yummy soup or smashed into some gooey nachos, or alongside yummy Mexican red rice and a few spinach enchiladas. But today, I actually do CRAVE beans. I'm not exactly sure why. Maybe it is because they are a good source of protein, fiber and iron, or maybe I just like them! Whatever it is, I love this super easy Lemon Pepper Kidney Bean Salad and hope you give it a try..
Go-to Beans. My fave flavor for a simple bean dish: lemon pepper – sometimes with herb or garlicky accents.
I serve these beans over top salads, or as a side dish. I love to nibble these in the late afternoon for a healthy light bite.
Once all the flavors marinate into the beans they taste ah-mazing. Boring, flavorless beans? No way. Not with LOTS OF LEMON coating each bean-y crevice.
Options. You can actually use any variety of bean with this recipe, chickpeas, pinto, even lentils, but I personally was craving rich red kidney beans. I think kidney beans have a great sturdy texture that holds up well against all the acidic lemon juice.
Dry or Canned? I actually buy the boxes of beans from Whole Foods. Love those. If you have time to soak and cook dry beans DO IT. They taste even better that way. But for in-a-jiffy beans, go with a canned or boxed variety — no salt added..
Good stuff..
kidney beans – good source of fiber, iron and protein. Also magnesium, vitamin B6 and even calcium! Fun fact: white "kidney beans" are cannellini beans.
red onions – I love red onions because they are good for your immune system and also your respiratory system. I find that when my breathing is a bit congested in my nose or lungs, I eat a lot of red onions (and ginger and garlic) and it gets things feeling a bit better. But that is just me, everyone is different of course.
carrots – love carrots! Rich in vitamin A and crunchy sweet. I could eat carrots all day long.
parsley – nice to get a dark green leaf in this dish. I fins parsley is perfect because it adds greens I love for health and also adds a subtle herby flavor. I like both flat leaf and curly for this dish, though I usually but flat leaf parsley.
lemon – lemons! Love them. Vitamin C rich and another good ingredient for your immune system.
pepper – perks everything up! If you like things extra spicy, try a pinch of cayenne or smoky paprika — or you could even fold in some spicy mustard or sriracha.
nutritional yeast – rich in B vitamins, zinc, protein and more! Yup, that's why they call it nutritional…
Serving suggestion.. I served over top a broccoli slaw salad with a creamy dressing, with avocado on top and homemade corn muffins on the side! Kinda like a raw-ish version of chili. Maybe?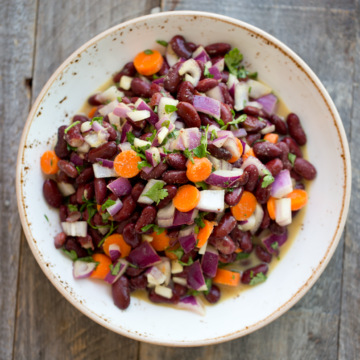 Lemon Pepper Kidney Bean Salad
These zesty, peppery kidney beans are delicious and lively. Crunchy carrots, red onion and parsley too. Add them to salads or eat them as is!
Print
Pin
Ingredients
2 cups kidney beans, drained and rinsed

2 medium lemons, juiced

1 small red onion, diced – (only use half if you don't love onions like me..)

⅓ cup parsley, finely chopped

⅛ – ¼ teaspoon fine black pepper

½ – ¾ teaspoon sea salt (fleur de sel used)

2 tablespoon nutritional yeast

½ cup carrots, sliced or diced

a drizzle of buttery extra virgin olive oil (optional)

1 clove garlic, minced (optional)

¼ teaspoon lemon zest (optional)
Instructions
Add all the ingredients to a large mixing bowl and toss well until all the beans are saturated.

Pour the bean salad in a serving bowl, cover and place in the fridge to marinate for at least a half hour. Serve chilled. This is delicious the next day as well. Keeps for about two days in the fridge.