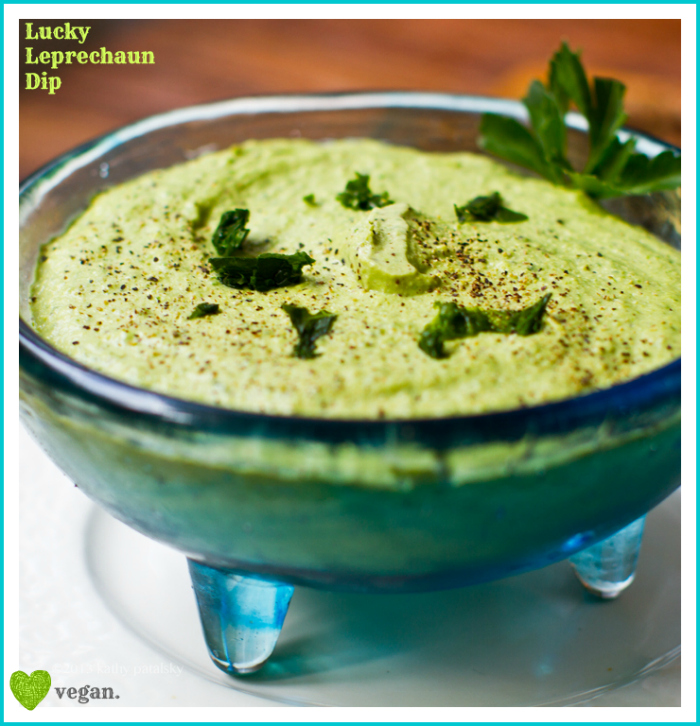 This Spring Green Lucky Leprechaun Dip is rich and creamy. Lively yet comforting. The amazing ingredients: raw cashews, white beans, extra virgin olive oil, tahini, kale, parsley and plenty of spices. Lemon accents in every bite too. Pair this dip with your favorite dipping snacks – carrots, celery, flax crackers, rice crackers – for a healthy-delicious snacking platter. You will be a lucky snacker with this on your table…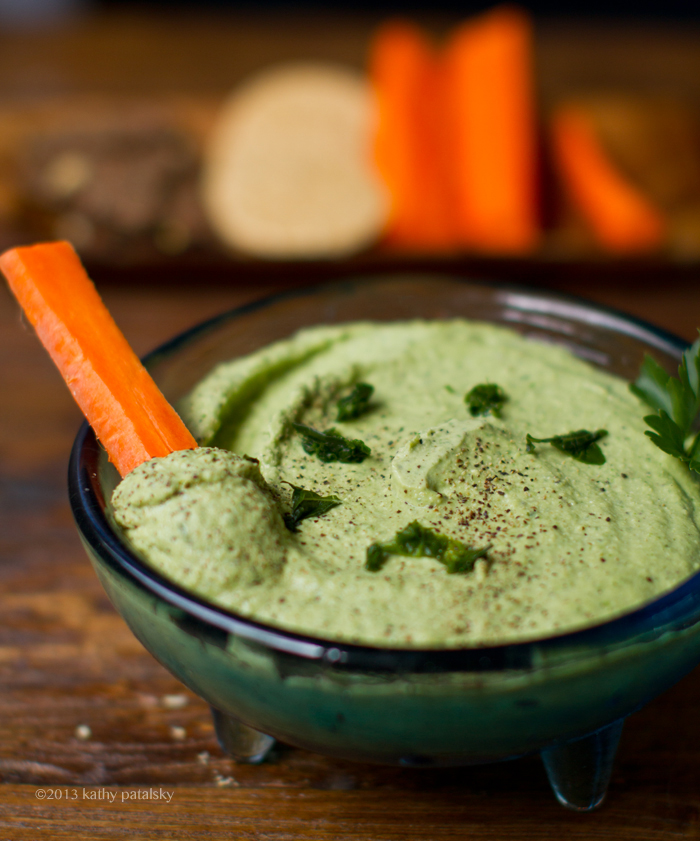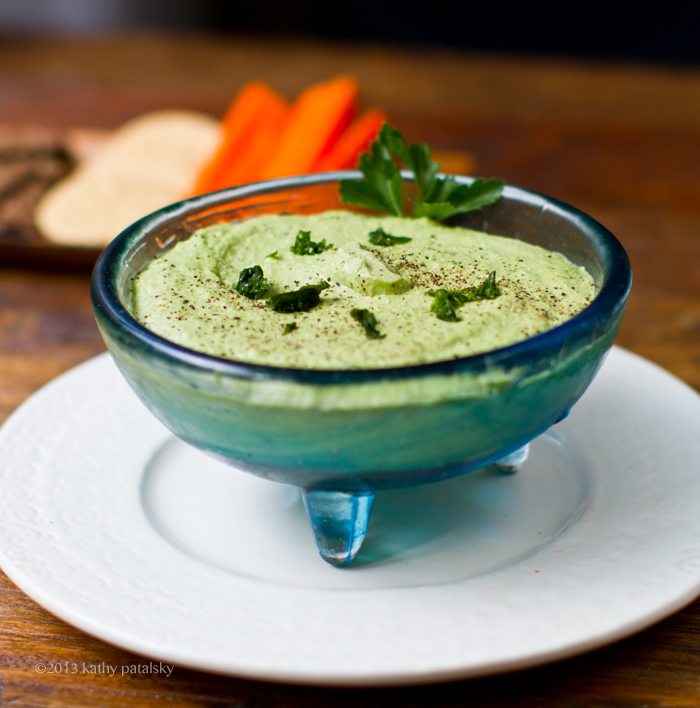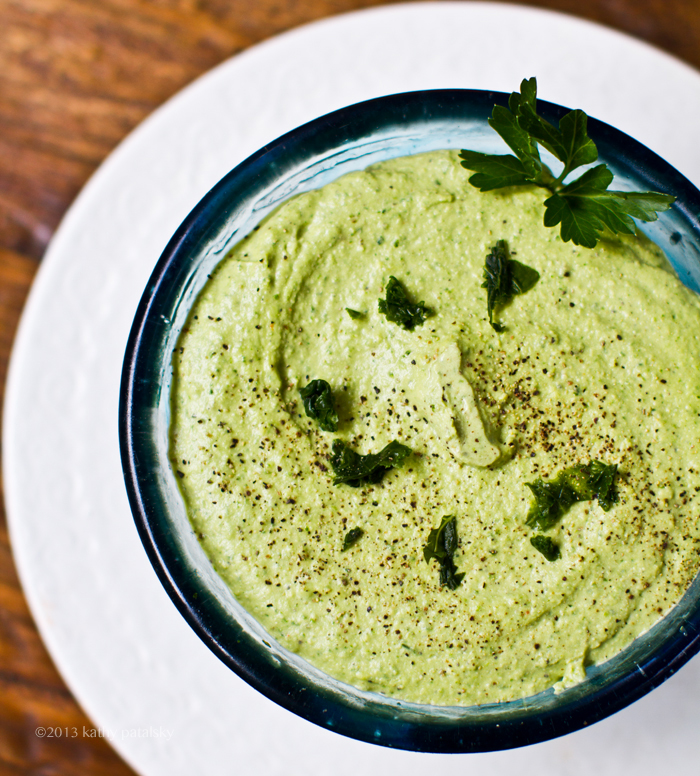 Happy March guys! Yup, that means spring is just around the corner. My favorite time of year when the sunshine is glossy yellow, fresh and warm. Spring green leaves and buds begin to pop up on caramel-colored tree branches. And feathery birds start singing at every chance they get because they too know that this season bring a lot of happiness to the air.
And of course spring recipes are the best! Spring brings us fresh peas, asparagus, artichokes, fiddleheads, leeks, garlic scrapes, greens in general, morel mushrooms, ramps, radishes and early season berries like strawberries. Piled high sunny sandwiches and spring smoothies – I am SO ready!
But for now, I'll embrace March in all its green glory with this easy dip. I whipped this up Saturday night and we were snacking on it all Sunday afternoon and evening. SO SO good. And so good for you too…
Bean-hater approved. ..Shhhh, DO NOT tell my husband that this dip contains lots of beans 🙂 (He happily gobbled up half a bowl and had no freaking clue he was eating his most-hated food) "It is cashew kale dip honey!" .. "YUM! I love it!!" 😉
Lucky Leprechaun Dip
vegan, makes about 2 ½ cups
1 can white cannellini beans (1 ½ cups) – drain/rinse in hot water
1 cup kale (I actually used frozen kale! But fresh works too)
4 tablespoon extra virgin olive oil
2 tablespoon apple cider vinegar
2 teaspoon lemon juice + generous pinch of lemon zest
½ teaspoon fine black pepper
3 dashes of cayenne
¼ cup raw cashews (no need to soak if using a high speed blender of food processor)
1 ½ tablespoon tahini, roasted, organic
¼+ cup warm water
¼ cup chopped parsley, flat-leaf
optional: garlic powder or roasted garlic
To make:
1. Add all ingredients to high speed blender of Vitamix. Blend from low to high until silky and smooth. Add a few extra splashes of water or drizzles of oil if needed to blend smooth. (It will firm up quite a bit in the fridge)
2. Pour in serving dish and chill in fridge for 1 hour or overnight. You could serve right away or warm if desired as well.
3. Serve with a drizzle of olive oil on top and fresh parsley to garnish.
Serve with: flax crackers, carrot sticks, rice crackers, toasty bread and more.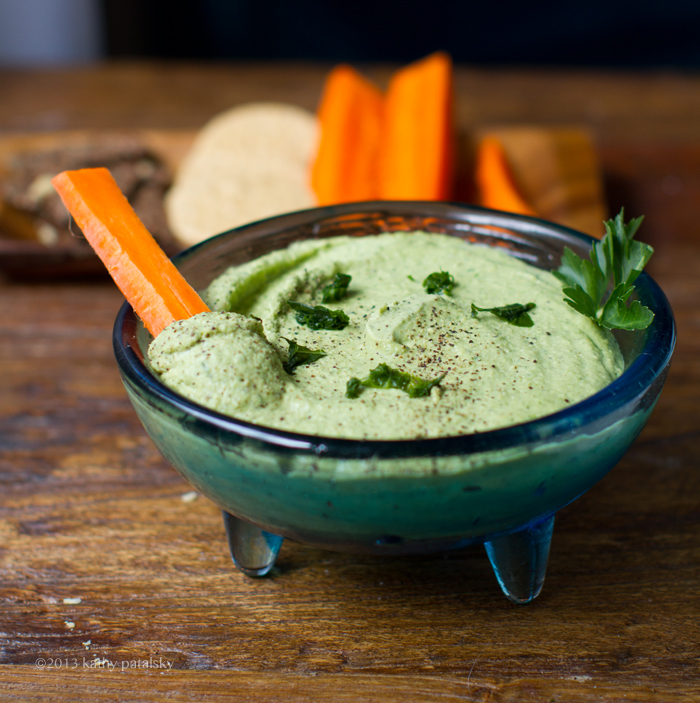 estimated nutrition facts (per serving – based on 8 servings per recipe)