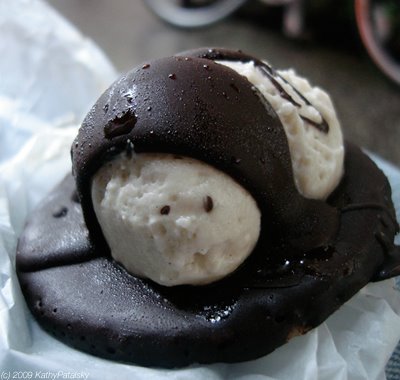 I finally taste-tested the much-hyped raw vegan Mallomar dessert at One Lucky Duck, here in NYC. Sarma, Pure Food/Lucky Duck owner, often brags that she likes to eat Mallomars for breakfast. So jealous. Was this $6 raw treat even better than I imagined it would be?? My review ahead…
Raw Rainy Day Treat. After a few Saturday errands with the hubs, we stumbled upon One Lucky Duck. OK, so we didn't really stumble, I may have directed us there. I was craving a Bunny Brew juice. (Carrot, apple and ginger). I decided I had to try the much-hyped Mallomar dessert. Every dessert I have tried ta OLD and PFW has been amazing. The Lemon Raspberry cheesecake, the cookies. All divine. So finally, it was Mallomar taste test time. Seated on a damp bench outside the juice bar, we drank out juice and ate out Mallomar. Bunny Brew and a shared Mallomar-nice rainy Saturday treat.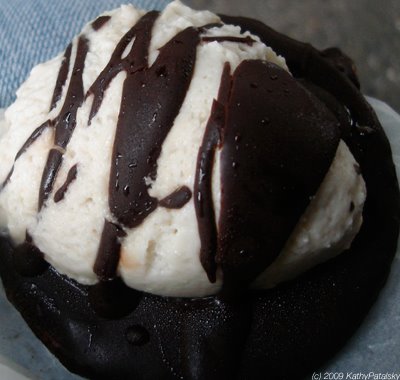 Mallomars at One Lucky Duck. So what is a mallomar? Well without 'googling' the term Mallomar, I remember them as being chocolate covered marshmallow candy bars. Right? Well this raw vegan version tastes like heaven. Details, because you must be drooling for them.
Review: Mallomar from One Lucky Duck,
aka Pure Food and Wine, NYC 'Juice Bar/Takeaway'
Shelf Appeal: Sitting in the cold dessert case these mallomars look tasty. Drizzled in dark chocolate and puffy white marshmallow-y fluff. Yum. I've heard the hype, now I must dig in.
Taste Test: O-M-G. Wow. Cold. Creamy. Sweet. Nutty. Luscious. Cookie perch is oaty and nutty with a tender texture. The chocolate is smooth and melts in your mouth. The marshmallow tastes like ice cream almost, but looks and smushes like a marshmallow. I split this with my husband, but I could eat three. So delicious. And post-eating I felt energized and revived-sometimes the way you feel after eating something can say it all.
Label Check: Vegan. Raw. Dark Chocolate. Raw crust cookie. The fluff is some sort of nut cream on top of the chocolate covered cookie. All good ingredients. I say, breakfast approved from time to time. Pair it with a live raw green juice and you are in nutrition and taste bliss.
Price Check: $6. Taste it, then judge. I say worth it.
Last Word: Sarma's "Mallomar Diet" makes complete sense to me now. More please?
Read my Celeb Tweets with Sarma here.
www.oneluckyduck.com