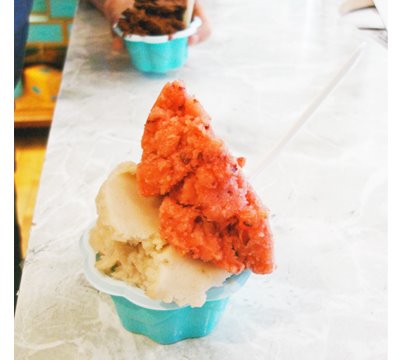 The much-hyped summer-season-only sorbetto and gelato bar at MarieBelle's NYC was on my must-do list for summertime. Luckily, my husband and I just happen to be in SoHo on a really hot Saturday, and we stopped by MarieBelle's. I had planned on quickly running in and out of the store-just to pick up a gift for a friend. But that irresistible MarieBelle sorbet, packed into shiny silver tins, was calling my name. My taste buds shouted: "must taste (and blog) the fruit sorbet!" Click ahead for my review of the plum and banana sorbetto flavors…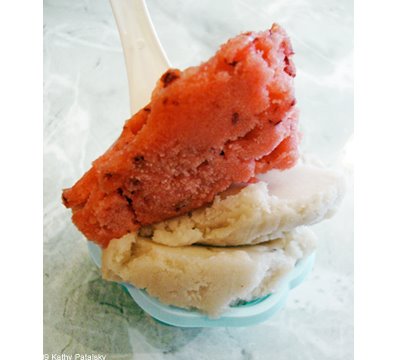 Real Fruit Flavors. In my opinion, the best sorbet is the kind that actually tastes like the fruit it is flavored with. When peach sorbet tastes like biting into a juicy peach and when coconut sorbet tastes like freshly shaved tropical coconut. So did my banana and plum flavors live up to my high sorbet standards?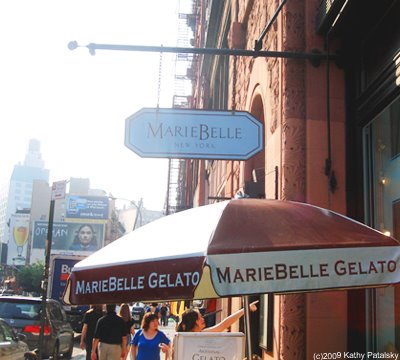 NYC Sorbet. I must admit New York City has a lot of delicious sorbet. There is IL Laboratorio on the lower East Side. Then there is Ciao Bella in Nolita. Both within walking distance of each other if you want to go sorbet-bar hopping. Both delicious. And also in walking distance-just down the street and around the corner from Ciao Bella is Public restaurant with their 6 sorbet dessert. It is indeed my favorite sorbet dessert in the city. Six tiny containers are filled to the brim with different flavors and colors of sorbet. Heavenly.

But what about MarieBelle sorbet?
My Review: Marie Belle Sorbet (and Gelato) Bar
*I review the plum and banana sorbet
Shelf-Appeal: Well MarieBelle's is simply beautiful on the inside. A quaint little cocoa bar in the back serving up hot and cold highest of quality tea, coffee and cocoa. Then the Tiffany blue trimmed store that makes you feel like you are in Paris. And the gelato/sorbet bar is also adorable. Right in front, the frozen treats are kept in shiny silver pots with elegant labels. There are three granite counter bar stools inside and a lovely bench outside. Oh, and the sorbet didn't look so bad either-little flecks of fruit in each spoonful. Bella!
Label Check: I hate this part when there is no nutrition labeling. But to me, it tasted like a fruit smoothie in calories/sugar wise. Not too sweet-at all! Totally light and delicious. And full of real seasonal fruit. I'm not too worried about that small size I had. My guess: 200 calories in a small. Fat free.
Taste Test: Divine! The banana flavor was cool and creamy and tasted like biting into a creamy frozen banana. It was the perfect compliment to my favorites flavor: plum! I have fond childhood memories of eating plums off the tree in my Cali home. So this fresh plum flavor sent me back. It truly tasted like biting into a plum-only frostier. It was all about the fruit in this sorbet-awesome. Yum. Delicious.
Price Check: Two small sizes was about ten bucks. But for this high quality summertime treat-it was worth it. I want to go back at least once before summer ends.
Last Word: I hope they have the lychee flavor next time-I'm dying to try it. Maybe I'll have to keep going back until they do-what a tough job.. 🙂
Gelato Side Note: My husband had the Cardamon dark chocolate flavor. He loved it. A little messy, but that's all part of the fun!