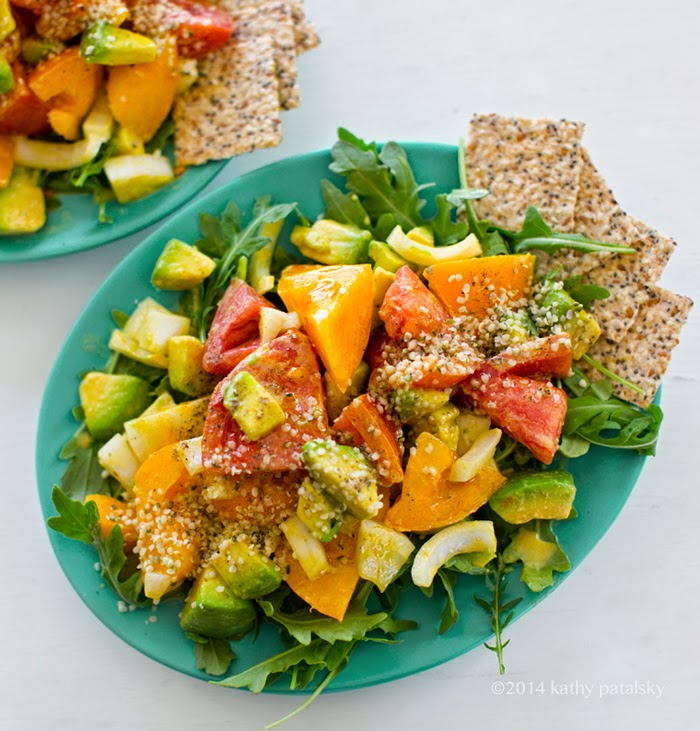 This flavorful sunshine-approved Marinated Summertime Tomato Salad includes juicy golden and red heirloom tomatoes, buttery rich diced avocado, sweet and zesty onion, protein-rich hemp seeds and a bright and flavorful turmeric-maple marinade dressing. All this loveliness is marinated to perfection and then served on a bed or arugula greens, zesty and fresh. This colorful salad is perfect on a spring or summer day! Pair with some hummus slathered toast or gluten free crackers for a meal that you will remember.. (And hopefully make again and again!)

Today's salad starts with this. Perfectly lovely tomatoes. Golden and red tones make things extra pretty.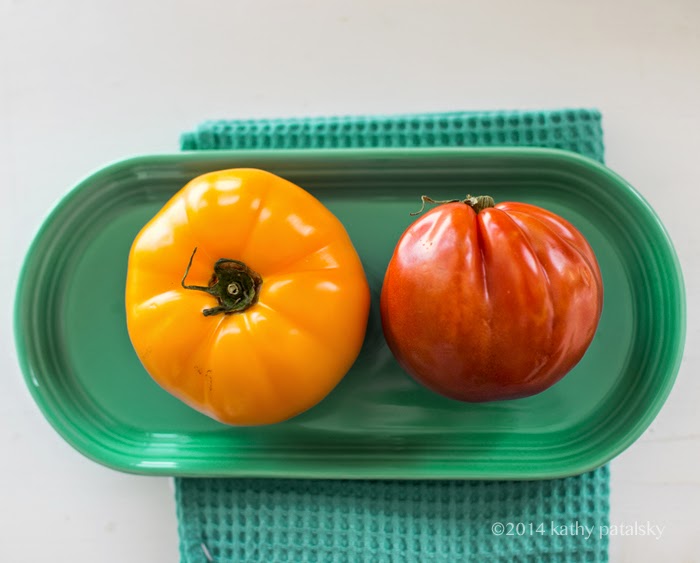 chop chop chop..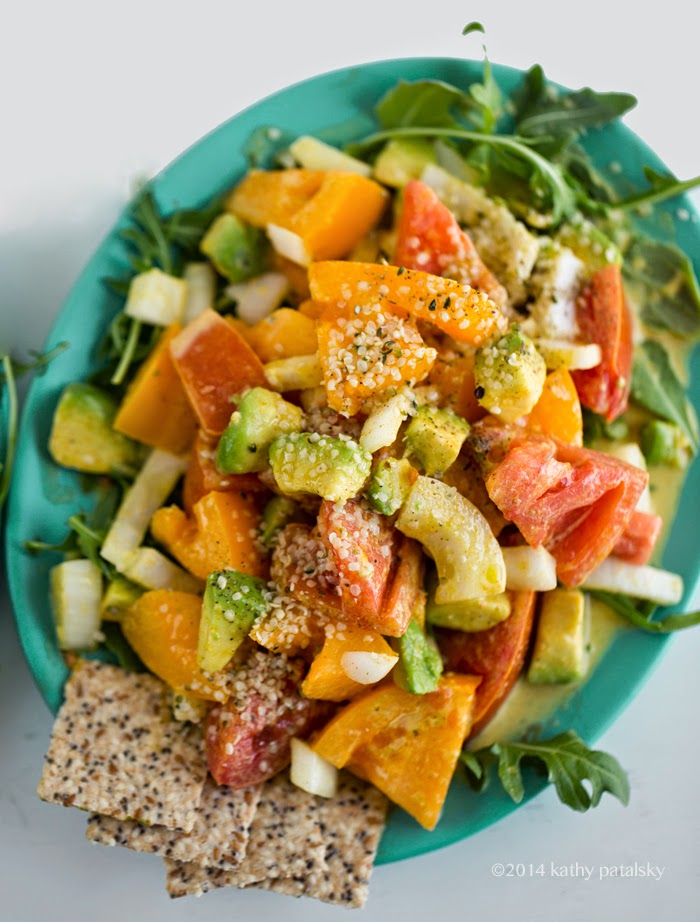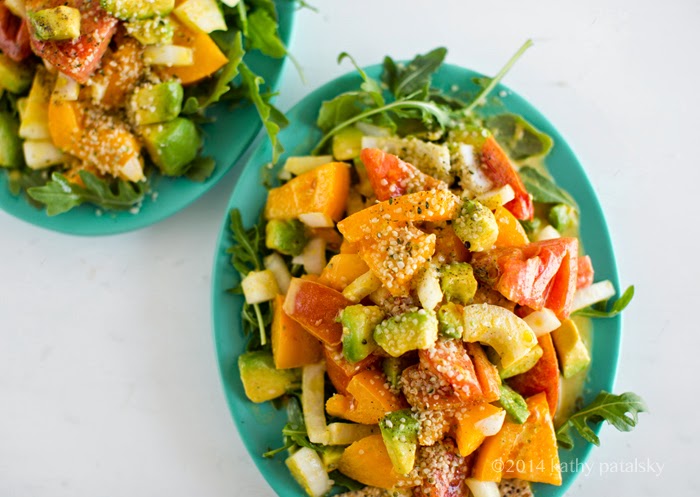 cuddly kitties in the background make things even better…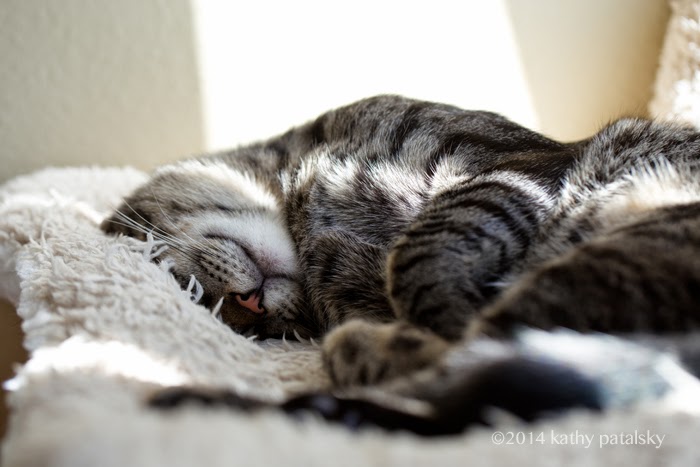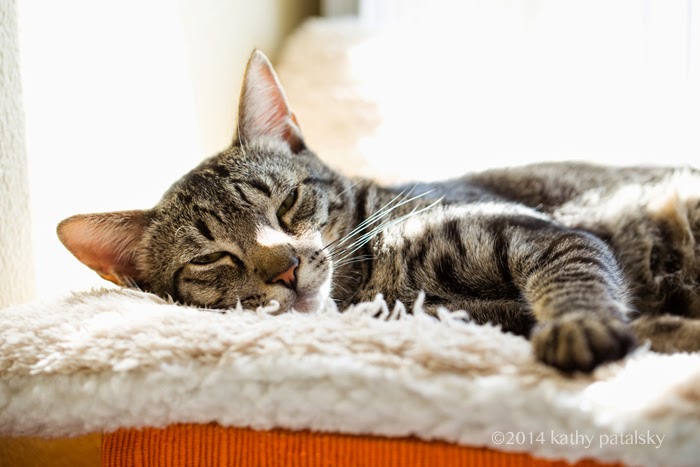 New News! Thank you for the wonderful response my latest giveaway and new YouTube videos with Sophie! And I JUST started a monthly giveaways + special announcements newsletter which I am super excited about! Subscribe here and check out the first newsletter I just sent out yesterday.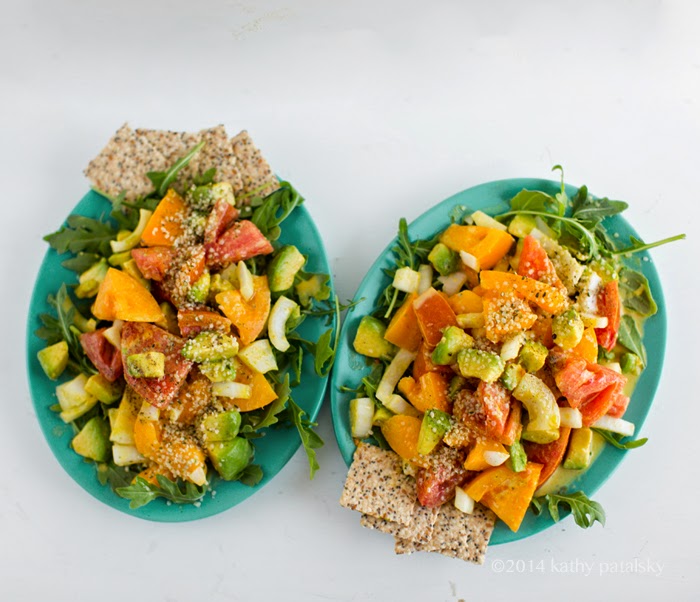 Marinated Summer Tomato Salad with Avocado + Arugula
By Kathy Patalsky
Published 06/03/2014

Flavor-infused tomatoes mingle with avocado and arugula greens with accents of turmeric, garlic, pepper, EVOO and cider vinegar.
Ingredients
2 large tomatoes, heirloom used
1 avocado, diced
1 small sweet onion, diced or thinly sliced
3-4 cups arugula greens
3 tablespoon raw hemp seeds (add more for more protein!)
¼ cup apple cider vinegar, Braggs used
1 teaspoon extra virgin olive oil + a few extra drizzles if desired
1 heaping tablespoon vegan mayo
¾ teaspoon turmeric
pinch of salt and black pepper (to taste)
1 tablespoon maple syrup
1 clove garlic, minced – or – ¼ teaspoon garlic powder
Instructions
Wash and dice the tomatoes, place in a large mixing bowl.
Dice the avocado and chop the onion, place in the same large mixing bowl.
In a small cup or blender, mix together the dressing/marinade ingredients: maple syrup, extra virgin olive oil, vega mayo, salt and pepper, turmeric, garlic and apple cider vinegar.
Pour the marinade into the large mixing bowl and fold until the veggies are well coated in the dressing. Add in a few more drizzles of EVOO for an extra rich salad.
Place the tomato salad, covered, in the fridge to chill for about an hour. This should be enough time to marinate the veggies nicely. You could also make this salad a day ahead of time. (Note: If you like your tomatoes fresh and free from the chill of the fridge, you can just marinate the chopped onions in the dressing and when ready to serve, toss the onions and dressing with the freshly sliced tomato and avocado.)
To serve, add about 1 – 1 ½ cups of arugula to serving plate or bowl and then top with the tomato salad. Sprinkle hemp seeds generously over top each serving, about a tablespoon per served salad.
Yield: 3 servings
Prep Time: 00 hrs. 15 mins.
Cook time: 00 hrs. 00 mins.
Total time: 15 mins.
Nutrition
Calories:

273

Fat:

20g

Totalcarbs:

16g

Protein:

7g
Tags: salad,tomatoes,avocado,summer