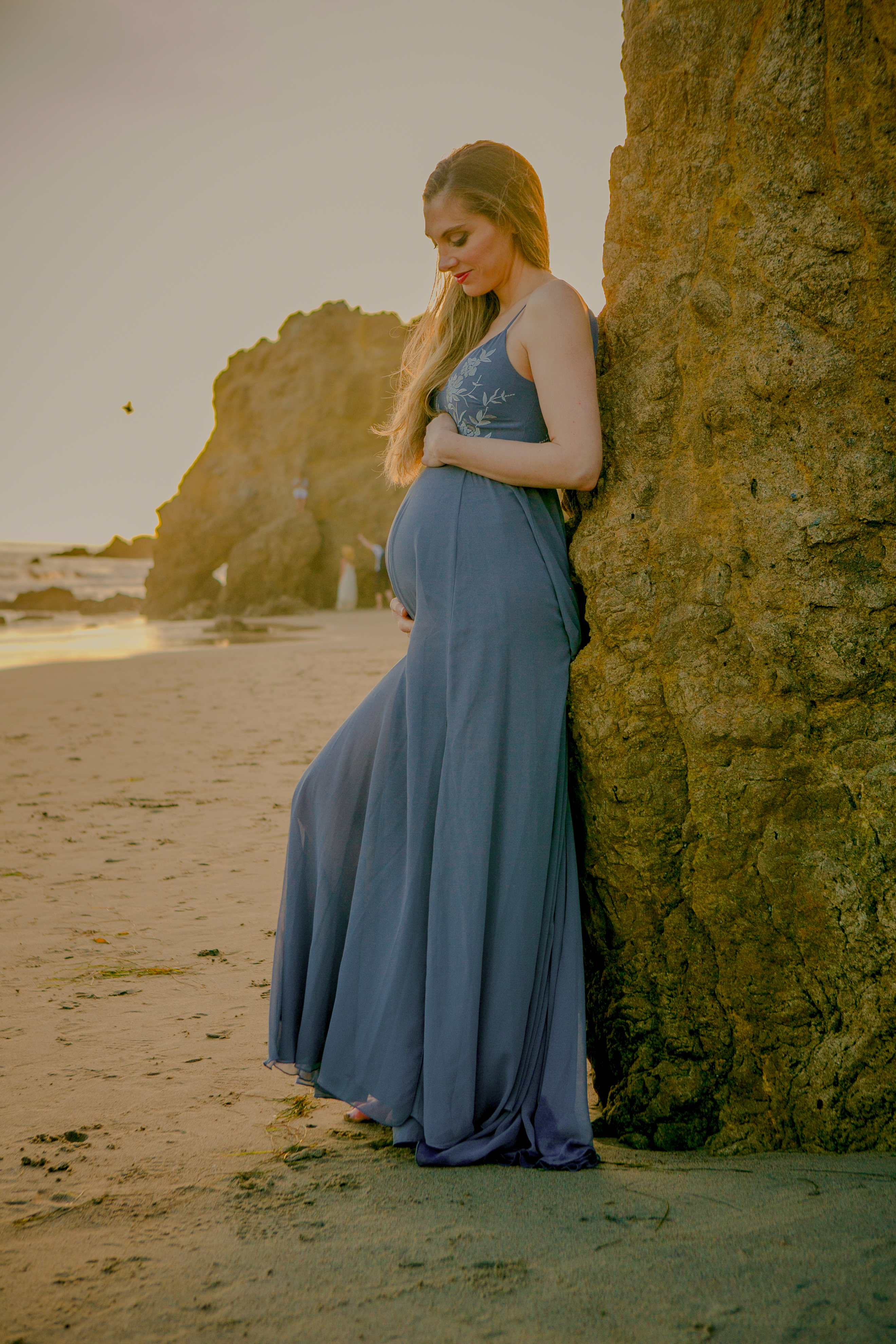 At 32 weeks pregnant, I was lucky enough to squeeze in a trip to El Matador State Beach in Malibu and do my Maternity Photoshoot. With this very abnormal pregnancy journey, I can't tell you how grateful I am that this happened….
Maternity Photos: Check!
Grocery delivery. At-home orders. Masks. Hand sanitizer. Scary headlines. Canceled baby showers. Doctors appointments gone solo. Mandatory pre-labor COVID tests. Ack! It's enough to make a pregnant lady lose her glow. Well, almost. Sometimes you have to fight for your happy and do one little thing for YOU. If possible. And it's always possible.
For me, I needed to do at least one normal pregnancy thing. This was it.
Decisions, Decisions…
Honestly, I stressed and debated doing maternity photos SO MUCH given all things COVID. So I asked my OB for advice and researched the location.
My OB gave me a thumbs up and that took a lot of anxiety away. Plus, I knew I could count on my photographer friend Caroline White to keep me safe, travel far to a more isolated location, change plans last minute if need be and speed through shots in a flash.
Photoshoot at El Matador
Why this spot? Well the soft sand and gorgeous rock formation backgrounds are a photographer's paradise. And the more secluded beach meant we could avoid heavy crowds like in Santa Monica.
My husband and I met up with Caroline at 7pm, for sunset, aka magic hour. I wanted that golden sunset lighting because Caroline is so great at that. She captures glow like a light-snagging wizard!
I had never been to El Matador before, but it's true: you will find professional photographers doing wedding, engagement and maternity photoshoots on any given day. (There were at least two other pro shoots I spotted while there, and just a few straggling beach-goers. Perfect.)
Oh, and it's an Instagram spot too.
Make it Work…
I knew going into this Maternity Photoshoot that it would not be a normal, chill, relaxed, "perfect" photoshoot. But I had to just dive in and make it work…
I did my own hair and makeup given social distancing. Which was more exhausting than expected! I think I spent a good half hour just curling my hair and of course my curls wilted about five minutes into the shoot. Hello ocean breeze. I usually like to have a fresh cut and color for a big shoot, but that wasn't happening either. Pandemic hair it was! All part of capturing this reality. I mean…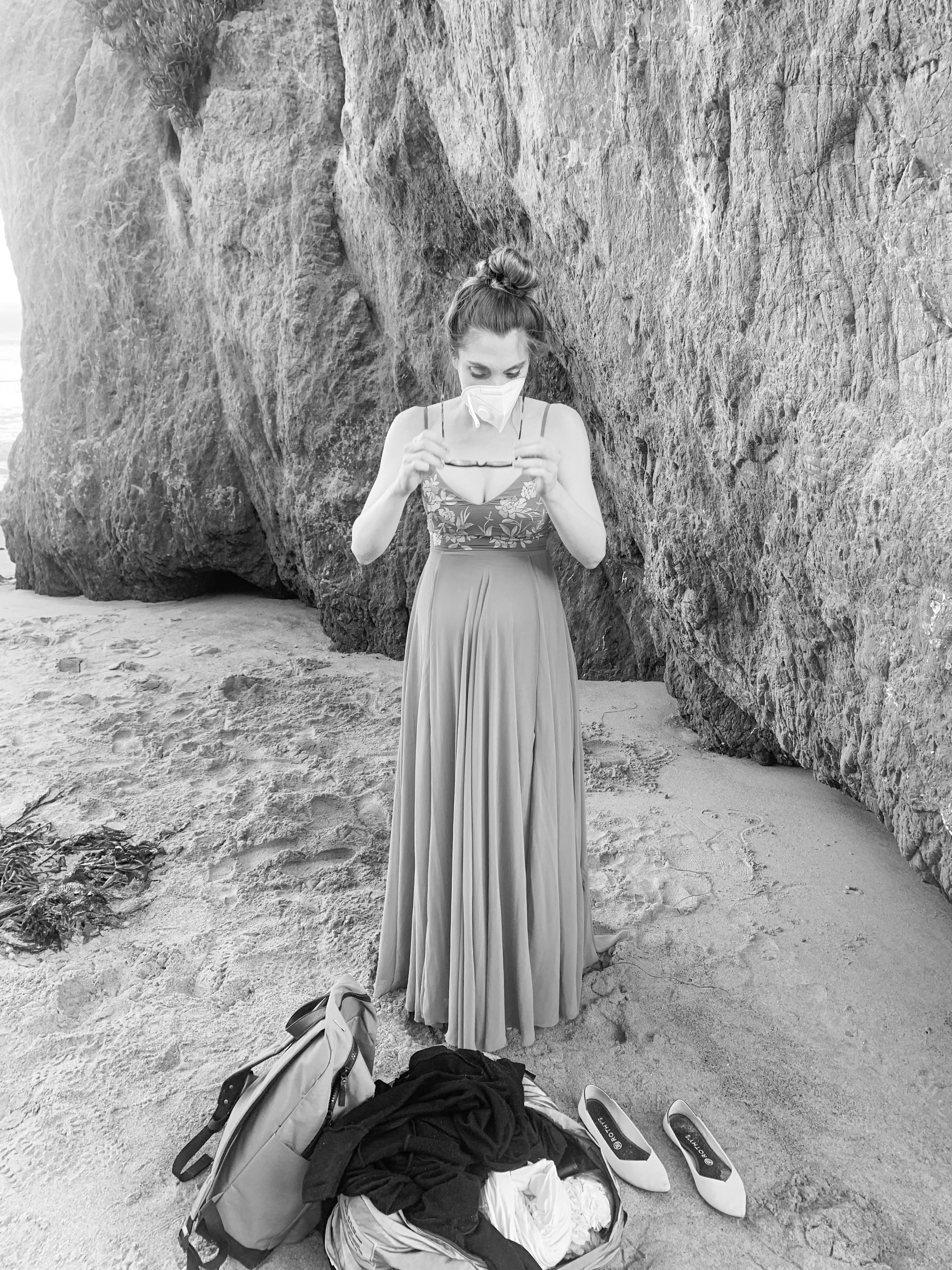 Caroline White Photography
I adore Caroline. She is like this happy, talented ray of sunshine that gets in, snags her shots and makes magic. I first worked with her seven years ago here in LA for some branding shots. You can find a few of them in my cookbook HHVK!
But seriously, Caroline is such a PRO (masked + socially distanced PRO!) we sped through shots and soon enough my mask was back on and I was wiping makeup off my face during the car ride home.
Ps. Check out her website and Instagram. Caroline also sells a few of her prints, they are beyond lovely to look at. I love the elephant print!
Little BTS shot by my husband…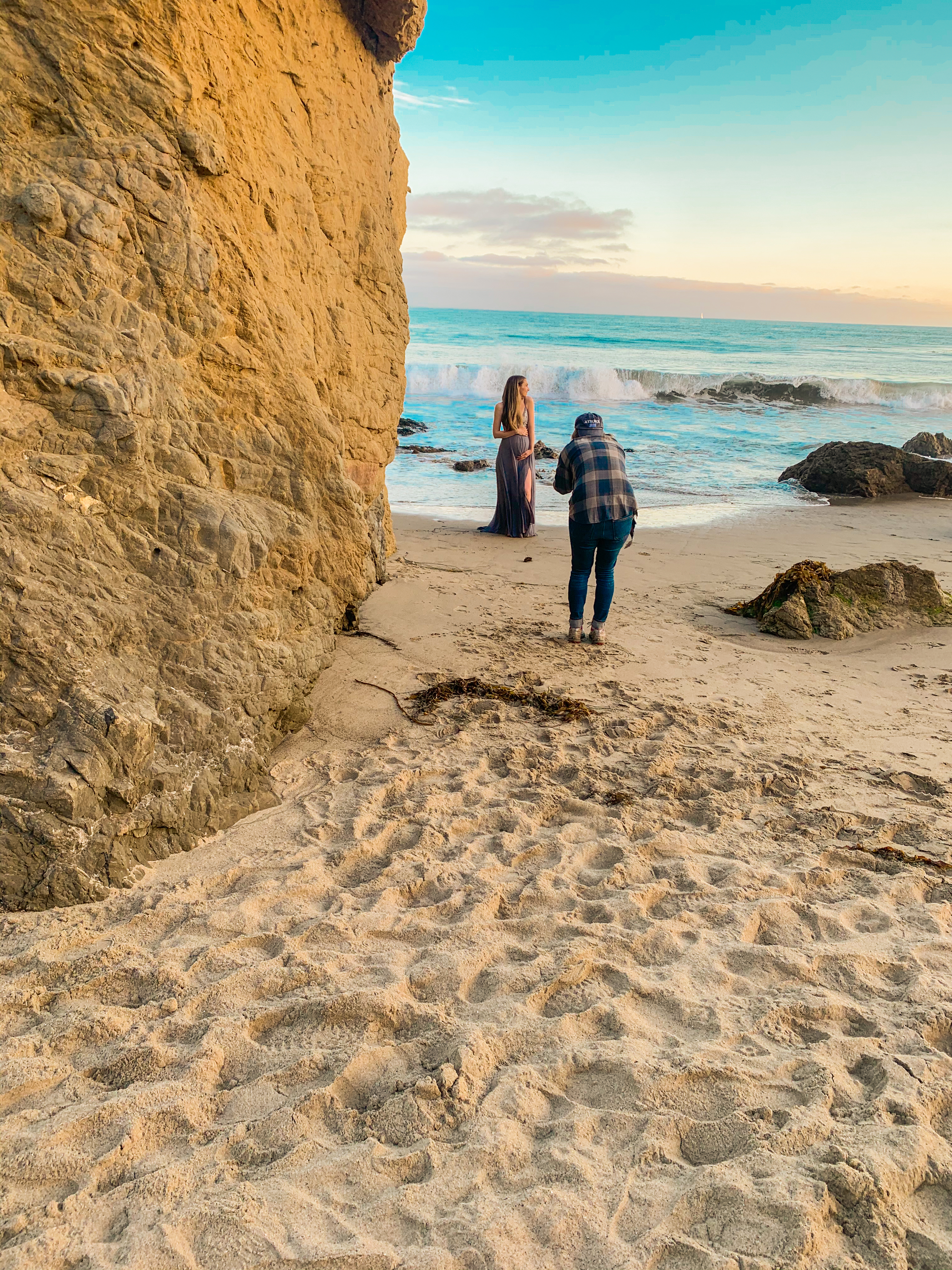 I Did it!
These are strange times guys, we all have decision fatigue and pandemic exhaustion and we're all just trying to stay happy and safe and healthy. And this maternity photoshoot satisfied a huge part of my heart.
I get to share these photos with my daughter someday! How amazing is that???
Maternity Photoshoot Styling
My dress is Anthropologie. I loved the flowy chiffon texture for the breezy air. My hair and makeup: this absolutely fabulous stylist Kathy Patalsky. I mean… LOL.
If interested, get my El Matador Photoshoot tips at the bottom of this post.
My Maternity Photos!
Location: El Matador. This beach spot is a gorgeous little secret cove in Malibu. Shiny blue water, wide foamy waves, dark rocks and cliffs. I loved the moody yet hope-filled feeling of the shoot.
Nature and a flowy dress. Yes and yes.
Malibu.
Sunset, flowy dress, bare feet, fresh air.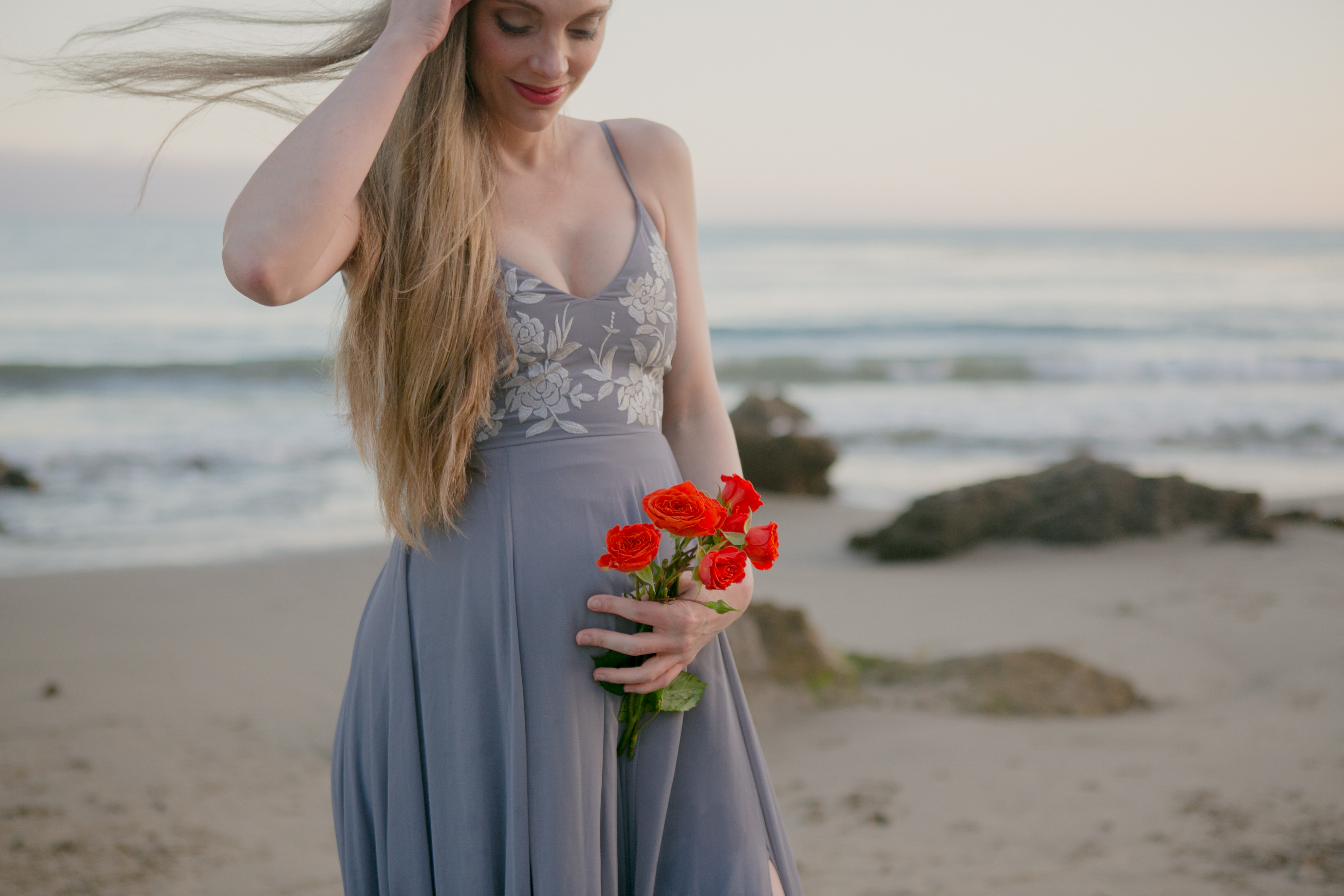 B + W mood.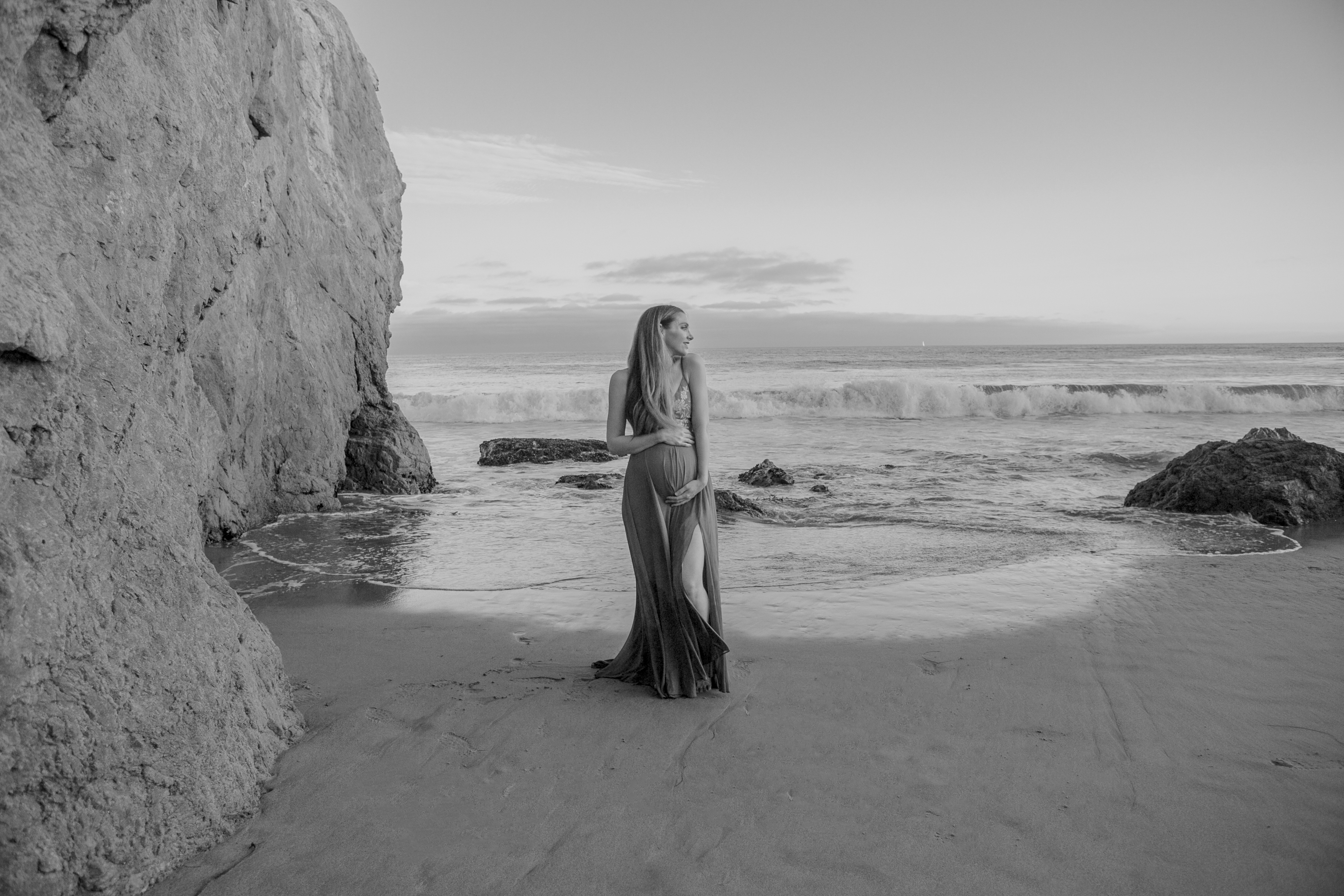 Embracing Joy
Tell me to splash my Anthro dress and bare feet in the Malibu water at sunset and YES I will do that with a serious giggle attack.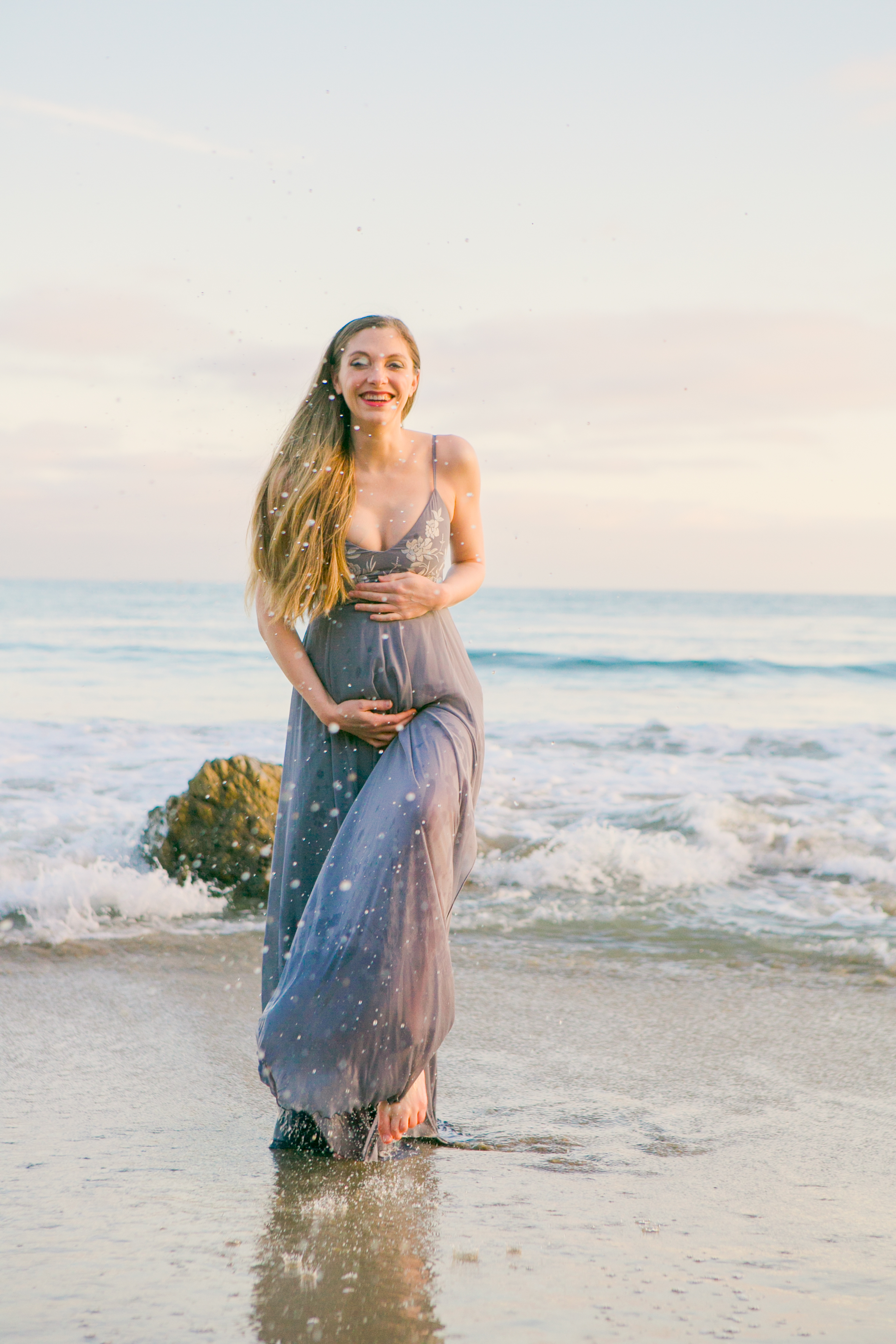 Lovely things.
Lopsided heart that I drew upside-down. How 2020 appropriate. Full heart feels with this little girl coming soon.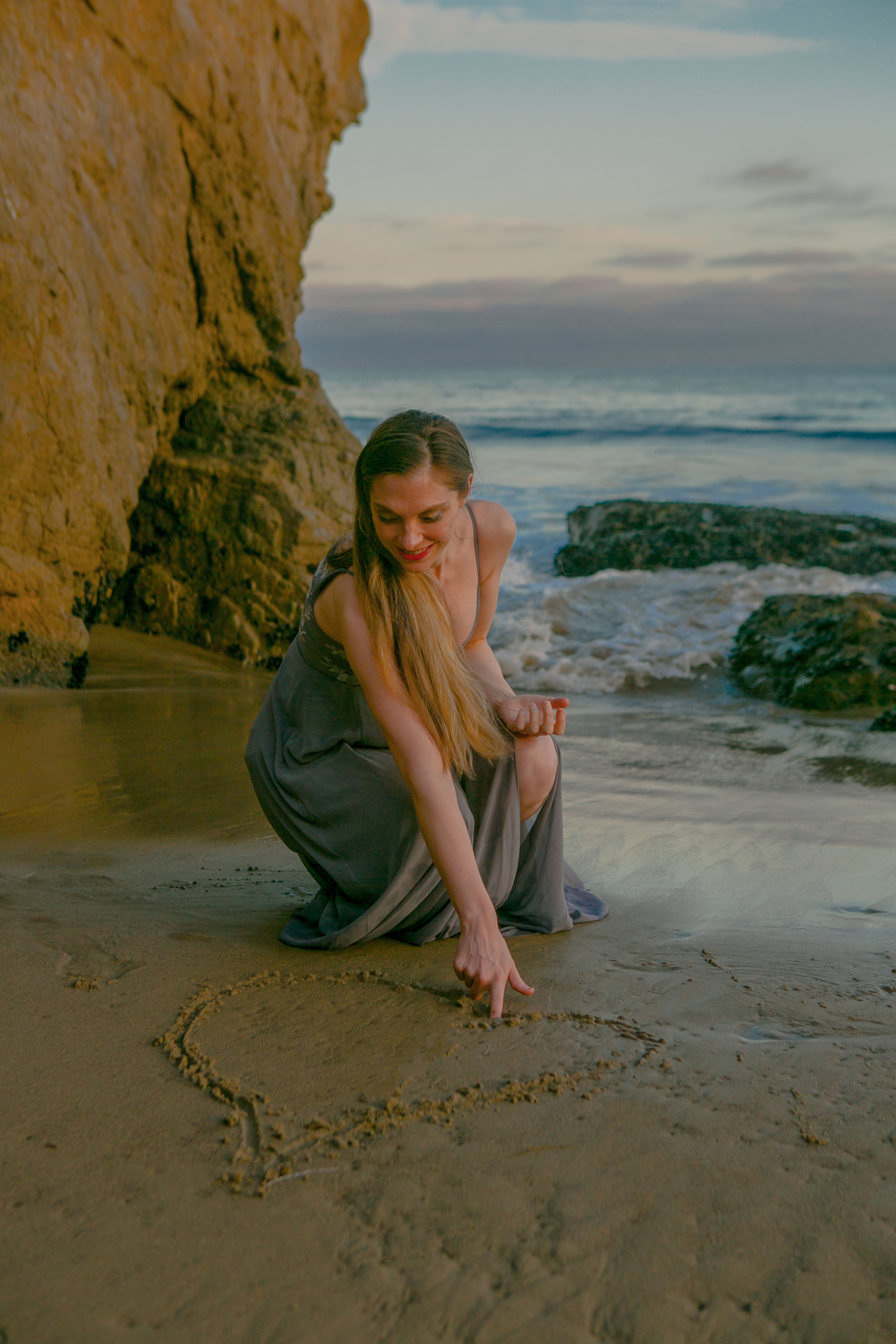 Happy things.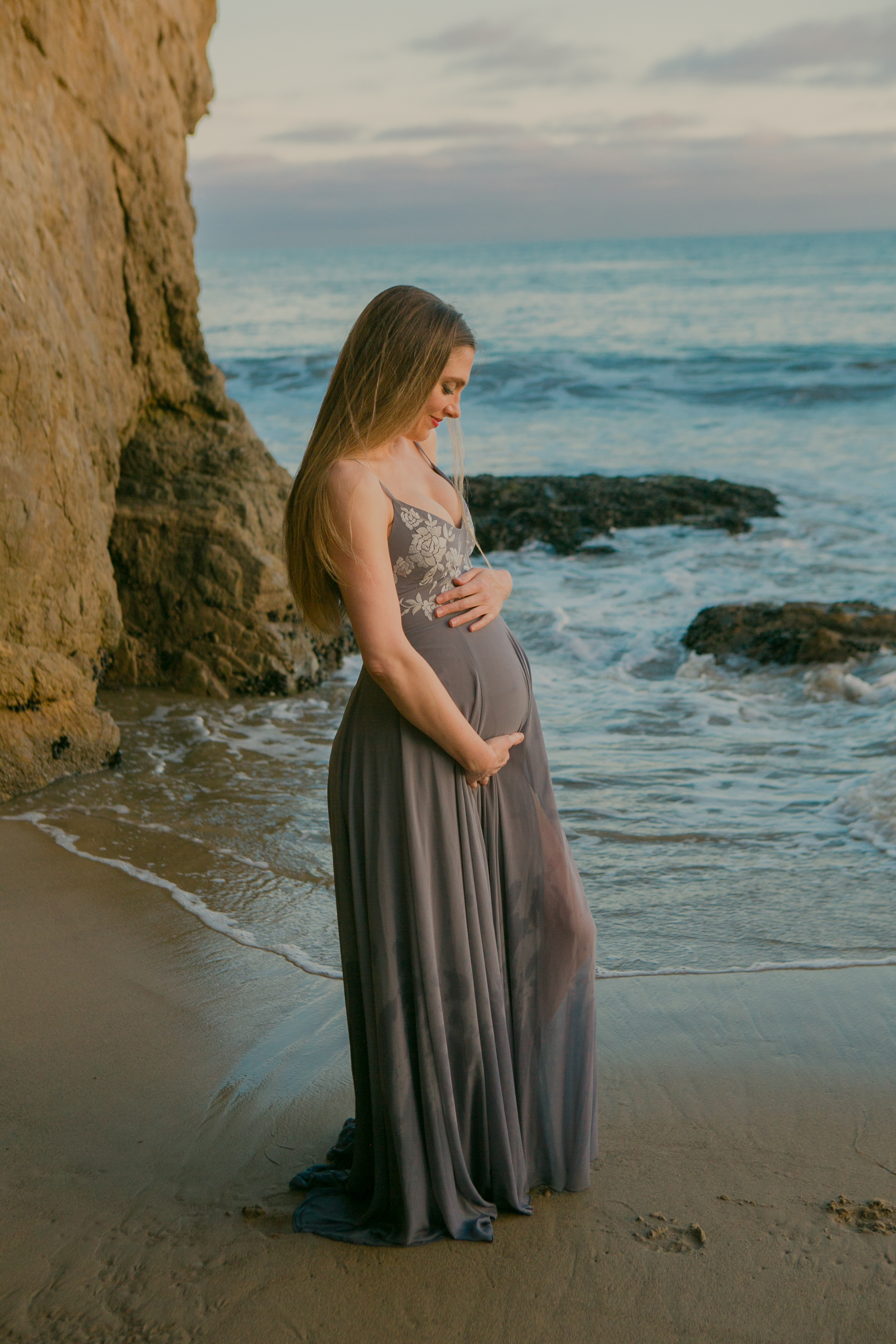 Fluttery feels and sparkly sunrays.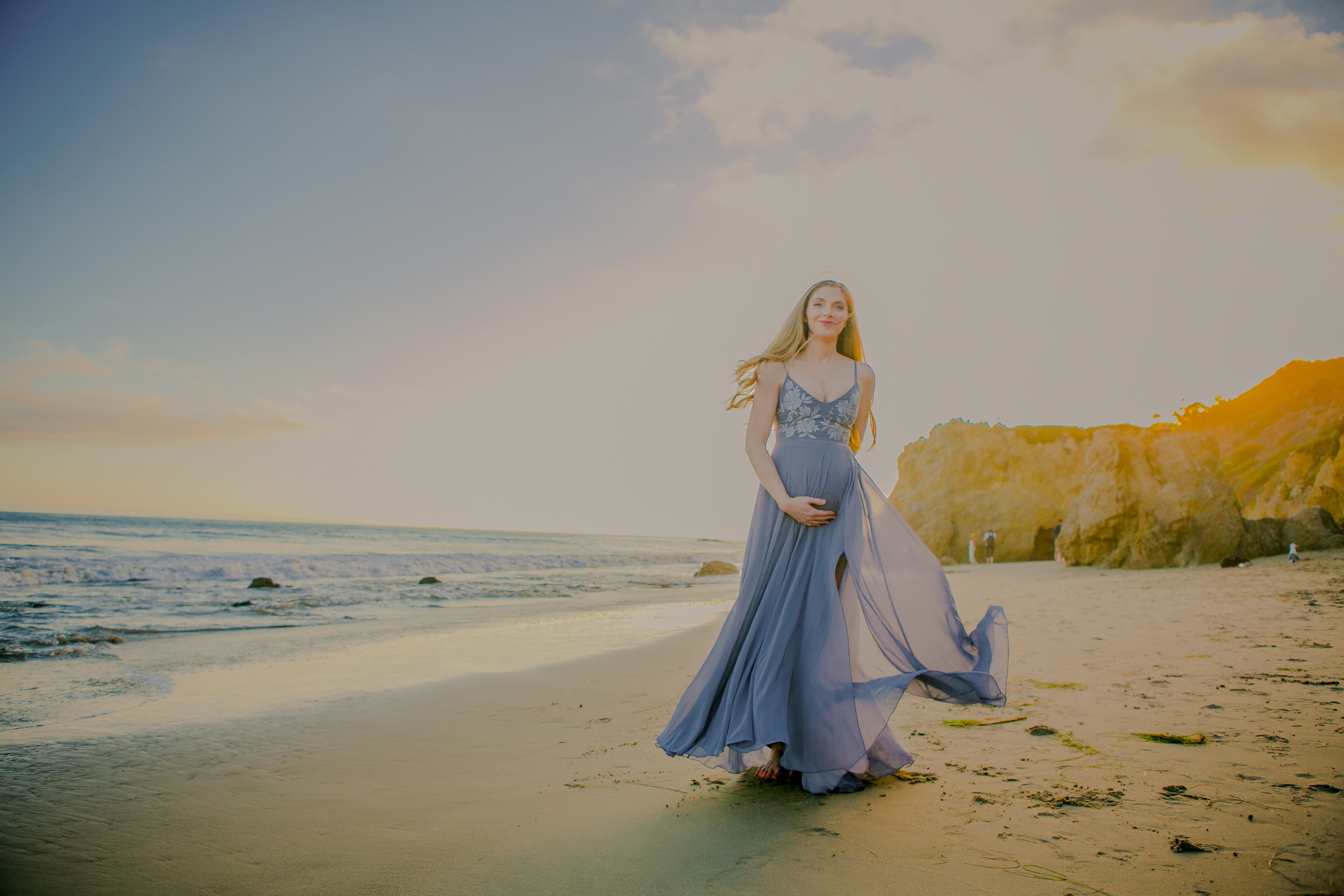 Moment of bliss. Happy mom-to-be.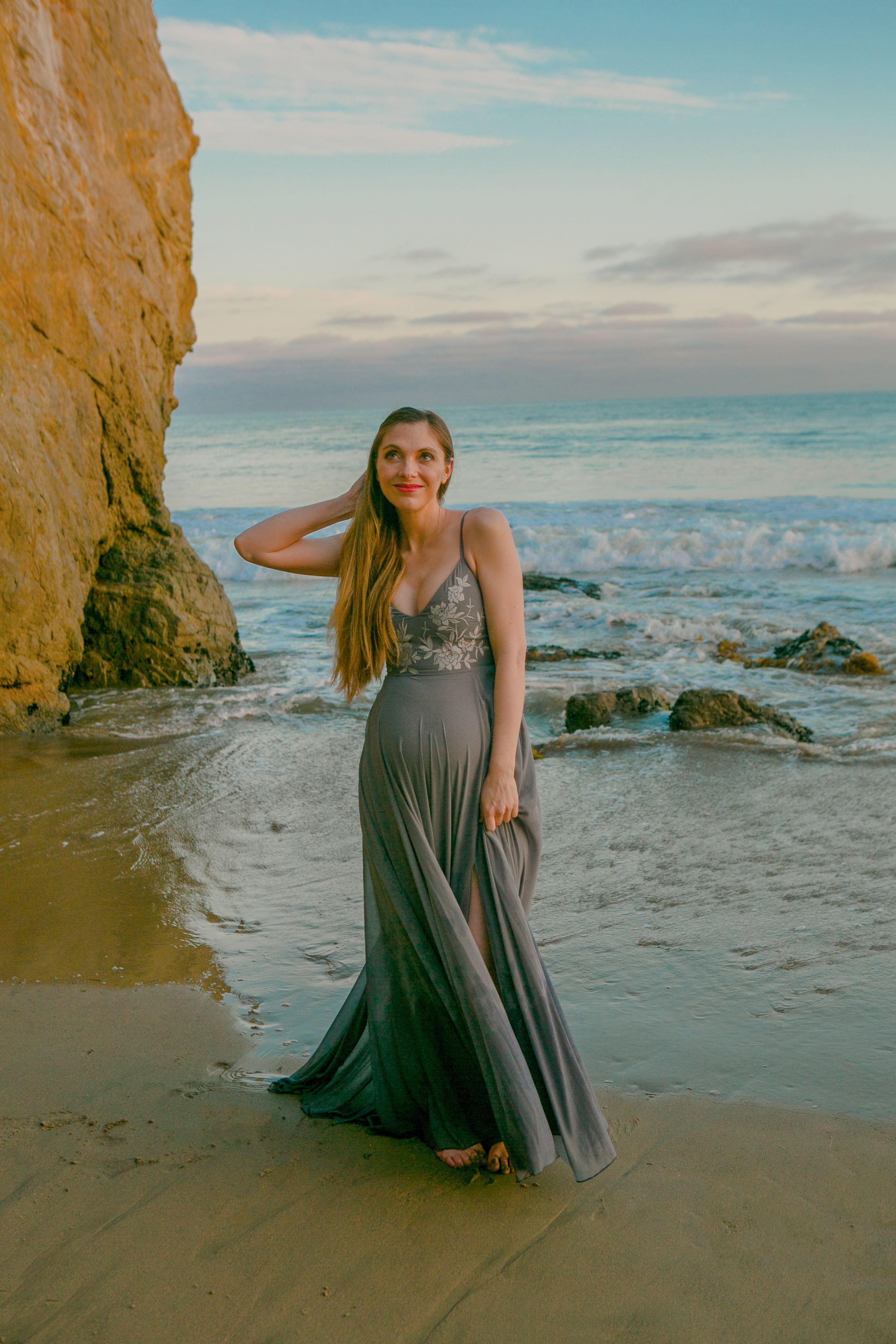 Stronger.
Strength and confidence and faith have come to me so deeply during these past eight months. I feel stronger than ever in mind, body and spirit – and ready to be the best mom to this little girl coming our way.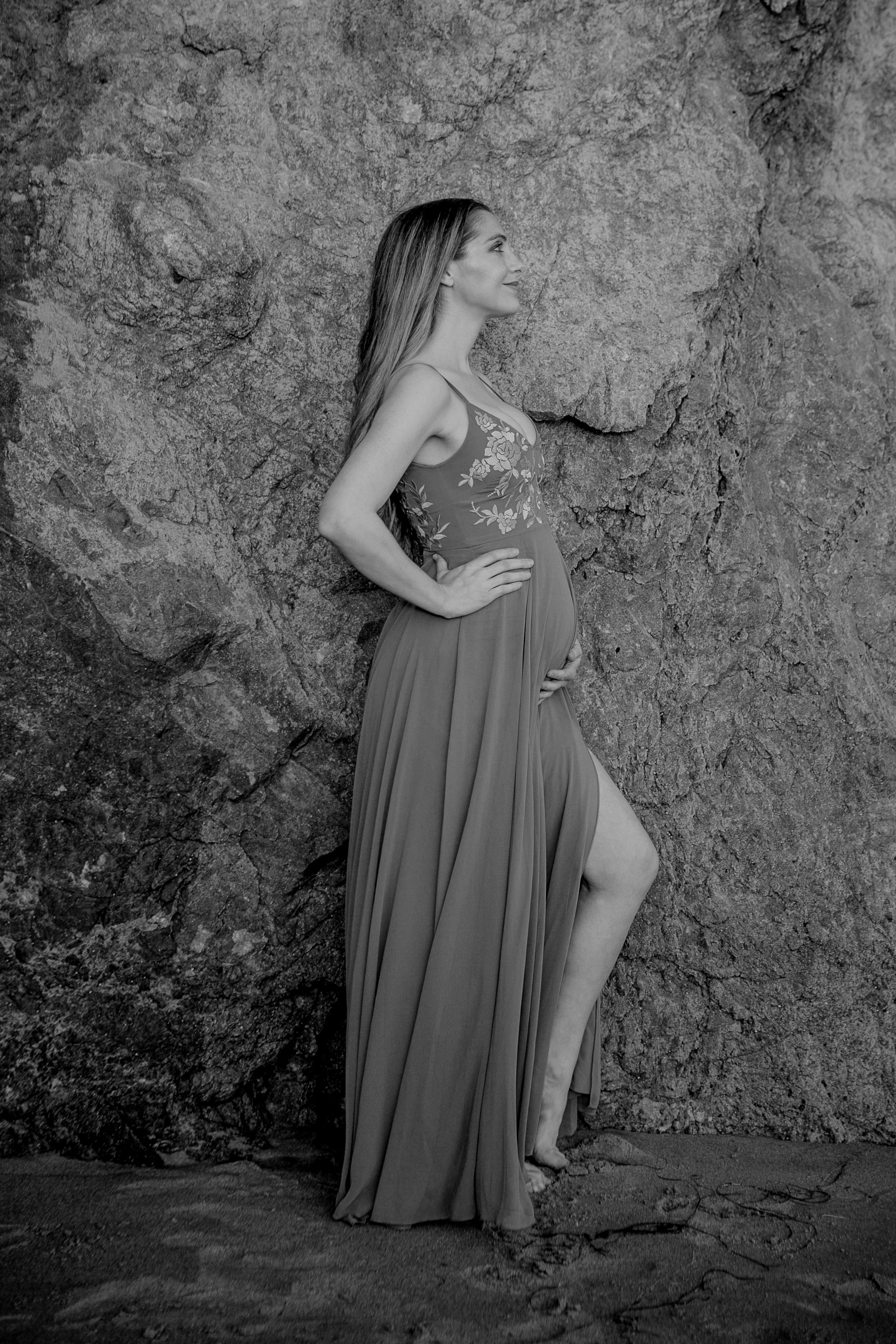 Felt kinda princessy in this dress.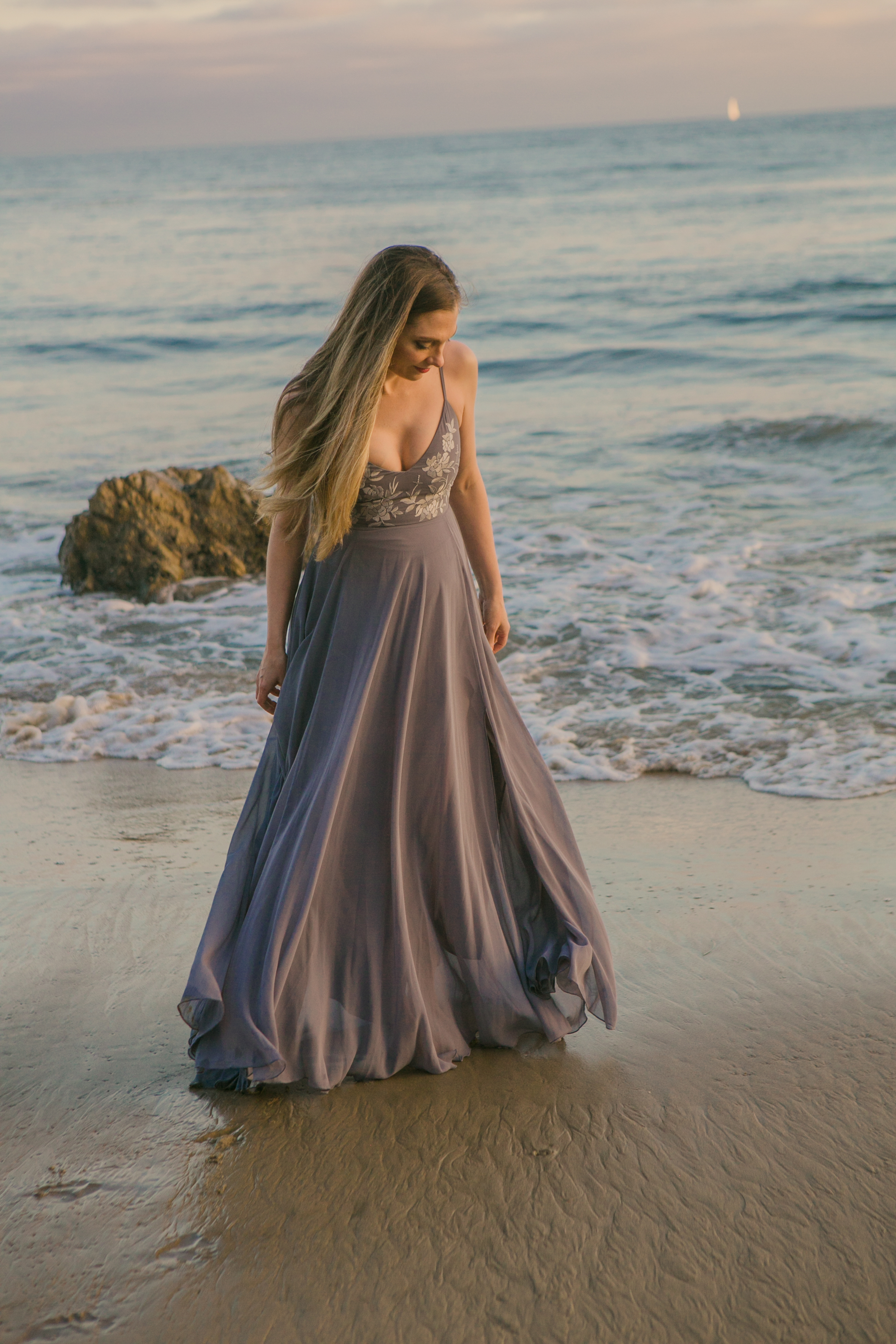 Quiet pause.
This pregnancy has been a lot. IT's nice to have a quiet moment in time captured on film. Peace. Quiet. Love and joy. It's all there.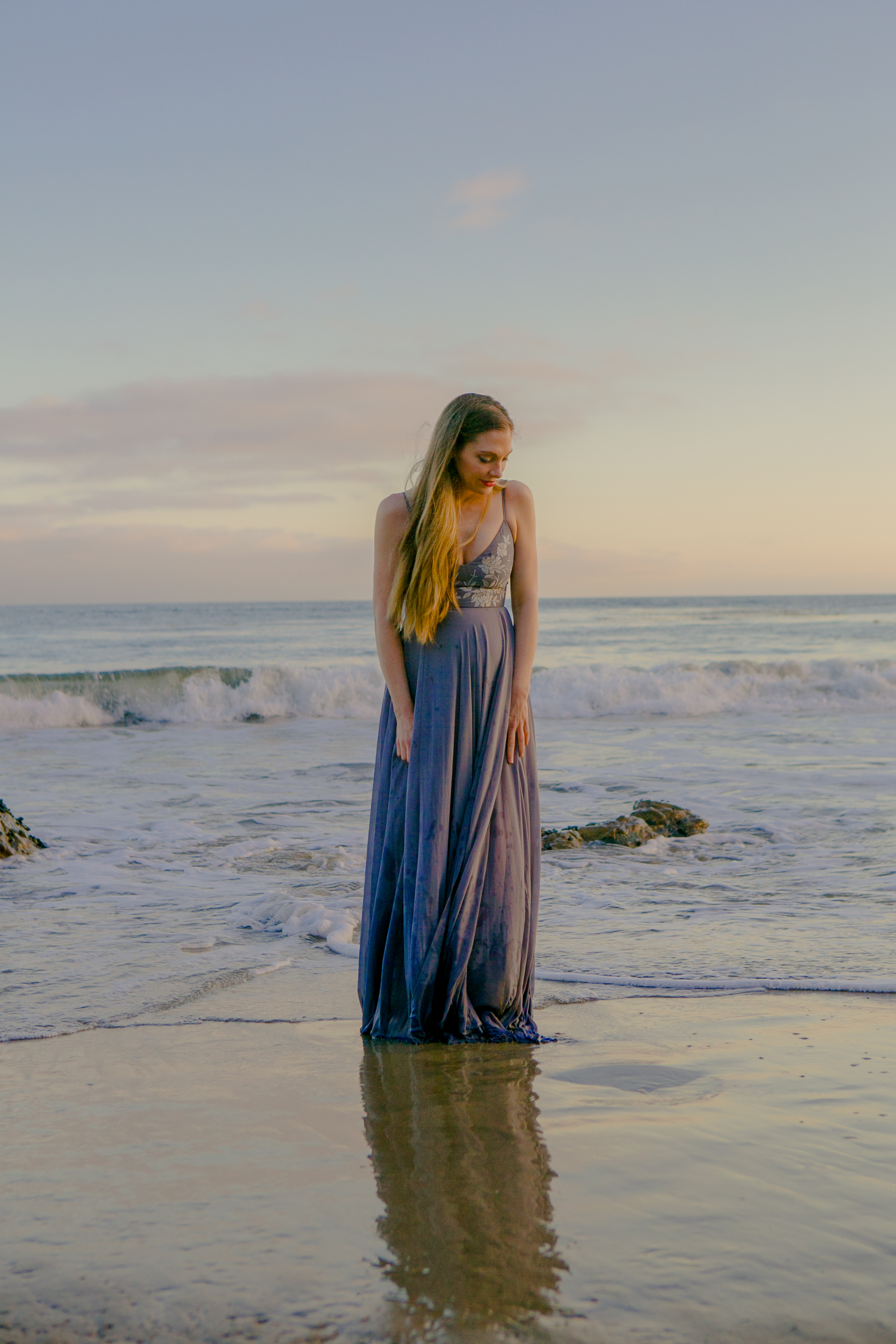 Glowy things.
Sparkles and sunbeams and salty breezes in my hair.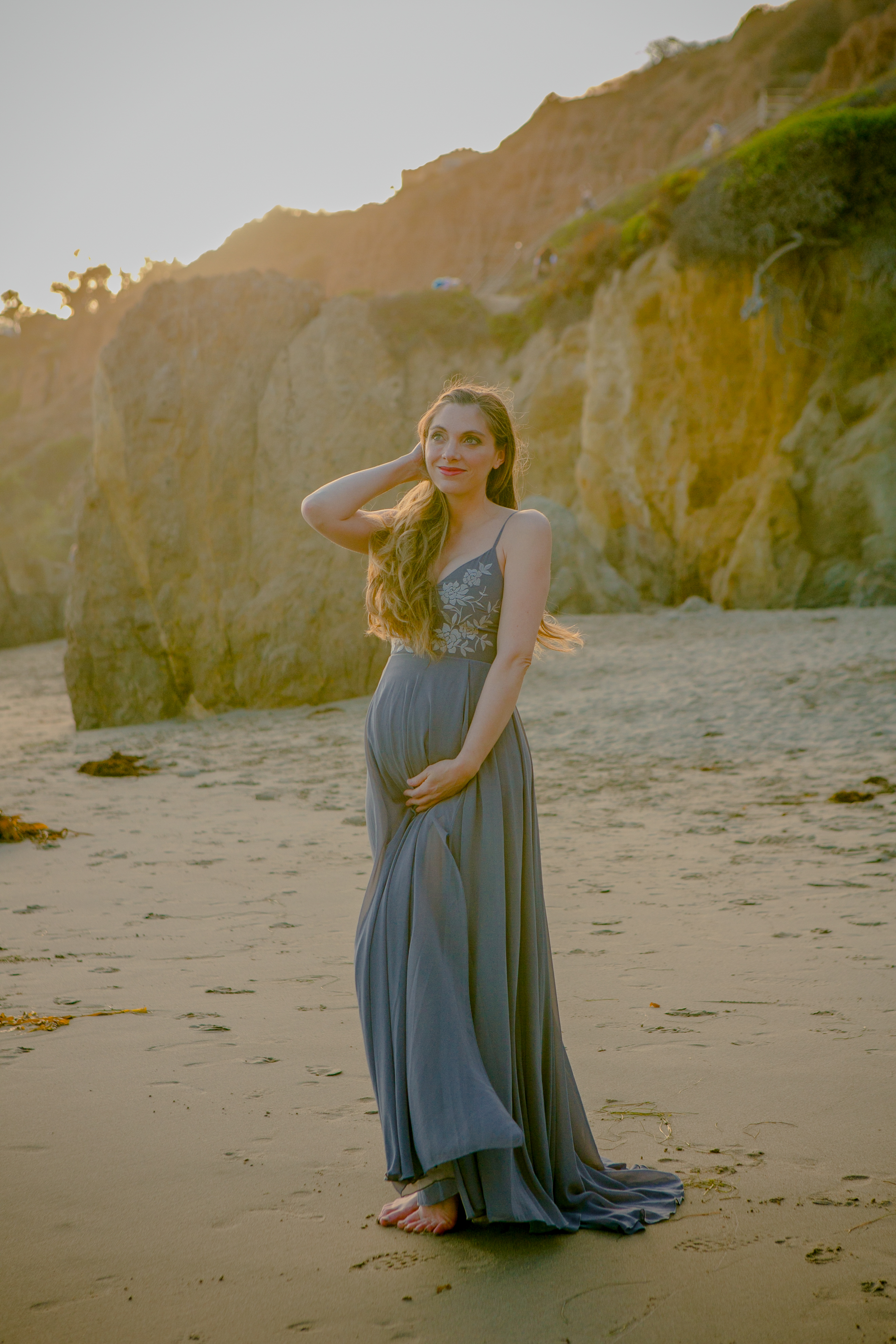 Salt water Heals Everything.
Cool ocean water on a pretty Malibu night. Tiny escape from reality.
Turquoise waves are my favorite.
Maternity photoshoot goals: ocean background.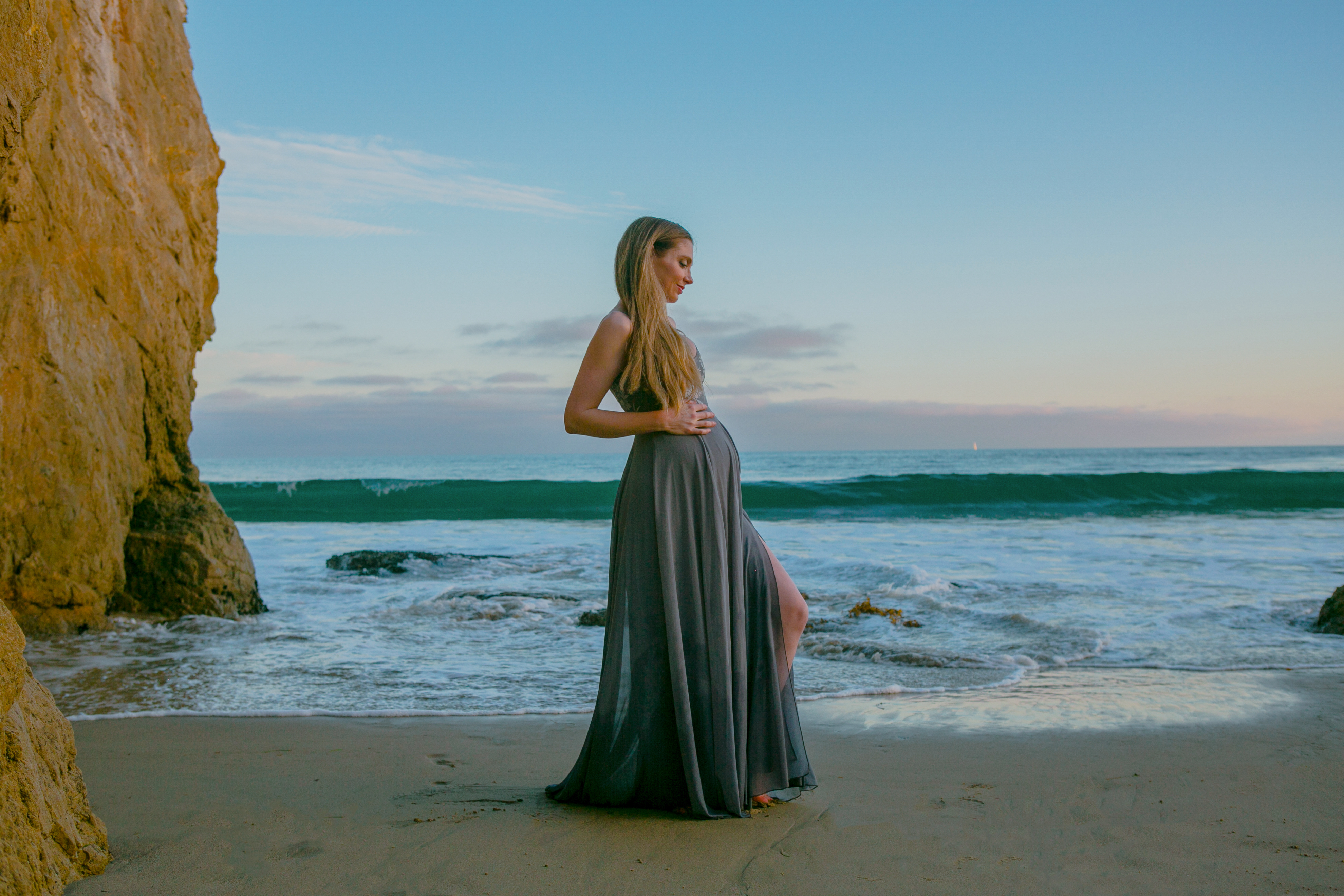 My happy place.
Ocean air and wide open spaces and birds flying by.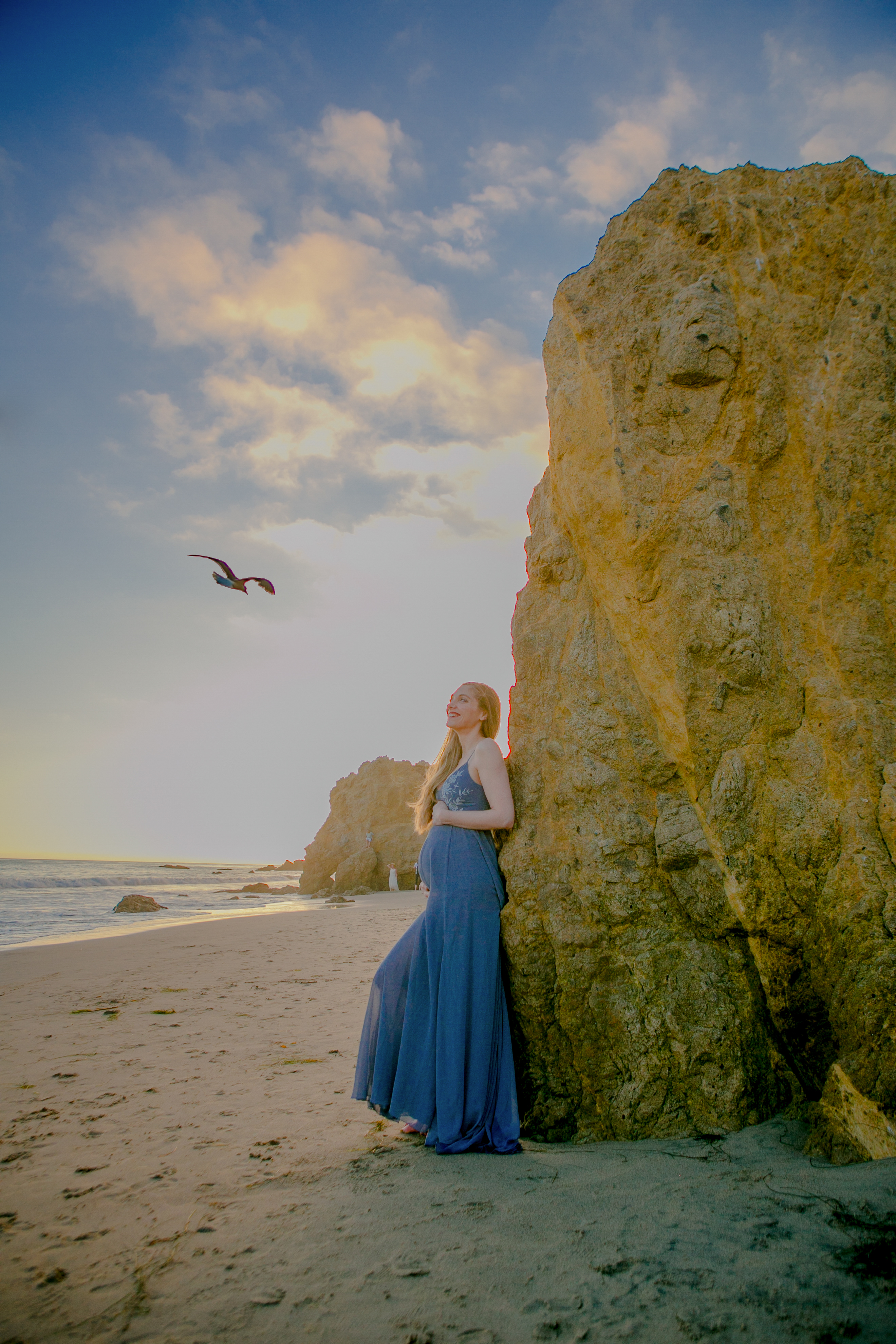 Two Then Three.
We took a few awesome couple shots too, but I'm keeping those just for us. Hope ya don't mind. <3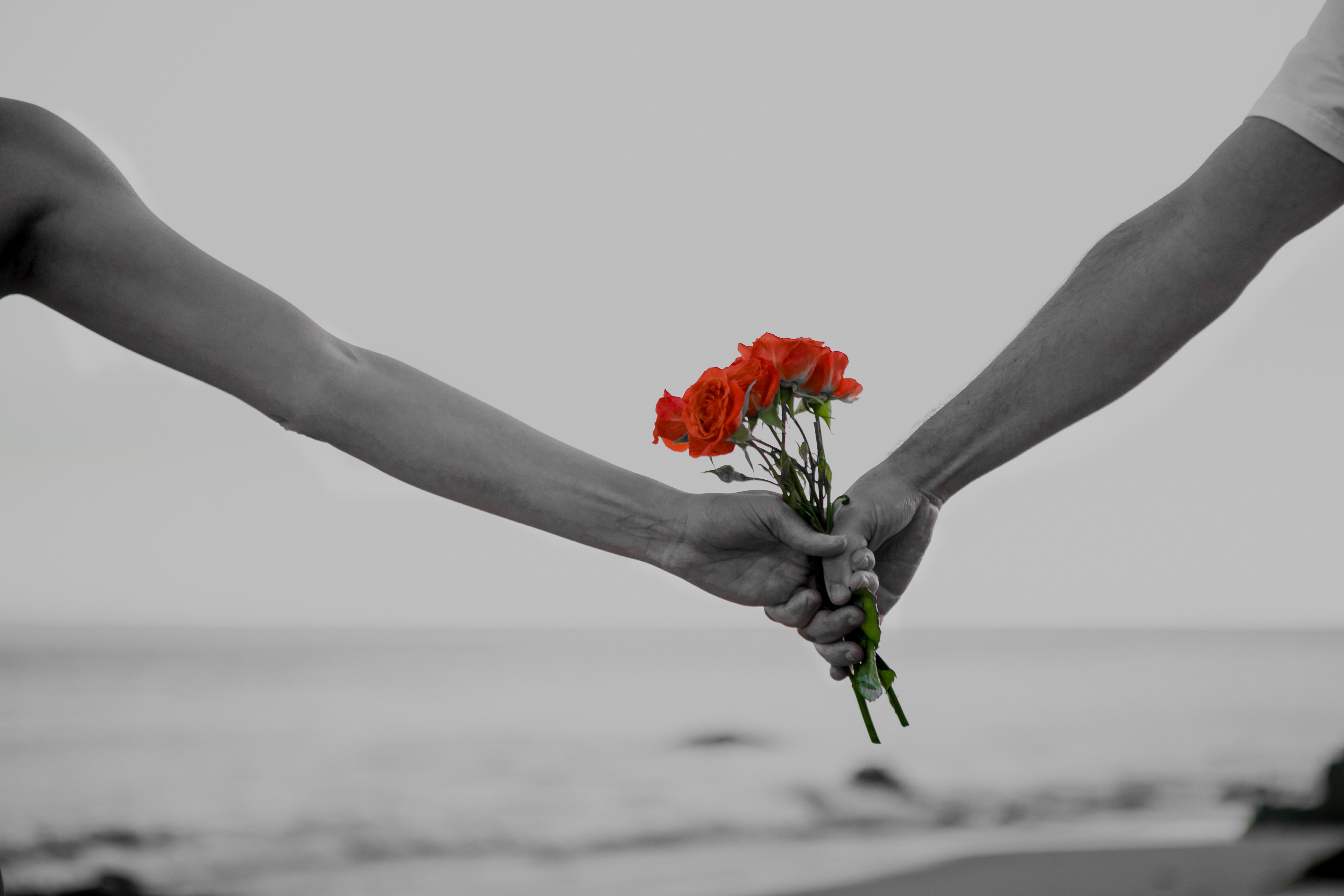 Ocean Baby.
One thing I always dreamed about was raising my kids by the ocean, just how I grew up. The beach always feels like home to me. I hope she is already excited to get those toes in some sand and salt!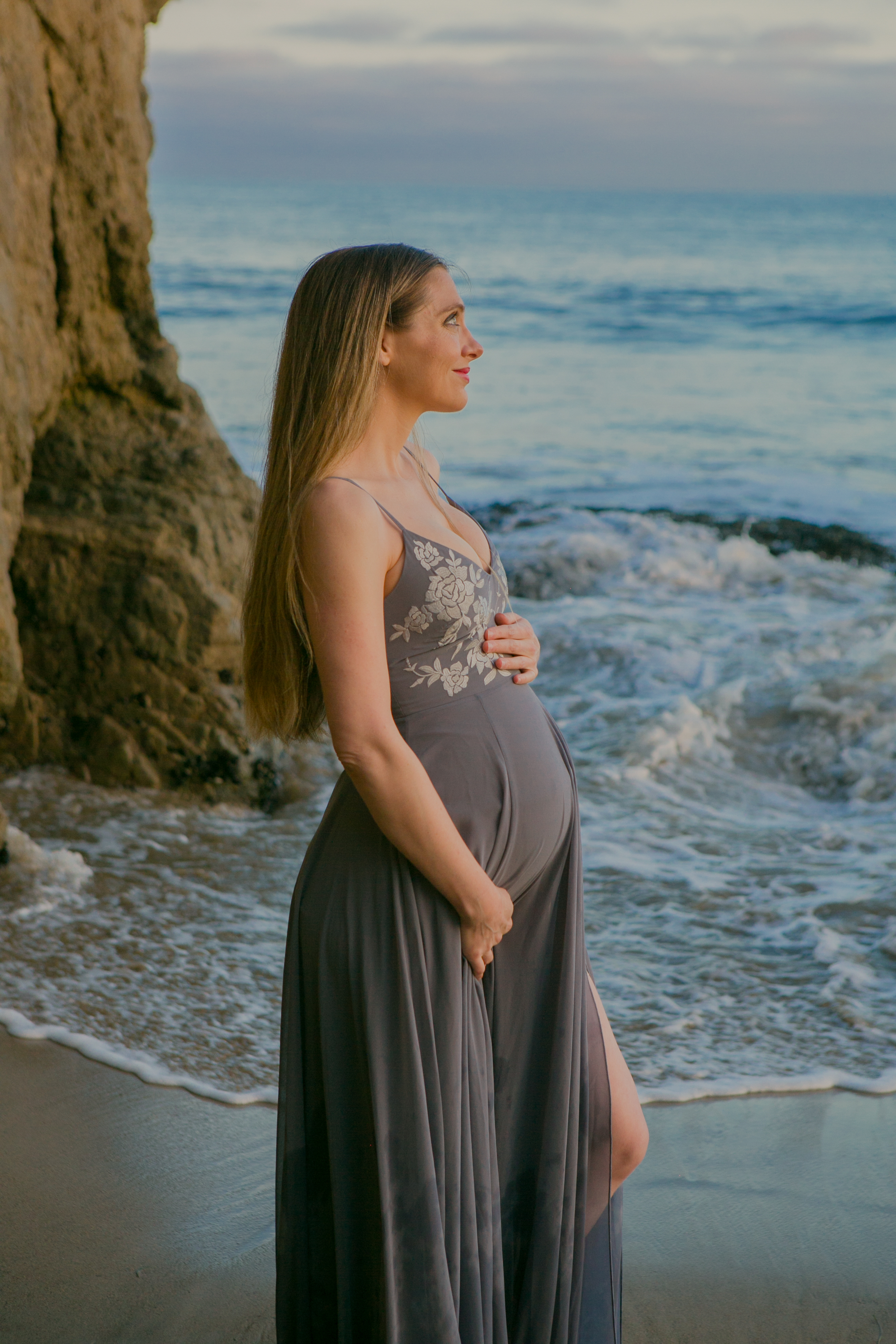 Golden twinkles.
And happy vibes. Thank you Caroline for capturing that for me.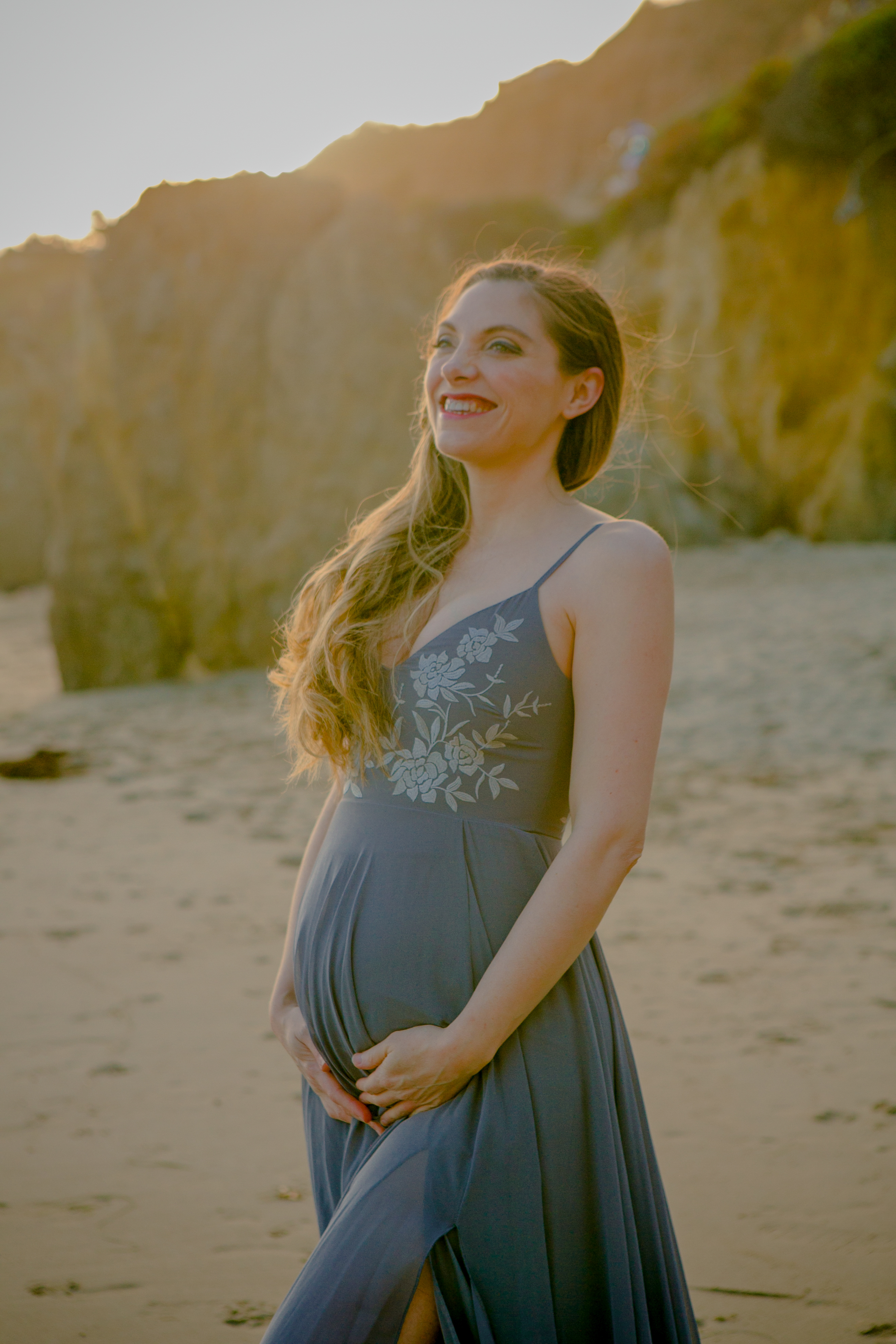 And that's a wrap!!
I was back in my car and done. I felt so accomplished that we pulled this off safely. Hands up in the air!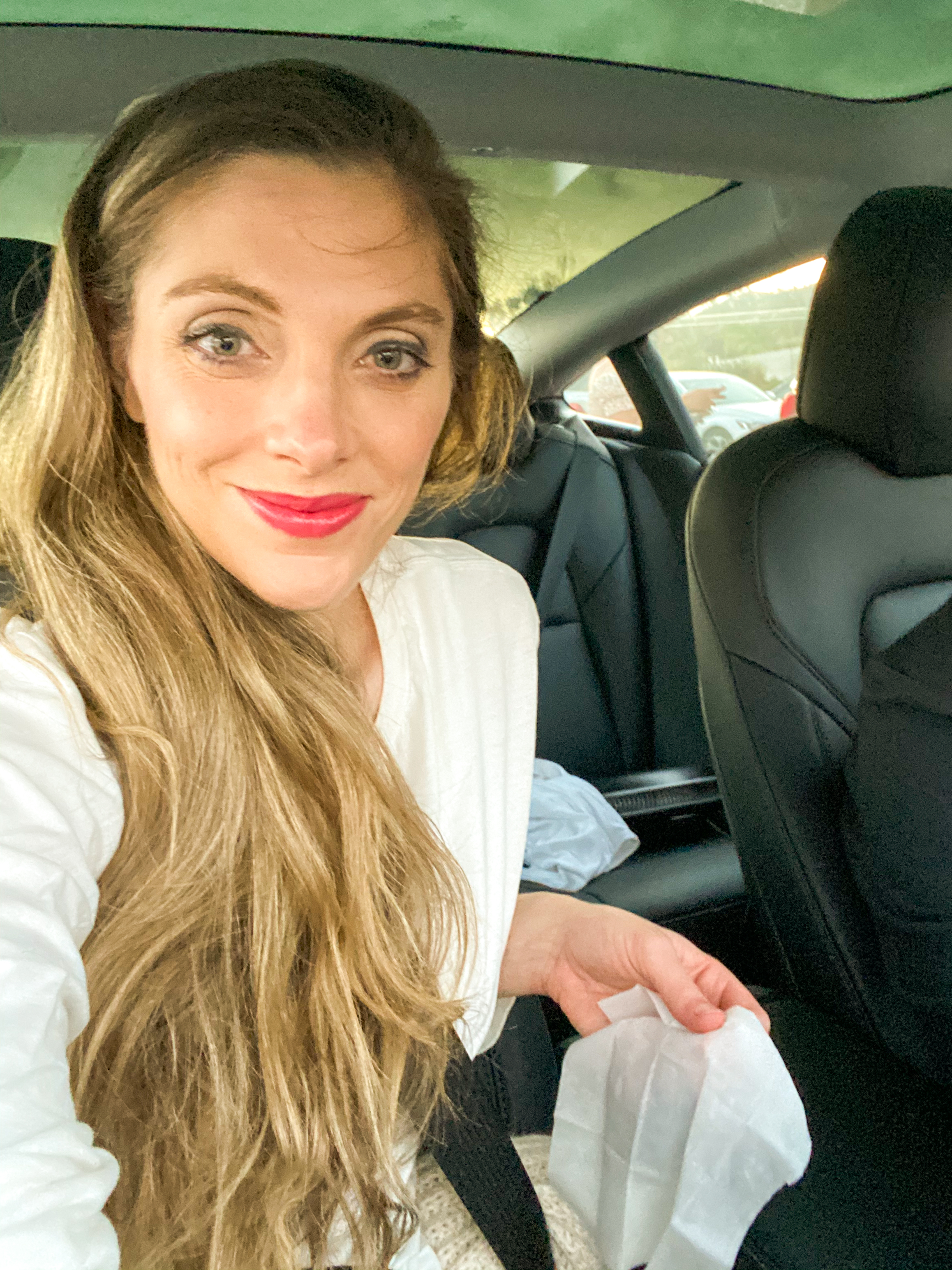 …I hope you enjoyed these shots. I am so grateful to be able to share with all of you during this socially isolated pandemic. It means so much to me.
~ Kathy
ps. Some photoshoot tips for anyone who might be in Los Angeles and excited to check out El Matador….
7 Tips for El Matador Photoshoots
Plan for parking. The lot is tiny. Plan ahead if arriving at a peak time.

Stairs. There are steep stairs down to El Matador. There is also a slippery sandy path to get to the stairs. It only takes 7-10 minutes to get down to the beach, but it's a climb coming back up. Sturdy shoes are a good idea.

I actually changed into my dress on the beach!

Go at Off-Times. Early morning or right at sunset on a weekday would be your best bet for photoshoots.

Get There Early. There are a few spots to shoot, cool caves and such, but once someone snags one, they will be there a while, so if you can get there a bit early, you can find your fave spots to shoot.

Watch Those Tides! Definitely check the tide forecast before going. we were fine, but the tide can come in fast and it can get dangerous.

Experience! It's a huge perk if your photographer has shot here before and knows the light and some of the cool shots to get.

Maternity Photoshoot Tips! Bring water and snacks either in the car or down to the beach. Try not to over-hydrate though because there are not any super user-friendly bathrooms around that I saw… Take your time going up and down those stairs. And breathe!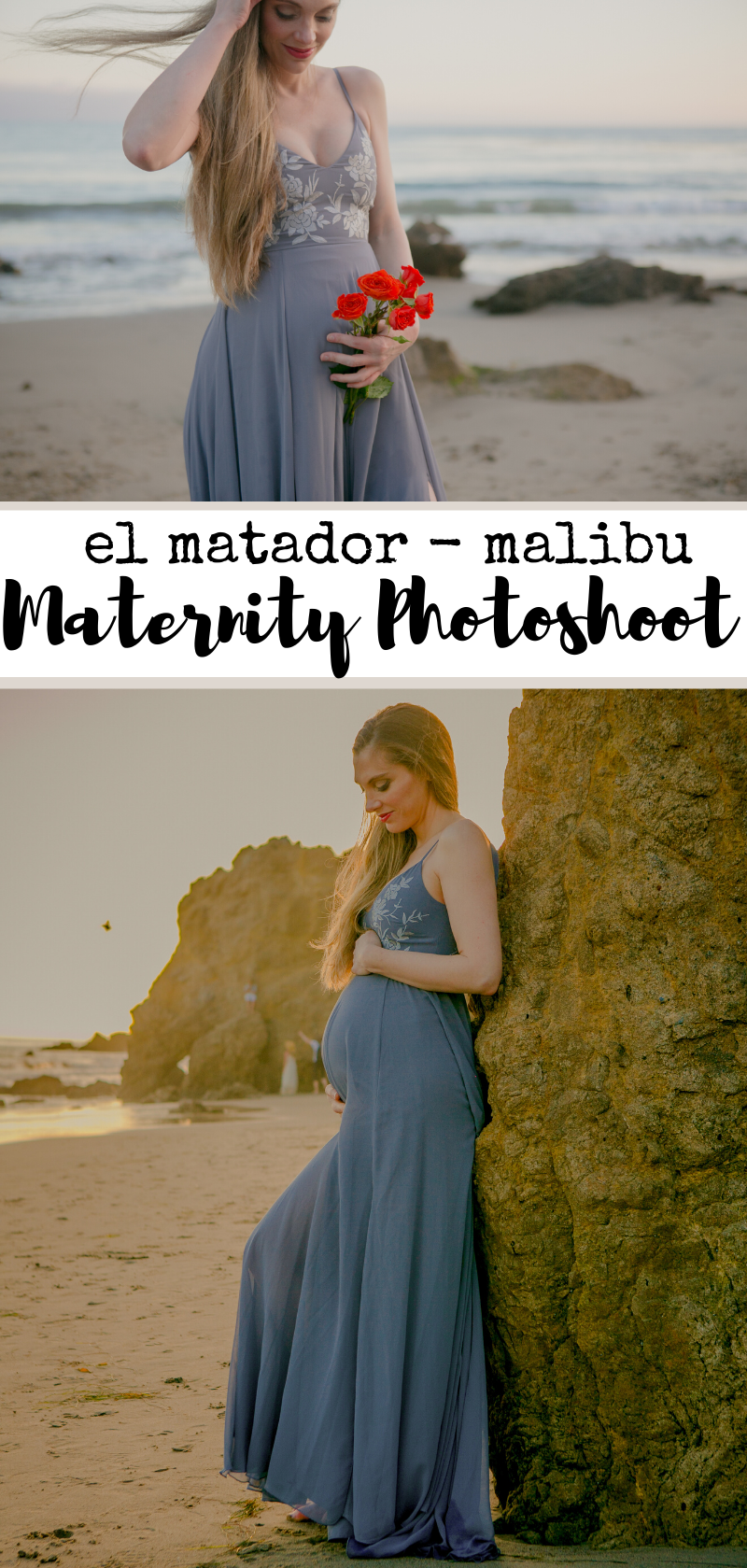 disclosure: All these gorgeous photos are by the amazing Caroline White. I edited a few with black and white or slightly warmer tones from the originals.