This week's
Meatless Monday Recipe Round-up
via my posts over at
Babble.com
! Inspiration for today and the week ahead…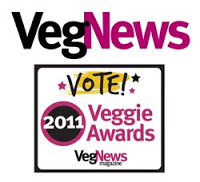 VOTING ENDS WEDNESDAY! Only a few more days to vote in the VegNews Veggie Awards! Healthy. Happy. Life. is up for Favorite Blog. Fill out the quick survey and you'll be entered to win some fab prizes. I'd really appreciate your vote! And to all those who have been voting: thank you!
Meatless Monday Recipe Round-Up – 8/29
* Silly Green Pesto Alphabet Pasta
Though I planned this to be a fun way to get kids to eat their green stuff (via fun whole wheat alphabet pasta), I actually fell in love with this quickie recipe. These pesto pasta bites are studded with sun-dried tomatoes and plenty of wilted spinach. And a few scoops of nutritional yeast folded in makes this pasta extra savory-delicious. A must try for any pasta-loving kid at heart.
* Sweet Potato Biscuits
I've posted a few Sweet potato biscuits already, but I love this one for its simplicity and flaky, buttery biscuit bliss. These sweet soft biscuits are perfect for pairing with savory veggie bean soup (as I did last week amidst all the rainstorms). Plus, I love that these biscuits are extra large compared to the normal size I make – and a handful of vegan cheese adds bonus flavor. Easy recipe for almost any dinner feast! Bake a batch and feel like a vegan Martha Stewart.
* 25 Back to School Sandwiches
If you can only dream up one or two vegan sandwiches to make for your kids (or your) lunch box, or if pb&j is being played out way to often – here are some recipes to boost your creativity and inspire healthy, happy, vegan lunches! These are 25 of my fave kid-friendly sandwiches for this busy back to school season. And coming soon: back to school two part series! Later this week.

* 350 calorie Banana Split
Last Thursday was National Banana Split Day and Tastespotting held a nice lil party of their page. Dole Bananas asked folks to come up with "healthier" banana splits that had less than 350 calories. I love a challenge – so I whipped up this tall, dreamy, vegan dessert. All under 350 calories with the help of my "banana booster" secret. From creamy scoop to sweet red cherry, every bite is real sundae bliss.
* 5 Uses for "Cheese" Sauce
You've probably noticed how cheesy I've been this past week! Vegan cheesy of course. Cheezy Kale Chips. Mac/Cheez. Cheezy Nachos. Well if you have extra cheese sauce lying around, here are 5 yummy uses for it.
* Pre-teen Girls Dieting Book?
I heard about this diet book last week and was pretty appalled. So I did a post on it. My soapbox for why girls ages 7-12 need anything and everything (love, good food, praise) – everything EXCEPT a diet book..
* Lemon Veggie pasta Salad for the week!
Busy people listen up! This is my fave go-to recipe to make early on in the week. You'll see how it makes life a lot easier. This one recipe can save you all week long!
* And happy first day of the US Open. I love tennis. So I just may celebrate by making these Lemon Lime Tennis Ball Cupcakes again.
And just for fun, my "drink of the summer" (get it while summer is still here!!)
* Watermelon Frosty..this sip goes with any Meatless dinner feast! 🙂
Previous Babble.com Meatless Monday Recipe Round-Up's:
* 8/22 – tropical smoothie, mushroom bites, veggie burger, love your green juice, peas and pasta cheezy style
* 8/15 – vegan jello, sunny pesto pasta, peachy "A" Smoothie, creamy cole slaw recipes, vegan sloppy joes, apricot cobbler and lime basil sorbet!
* 8/8 – jumbo croutons, fresh tomato hummus, peanut butter pillows, veggie burger slideshow, sticky maple french toast, cinna-rolls and more!
* 8/1 – hazelnut hummus, pesto pasta, tofu scramble, squash blossoms, savory waffles, hash browns.
* 7/25 – smoothies, vegan burrito, blueberry bread, panzanella salad, beet salad, peach crisp.
* 7/18 – roasted pepper hummus, raw food eats, papaya smoothie, owl cake, chocolate pudding parfait, hemp mashed potatoes and watermelon recipes.