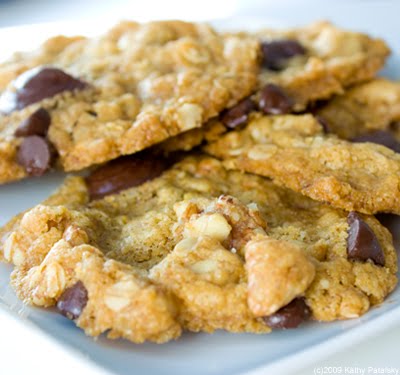 Vegan Cookie Recipe! Why? Because on Monday, a plate of vegan Mint UFO Chewy Chocolate Chip Oatmeal Cookies just makes sense. And this recipe, veganized from a family heirloom recipe, is flipping amazing…
Great Aunt Bea's Chewy Mint Chocolate Chip Cookies. This recipe is a variation from the one my amazing Great Aunt Bea taught my sister and I, when we were around 9 (me) and 12 (sis) years-old. I remember it was a dark and stormy night. (Cue loud thunder crack) A summer thunderstorm turned the sky dark gray and lightening was striking the desperate purple clouds. Screeching wind was knocking trees against the windows in every shadow-filled room. Luckily, Great Aunt Bea had a knockout recipe up her sleeve. And mint chocolate chips in her cupboard.
Veganize it! The original recipe calls for 2 sticks of butter, a bag of mint flavored chocolate chips, oatmeal, walnuts, flour, eggs, sugar, etc. Those cookies tasted really really divine. However not so healthy. I remember the sugar high and crash from eating those cookies. But the real star of the cookie wasn't the butter, eggs and sugar, but that mysteriously scrumptious combination of mint chocolate and oatmeal. The nutty chewy oatmeal texture accented the rich deep dark mint chocolate perfectly. The famous mint-oatmeal cookies are a family favorite to this day. And now, I've veganized the recipe and put a healthy spin on the ingredients…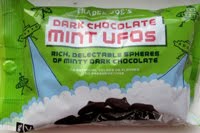 Trader Joe's Mint UFO's. Have you seen TJ's new Mint Chocolate UFO's? They are quarter-sized disks of pure vegan mint chocolate. They are delicious on their own, but I knew that baked into a cookie, they'd be fantastic! I was right, check out this recipe…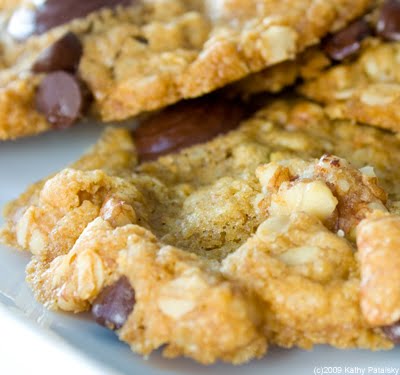 Mint UFO Chewy Chocolate Chip Oatmeal Cookies
vegan, makes 15-20 cookies-depending on size
1 ⅓ cups Turbinado Raw Sugar (100% evaporated cane juice)
*365 Whole Foods brand was used
2 cups white organic non-bleached flour
1 ¼ cups whole grain oatmeal (thick cut, Irish or old fashioned will work)
2 teaspoon salt
1 teaspoon vanilla extract
2 teaspoon baking powder
1 ¼ cups chopped walnuts, raw/unsalted
½ cup soy milk
½ cup canola oil
1 cup vegan chocolate chips
⅓ cup Mint UFO's, roughly chopped (to be folded in the batter)
Mint on Top: About 15-20 UFO disks (one for each cookie)
optional: 3 tablespoon flax seed meal. (Nutritionally enhances the recipe. Flavor is only minutely impacted.
To make:
1. Combine all the dry ingredients in a bowl: flour, sugar, oatmeal, salt, baking soda, and flax seed meal (opt'l). Mix/sift well.
2. Stir in all the liquid ingredients: soy milk, canola oil, vanilla extract. If dough seems dry add in a bit more soy milk. Dough should seem a bit 'wet' since you still have to fold in a lot of add-ins.
3. Fold in the chocolate chips and mint chip chunks. Fold in the chopped walnuts. It's OK if the dough seems really 'chunky'. It might be a bit tricky to spoon onto your pan, but the taste will be well worth it!
4. Spoon Cookie dough onto a lightly sprayed cookie baking sheet or parchment paper lined sheet.
5. Dot each cookie with a mint UFO on top.
6. Bake at 350 degrees for 11 minutes. Cookies will continue to harden after they are removed from oven. Extra large cookies may need a few extra minutes.
7. Let cool for 20 minutes, eat warm and chewy for the best possible flavor. (Dark stormy night not included.)
Ingredient notes:
*You may adjust the amount of canola oil you prefer. Use more for a super decadent chewy-crispy cookie, use less for a lower calorie cakier cookie.
*You can easily substitute a vegan white sugar for the raw turbinado, however try and use half white and half of a 'brown colored' sugar. The brown raw sugar adds a caramelized flavor that white sugar simply cannot match.
*Add More: Honestly, I love a chunky chewy cookie, and if you want to go extreme on the chunkiness, add in a bit more oatmeal, a bit more walnuts and even a tad more sugar to balance out the added chunks. An additional pinch of salt would be a good idea too.