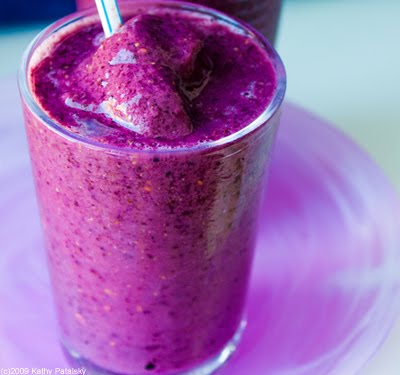 Last night I was lucky enough to be at the MTV Video Music Awards at Radio City Music Hall in NYC. Needless to say, it was awesome. I was in the standing-room only "fan pit" up front. Because, yes I like to have a little fun here in New York City.

Razzle Dazzle Me. When I woke up this morning I was up, but not awake. Ten hours of excitement and dancing in heels will do that to a girl! I've gotten into a habit of turning to fresh/strong juices and smoothies to get me going in the morning, rather than chugging three soy lattes like I did back in college. Caffeine can only take you so far. Perk you Up ingredients take me all the way to "ready for anything" mode. This morning I made an amazing Razzle Dazzle Me Smoothie that brought me back to life. You've got to try this delicious recipe. I'll also tell you my Top Ten favorite "fan pit" VMA moments from last night. A few pics too. Check it out…
First the recipe, then my VMA Top Ten…
Razzle Dazzle Ingredients. This smoothie is awesome! The dash of cayenne gives it a spicy accent that intensifies the flavors of all the rest of the ingredients which include: sweet-tart raspberries, antioxidant-rich wild blueberries, tangy apple cider vinegar, smooth soy milk, sweet acai juice, nutty flax seed meal and of course icy coconut water ice cubes.
Razzle Dazzle Me Smoothie
vegan, makes 2 servings
12 ounces Acai Juice
*original or superfood green blend
6 ounces soy milk
1 tablespoon soy creamer
1 cup frozen wild blueberries
1 banana (frozen pref'd)
½ cup frozen raspberries
1 tablespoon Trader Joe's Blueberry Flax Seed Meal
1 cup ice cubes (coconut water ice cubes pref'd)
1 tablespoon Macro Greens powder
½ teaspoon apple cider vinegar
1-3 dashes cayenne powder

Directions: Place all ingredients in your blender and blend until smooth! If you need any PRO smoothie tips: see them here!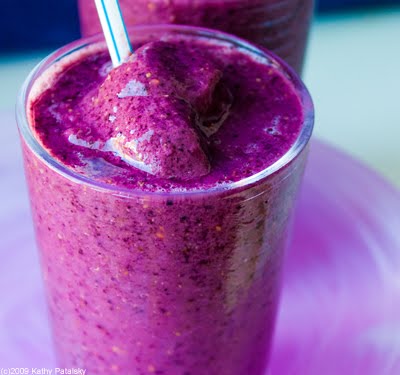 My Top Ten VMA 2009 Moments-From the Pit
1. Madonna.
2. Boo-ing Kanye after his mean gesture to Taylor. Then cheering for Taylor and Beyonce (after Beyonce's kind gesture).
State of Mind. Jay-Z and Alicia Key closing the show with Empire State of Mind.
4. Janet "dancing" with Michael "on screen".
5. Dancing on stage with Green Day.
6. Falling down in laughter as I tried to safely jump off the stage in heels, post Green Day.
7. Lady GaGa's many outfits and creepy-cool Paparazzi performance.
8. Pink's High Flying act.
9. Muse's LIVE on Broadway.
10. MJ tribute (dancers, music, lots of love)
"New York, Concrete jungle where dreams are made of, Theres nothing you can't do, Now you're in New York, These streets will make you feel brand new, The lights will inspire you, Lets here it for New York, New York, New York" -Empire State of Mind Jay-Z/AKeys
Cell Photos, because 'no cameras allowed':
Me in the"Pit":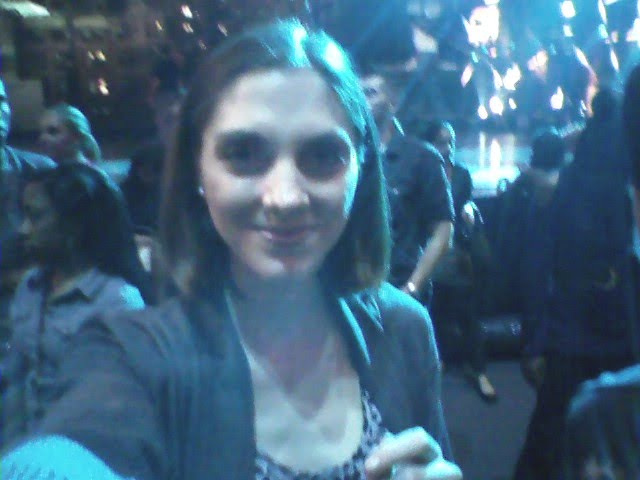 Inside Radio City Music Hall: