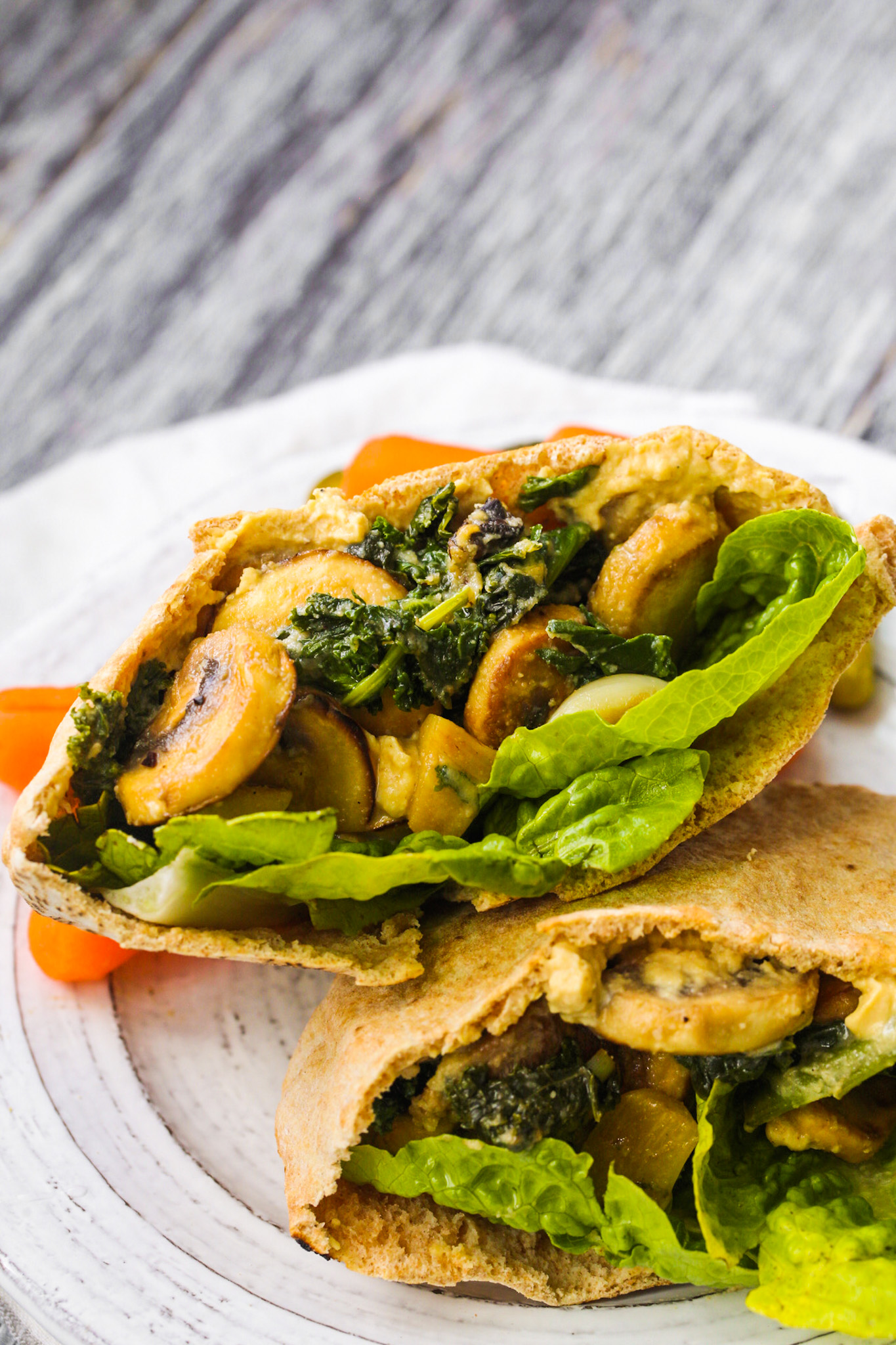 This is an absolute quarantine type recipe! These Mushroom Kale Pitas came together when I didn't have much else in the fridge for a hearty lunch other than some mushrooms I wanted to use up and some leftover kale. I knew that a regular sandwich presentation wouldn't hold these hearty warm filling all that well so into my freezer I went, and found some pita bread.
Add some garlic, pepper, hummus and some fresh crunchy lettuce too and a new fave meal was born! These were SO GOOD I will absolutely be making them again…
Mushrooms for Lunch
I am always looking for more ways to serve up mushrooms! These Mushroom Kale Pitas helped me out with that.
We tend to think of mushrooms as a dinner ingredient. Which makes sense because lunches are usually spent at a desk or office type location – for most people. But when you are at home for lunch, mushrooms can be the yummiest feature ingredient for lunch-type things! From sassy grain bowl stir-frys to tossing them with pasta, mushrooms are a star ingredient – loaded with flavor, texture and satisfaction.
My fave ingredient to pair with mushrooms: garlic. So that's what I did.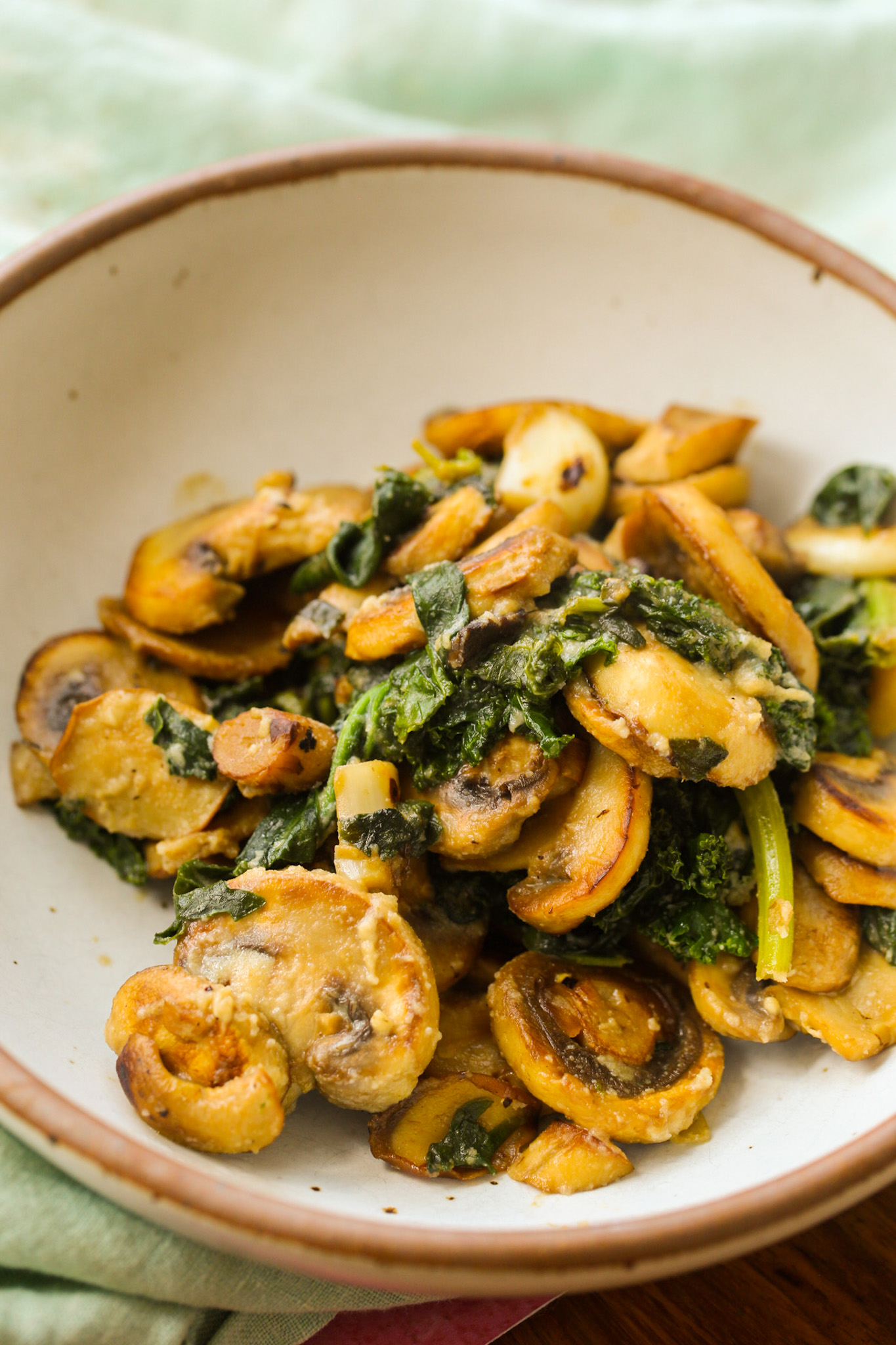 Kale to the Rescue
Kale is another one of those ingredients that I usually reserve for dinner – when served warm – since it takes a steamy skillet to get it to my kind of sweet spot. I love my kale skillet-sauteed, gently wilted with loads of dark green-still perky color.
Kale can overcook and get a bit too mushy and dark green. I like mine still with some bite and chew to it. But as always, see what your personal cooking preferences are and go with that.
Kale is easily made soft and flavorful when added to an EVOO-slathered skillet, some garlic and/or onions in there as well. Seasoning for me is always simple: salt. Black pepper. Apple cider vinegar or lemon juice. Sometimes I will add in a sprinkle of nutritional yeast too.
I actually had a tiny bit of spinach leftover that I added to my skillet too. You can never have too many greens, yes? These Mushroom Kale Pitas provided a huge serving of leafy greens and certainly didn't taste anything close to a salad of greens side dish!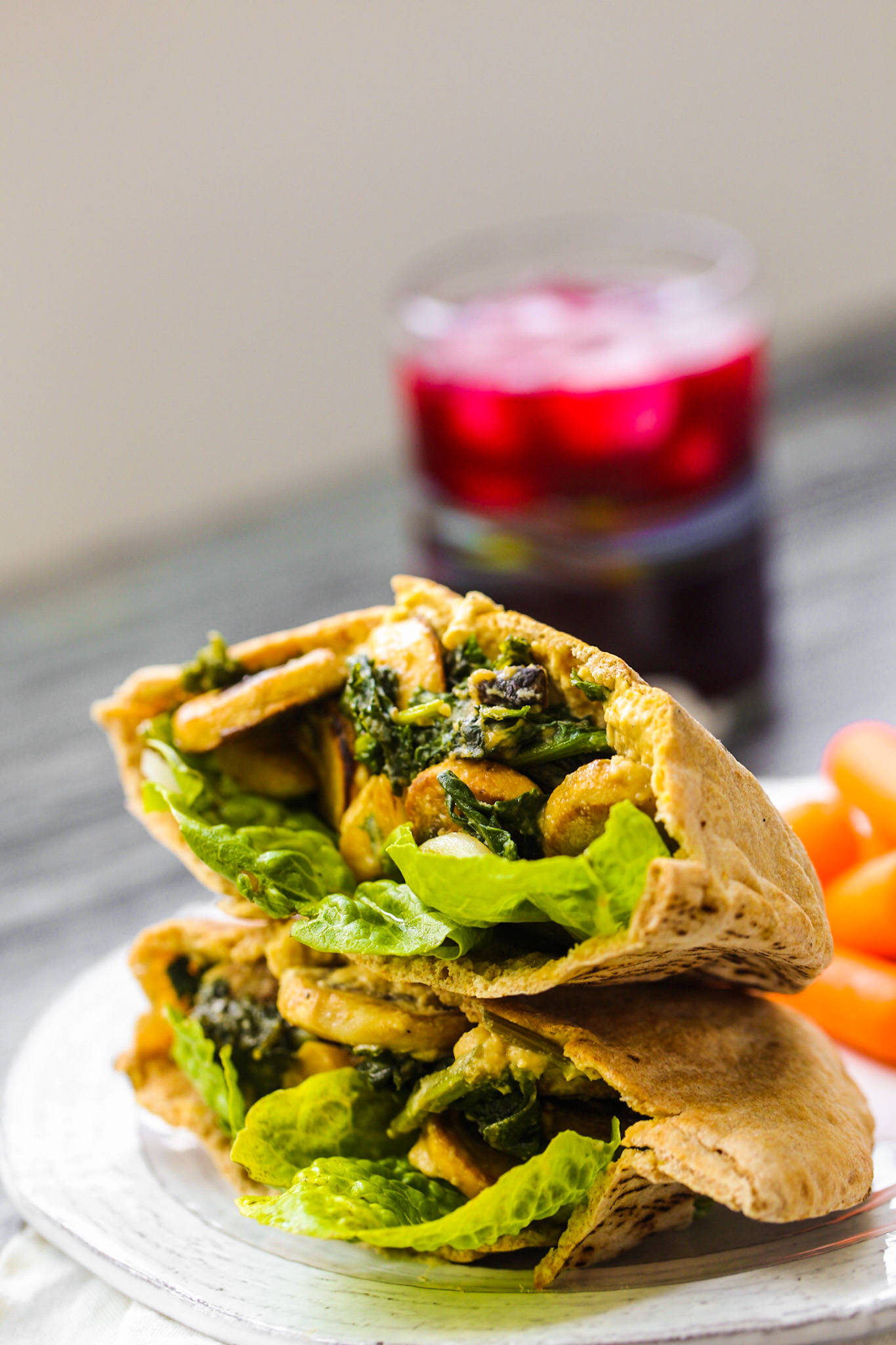 Warm Pitas
These pitas reminded me a lot of a very old recipe I created over tne years ago. My Broccoli and Tempeh Pitas! Warm and hearty ingredients stuffing a pita pocket.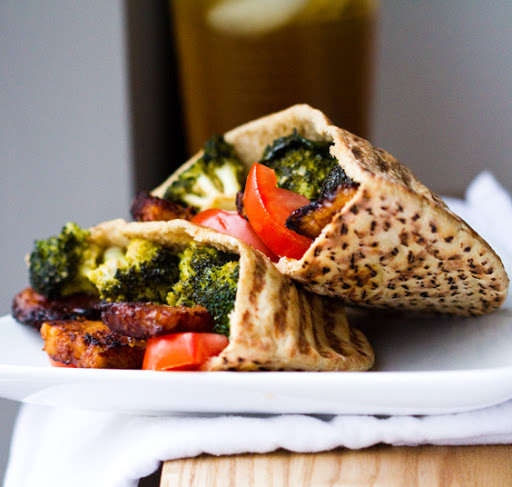 DIY Pita Pockets
If you want to get really fancy, you could even DIY your pita pockets. I have not tried this yet but would love to!! I love soft and fluffy, thick pita pockets so I think homemade would be amazing. The NY Times has a great recipe.
Filling These Pitas
The ingredients that make up these Mushroom Kale Pitas…
hummus
skillet garlickly mushrooms (with a few onions in there too)
skillet kale
a few leaves of crisp romaine
that's it!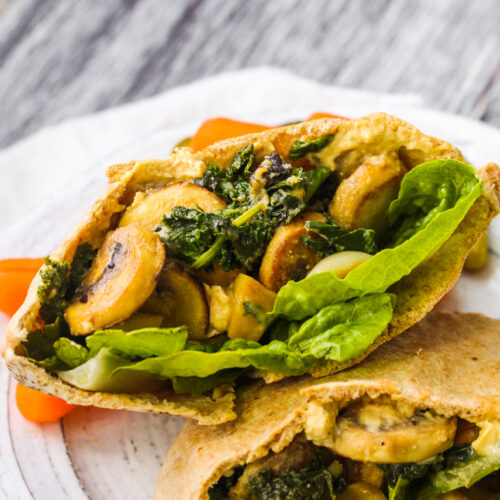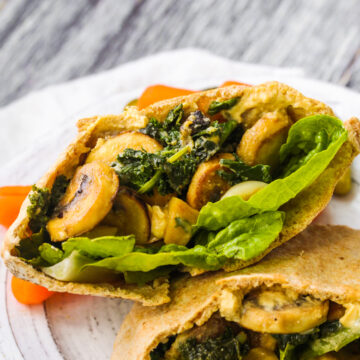 Garlicky Mushroom Kale Pitas
These super flavorful, warm pitas include skillet ingredients like kale, mushrooms and garlic.
Print
Pin
Ingredients
1

pita pocket

,

sliced in half

1 ½

cups

mushrooms

,

sliced

2

cloves

garlic

,

chopped

¼

cup

onion

,

chopped – optional

1

tablespoon

olive oil

,

extra virgin

1

tablespoon

apple cider vinegar

4

tablespoon

hummus

salt and pepper

,

to taste

4

leaves

romaine lettuce

,

optional
Instructions
Warm a skillet over high heat. Add the olive oil.

When the oil is hot, add the garlic and optional onion. Saute for 1-2 minutes.Then add in the mushrooms. Cook for 3-5 minutes or until the mushrooms are tender and slightly browned on the edges. Push the mushroom mixture over to one side of the pan and then add the kale to the other side. I like to cover my pan with a lid and then turn heat to low for this part. Allow the kale to steam and wilt for a minute or two.

Remove the lid from the pan and turn off heat. Add the vinegar to the side of the pan with the kale. Season mushrooms and kale with salt and pepper to taste.

Toast pita. Cut into two halves.

Add the kale and mushrooms to the pitas – really stuff them in! Add the fresh romaine. Serve!