I had been dreaming of this sandwich for a while now. Then I saw some gorgeous, giant, pillowy portobello mushrooms at the store and I had to scoop them up and make this recipe for a vegan Mushroom Marinara Melt Sandwich.
The inspiration for this recipe is a sandwich I used to get at a cafe called Aroma, when we lived in NYC. It had fluffy bread, thick, flavorful fingers of portobello mushrooms, marinara sauce and fluffy sprouts crammed in there too. I loved that sandwich so much, I even did a post about it here. That was back in 2009! And eight years later, I still dream about that simple, unique sandwich. It certainly leaves an impression! And after my first bite of THIS recipe. I certainly remember why! The flavors are rich and vibrant with Italian flair. Get the recipe for my spin on this marinara-mushroom sandwich..
Hello warm mushroom sandwich of my dreams.

Before. Starting mushrooms, packed in tightly..

After. Mushrooms shrink quite a bit! I think that is part of why they are so flavorful.

The hot marinara sauce brings it all together!

Warm melty vegan cheese..

Ready for putting together and serving!

Today I went melty. This sandwich, with its marinara meets mushroom flavors has always been delicious, but I added in some vegan pepper jack cheese and boom, even more flavor. I went with spinach for my green, simply because sprouts feel a bit more inaccessible with their quick shelf life. Spinach is easy. And loaded with nutrients. And tastes delicious with tomato sauce. This sandwich was even easier than I suspected it would be to make. The whole thing was done in about 15 minutes. You could absolutely make this for lunch or a quick and satisfying 'hot sandwich' dinner. This sandwich would pair so well with a cup of soup, side salad or maybe some cheezy broccoli and quinoa.
The Bread. You could use a variety of bread options. Just make sure that it is a hearty or thickly sliced bread – or sturdy roll or crusty bread. Soft, thin sandwich bread will get soggy unless you harshly toast it to be a bit sturdier. You could also use a pita or a wrap — or even a pizza crust and make this into a pizza!
The Sauce. I used the Whole Foods brand of portobello tomato sauce. I love it because it is flavorful and a really great price! Plus is give a bit of bonus mushroom flair. You could also use my creamy tomato sauce recipe. Or make your own marinara sauce.
The Cheese. I used Parmela Creamery's pepper jack aged cashew cheese slices. I love them! I also love Chao slices and Follow Your Heart. And Daiya. See my vegan cheese review here for a bunch of options. But overall, I would choose a white vegan cheese. Mozzarella or pepper jack or gouda.
Greens. I liked using baby spinach, but sprouts or even shredded cabbage or romaine would work. The hot sauce will wilt whatever green you put in there, so keep that in mind. But overall, the more greens the better IMO!
Scoop it? I used a roll that was very fluffy and had a lot of bread-y insides. So I scooped the bottom side of it to make room for more spinach and mushrooms and sauce. This made my overall sandwich a bit flatter, but more filling-intense and less bread-intense. It all depends what you are craving. Some days I really want all that thick bread, and other days, not so much. The original recipe used a thick sliced bread – and so whatever you use, make sure it has some heartiness to it to hold in all that warm sandwich goodness!
I scooped my roll a bit too much I think, because the bread got a bit soft as the warm marinara sauce soaked in, but it was still SO good, I didn't really care. But for photos, a thicker bread would probably have helped keep things less messy. Oh well. Flavor first. And this one wins with flavor!

Ok ok, enough talking. Start eating. This sandwich is waiting for you! Happy Monday all! xo
Love mushrooms as much as me? Check out this list of ALL my mushroom-infused recipes! From No-Clam Chowder to a Mushroom Philly Cheese, Shiitake Bacon and more!
I will leave you with my Meditating Mushroom character from The Lunchbox Bunch old-school characters..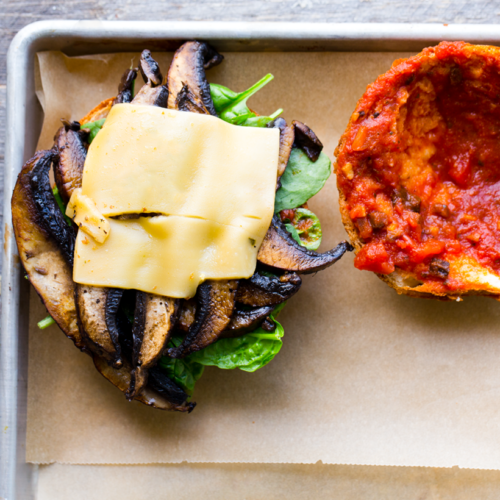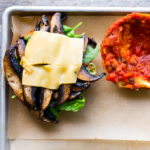 Print Recipe
Mushroom Marinara Melt Sandwich
This hot sandwich is flavorful and satisfying with tender portobello mushroom strips nuzzled up against baby spinach, melty vegan cheese and steamy marinara tomato sauce. Vegan and a crowd-pleaser!
Ingredients
1 extra large portobello mushroom cap or 2 medium-sized caps

1 slice vegan cheese (pepper jack used, mozzarella works too)

¼ cup vegan marinara sauce (any flavor)

1 cup baby spinach (or another green or sprout)

1-2 tablespoon apple cider vinegar (balsamic would work too)

2 teaspoon extra virgin olive oil

⅛ teaspoon sea salt

⅛ teaspoon black pepper

1 large sandwich roll – or thickly sliced french bread, pita, wrap or toast.
Instructions
Prep your mushroom(s). Remove the stem and discard. Rinse cap in hot water and pat dry very well with a paper towel. Slice into thick finger-like strips, about ½ inch wide.

Bun: Warm oven to 400 degrees and place the roll or bun or bread inside. Cook just until the outside is crispy and insides are warm and soft. To prep the bun, slice it in half. I like to sometimes remove some of the soft bread inside the middle ("scooped") to make room for more spinach and mushrooms and sauce. Scooping is optional.

Warm a skillet over high heat. Add the olive oil. When the oil is hot, add the mushrooms. Cover with a lid and allow the mushrooms to cook and soften for two minutes. Lift lid. Flip mushrooms. Turn heat down to low and add one tablespoon of the vinegar. Shake pan a bit. Add the salt and pepper. Cover again and cook for another minute or so. Remove lid again. Flip again. The mushrooms should be very tender and dark black to brownish now. If not, allow to cook until the are very soft, but not wilted. You want them to retain their "meatiness" without being over-cooked. Add more pepper andvinegar if desired. The vinegar adds a sassy flavor to the mushrooms. Larger mushrooms can handle a bit more vinegar. Lastly, one minute before cooking is done, add the cheese. Push the cooked mushrooms together, packed tightly, and add the slice of cheese. Add one ice cube and cover the pan with the lid, allowing the steam to melt the cheese. Lift lid and turn off heat from stove. Set the pan aside, with mushrooms, to rest for a few minutes before adding tot the bun.

Warm the marinara either in the microwave or stovetop.

Assemble sandwich! Spoon marinara on both sides of the roll/bun. Press well into the bread, especially if you did not scoop the roll. Then add the baby spinach. Followed by the mushrooms. Using a spatula or large fork, lift the mushrooms from the pan to the bun, without disturbing the melted cheese too much. Then close up the sandwich by placing on the top roll/bun piece. Slice and serve warm!