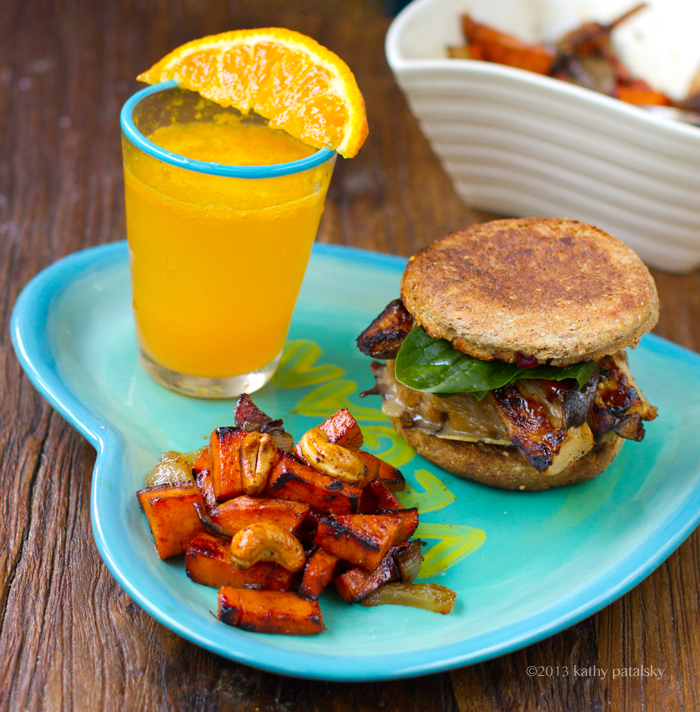 For a hearty breakfast or brunch treat, serve up this easy-to-prepare vegan plate consisting of a warm and toasty Mushroom Melt Breakfast Sandwich, Spiced Sweet Potato Home Fries and some freshly squeezed orange juice. This guy-approved meal is my favorite way to treat myself or my husband to a weekend-style, protein-rich breakfast … breakfast sandwiches are easy enough to prepare on a weekday even. Get my recipes, more breakfast sandwich links and a cool kitty lover factoid about Disneyland!..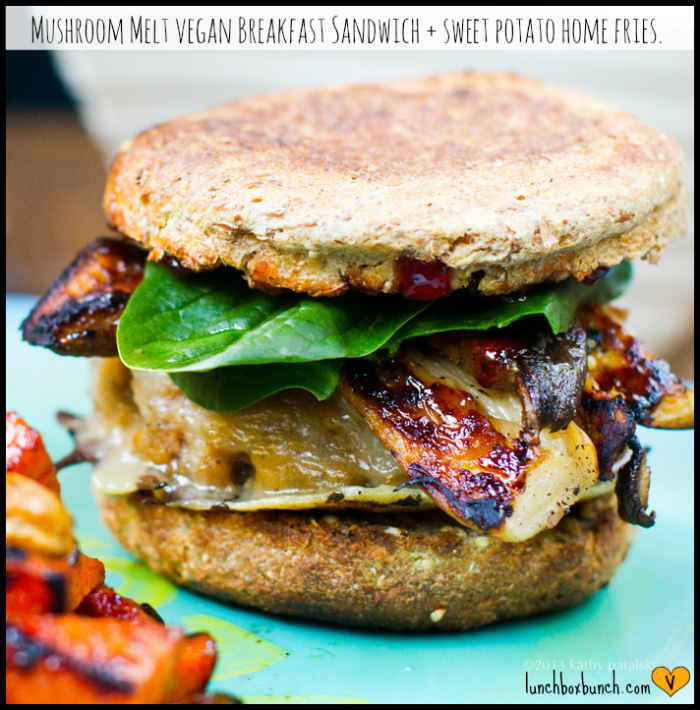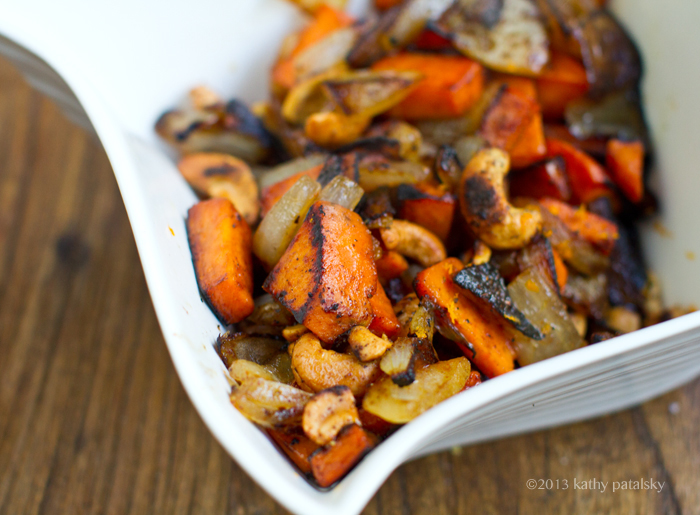 My husband loves his vegan breakfast sandwiches. So I love making them for him as often as he'd like. Especially since he is a long time breakfast skipper. A "where's my coffee? All I need is my soy cappuccino." kind of breakfast-er. But breakfast and morning wellness in general are SO important… (Read: On Most Mornings: 8 Tips..)
Though I only like to eat faux meat products in moderation, one way I splurge on faux-ness is with this breakfast sandwich! Or any breakfast sandwich .. there are so many ways to serve them.. (recipe links at bottom of post)

Green Kale..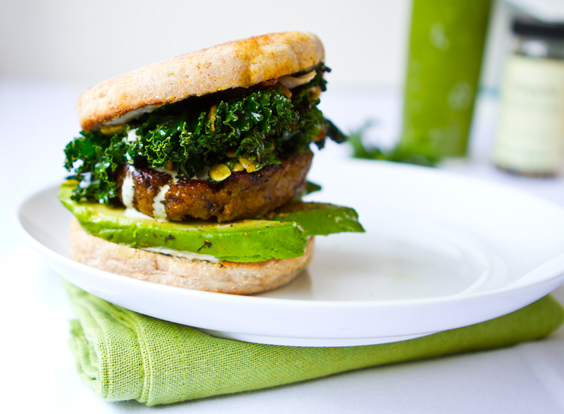 Jack-o-Pumpkin..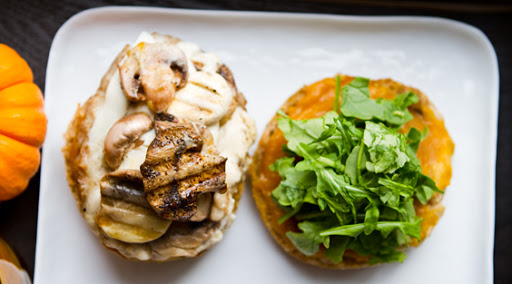 Bagel-wich with tempeh..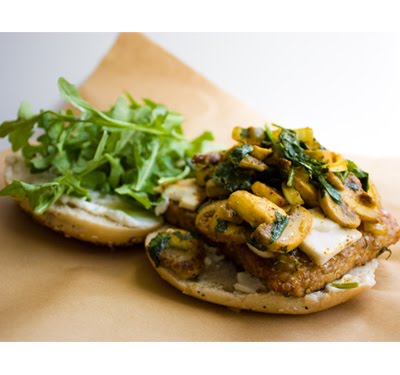 Oh and The Big Stack. Serves two..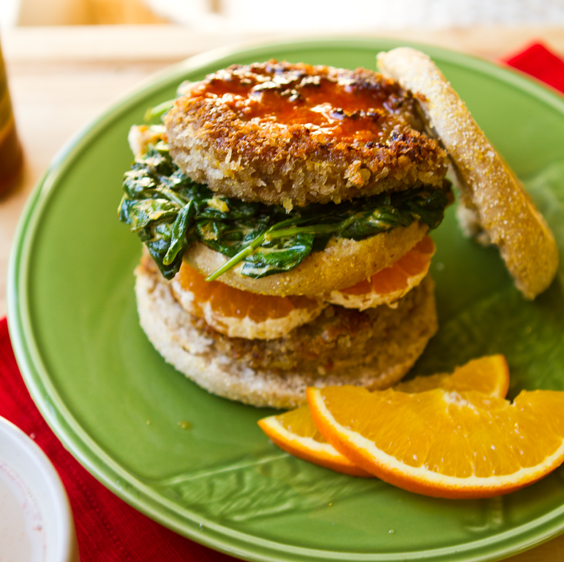 And today's Mushroom Melt..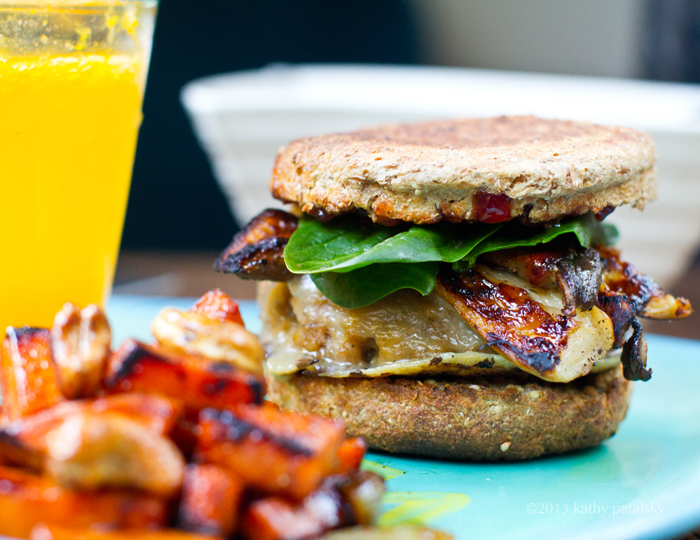 Disneyland Kitties. This past weekend I frolicked around Disneyland with some girlfriends, and one super cool husband. (yes, Disneyland again. I love a sunny Dland day.)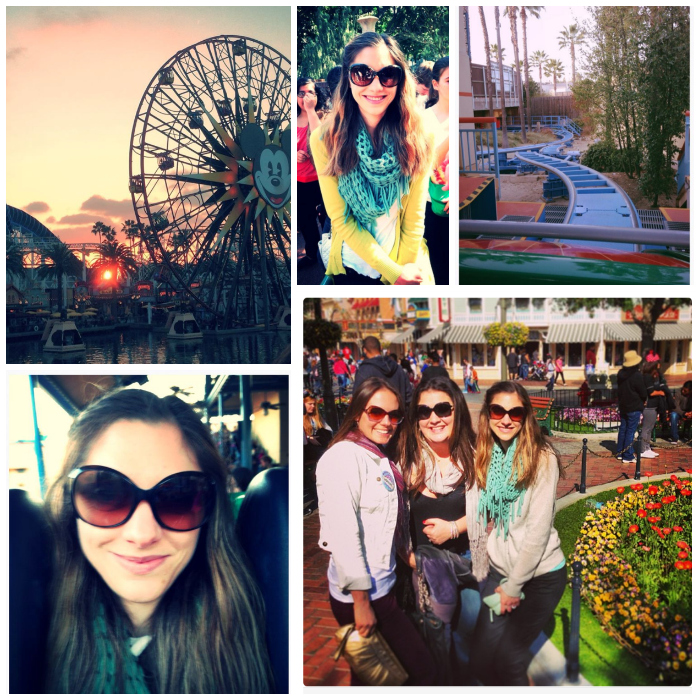 This veganized panini from the Winery restaurant at California Adventure Park was pretty tasty!..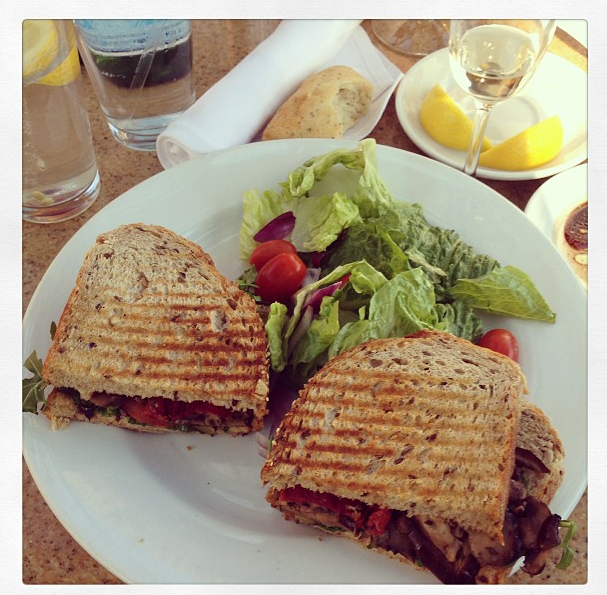 And my friend even shared a super cool animal story that I had never heard before! I have always seen stray cats roaming around the Disneyland park grounds at night .. and some around the resort during the day. I thought this was so odd, but learned that there is a happy ending explanation for this.
Disneyland has long known about the feral stray cats that learned to venture into the park at night. So they decided to make these sweet creatures work with them! Check out this info from an LA Times article on Disneyland "Clean-Up" After Dark:
" Park workers have also found a resourceful way to remove other unwanted guests — rodents.
Years ago — no one seems to know when — feral cats began to sneak into the park, living among the park's trees and shrubs during the day. At night, they venture out, and an estimated 200 cats now prowl through Disneyland and neighboring California Adventure Park.
But instead of evicting the cats, Disneyland's animal wranglers work to control the feline population by spaying and neutering the adult cats and finding homes for all kittens born in the resort. The cats eat at five permanent feeding stations installed throughout the two parks.

"We are not trying to get rid of them," said Gina Mayberry, manager of Disneyland's Circle D ranch, where the park's animals are housed. "They keep the rodent population down.""
How cool is that! If you live in California, or any year-round sunny spot, you know how many stray cats roam around. Well I am glad that Disneyland is warmly welcoming the feral cats and letting them live a pretty good life at the park. This past visit I saw one cat running across main street just as the park was closing. What a fun place to prowl at night!
If you want to support stray cats and kitties in general – check out Isa Chandra's awesome Teal Cat Project. I already own a few teal cats. Love TCP!
Anyways…. back to this recipe!..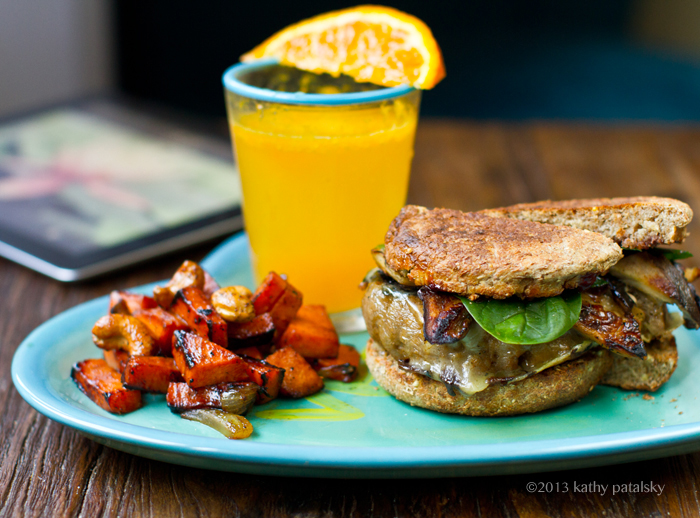 Mushroom Melt Breakfast Sandwich with Sweet Potato Home Fries.
Step One: Get my Sweet Potato Home Fries recipe over on Babble.com
Step Two: Grab some juicy oranges and juice your fresh juice. I like to add a splash of chilled sparkling water to my fresh OJ to tone down the sweetness a bit! (If this is for weekend-er brunch, you can add a splash of prosecco!)
Step Three: Mushroom Melt Breakfast Sandwich
vegan, serves 1
1 sprouted grain English muffin, sliced in half
1 teaspoon berry jam (or any jam flavor)
1 teaspoon vegan butter (optional)
¼ cup of vegan sausage, Gimme Lean by Lightlife used
(smush into a patty shape
1 tablespoon vegan cheese (any brand – try Daiya or Trader Joe's cheese shreds for meltable varieties)
Mushrooms:
1 teaspoon oil for saute pan
½ cup thinly sliced mushrooms (I used Oyster mushrooms, shiitake or portobello are other options)
a handful of spinach leaves (or another tender leafy green)
salt + pepper to taste (for mushrooms)
optional: add heat with cayenne or chipotle powder
optional: add some hot sauce to serve if you'd like!
Directions:
1. Toast your English muffin, rub one side with the jam and one side with the (optional) vegan butter – and set aside.
2. Heat saute pan over high heat burner. Add oil and when oil is hot, toss in the mushrooms. Allow them to saute until tender and edges have caramelized and turned brownish.
3. Push mushrooms off to the side of the pan and add in your patty. Cook about 1-2 minutes on each side, tossing mushrooms a bit so they do not burn. You can remove mushrooms and place over top the jam-slatered slice of English muffin and set aside.
4. Melting the cheese is quite simple. Pour it over top the patty, still in the skillet. Keep the pan on high heat and add a few splashes of cold water or one small ice cube to the pan while quickly covering with a lid. The steam and heat will melt the cheese in a minute or so. Remove patty and place on top of the buttered slice or your muffin.
5. Add the spinach over top the hot, vegan cheesy patty and close sandwich. Slice and serve alongside the sweet potato home fries and fresh OJ.
Nutrition estimate for the breakfast sandwich only (complete with all ingredients listed. To lighten up, omit vegan butter and/or reduce oil and vegan cheese.)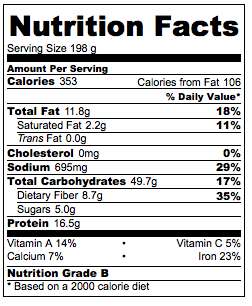 More vegan breakfast sandwich recipes you may like:
* Green Kale Shamrock Breakfast Sandwich
* Jack-o-Pumpkin Breakfast Sandwich
* The Big Stack
* Purple Pepper Eater Breakfast Sandwich
* 15 minute Classic Breakfast Sandwich
* Sunny Mushroom Tempeh Bagel Morning Sandwich
* Brunch Melty Muffin