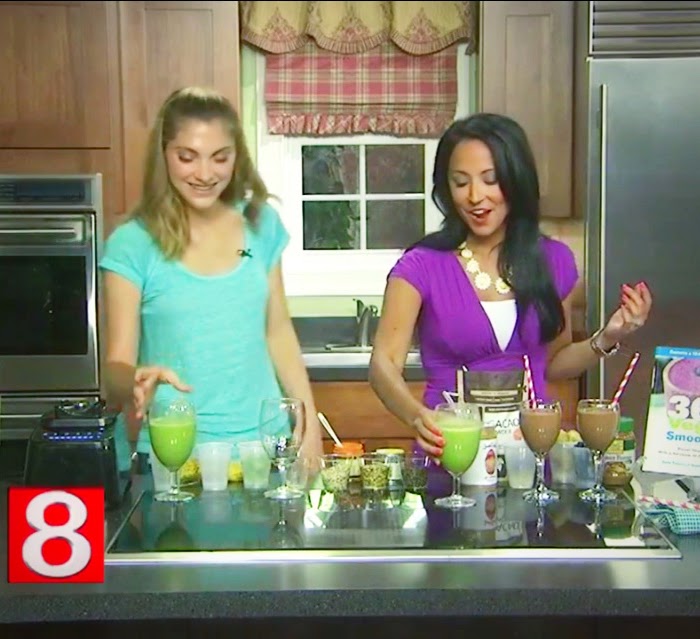 Sitting at my desk, sipping a morning turmeric-strawberry smoothie, still in my pajamas and surrounded by napping kitty cats, I am reflecting on the busy long weekend I had. It was all a fantastic blur as I packed my Blendtec (and two blender containers!) in my suitcase, darted off to Connecticut via a red eye flight, met up with my sister and her cuties, took a stopover in NYC and had a rushed trip back home. But it was all exhilarating, fun, amazing and totally worth all the planning and travel stress because I was able to complete my very first TV appearance featuring a fun trio of smoothies demo on Connecticut Style, on ABC WTNH Channel 8, New Haven. Check out my whirlwind trip, hear my ten happy things that happened and watch the video as I blend smoothies from my book 365 Vegan Smoothies!
Read all about my smoothie-infused appearance and get the recipes I featured on the show over at Connecticut Style.
My video – aired July 28th on Connecticut Style Channel 8 ABC New Haven, CT!..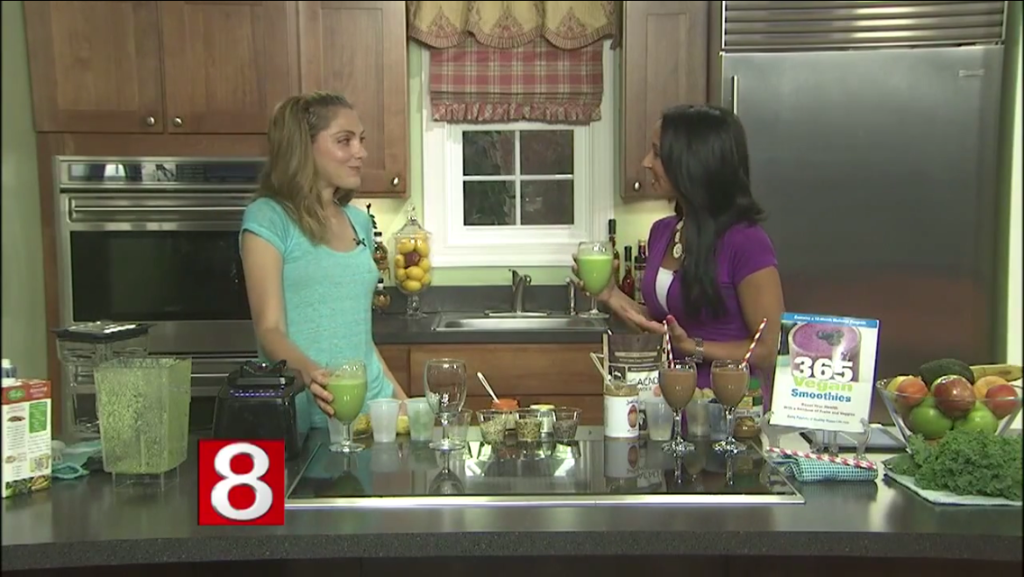 Thank you Meghan, she does a great job with the show.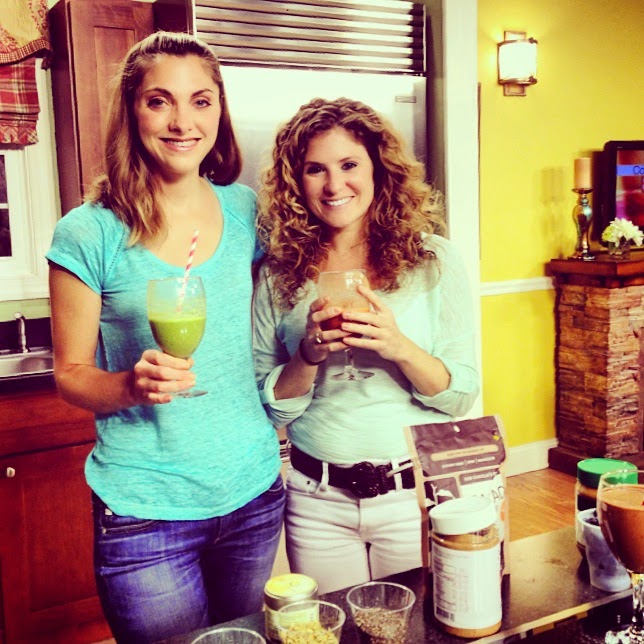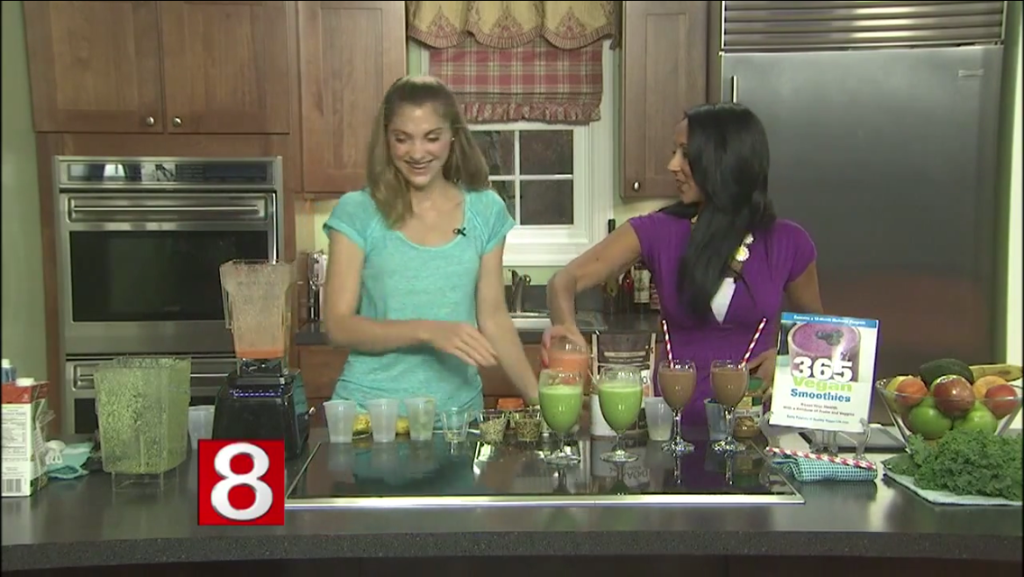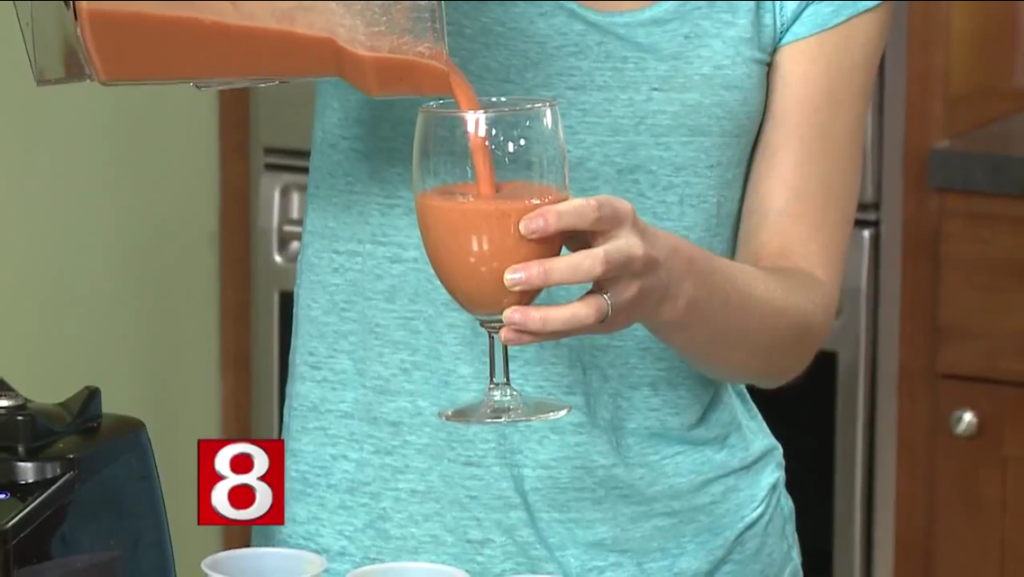 10 Happy Things From My Trip:
1. My Red Eye Flight. Why was it fun? Well I actually slept! I always dread those overnight flights, but thank goodness I got at least a few hours of sleep. But I did still pass out for a long nap once I arrived at my hotel in New Haven.
2. Kids! Being greeted by my sister and her two kids who stayed with me for the long weekend. So joyful to see them!
3. Frolicking around Yale. The campus was right across from my hotel and the TV station. Yale is beautiful, simply gorgeous with its cobblestone buildings, crawling green ivy, slick silver windows and winding outdoor pathways. The kids especially loved the swing.
4. Vegan Food in New Haven. Eating at Claire's CornerCopia restaurant, a vegetarian restaurant right across from the campus. I had a soy chai and a hummus avocado pita – so good! I also shopped for TV show ingredients at the local Co-op market. Great place.
5. PIZZA. Eating at BAR for authentic New Haven pizza. Veganizing the pizza was super easy since a "red pie" with no cheese is already on the menu. I simply added some yummy veggies. They had a lively crowd, excellent salads and friendly service. We put our names on the waitlist and waited 45min for a table, but it was totally worth it.
6. TV Show Fun! It was perfect. I was so stressed out about getting all the stuff to Connecticut and then to the studio, all the logistics, but it worked out fine. And I had so much fun blending up smoothies with the show's beautiful and bubbly host Teresa LaBarbera. And the production team was SO NICE. Everyone I met was amazing. Thank you Meghan for inviting me on the show! And I even was able to coax the weather guy into trying a sip of my green smoothie. He was hesitant but said that he ended up liking it better than the chocolate one. Success!
7. Off to NYC to Celebrate. After the show we decided to drive into NYC to celebrate. We listened and sang to the Frozen soundtrack the whole traffic-y way there. Bliss! Sometimes the journey is half the fun.
8. More NYC. New York City is always fun, but for this trip we strolled through Central Park, listened to outdoor music at Lincoln Center, ate dinner at Rosa Mexicano and ended to night watching a movie, what else with a 5 year old girl .. (more) Frozen!
9. Boating. We also row boated in Central Park – something I had never done.
10. Brunching. Brunch at Le Pain Quotidien. To make any amazing weekend complete, a lovely brunch is in order.
11. Bonus one… flying home I was on a four month old American Airline Airbus A321T. It was incredible! I was in coach and wildly impressed. Power outlets at every seat, touchscreens at every seat, comfy seats, free movies (I watched three!) and you should've seen the business and first class. Wow!
So it was an amazing weekend. Now to dream big: does anyone know the booking agent for the Ellen Degeneres Show? 🙂 Blending up smoothies or making anything vegan for Ellen would be Ah-maze-ing. A girl can dream right?