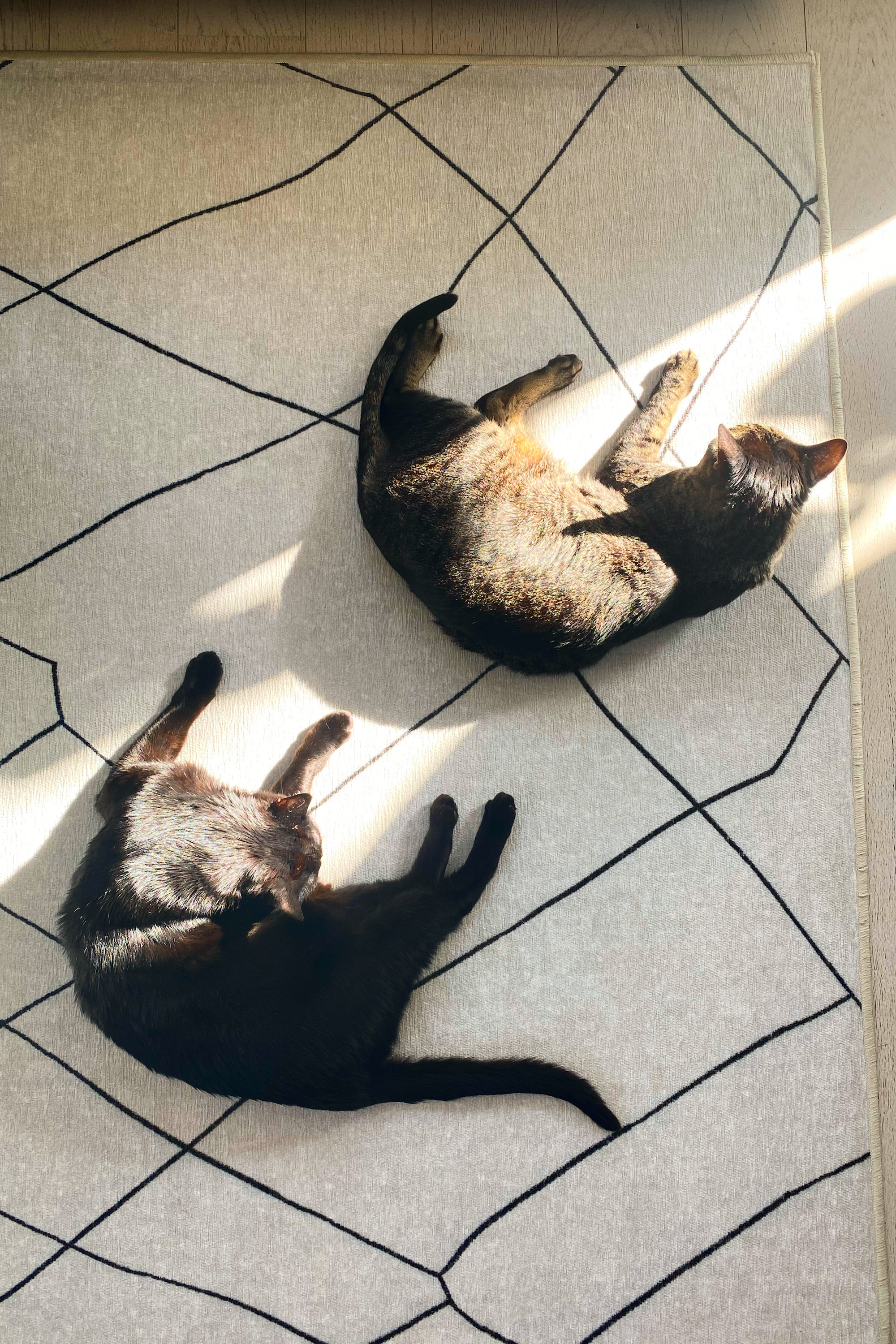 I am excited to share my (unbiased, unsponsored) Ruggable review with you guys today!…
About six months ago I purchased a pretty blush pink rug from a major design store. It was thick and plush and had a velvet sheen look to it. The color: a very pale blush pink which complimented our off white wood floors. The cost: I bought it for around $350. This was a rare purchase for us because I usually stay away from rugs due to my allergies .. but I wanted to give it a try.
A few weeks in and the kitty cats were already using it as a scratching pad. (Something I should've anticipated.) And the somewhat delicate rug was both shedding like crazy from normal freshness and the kitty claws.
But I stuck it out!
I tried to focus on the plushness of it and the pretty blush color – and of course how much I had already paid – rather than tossing it.
And then came the spills. First there was a few drops of pomegranate juice that I sort've cleaned up. Then I full on splattered my rooibos tea all over one side of the rug. I quickly flipped the rug around when the stain barely budged – a sort of muddy tea-color blob soaked into one side.
But the kicker for me was just the mustiness that the rug started to have within just six months – even with daily vacuuming and our heavy duty steam cleaner. I knew I would have to have it professionally cleaned, but what's the point when your rug is falling apart? And professionally cleaned can include chemicals sometimes – no thank you.
I Wanted a Washable Rug
All that time I was stalking Ruggable. Ruggable makes a two-piece rug system. A rug pad that attaches via velcro to the rug cover. The rug cover can be peeled off and washed in any standard washing machine. Genius.
I loved the idea of a washable rug! I would endlessly browse their designs and watch Youtube video reviews – and scroll their Instagram page for tags and real reviews.…
It seemed like most people loved their rugs. The main complaints seemed to be the thinness of the rug. Would it feel soft to walk over etc. And some people may just be used to a more extravagant rug. Plush and thick with deep texture. Ruggable is more about design and function. But I'll get to that in a bit. Back tot those "real reviews…"
Real Reviews
Look no shame in affiliate programs and sponsored posts. I am super proud of my sponsored opportunities! – and to get the opportunity to feature products and brands I adore and get paid. And I never share anything I don't love. But the reality is that #sponsored anything can can lead to a lot of online sharing and "buzz." Funny thing is Ruggable has all that buzz but without the referral rewards. Ruggable doesn't have much of an affiliate program.
They offer 15% off for friends, and then you get 15% off a future purchase for a referral. (There is an affiliate program via commision junction but it looks like it's only like 3% commission, which isn't great.) And I'm sure there are sponsored posts out there, but you should be able to easily spot them with a disclaimer.
Why is this important? Well, you know that people talking about Ruggable and sharing rave reviews are pretty authentic. This post is unsponsored.
I decided to share my Ruggable review here on the blog because I'm a genuine fan and think pet lovers and allergy sufferers like me need this rug. Plus, I've posted my Ruggable rug on Instagram a few times and I *always* get someone asking me about it. Thus this post!
Why Do I Love Ruggable?
So! Now for the details of my Ruggable Review… That sad, heavy, designer pink rug eventually found it's way to recycling. And my floor was bare and the kitties missed a soft place to sit in their morning sunbeam. So I dove in and bought a Ruggable! It arrived pretty swiftly in a tall thin, lightweight box. The rug and rug pad (you need both) come rolled up very tightly. I chose the Kella Off White design…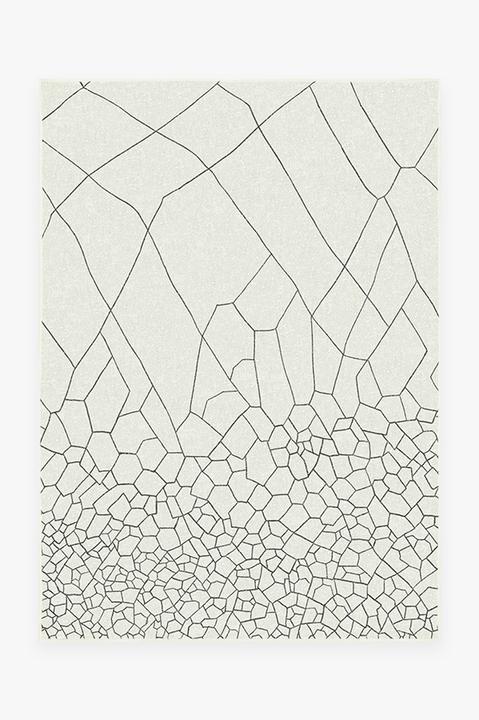 A few Ruggable designs I like…
Things I Love About Ruggable:
You can wash it! Just toss the rug cover into any standard machine. They dry very quickly too.

Allergy-Friendly – As someone with allergies and asthma and kitty cats – being able to wash my rug is such a life-saver! We have always stayed away from purchasing rugs because of my allergies. Ruggable actually allows me to own rugs! That's huge.

Lightweight – Easy to move and handle. If I need to vacuum under the rug I can easily roll it up, place it in a corner and be on my way.

Variety of Designs – There seems to be something for everyone. I tend to lean towards more minimal, modern designs for our home, so the Kella was perfect.

Vegan Materials – Ruggable contains no wool or animal products. The Rug Cover is polyester and silicone and The Rug Pad consists of recycled polyester and thermoplastic resin – "(a latex-free synthetic material most commonly used in yoga mats)."

Easy Returns – Returning a traditional run – all heavy and giant would be a pain. But Ruggable makes it easy. I actually tried a different pattern for my second Ruggable purchase and it didn't look great in my space. So I returned it. I easily rolled up the rug and placed it back in the box. Printed a return label and shipped it. Easy.

Soft Surface. The texture is nice and soft – not scratchy at all.

Pet-Approved! So just like my old rug, the cats LOVE scratching this thing. But luckily, because of the way the rugs are bound tightly, nothing sheds on the main surface of the rug. Yay! However, the edge threads have come a bit undone from the cats. Not too bad though.

Price – Ruggable rugs are very reasonable compared to design store rugs. You can get a nice 5 x 7 rug for under two-hundred bucks. And they are often having sales – or you can use this non-affiliate link to snag 15% off.
What I Don't Like About Ruggable
Thickness – Ruggable rugs are thinner than a standard design store rug. At first it bothered me. But honestly, after a few weeks I barely noticed. It's still soft enough to lay comfortably on and the cats seem to love it! I actually think the thinness makes it easier for my Roomba to vacuum it though.
Edges. Sometimes the corners and edges flip upward. And there is a somewhat obvious triangle shape on the edges where the velcro is heaviest to attach. But that being said, those things are definitely not deal breakers for me.

Overall Long Term Quality – I do worry how long this rug will stay looking great. The threads on the edges have broken a bit from the kitties. But overall it seems to be holding up well. It's not a $2000 rug from the best design store ever, but honestly – I don't care – I can peel this thing up and wash it. And that's the best part for me.
I hope you enjoyed this Ruggable Review! Do you own a rug you love? Or an allergy-friendly home item? I may post about all my fave air purifiers in the future if there is interest in allergy-friendly home reviews.

So if you are looking for a new rug, and love the whole washable idea too, give Ruggable to look. If you totally hate it, you can just return it pretty easily. But choose the right design and you could be on your way to being as obsessed as me 🙂