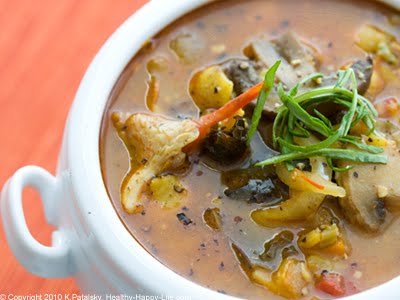 Sorry Claire Robinson, "5 Ingredient Fix" host, you're great, but I've grown disenchanted and blasé about the five ingredients or less, recipe trend. Five ingredients may make recipes more accessible to a wider viewing audience, but isn't part of the point of cooking to experiment with new ingredients and flavors. Flour, sugar, eggs, oil and milk can only get you so far, mainstream chefs.
I'm baffled by online recipe comments saying "I don't have any of these ingredients!" (I actually rarely get this comment because my readers are so worldly, curious and experimental, but go to FoodNetwork.com and the hilarity begins.)
Google "Blueberry Muffins" and you will get hundreds of recipes, each one different and worth exploring – if you are looking for a classic 'pantry-items-only' recipe, stick with your moms hand-me-down cookbook, dusty page number 462, simply index 'blueberry' or 'muffins'.
It's the creative (and delicious) blog recipes that get all the buzz. A recipe should be as original and memorable as the person who crafted it – and I'm a bit more complex than five ingredients or less. OK, OK, most of the time. But the truth is, five ingredients and more doesn't have to be as complex as it seems. And my "Too Many, But Just Enough Ingredients" Veggie Stew is proof of that. Get my recipe and the Food Network Online comment that inspired this post…

Inspired by "Soy Flour". I was reading my Food Network Newsletter and noticed a recipe by Melissa d'Arabian for "Magic Fruit-and-Veggie Cupcakes". I loved the name, so I had to click and see the recipe. Fun recipe, not vegan, but a nice twist on the average cupcake. It called for a few less-than-common ingredients like soy flour, wheat germ and ground flax seeds. I then began reading the comments on Melissa's recipe and I was quite perplexed by the angry and narrow minded comments I read. One in particular stood out and frustrated me:
"SOY FLOUR? Got as far as "soy flour" in the recipe and stopped reading. I wish to heck that some of the recipes called for the ingredients that we usually have in our cupboards and fridge. I am not about to run to the store and buy an ingredient that I may use once in 6 months!" -Gwen, AZ (comment on FoodNetwork website)

I read this comment and cringed. Huh? Is it really that hard to run out to the grocery store and buy a new ingredient to experiment with? Soy flour isn't exactly sumac, or some other ingredient you may never use more than once.
Trying new ingredients is a part time hobby of mine! Some girls buy new accessories every season, I buy new ingredients every shopping trip. I simply see that little "New Product!!" tag on the shelves at Whole Foods Market, and the product is in my cart in under 1.1 microseconds (if it's vegan). If I see a quirky new fruit or veggie, I won't ask "what would I do with this?!" I ask, "what can I do with this?!" Maybe it's the foodie in me, but to me curiosity and experimentation in the kitchen is like competition and heavy breathing at a track meet.
Five or Less Can Be Good. I get it, a simple marinara pizza with crust, crushed San Marzano tomatoes, basil, garlic and oregano can be a thing a five ingredient beauty. So can a five ingredient smoothie: strawberries, banana, soy milk, agave and coconut water ice cubes. But five ingredients shouldn't be the new standard. Recipes like stew, Mexican Mole Sauce, soups, muffins, cakes, sandwiches, pasta and more can all be brilliant (and still easy) with more than five ingredients…
Glad to get that off my chest. Now onto my super delicious veggie stew recipe. It had a lot more than five ingredients, 24 actually, but don't get scared by this massive looking list! I still call this stew an easy dinner, because I throw it in a pot and it cooks itself! Go figure…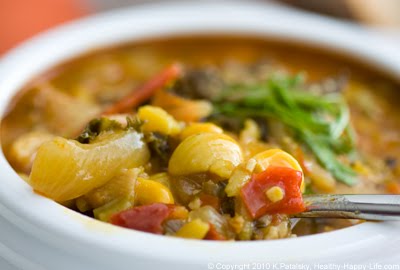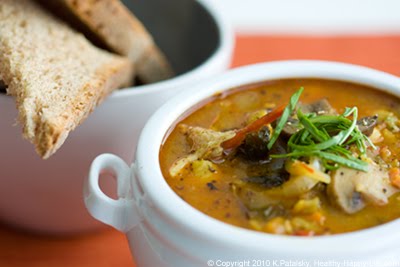 Arugula Chiffonade on top: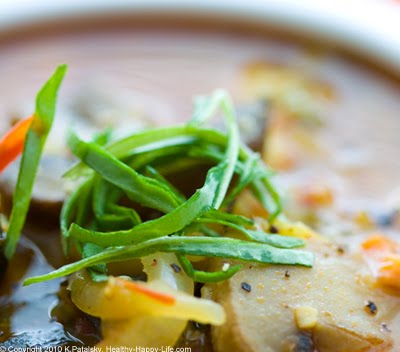 Spelt Toast on the Side: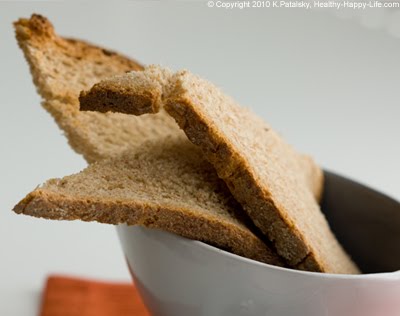 Kathy's Veggie Stew
aka "my too many, but just enough ingredients" veggie stew
vegan, makes 6 servings
4 cups vegetable broth
1 cup water
¼ cup whole wheat flour
1 small sweet onion, chopped
1 small tomato and/or 1 roasted red pepper, chopped
½ cup corn and/or peas
1 cup carrots, diced
3 tablespoon Brewers Yeast/Nutritional Yeast
1 vegan bouillon cube
*Rapunzel brand
1 vegan spicy 'sausage'
*Field Roast Grain Meat Co. Spicy Chipoltle flavor
1 cup mini pasta shells
1 cup mushrooms
1 teaspoon saffron
2 tablespoon maple syrup
1 cup white or brown rice
4-5 cups purple kale, chopped (about ¾ of 1 bunch)
2-3 tablespoon EVOO
2 tablespoon Apple Cider Vinegar
2 tablespoon harissa or spicy sun dried tomato spread
1 teaspoon dried rosemary
2 tablespoon chopped garlic
3 tablespoon soy creamer
1 teaspoon sea salt
1 tablespoon fresh ground black pepper
optional: diced sweet potato, 3 slices veggie cheese, a few dashes of cayenne
garnish: chiffonaded arugula.
Directions:
1. Place soup pot on stove, over high heat. Add 2 tablespoon EVOO, a dash of veggie broth, onions and flour. Whisk quickly to form a roux.
2. Once you have a thick creamy flour roux, you can add in more ingredients: all the remaining ingredients except the pasta and half of your purple kale. This includes: pepper, sea salt, soy creamer, chopped garlic, dried rosemary (crumble into a powder), harissa, vinegar, remaining EVOO, 2 cups of the purple kale, white rice, saffron, mushrooms, vegan sausage, vegan bouillon cube, water, corn/peas, carrots, nutritional yeast, tomato/pepper and remaining veggie broth. Optional sweet potatoes and veg cheese can go in as well.
3. Bring soup to a bowl, stir well, cover and reduce heat to a simmer for 20 minutes. This will allow the flavors to merge and the rice to cook.
4. After the 20 minutes are up, add in the pasta and remaining kale. Cover again and cook on medium heat for ten minutes. You may want to add in another cup of water- only if too much steam has reduced the soup too much.
5. Do a quick taste test and adjust salt/pepper as needed. Pour steaming hot soup into bowls and garnish with fresh chiffonaded arugula or chopped parsley on top. Side of spelt toast.
Enjoy! Save leftovers for the best next-day-lunch ever. Reheat Tip: add water/veg broth to re-hydrate stew.
…see that wasn't too hard, right?