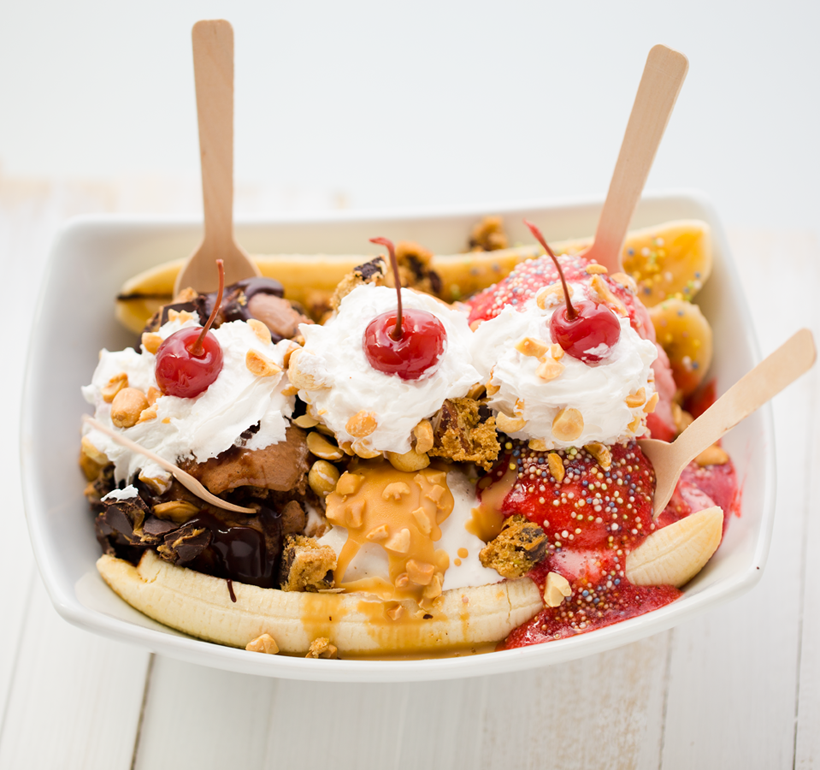 disclosure: This is a sponsored post as part of the #BananaSplitDay Twitter Party
When was the last time you made a banana split? For me, it had been a while! But over the weekend I made this Jumbo Vegan Banana Split. I scooped creamy, melty spheres of vanilla bean, rich chocolate and strawberry dairy-free ice cream on top of silky-sweet banana halves, and loaded on the sauces, toppings, soy whip and even a few naturally-colored cherries on top. Midway through my banana split build I shouted out to my husband, "Hey, this is FUN!"
And it was! The colors, the flavors, the textures and the "wackiness" of it all.
Tomorrow, August 25th, is National Banana Split Day and I am so excited to be co-hosting a Twitter Party celebrating healthy, veganized makeovers on this all-American dessert. Ahead, get the details on the party, fun facts, a few recipes and a giveaway!..
UPDATE: Thank you to everyone who joined the twitter party! I had SO much fun chatting for an hour with you guys. You can catch up on all the fun over on my twitter page: @lunchboxbunch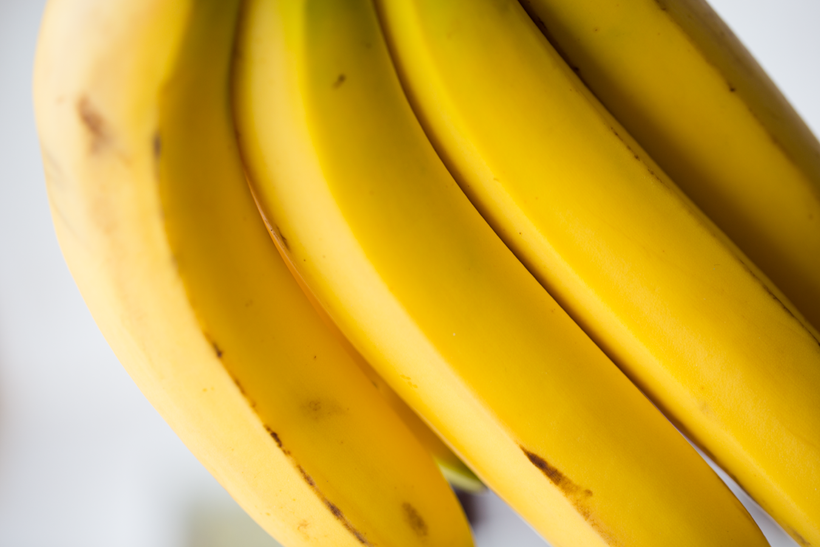 "The banana split is not only American by birth; it reflects our genius for invention, passion for indulgence, and reputation for wackiness. It's like no other dessert in the world – a grand idea that could only have been conceived in America."
-Michael Turnback Author, The Banana Split Book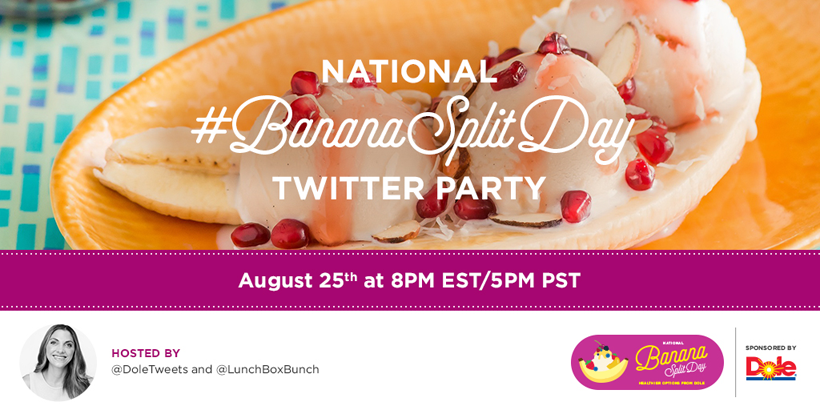 ..The invite photo above is the dairy-free DOLE Banana Berry Splitz recipe. It only has 380 calories and 2.5g fat.
You are Invited! Grab your ice cream scoop and join me for some dessert-style fun on Tuesday August 25th as DOLE and I host a National #BananaSplitDay Twitter Party!
We will be chatting healthy recipes, my fave vegan versions, favorite ice cream flavors and ingredients, creative twists and tips and you can enter to win some amazing prizes.
Prizes include.. $25-$50 gift cards, Yonanas machines and more!
Ice cream. Friends. Prizes. What else could be better on a Tuesday night?
Speaking of prizes… I am also serving up my own Banana Split Day giveaway, at the end of this blogpost.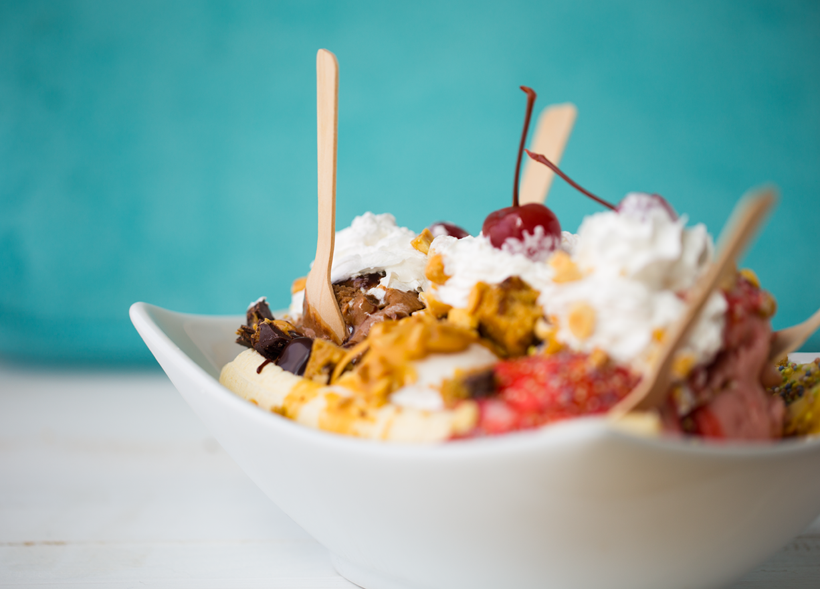 Split DOLE bananas, the start of every perfect jumbo banana split.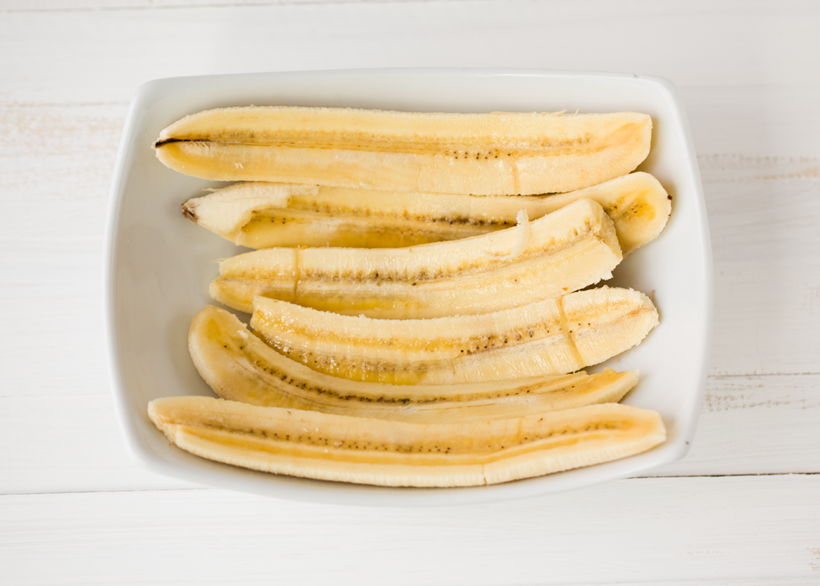 This vegan banana split is perfect for sharing! Grab some spoons..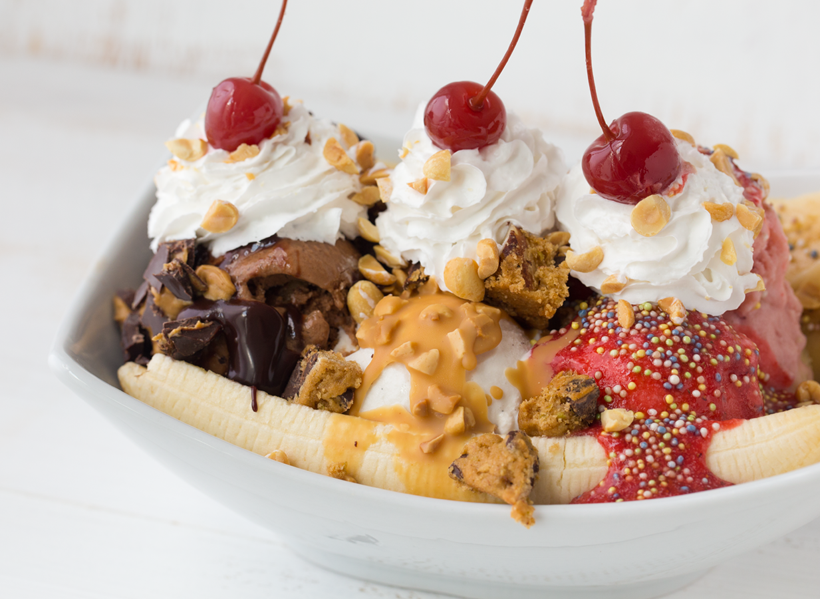 Coconut milk and nut-based ice creams fill this delicious bowl..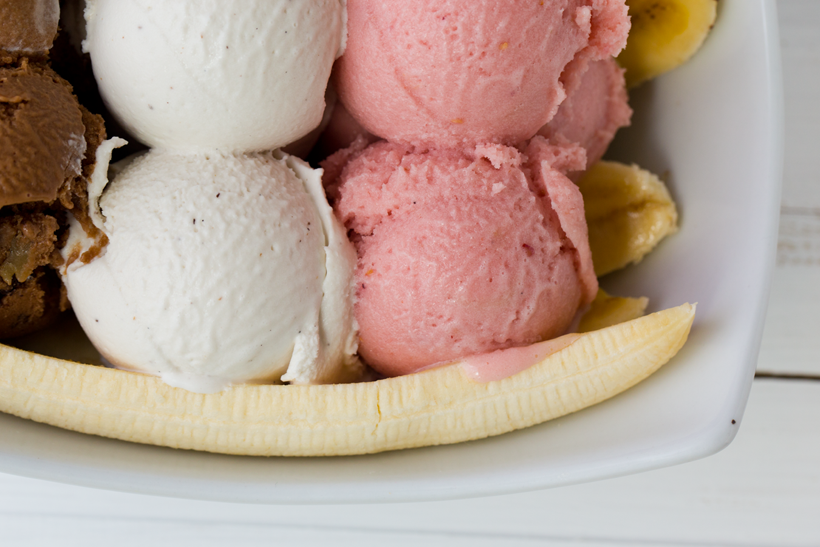 Vegan Ice Cream Options + Recipes:
– I love Luna and Larrys Coconut Bliss!
– So Delicious Cashew milk-based ice cream in incredible!
– My Watermelon-Banana Blender ice cream is my fave.
– The chocolate and strawberry flavors in my banana split were GoBeyond's Omega Cream!
– My DIY Cookies and Cream Ice Cream
– topping fave: homemade magic shell chocolate
– DIY DOLE Whip! So so good…
– DIY blender summer sorbets in four flavor options.
Sprinkles on top please..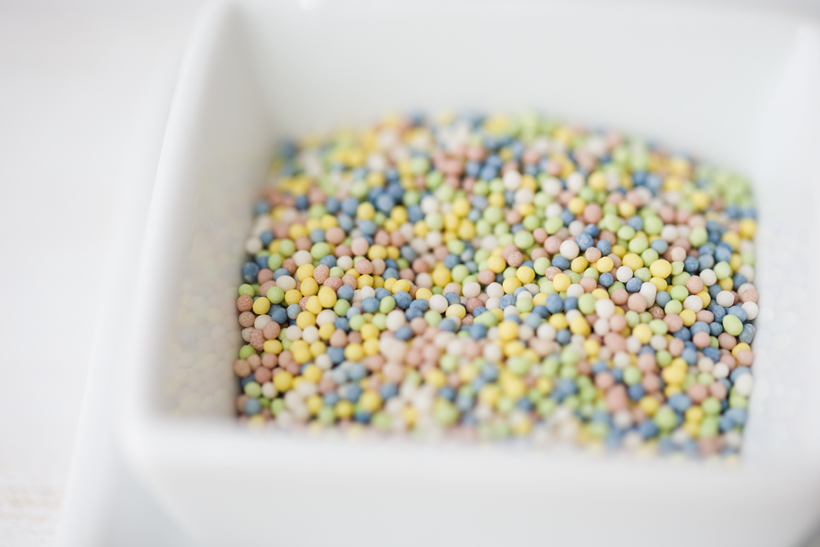 Fave topping, chopped dark chocolate almond butter cups!..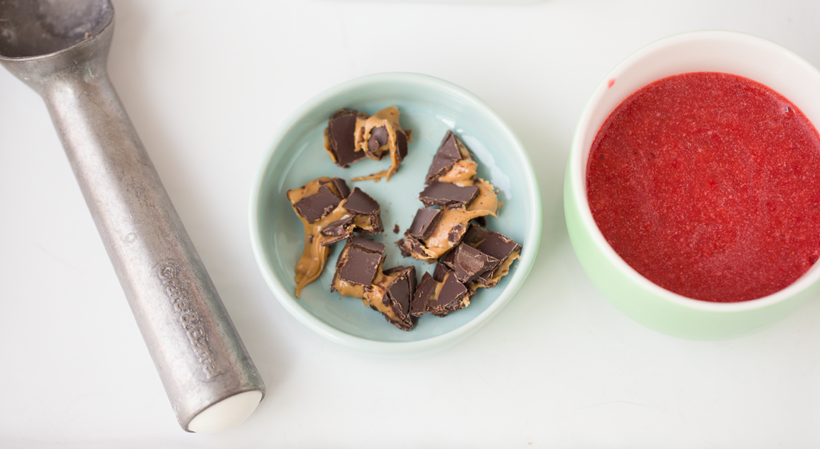 More toppings. These are Merry Maraschino Cherries by Tillen Farms..

Ready for the coconut, rice or soy whip!..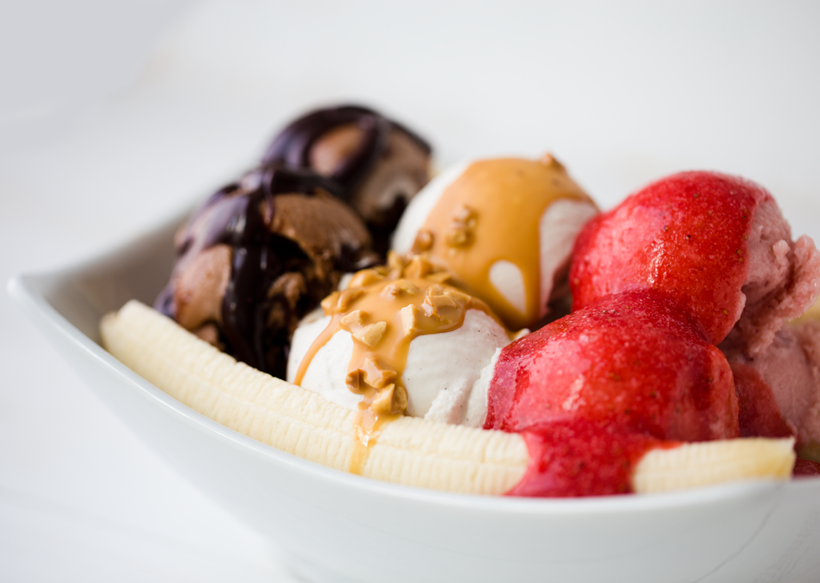 Grab some friends and split this jumbo banana split!

Fun Facts – History of the Banana Split in America.
– David Strickler, a 23-year-old apprentice at Tassel's Pharmacy in Latrobe, Pennsylvania invented the banana split in 1904 and served it to students of local Saint Vincent College. It quickly caught on with students and the rest is history.
– The original Tassel's Pharmacy banana split cost 10 cents!
– Walgreens drugstores are credited with spreading the popularity of the banana split. Charles Rudolph Walgreen operated the earliest Walgreens locations in the Chicago area and adopted the banana split as a signature dessert.
– The historic recipe for the first banana split looked something like this.. The Great American Banana Split: "A fresh banana loaded with big scoops of chocolate, vanilla and strawberry ice cream, topped with chocolate, strawberry and pineapple, finished with clouds of whipped cream, chopped nuts and a cherry. Just what the doc ordered!" – Valley Dairy
My Veganized Banana Split Recipe. My vegan version is healthier, dairy-free and cruelty-free.
Ice Cream: I used the classic trio of flavors, dairy-free store-bought ice cream options. You can also use DIY banana ice cream for maximum banana goodness. (Which I plan on doing tomorrow during the party.)
Toppings: vegan sprinkles, chopped vegan chocolate chip cookies and vegan almond butter cups.
Whip: I swirled a "cloud" of soy whip on top – homemade coconut whip is pretty awesome too.
Sauce: I used vegan chocolate fudge, softened almond butter and a homemade strawberry sauce made by blending 100% fresh strawberries in my Vitamix.
Cherries on top: I used a 'healthier' variety – Tillen Farms cherries are made without artificial colors or flavors, sulfites or preservatives. Perfect.
Oh my gosh. So good…..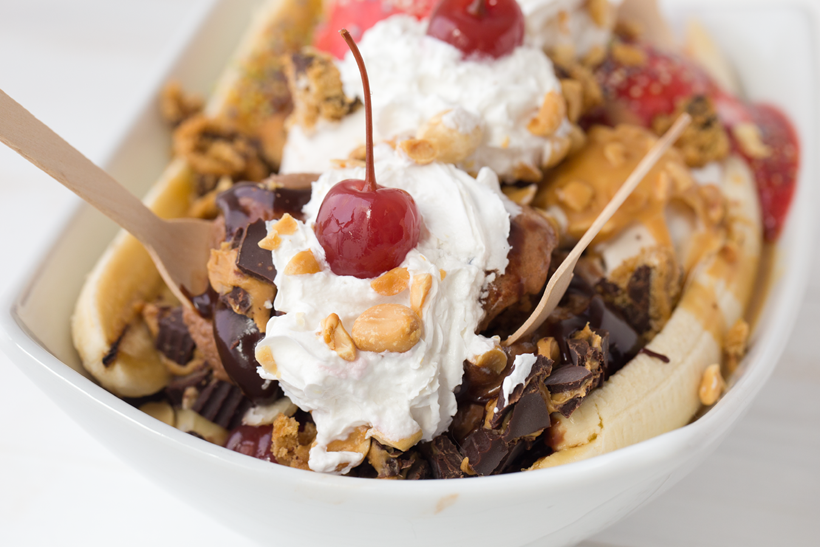 It is possible to have your banana splits and eat responsibly at the same time.
The star of a banana split is the banana. I mean, you cannot have a banana split without it!
Banana Nutrition. Bananas are a good source of vitamins and nutrients — especially vitamins B6 and C, potassium, manganese and dietary fiber. Bananas are naturally fat-free, cholesterol-free and very low sodium. Just one medium banana provides 25% RDA of vitamin B6, 20 percent of vitamin C, 15% of manganese, 13 percent of potassium and 12% of dietary fiber.
Banana Fun Facts.

– Bananas are actually considered a type of berry.
– Bananas do not grow on trees, they grow on large hanging bushes.
– The average American consumes nearly 28 pounds of bananas annually. (I am definitely above average on that fact!)
I hope to see you at the party tomorrow
Happy Healthy Banana Split making … and eating!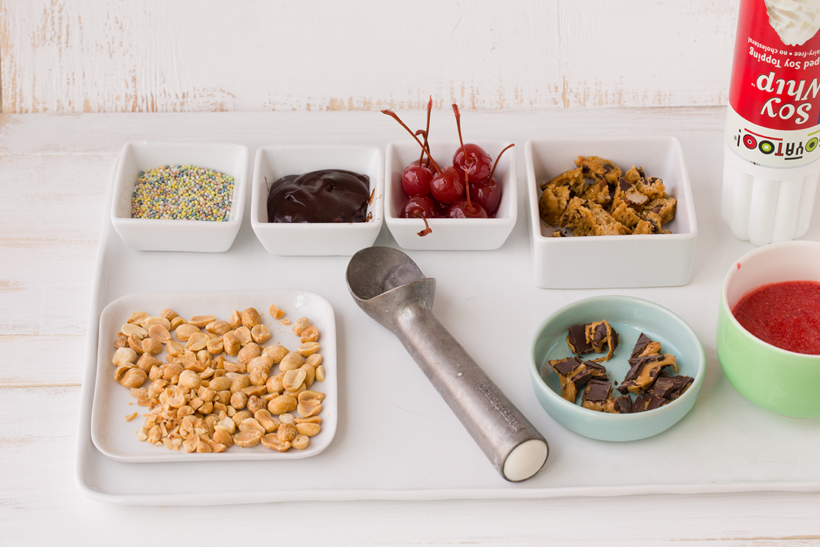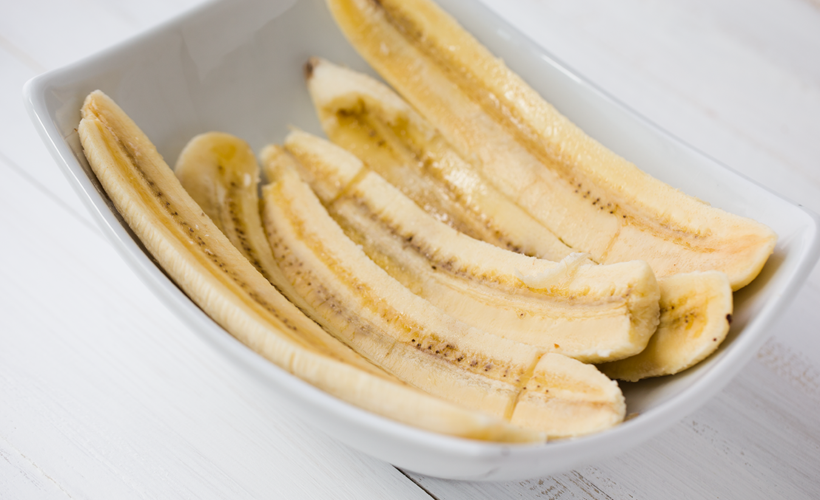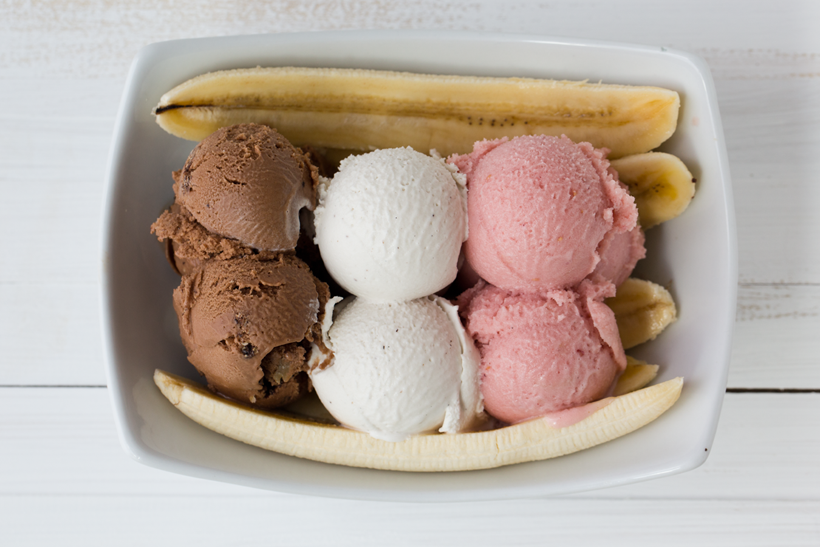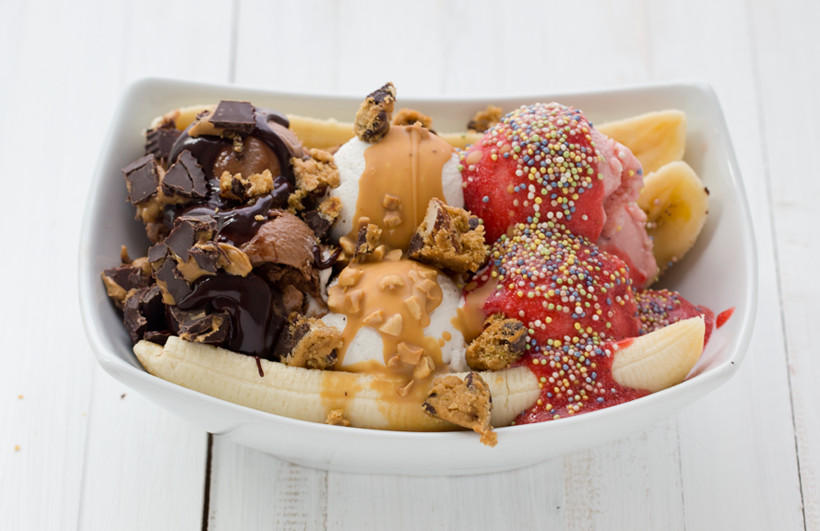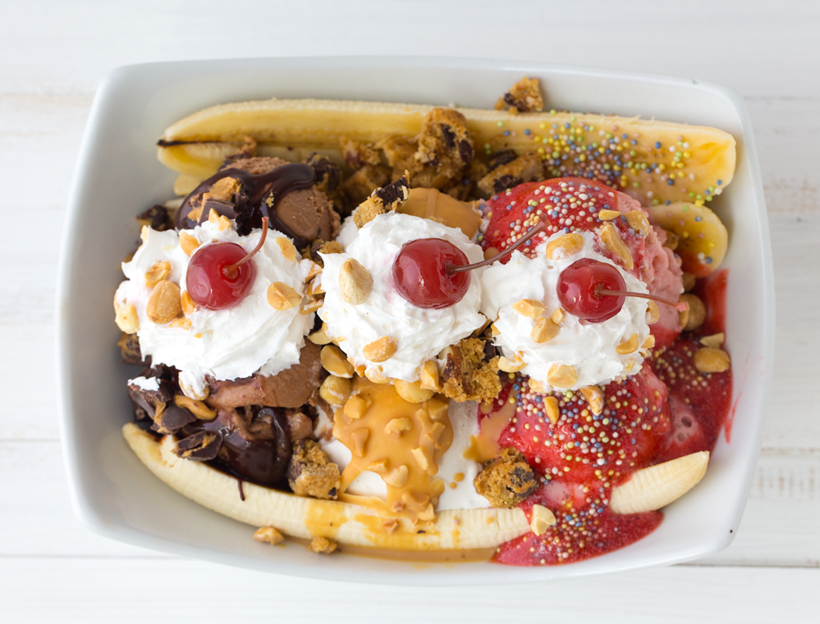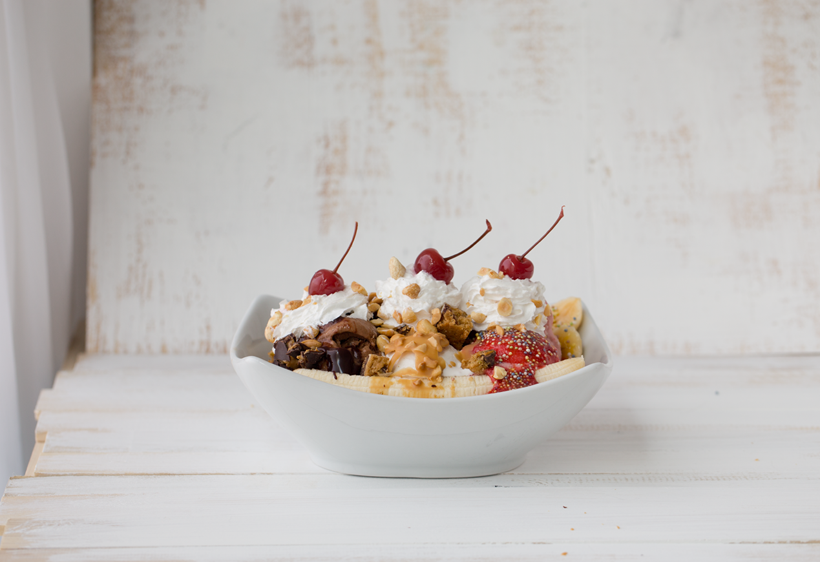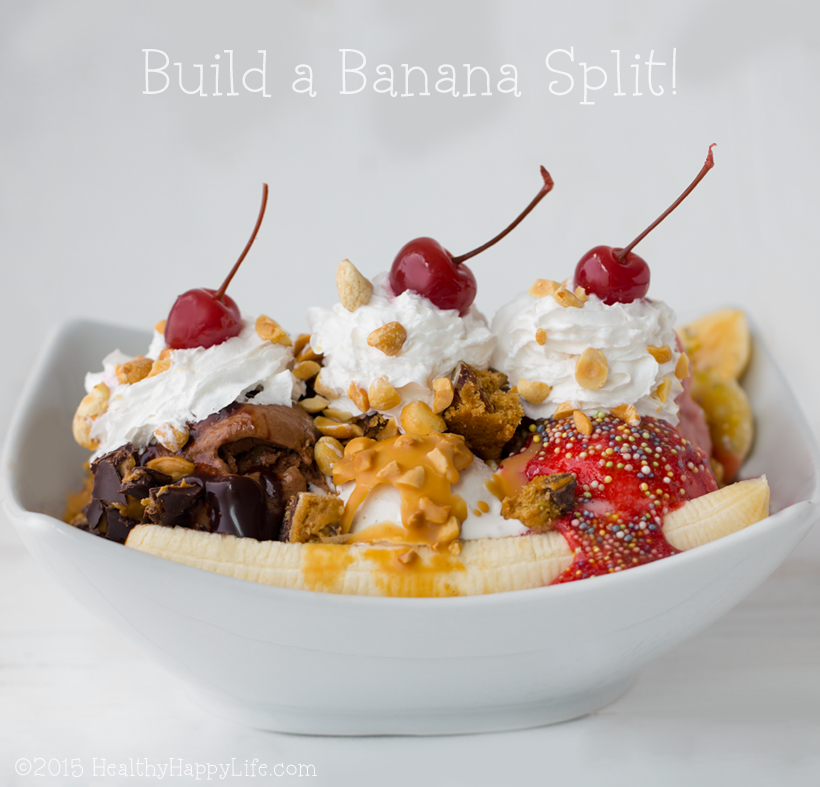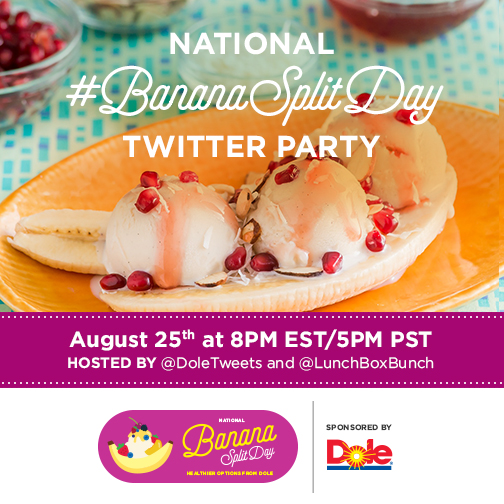 Disclosure: This post is sponsored by DOLE in coordination with co-hosting the BananaSplitDay Twitter Party! All opinions are my own.